The New York Giants could still be adding many of Pat Shurmur's former boys of the Minnesota Vikings despite the block of Kevin Stefanski.
For Pat Shurmur and the New York Giants, salvation could be found in Minnesota.
A Shurmur reunion with Kevin Stefanski, the present and now future quarterbacks coach of the Minnesota Vikings, was not to be, as Minnesota management denied the Giants permission to interview the former University of Pennsylvania cornerback for their vacant offensive coordinator job, per ESPN's Adam Schefter.
Vikings denied permission for Giants to interview and hire their QB coach Kevin Stefanski as their OC, per league source. Stefanski stays in Minnesota, Giants still need an OC.

— Adam Schefter (@AdamSchefter) February 10, 2018
Employed with the Vikings since 2006, Stefanski worked with Shurmur, Minnesota's outgoing offensive coordinator, to oversee a revived unit in 2017, Shurmur's only full season as the offensive boss. Thirteen-and-three Minnesota, en route to a division title and their highest win total since 1998, jumped from 28th to 11th in total offense, while a collaborative effort guided journeyman thrower Case Keenum to the best numbers of his career.
Though Stefanski won't join Shurmur, his former partner in offense, in New York, one of his former purple pupils will indeed don blue next season, as the Giants claimed tight end Kyle Carter off waivers.
Which of Carter's comrades could join him in blue, setting up a Shurmur reunion?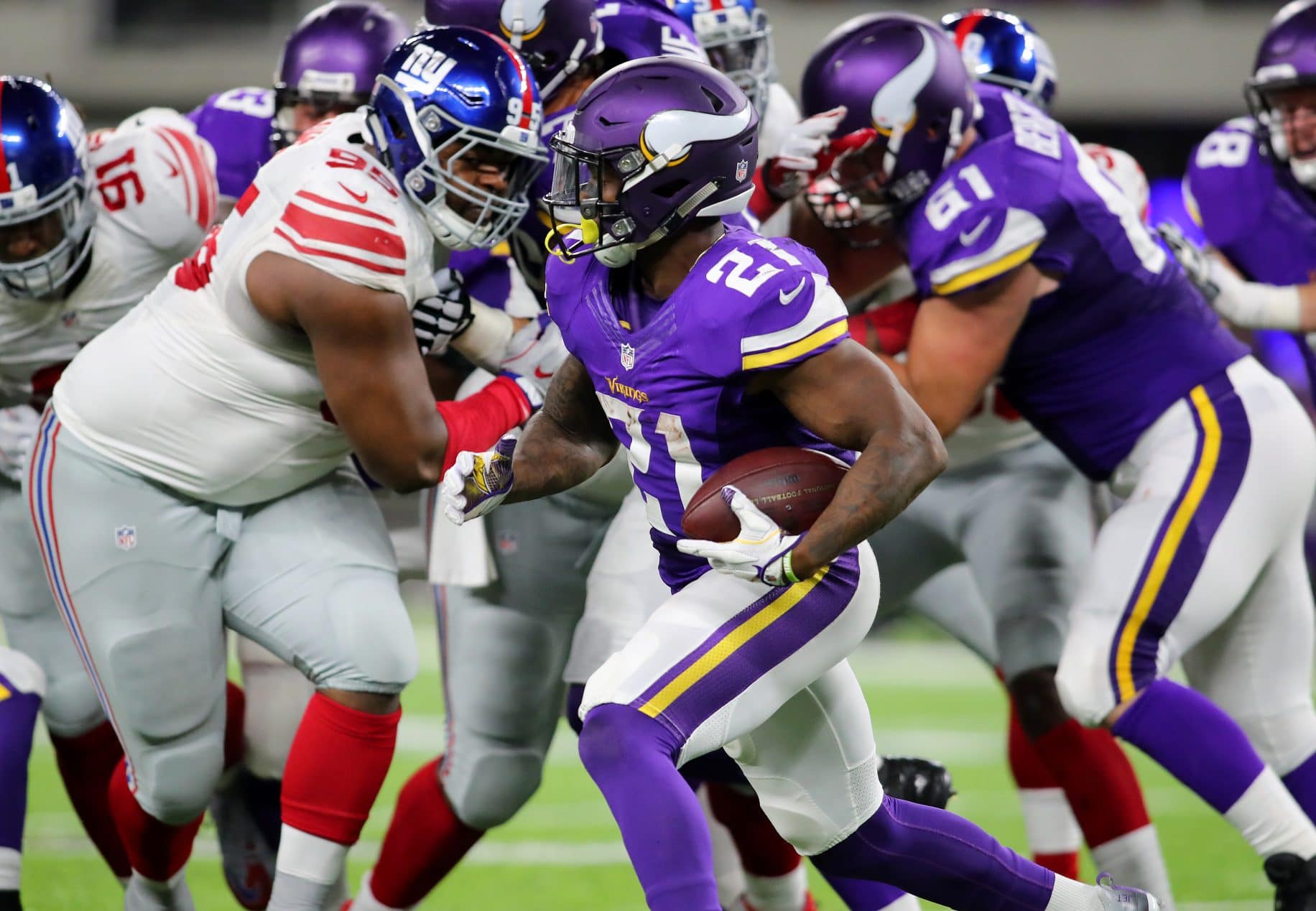 RB Jerrick McKinnon
Our own Jason Leach documented how McKinnon would a solid addition two weeks ago. The fifth-year runner out of Georgia Southern had a career-high 570 rushing yards and three touchdowns in 2017, but with Latavius Murray getting most of the carries and Dalvin Cook set to return from injury next season, it could be time for a change. McKinnon has already hinted as such, telling NFL.com's Edward Lewis he was looking for "bigger and better things".
The Giants' two older backs, Orleans Darkwa and Shane Vereen, will join McKinnon in free agency. While the team's final games hinted they could give the reigns to fourth-round rookie Wayne Gallman, bear in the mind the season began with them giving the starting job to another second-year back that shined in the late stages of his rookie year. That was the ill-fated Paul Perkins experiment, which was shut down after four games, accumulating just 61 yards on 32 carries.
It may hurt to watch the Giants take lessons from the Philadelphia Eagles, but the latter did just win the Super Bowl, after all. Their 41-33 victory last Sunday over New England was earned in part by a strong, young rushing monster that had many heads. Undrafted rookie Corey Clement, 23, played a big part, as did midseason pickup Jay Ajayi, 24. Leading in age, and the state sheet was 31-year-old LeGarrette Blount.
A running triumvirate of McKinnon, Gallman, and Darkwa, provided the latter two can recapture the form of their respective rookie years, wouldn't topple Philadelphia's trio immediately, but it would provide strength and consistency to a unit in desperate need of it. The Giants have not finished in the upper half of the league's rushing rankings since 2008.
G Joe Berger
Gone, promises general manager Dave Gettleman, are the days of complacency on the Giants' much-maligned offensive line. The departure of Bobby Hart, which was made official earlier this week, was enforced one day after Gettleman took office, and this offseason promises to be one of change for the team's weakest unit. While Jerry Reese's regime infamously passed on Andrew Whitworth, who made both the All-Pro and Pro Bowl list at the age of 36 after joining the Los Angeles Rams, Gettleman can somewhat atone for that mistake in the form of Berger, an upcoming free agent.
An alum of Division II's Michigan Tech, Berger was drafted by Carolina in 2005's sixth round. Failing to make the team out of camp, Berger caught on with Miami and Dallas before making a home with the Vikings in 2011. Having started just 20 games in five seasons prior, Berger earned 64 starts in purple, including 46 over the past three seasons. Showing versatility, playing both guard spots as well as center, Berger earned an All-Pro nod from Pro Football Focus in 2015.
Though Berger is up there in age, set to turn 36 in May, he could add something the Giants need on their line: veteran leadership. Only two blockers on the Giants' current roster, guard John Jerry and free agent tackle John Greco, are in their 30's. A veteran like Berger can help whip the line's younger members into shape, perhaps providing a long-sought-after mentor for beleaguered first-round pick Ereck Flowers.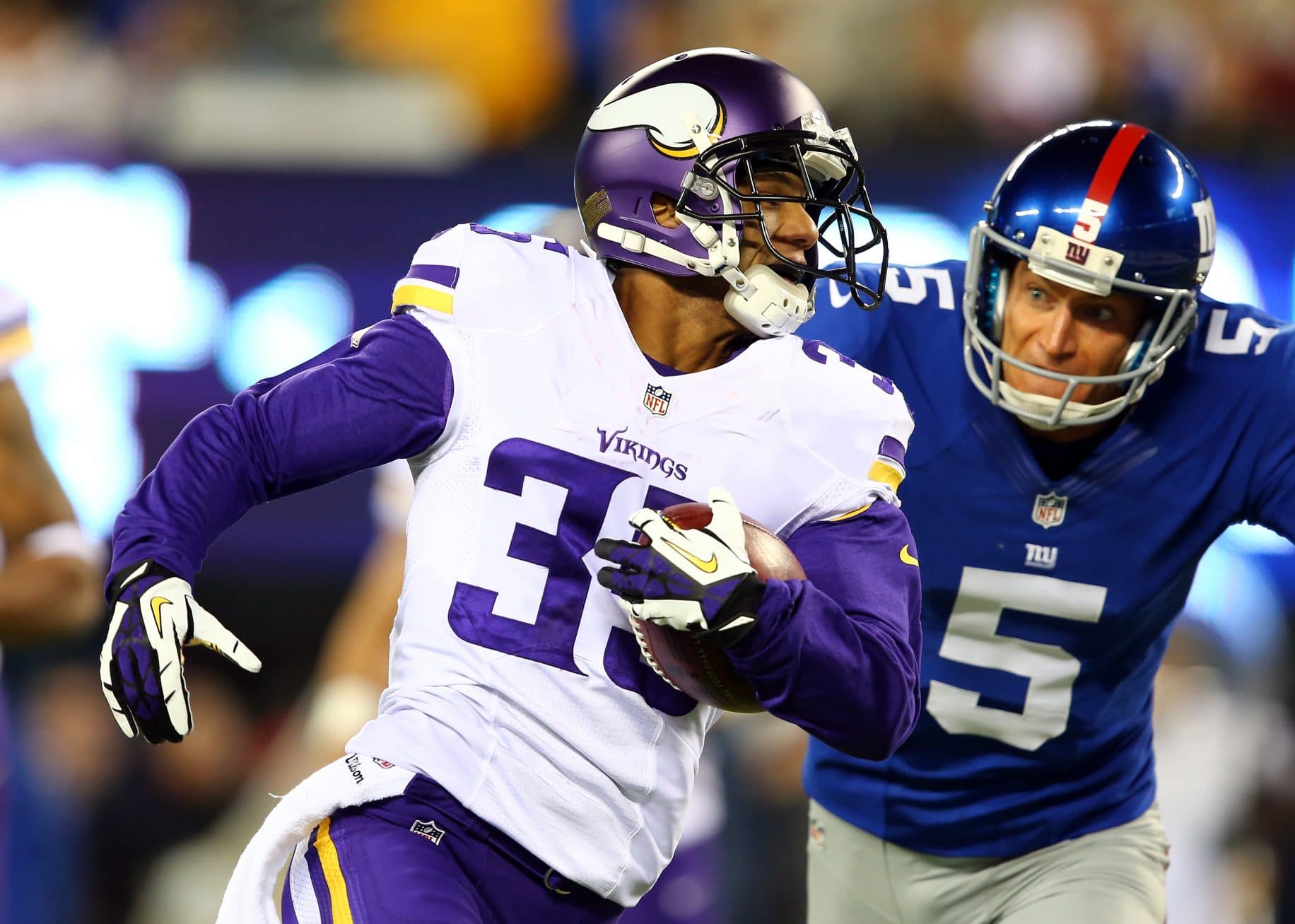 CB Marcus Sherels
The Giants' cornerback group took a beating in 2017, literally, with star defender Janoris Jenkins lost to an injury in November. Reduced to in-season free agency signings, the Giants painfully learned lessons about the importance of depth.
Though Gettleman has implied a fresh start is in store for Eli Apple, lively veteran Dominique Rodgers-Cromartie could be released for budgetary reasons, and late addition Ross Cockrell is a free agent. Set to be a free agent, Sherels would provide the depth the Giants are looking for.
Sherels, 30, has just six starts over eight seasons, but has been serviceable as a reserve defender, tallying 78 tackles. Not only could Sherels provide depth on defense, he can do so on special teams as well. As Minnesota's primary return man, Sherels has taken five punts back for touchdowns in his career. The Giants quickly learned the value of special teams depth when their own lead returner, Dwayne Harris, was part of the receiver injury epidemic in October.
Others
Should the Giants choose to move on from Aldrick Rosas at kicker, it would be their fifth over three seasons. It's possible they could bring in a veteran like Kai Forbath.
Ex-divisional rival Terence Newman, one of three players still active from the 2003 draft will likewise be available, but his age will likely lead him into retirement instead.
Receiver Michael Floyd can add experience to the young talented receiver corps, but the Giants already made a similar signing in the form of Brandon Marshall last season. It's possible they opt for a cheaper reserve receiver option, like resigning Tavarres King.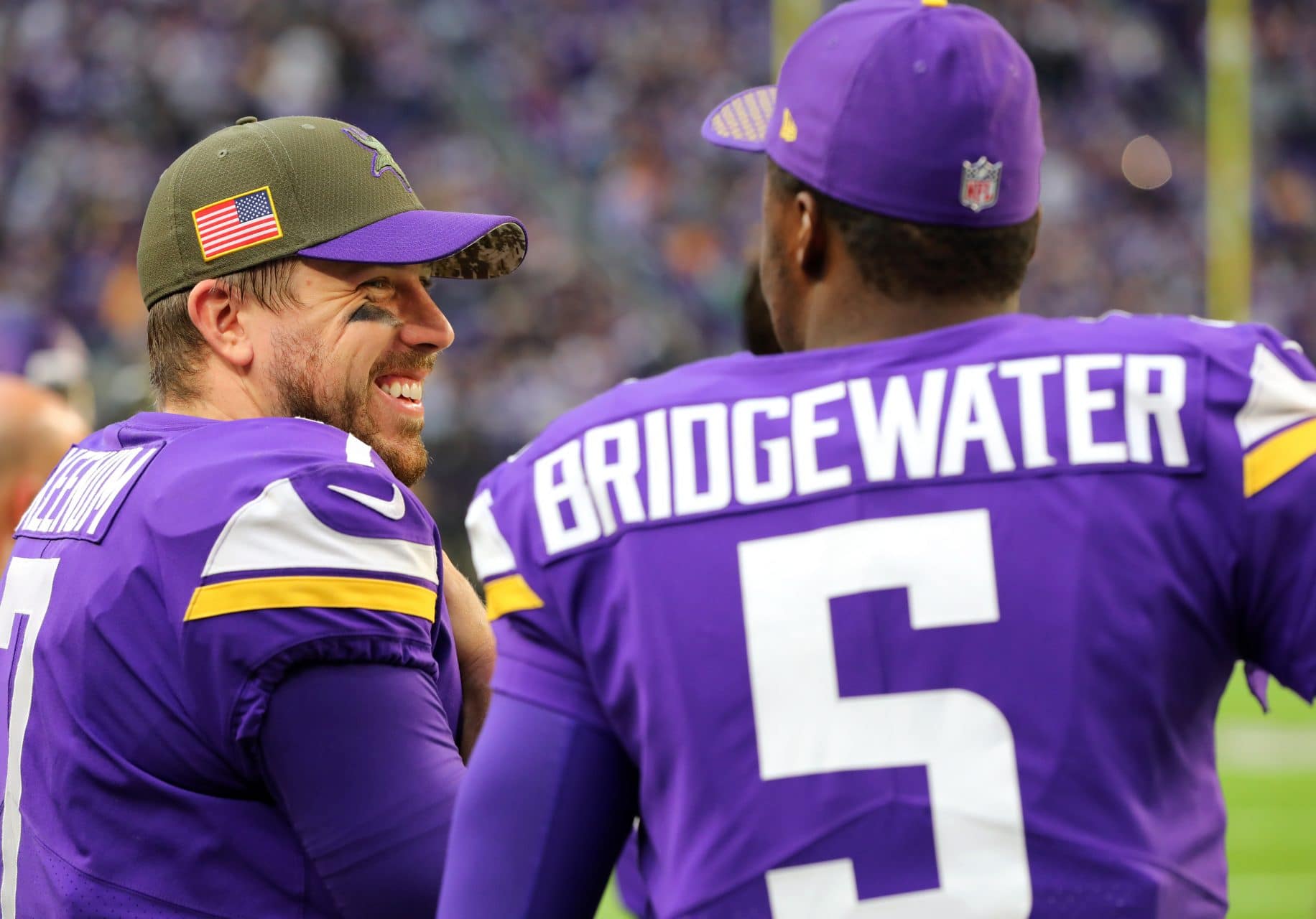 What About the Quarterbacks?
In case you haven't heard, the Giants' quarterback situation has taken a twist or two over the past few months, with the 37-year-old Eli Manning's status in question for the first time since taking over the starting job in 2004. Add the fact that Shurmur has gained a reputation as a quarterback guru, and there is a full-on situation brewing under center.
Minnesota is in an interesting situation this offseason, as all three quarterbacks on their roster are set to hit free agency. Case Keenum started all but two games this season and posted the best numbers of his career under Shurmur's supervision. Sam Bradford's biggest numbers came with Shurmur in both Minnesota and Philadelphia. Finally, Teddy Bridgewater, thought to be the Vikings' franchise quarterback, hits free agency just as he returns from the brutal leg injury sustained in training camp in 2016.
When it comes to the Giants' quarterback situation, Keenum and Bradford, despite their numbers under Shurmur, are likely out. Currently 30 and 29, respectively, Keenum and Bradford aren't going to be the Manning-style long-term answer the Giants are looking for. If they're going to add someone, it's going to be someone younger, in their early 20's. They have someone like that in Davis Webb, or they could also add one of the many polarizing quarterback prospects in the upcoming draft.
Bridgewater, however, is an interesting case. Set to turn 26 in November, he could realistically be an heir to the Manning empire, and he was displaying his first round potential prior to that injury. The lone snag in the New York plan, however, is that Bridgewater, who has watched the Vikings from rehab for a majority of the past two seasons, is probably going to want to go somewhere where he'll at least have an opportunity to start. Giants management has made it clear that Eli Manning is their man for the foreseeable future. Bridgewater has done enough watching. He wants his opportunity now.
Geoff Magliocchetti is on Twitter @GeoffMags5490