New Year's Eve's victorious finale seemed like the perfect sendoff, but after comments from new management indicate that rumors of the Eli Manning era's demise have been greatly exaggerated.
I
f you were writing the
Eli Manning
movie, the 2017 season finale seemed like a perfect ending.
It felt surreal that the most embarrassing year in New York Giants history should end in victory, but that was the case when the 3-13 Giants earned an 18-10 win over the equally doomed Washington Redskins. As time ticked away to mercifully end the campaign, whatever crowd was left at a frozen MetLife Stadium united to chant their beloved quarterback's name as he exited the field.
As the Giants accumulated losses on and off the field, many speculated about Manning's future. This area has endured Brian Leetch without a Blueshirt and Andy Pettitte sans pinstripes, but to see Manning without the lower case "NY" on his helmet seemed like pure insanity. The popular notion was to reunite Manning, 37, with his old mentor Tom Coughlin in Jacksonville, to potentially go out in one last blaze of glory at the expense of the New England Patriots. Others envisioned him following in his older brother's footsteps by ending his career in Denver. More ludicrous prognosticators hinted at betrayal, occupying the empty franchise quarterback slots with the rival Redskins or Jets.
After this past month of change, however, a renewal of the Eli Manning show, entering its 15th season, is best for both sides.
To avoid the 3-13 disaster that turned Super Bowl dreams into rebuild nightmares, the Giants will look drastically different come September. The process began with the hiring of general manager Dave Gettleman, and the first chapter of change concluded on Friday morning when Pat Shurmur was introduced as the team's new head coach. Almost immediately, Shurmur was welcomed to New York with questions about Manning's future, one made murky by the unceremonious benching in December.
The so-called quarterback guru, one who has brought out the best in Donovan McNabb, Case Keenum, Nick Foles, and others, while later expressing hope to work with the future (be it Davis Webb or another young newcomer), acknowledged that the present belongs to Manning, and he wouldn't have it any other way.
"I think the relationship is going to be very strong. I've watched him, competed against him, admired how he's played over the years, got to spend some time with him this summer in the Manning Academy setting," Shurmur said. "I've already spoken to him on the phone and he's an outstanding football player, and I can't wait to get to work with him. I've admired the way he's handled things. I sort of like a calm approach to the position."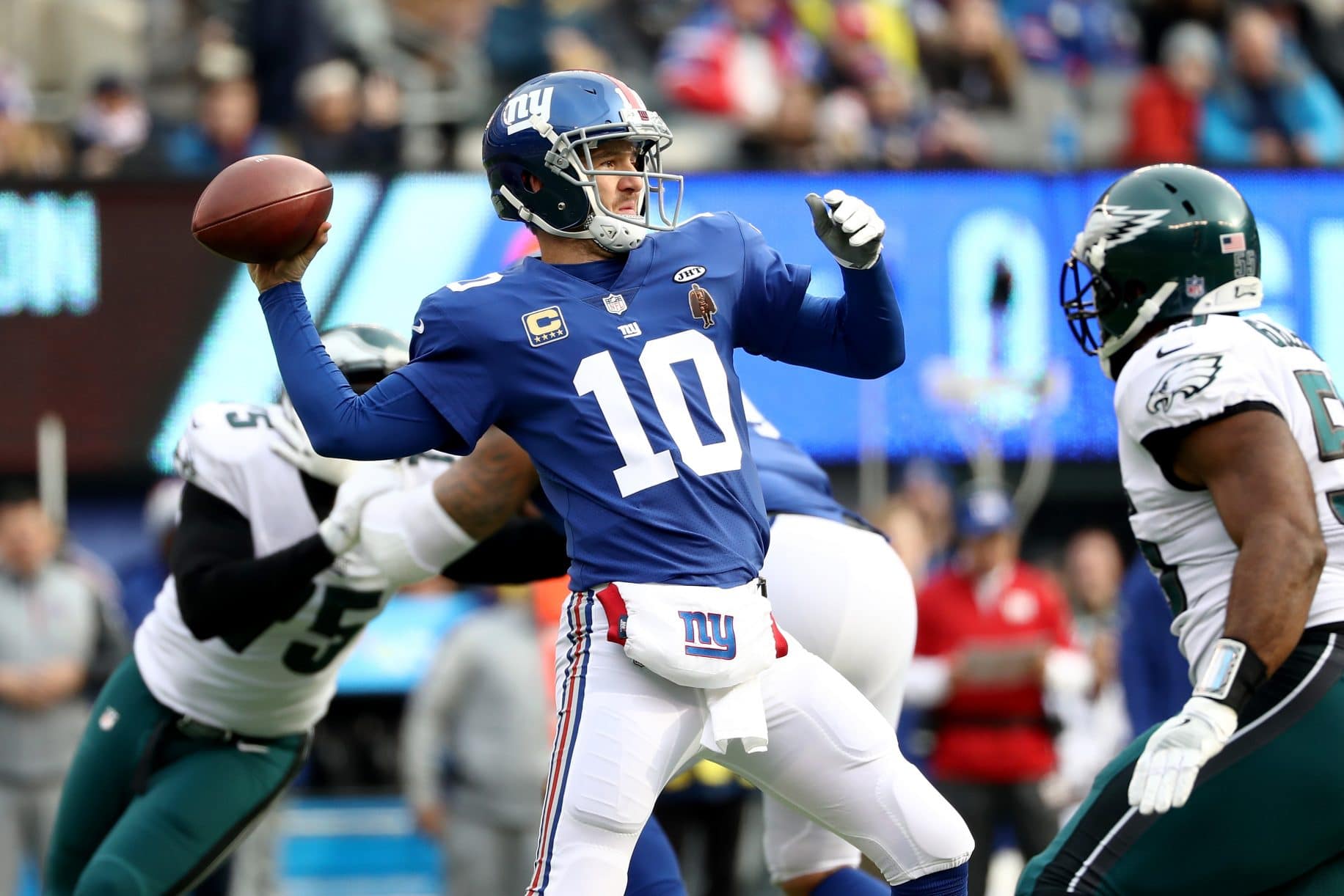 Gettleman has a crucial decision to make when it comes to the second overall selection in April's draft. While he insists that the selection will be used on the "best player available", all signs indicate that he trusts Manning with the reigns in his first season as general manager. The former Carolina Panthers general manager should know a thing or two about Manning. When Manning was acquired in 2004 via a draft-day trade, Gettleman was the team's pro personnel director.
While acknowledging that a full evaluation goes beyond a single game, Gettleman has constantly referred to December's nail-biting loss to the Philadelphia Eagles as proof that Manning can still be a top quarterback in this league. Leading a ragtag group of injury replacements and career backups against the eventual NFC champions, Manning threw for 434 yards and three touchdowns, coming just six yards short of victory in a narrow 34-29 defeat.
Gettleman has constantly used the word "mirage" when referring to that game, remarking that Manning's performance was anything but.
"I had an opportunity to watch (every Manning snap)," Gettleman told the New York Post's Paul Schwartz. "Obviously quarterback is the most important position on the team, and at the end of the day, it wasn't a mirage."
Gettleman was not present at Shurmur's welcome party on Friday, remaining in Mobile, Alabama to continue Senior Bowl scouting. There, he witnessed the final college game situation for polarizing prospects Josh Allen and Baker Mayfield. Overseeing the beginning of Cam Newton's prime in Carolina, Gettleman needs a consistent option
"There are teams that are in what I call quarterback hell," Gettleman explained to Schwartz. "They got a quality defense, they've got a good special teams and they're going 9-7 and 8-8, and now if there is a legitimate guy, they got to trade up and give away the farm to get the guy.''
The Giants have the salvation to avoid that fate: Eli Manning.
There's no denying Manning is in the twilight of his career, but he is still at a point where a good number of teams in the league would kill to have him under center. Browns fans, for example, would give their left arms for the mere continuity alone. In a league that has endured an epidemic of injuries to the most important position in the game, perhaps in all of sports, the Giants have been blessed with the continuity and consistency of Manning. The fact that Manning has dealt with every event thrown at him from the minute he got to New York …even the fateful benching that ended his 210-game starting streak… with pure class is an added bonus.
Despite this difficult season, not once did Manning speak against management for the demotion, nor did he ever entertain the idea of waiving his no-trade clause to escape to a contender. A classy, but more importantly an intelligent method, as the Giants remain Manning's ideal situation.
Though there are teams that would indeed covet a liberated Manning, they can't offer a situation much different than what the Giants present now. If Manning were to indeed join the AFC-finalist Jaguars, Jacksonville would still add a youngster to back him up or study as the heir apparent. Ditto for a place like Arizona, whose quarterback slot is empty with Carson Palmer's retirement.
Unlike those places, however, Manning has built a relationship with the New York sports fan. Few have broken through to the hard-nosed New Yorker, but when an athlete gets to them, they become closer than family. Henrik Lundqvist is a recent example, as is Kristaps Porzingis. Manning entered that realm a long time ago, and the fans came through in style for him in the controversy, doing everything short of storming Quest Diagnostics Training Center with torches and pitchforks.
Simply put, Manning won't have that kind of "protection" anywhere else. In today's fickle world dominated by social media, all it takes is one incompletion to set off a quarterback controversy. In New York, Manning can play out the remainder of his career in relative peace.
It works for the Giants. It works for Manning. If it works for Manning's new teammates next season, the Giants' rebuild will be over quickly.
Geoff Magliocchetti is on Twitter @GeoffMags5490