The New York Giants have been hiding Davis Webb. Could it be because they truly believe the quarterback can be Eli Manning's successor after the 2018 season?
Eli Manning appears to be a shoe-in to start under center for the New York Giants in 2018 and based on the way general manager Dave Gettleman has addressed the quarterback situation as well as the team's "best player available" mentality in the NFL Draft, it's time to strongly consider the possibility that the organization views Davis Webb as Manning's successor.
After a porous 3-13 record, the Giants will be rewarded with the number two overall pick in this year's NFL Draft. With a number of highly regarded college standouts such as Sam Darnold, Josh Rosen, Baker Mayfield, Mason Rudolph, Josh Allen and Lamar Jackson eligible to be drafted, the Giants will have the opportunity to draft their quarterback of the future. At the same time, doing so may not be management's intention based on them all being on the same page with Manning starting in 2018.
Whether it be ownership, Gettleman or new head coach Pat Shurmur, the consensus is that the Giants are best suited with Manning at quarterback—if they aspire to win. The Giants coming to that conclusion and saying that they'll take the best player available gives off the impression that drafting a quarterback to succeed Manning in the near-future may not be their plan.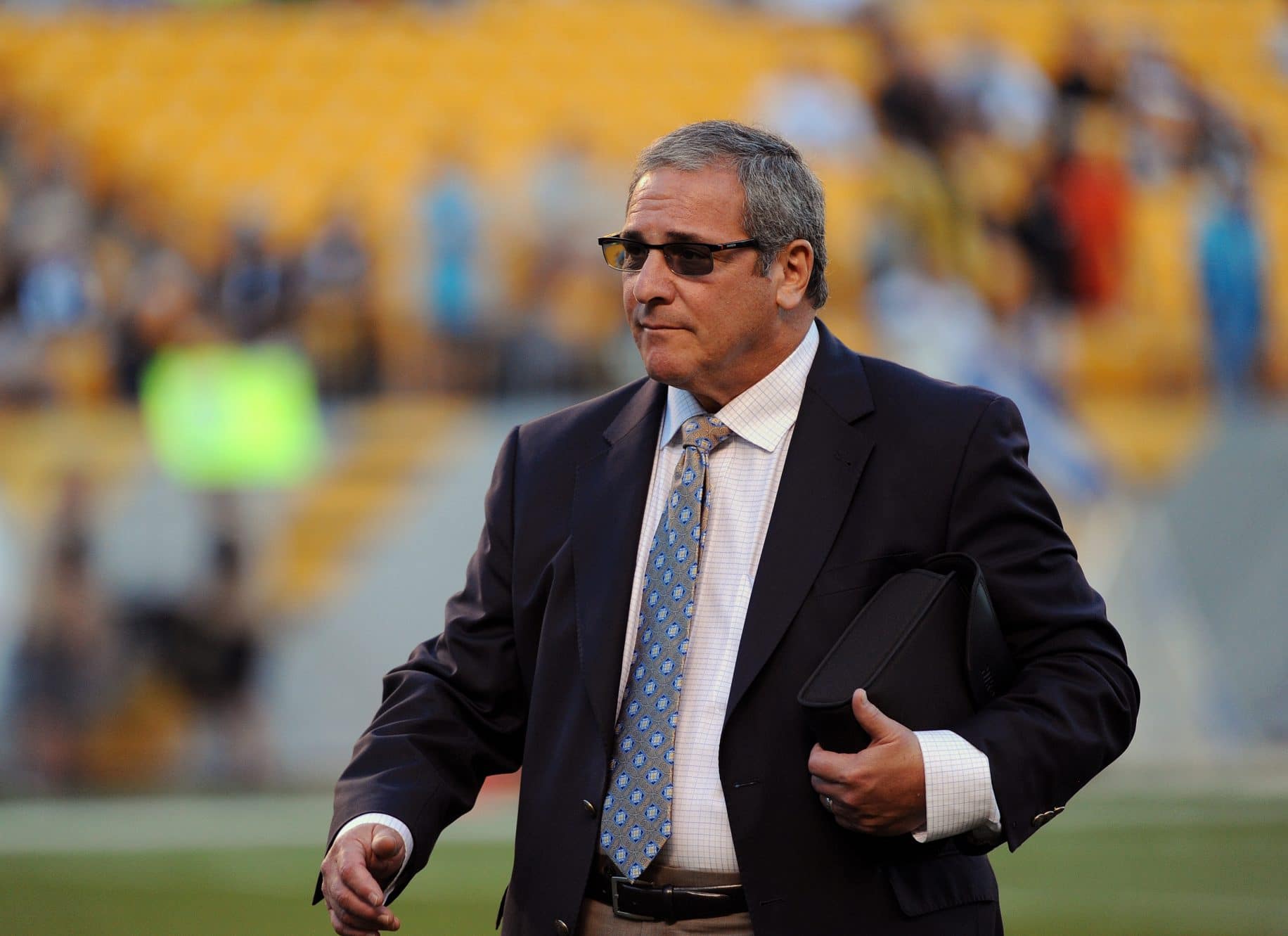 Gettleman and Shurmur have stressed that they value having a stout offensive line in place—which the Giants did not have last season. Gettleman has also preached that having a stellar running game is crucial to the well-being of an offense. With those two aspects being stressed, the Giants will likely look to free agency and the draft to shore up those weaknesses. If and when that plan commences, the Giants may not take a quarterback at number two.
With Penn State running back Saquon Barkley—who rushed for a combined 36 touchdowns in his junior and senior year and 1,200-plus yards in each of those campaigns—likely available at number two, the Giants could draft and attempt to make him the running back of the future. Doing so could potentially offset the presence of Ezekiel Elliot in the Dallas Cowboys' backfield if Barkley performs up to the hype. The other option for the Giants—if going with a quarterback is not their intention—is selecting an offensive lineman.
With Oklahoma's Orlando Brown, Texas' Conor Williams and Notre Dame's Mike McGlinchey available, the Giants would have a plethora of lineman to choose from to help establish a reliable ground game and provide Manning with more time to operate.
Why would going forth with a running back or lineman be a no-brainer for the Giants? They truly believe Webb is the real deal.
Ever since they selected Webb in the third round of the 2017 NFL Draft, he's been a sensitive topic for the Giants. He never made an appearance in a single game last season and was only activated once (Week 17 versus the Washington Redskins). Many questioned whether he should've started when then-head coach Ben McAdoo benched Manning in favor of Geno Smith based on the Giants being out of playoff contention.
In his senior year at the University of California, Webb played well. Throwing for 4,295 yards and 37 touchdowns, while completing 61.6 percent of his passes, he showed some promise—especially when considering the fact that he never endured that type of workload beforehand.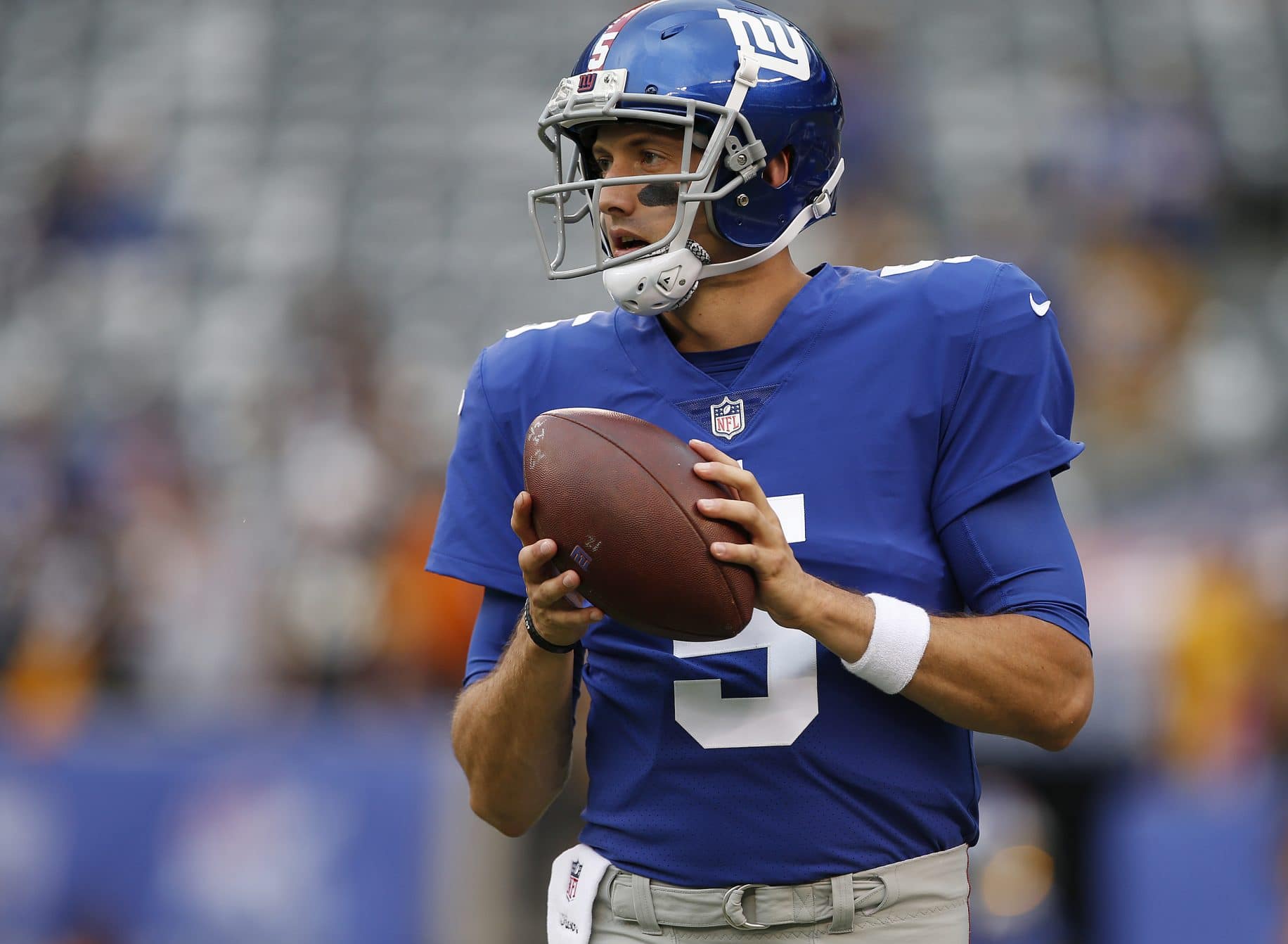 Does a player's college statistics or general appearance always translate to NFL success? Of course not. In fact, leading up to the draft, teams can change their opinion on a daily basis concerning who they feel is the best quarterback in this class and even doubt whether some are NFL ready; no one is ever a sure thing.
Webb studied Manning and the Giants' offense all last season. He was hidden by the team and the coaching staff gave vague responses to questions concerning his growth and role on the team. Is it possible they were holding Webb back, not playing and being careful with him because they truly think he can succeed Manning?
Shurmur is one who has seen positives in the young quarterback. In his introductory press conference, Shurmur went into detail about what he and the Vikings (his employer at the time) saw in Webb before the 2017 draft, per Paul Schwartz of the New York Post.
"We went through the process on Davis Webb, and we thought he was an outstanding player,'' Shurmur said. "We liked how competitive he was. He's got size. He's got good arm strength. We felt like he was a guy worthy of being drafted and having a chance to be a starter someday. Again, beyond that, I don't know much about him. There isn't much tape out there on him that I was able to see, and so he's another player that I'm looking forward to getting to know.''
Management and Shurmur have said that Manning will start in 2018 which wasn't a given based on how last season fared. This is a win-now organization that is built to do so on both ends of the field. Injuries and off-the-field drama made it feel otherwise.
Webb is an utter mystery to everyone outside of the Giants' locker room, but if management doesn't want to draft a quarterback, it'll be because they feel Manning and an improved staff can compete, but also that they believe in Webb. Simultaneously, passing up on a quarterback could potentially cause a backlash from the fanbase; it's not a yearly ritual that teams get the chance to draft a quarterback so high in the draft. On the other hand, select members of the Giants may feel otherwise.
When asked about the Giants potentially drafting a quarterback, Darnold in particular, safety Landon Collins insisted the Giants should resist the urge to do so and stick with Webb, per Steve Serby of the New York Post.
"Don't draft him. Don't do it. Davis is gonna be really good in the league when it's his time, I promise you" Collins said.
Cornerback Dominique Rodgers-Cromartie had an interesting answer as to what he sees in Webb, as Serby notes.
"A young Eli. I used to laugh at him, 'Why is the man mimicking Eli during a practice when Eli takes a step, you can see him behind him doing the same motion he is. What is wrong with this dude?' It finally hit me that he's just trying to do everything that he's doing, so he's definitely learning, willing to learn and he's doing the right things, I think" Rodgers-Cromartie explained.
Later asked about whether he thinks the Giants need to draft a quarterback, Rodgers-Cromartie thought not, insinuating Webb can be Manning's replacement whenever the time comes, as Serby notes.
"Nah, nah. I think he's the guy that has the arm, and he's studied under Eli, so I think he still has an opportunity to be that guy" Rodgers-Cromartie responded.
While maybe not a comfortable scenario for its fanbase, it's time to seriously consider the possibility that the Giants think Webb is the real deal.