Which player—or players—will make big names for themselves and catch the eye of the New York Giants' front office in this year's Senior Bowl?
Thank goodness for the Pro Bowl being this weekend to hold all us football fans over until the Super Bowl. HA! Instead of watching that miserable game, you should be tuning into the Senior Bowl that kicks off on Saturday, Jan. 27 at 2:30 p.m. ET.
Every year some no-name senior, usually from a smaller school, makes a name for himself in the Senior Bowl against competition from big-name programs. The New York Giants are going to have to watch more carefully this year since they will be drafting at the beginning of each round. Here's a list of 10 players who the front office—and fans—should be keeping an eye on.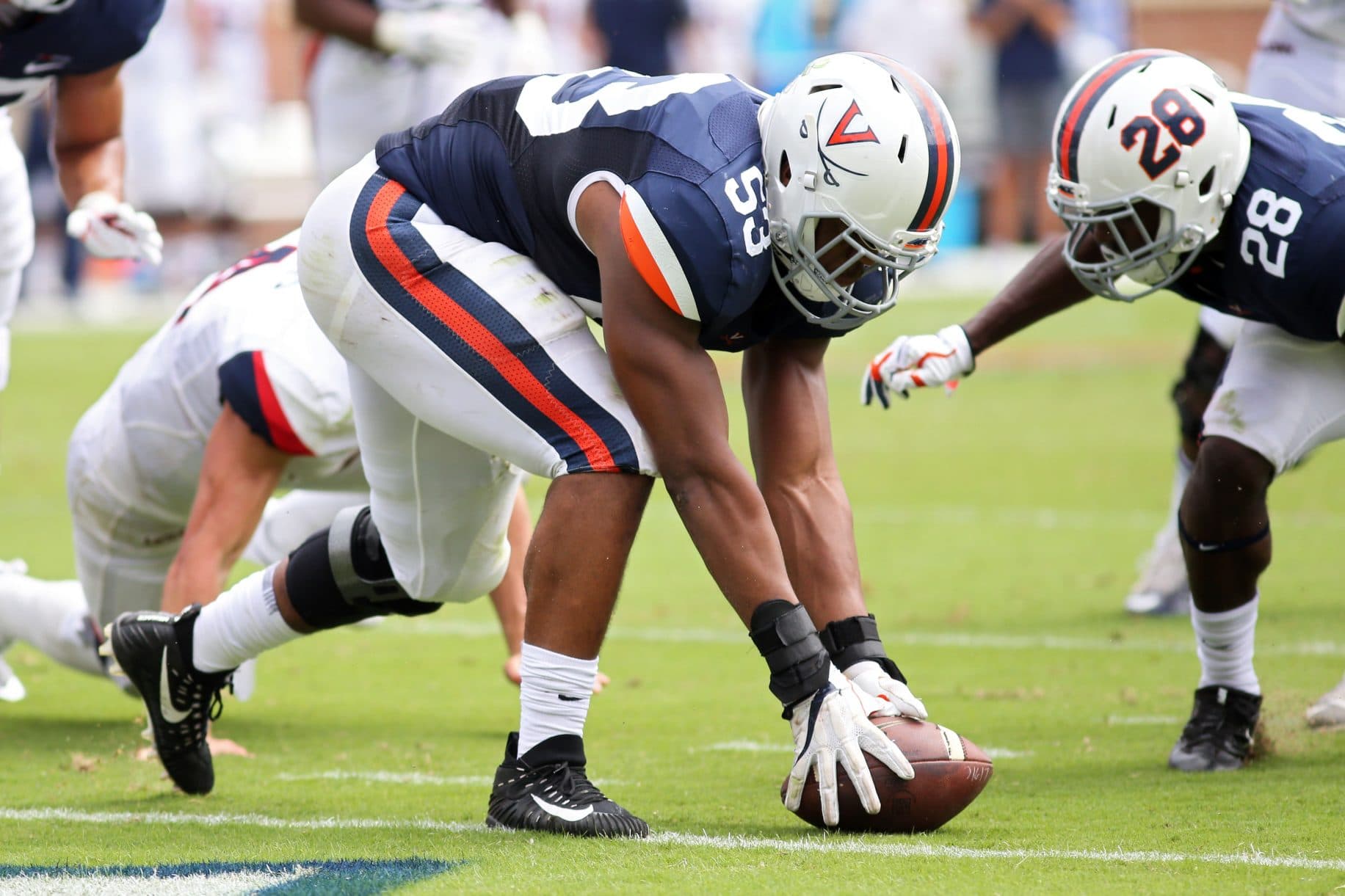 10. Micah Kiser, 6-foot-2/240 pounds, LB, Virginia
Micah Kiser is a flat out tackling machine, recording 393 tackles—more than any other player in the country— from 2015-17. He led the ACC in tackles for two straight years (2016-17) while finishing third in 2015. His 408 career tackles rank third all-time in ACC history.
But Kiser is an all-around beast at the linebacker position, forcing eight fumbles and 19 sacks over his four years at Virginia. Despite his success, many pundits have Kiser going somewhere between rounds three and five. He's got "steal" written all over him.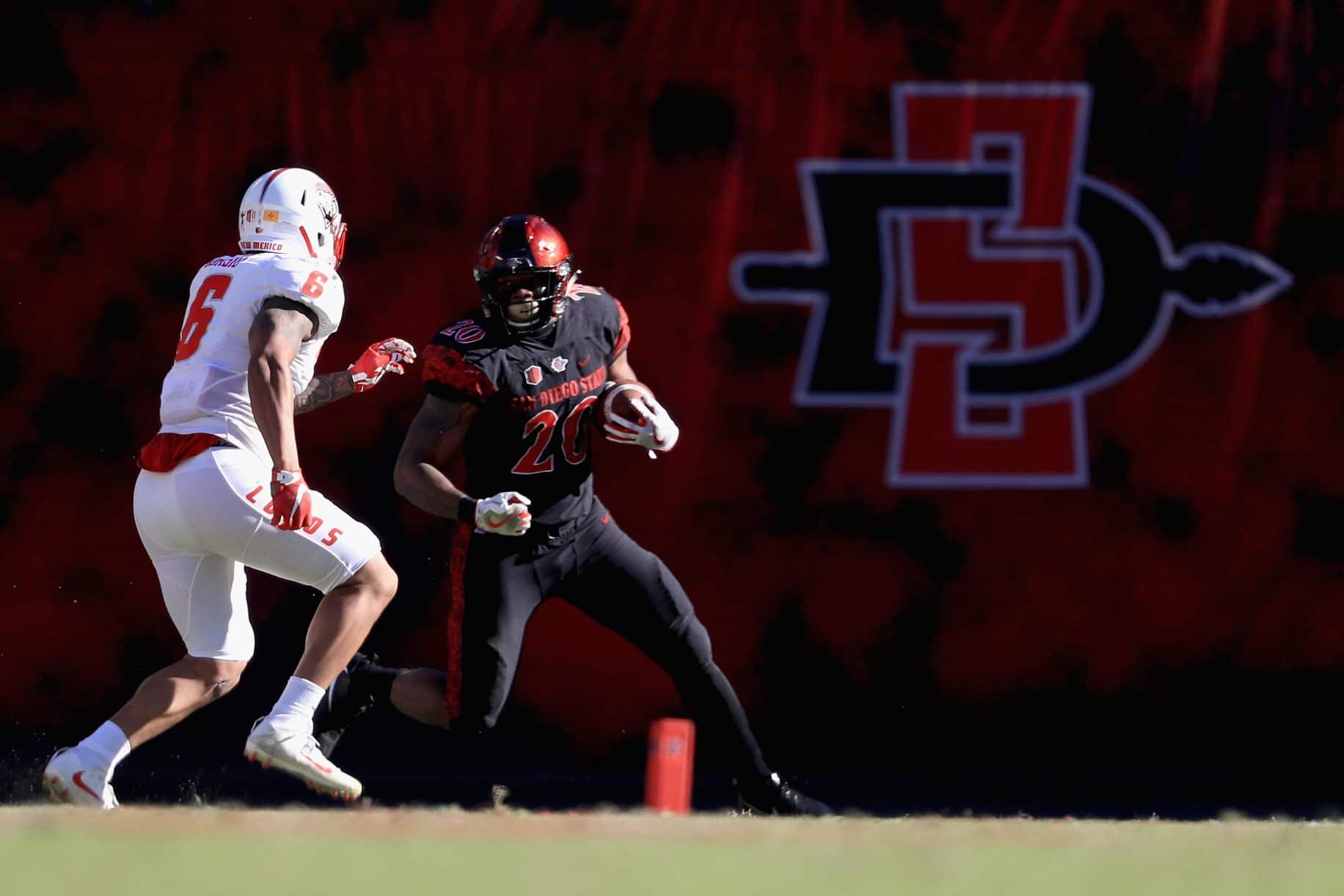 9. Rashaad Penny, 5-foot-11/220 pounds, RB, San Diego State
The NCAA's leading rusher in 2017, Rashaad Penny picked up 2,248 yards on the ground to go along with 23 rushing touchdowns, 135 receiving yards, two receiving touchdowns and three touchdowns as a returner for San Diego State.
Playing in the Mountain West Conference, which lacks top-notch competition, has Penny projected to be around when the Giants pick on Day 2 of the draft. He could be Big Blue's answer for an explosive returner on special teams.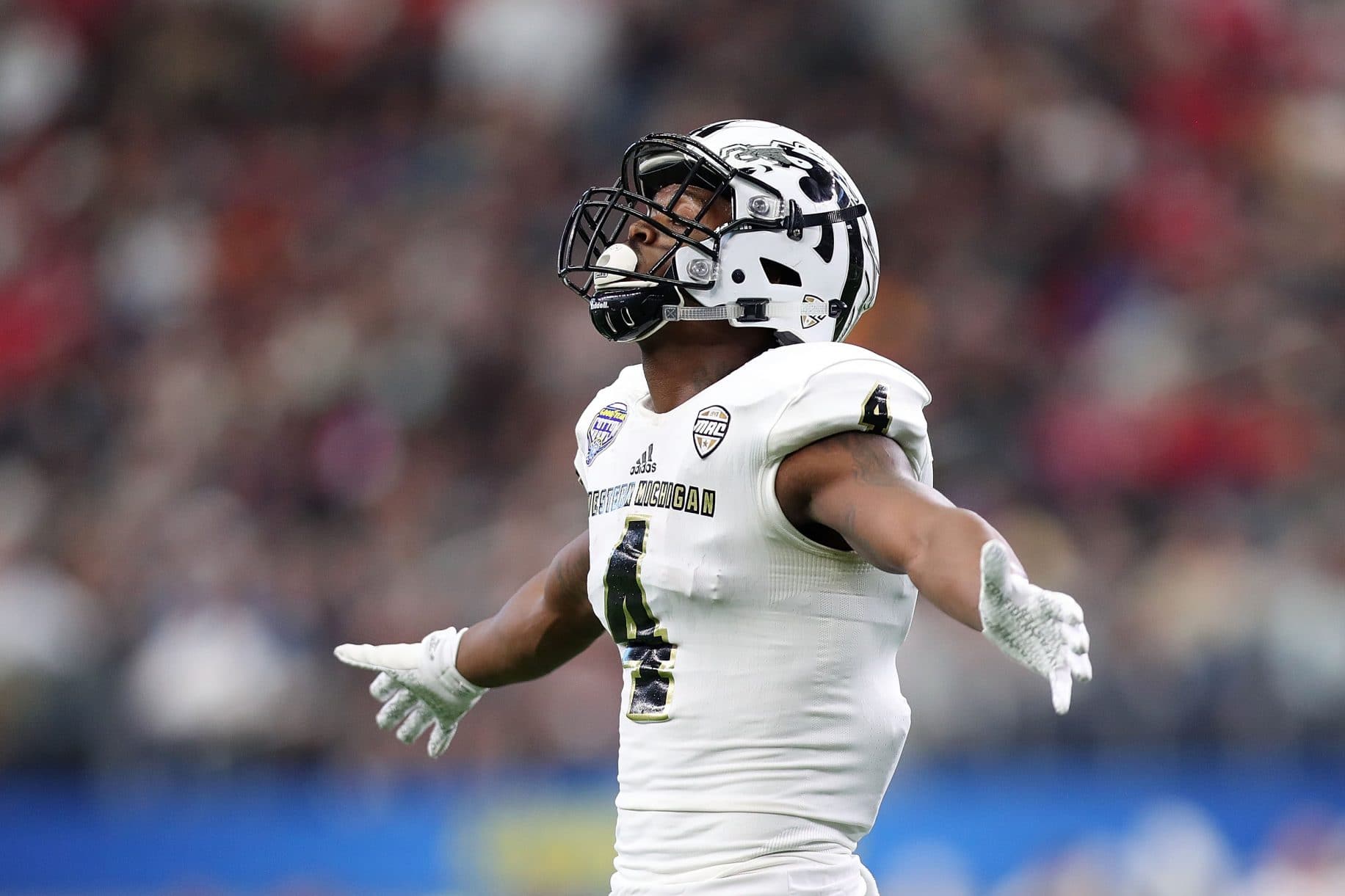 8. Darius Phillips, 5-foot-10/190 pounds, CB, Western Michigan
Darius Phillips is not just a great cornerback, but an outstanding playmaker as well, on both defense and special teams. However, he is often overlooked due to Western Michigan's "small" school status and playing opposite Sam Beal, a player scouts seem to be higher on. Phillips is another player who seems to be going in the mid-rounds but can provide tremendous value.
Phillips has been in the top seven in the MAC in interceptions in each year from 2015-17 as he compiled 12 picks in that three-year span. On top of that he is second all-time in the MAC and 12th all time in NCAA history with 35 career passes defended. The Western Michigan CB is also first all-time in the MAC with five interception return touchdowns. Phillips—like Penny—is a beast on special teams. He is the career all-time leader in the Mid-American Conference in kickoff return yards (3,193) and kickoff return touchdowns (five). The Giants need cornerback depth and Phillips is someone who should be on their radar.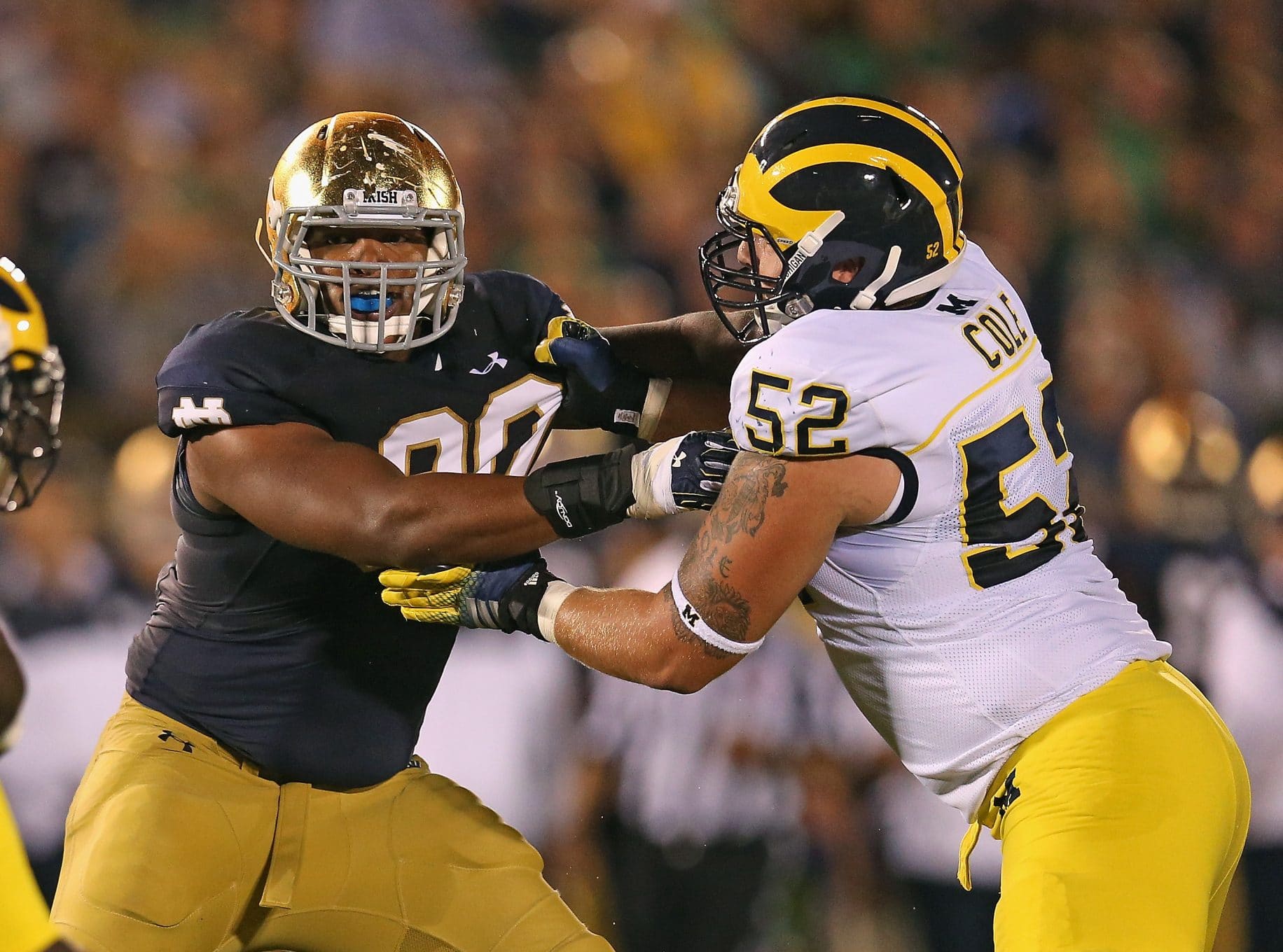 7. Mason Cole, 6-foot-5/297 pounds, OL, Michigan
Mason Cole was on the Giants' draft radar in 2016, but he decided to return to Michigan and improve his game. He didn't, which is why scouts see a solid player without a high ceiling. However, he is a safe bet as a starter at center. Cole won't win any awards or be named to any Pro Bowls, but he will provide consistency week in and week out. The Michigan product should be available in the mid-rounds and if the team decides to move on from Weston Richburg, Cole is a potential replacement.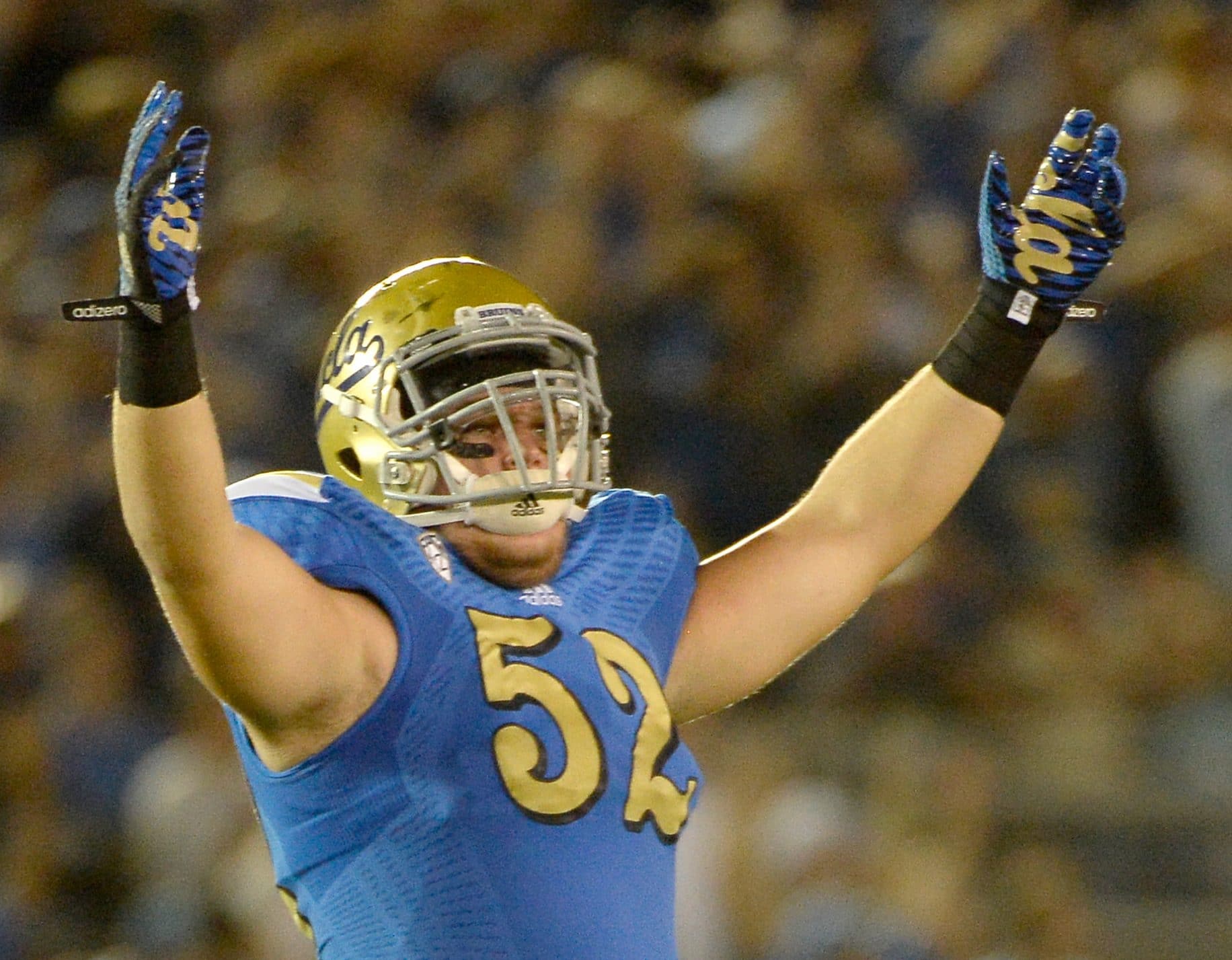 Scott Quessenberry is in almost the same exact boat as Mason Cole is. But unlike Cole, Quessenberry has some room for improvement, which gives him a bit of a higher ceiling. He's also a bit more versatile as he projects as either a guard or center at the next level. The UCLA product is projected to go in the mid-rounds and can replace Richburg or Justin Pugh if the Giants decide to let one or both of those players walk this offseason.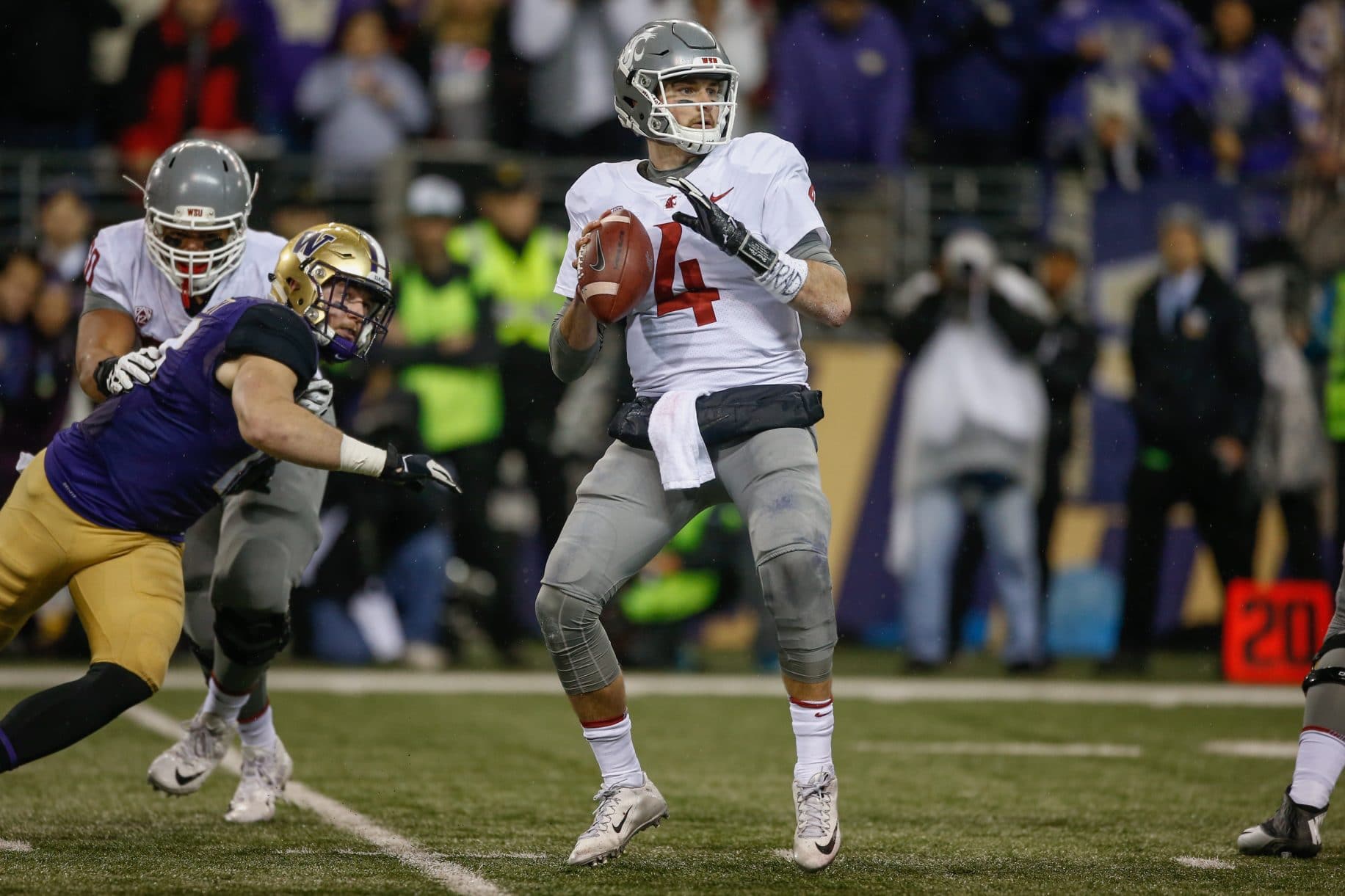 5. Luke Falk, 6-4/223, QB, Washington State
As mentioned in ESNY's Giants mock draft 1.0, if the Giants decide not to draft a QB in the first round Luke Falk would be a nice grab in the middle rounds. Falk is highly underrated and not talked about enough due to the other big names at the QB position in this year's draft. However, he has put up some monster stats in en route to breaking numerous Pac-12 records.
Falk is first all-time in the Pac-12 in completions (1,403), completion percentage (68.3), passing yards (14,481), passing touchdowns (119), and total yards (14,081). Turnovers are his biggest flaw, as he has thrown 24 interceptions combined in the past two seasons at Washington State. If he can cut those down he can be a very good QB at the next level.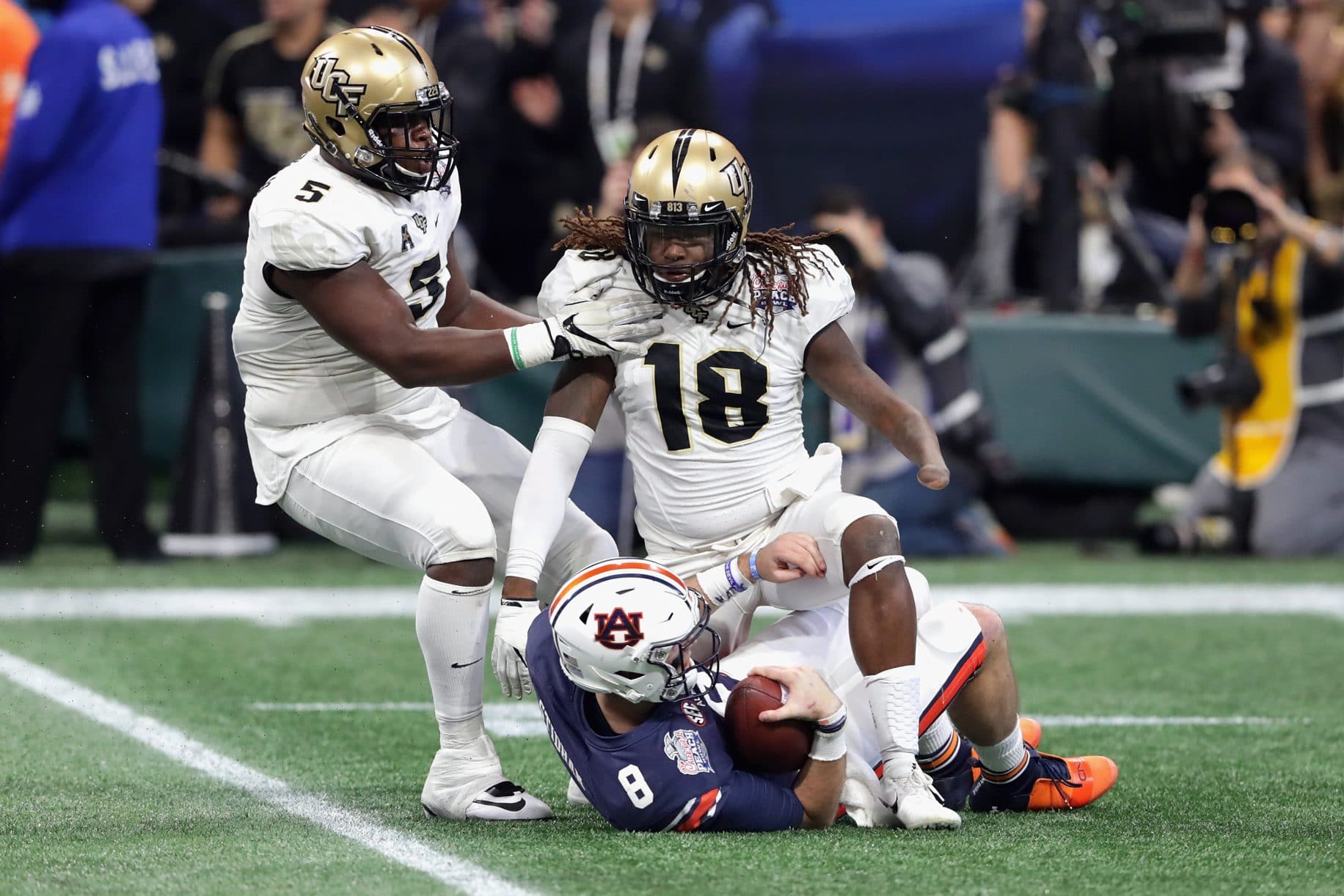 If you have not heard about Shaquem Griffin yet or seen him play, I strongly recommend you tune into Saturday's Senior Bowl. Your eyes are not playing tricks on you as you look at the picture above. Griffin does have only one hand due to a birth defect. However, that has not slowed him down one bit. Not only has Griffin been extremely productive, but he has one of the best work ethics in college football.
To put into perspective how good Griffin is, he was named the AAC Defensive Player of the Year in 2016. In his last two college seasons he has combined for 166 tackles, 18.5 sacks, two interceptions, 10 passes defended, four fumble recoveries, and four forced fumbles. Unfortunately, he will slide in the draft due to the fact that he only has one hand. But, Griffin does have similarities – high motor and hand disabilities – to a current New York Giants star, Jason Pierre-Paul. New York needs help at the linebacker position and Griffin is a great talent with an extremely high motor.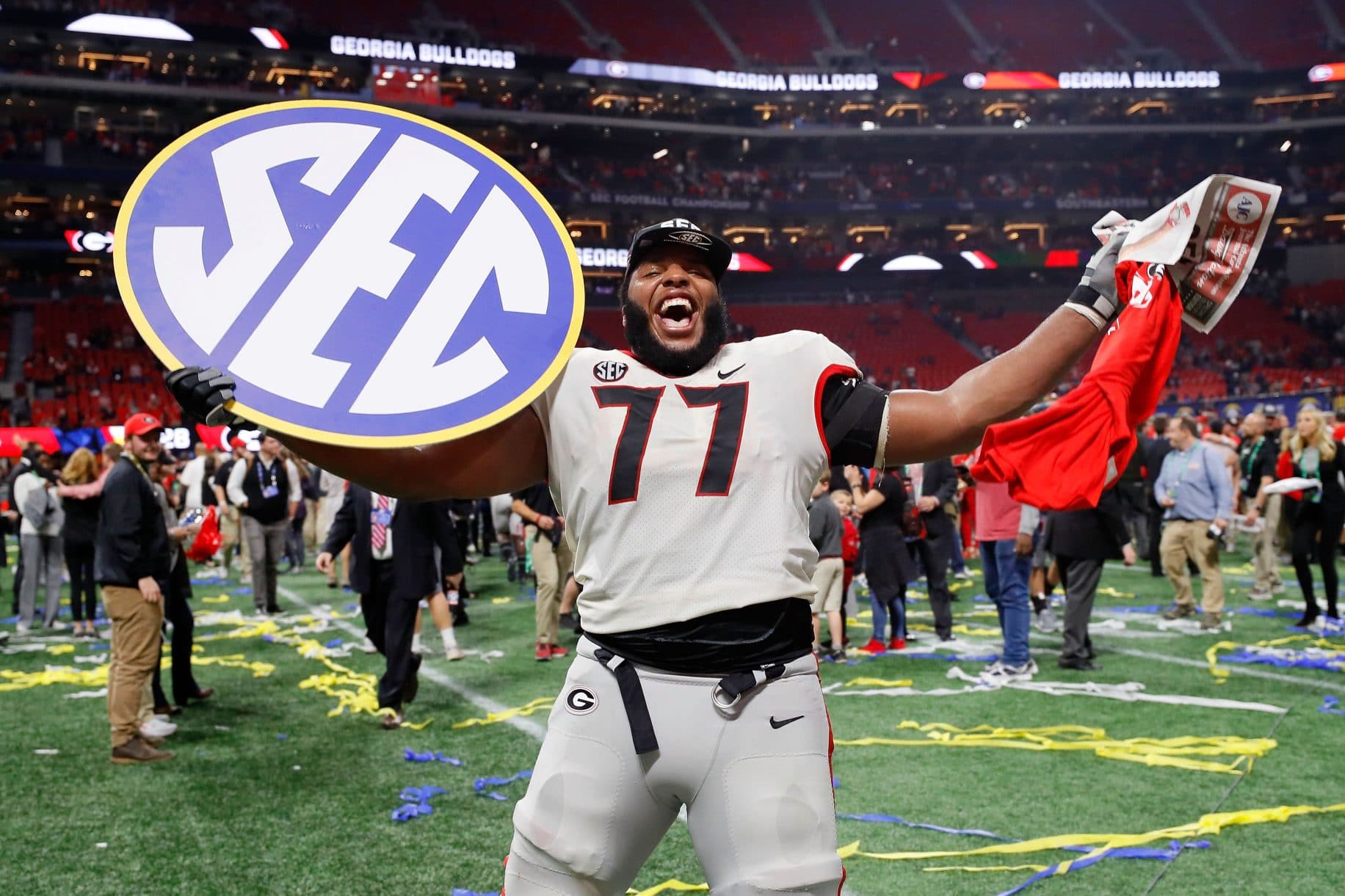 3. Isaiah Wynn, 6-foot-2/302 pounds, OL, Georgia
Isaiah Wynn is an absolute beast on the offensive line. There are questions about his height and how that will translate to the NFL, though. But his work ethic and pure talent should quiet those critics immediately. Wynn can play all over the offensive line and has done so at the college level. Scouts compare him to LT Kelvin Beachum, who is undersized but has excelled at the position throughout his career. If Wynn can live up to those expectations and the Giants draft him in the second round, as ESNY's first mock draft predicts, fans may finally see the days of Ereck Flowers starting at left tackle come to an end.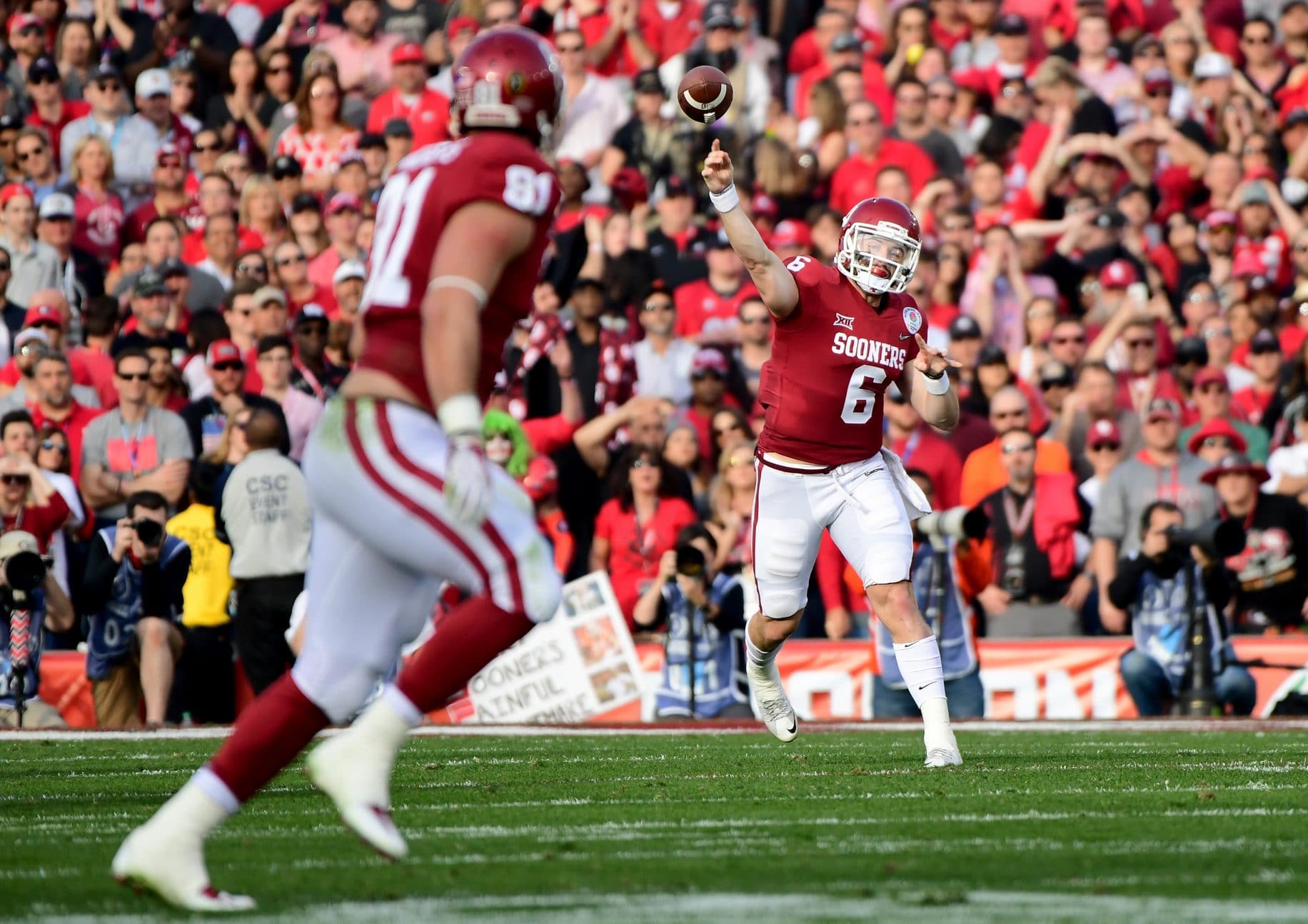 2. Baker Mayfield, 6-foot-1/220 pounds, QB, Oklahoma
Baker Mayfield is perceived as the number four quarterback in this upcoming draft behind Josh Rosen, Sam Darnold, and Josh Allen. A strong Senior Bowl can propel his stock above one or all of those names. Mayfield dominated the college game and proved his dominance as he won the Heisman Award this past season. He also has an extremely high work ethic and has quieted critics every time they speak out against him. You think I am just making up things to make Mayfield sound more intriguing, right? Well, you're wrong. Mayfield became the first walk-on true freshman quarterback to start a season opener at a BCS school when he did so at Texas Tech his freshman year.
So, why is Mayfield not the consensus number one overall pick? His height. Other QBs— such as Drew Brees and Russell Wilson—have excelled at the next level despite their lack of height. Now comparing Mayfield to either of those QBs would be a stretch. Brees is a surefire Hall of Fame quarterback, while Wilson is a freak athlete. If Mayfield puts on an absolute show in the Senior Bowl the Giants may be willing to take him with the second overall pick.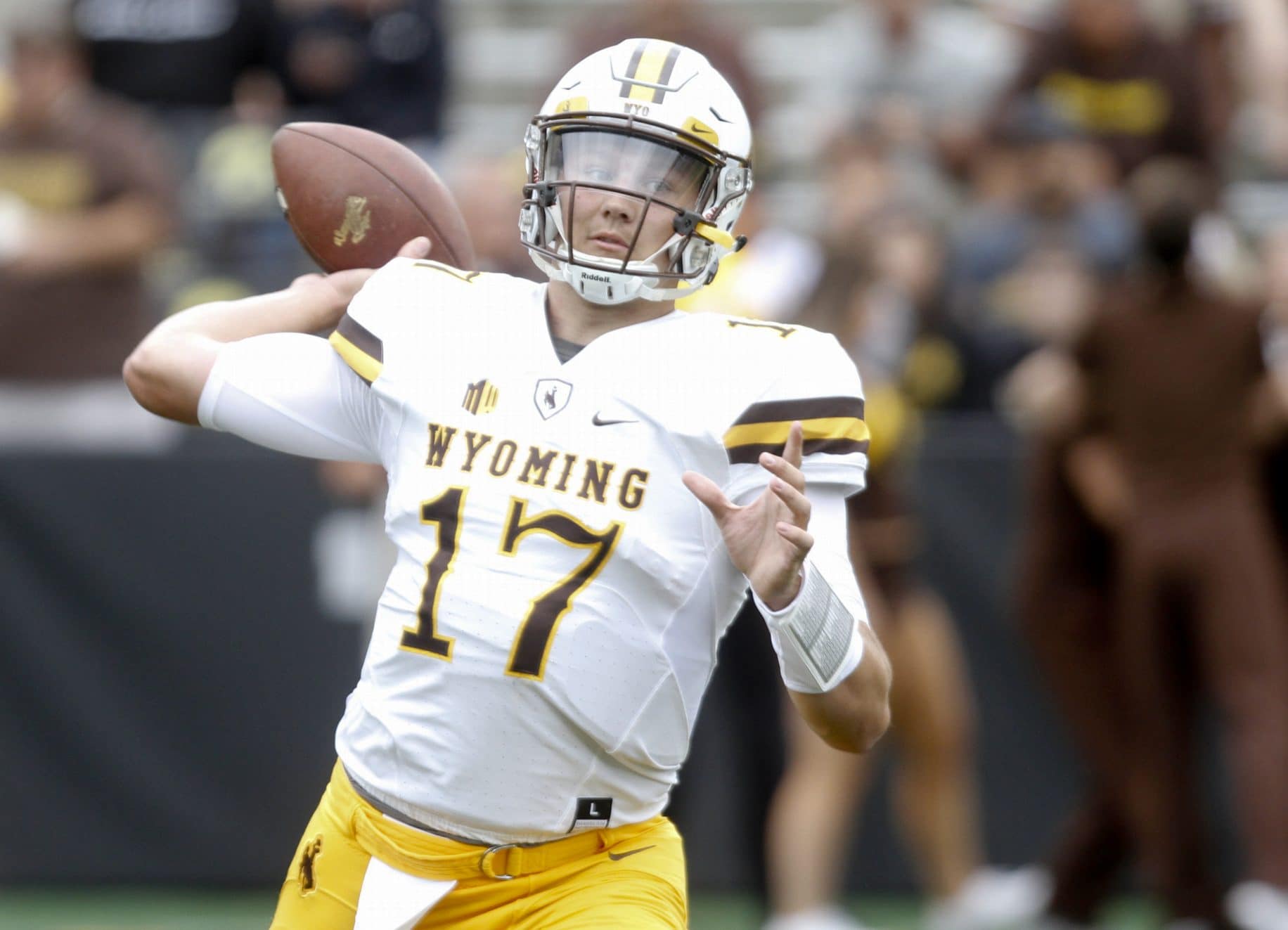 1. Josh Allen, 6-foot-5/233 pounds, QB, Wyoming
Earlier this year, Kevin Kernan of the New York Post spoke to Allen's coach at Wyoming, Brent Vigen, about potential comparisons between his QB and Philadelphia Eagles signal-caller Carson Wentz.
"We had Carson for his first three seasons [at North Dakota State]. I think their physical attributes are very similar. In fact, Josh might have a little bit more arm strength than Carson did at this point and be a little bit more athletic. I think they both desire to be great." Better arm strength than Carson doesn't mean he's a better player than Carson, of course. Can Allen play at the next level? All of these other things are nice to know, but all that really matters is if his game can translate to the NFL.
The biggest problem with Josh Allen is his completion percentage. In his two years as the full-time starter for Wyoming, Allen completed a combined 56.2 percent of his passes. That number would have placed Allen 31st in the NFL among qualified QBs, only above C.J. Beathard and DeShone Kizer. That is a big, big flaw in his game. On top of that, he put up that number against extremely weak competition in the Mountain West Conference.
Allen's stock can fall a ton after this Senior Bowl game if he does not put up big numbers against top-notch competition. He will be the player that not just the Giants, but every single team will be watching the closest.