When it comes to the New York Jets and the 2018 NFL Draft, there's only one question fans have: Can Gang Green find its quarterback of the future?
F
or as great as
Josh McCown
was for the
New York Jets
in 2017, he's not the long-term solution at the position. A free agent entering his age-38 season, McCown is at best a one-year placeholder for a young signal-caller not named
Christian Hackenberg
or
Bryce Petty
.
Sure, the Jets could go the free-agent route and make a run at the likes of Drew Brees or Kirk Cousins, but the 2018 NFL Draft is loaded with quarterback talent. With the Jets having a top-six pick, they may not be able to pass up the opportunity to take a young gunslinger.
By the time April 26, the first day of the three-day NFL Draft weekend rolls around, much will have changed. And so will the picks on our subsequent mock drafts. But based on what we know now, here's how we see the Jets' 2018 draft class shaping up.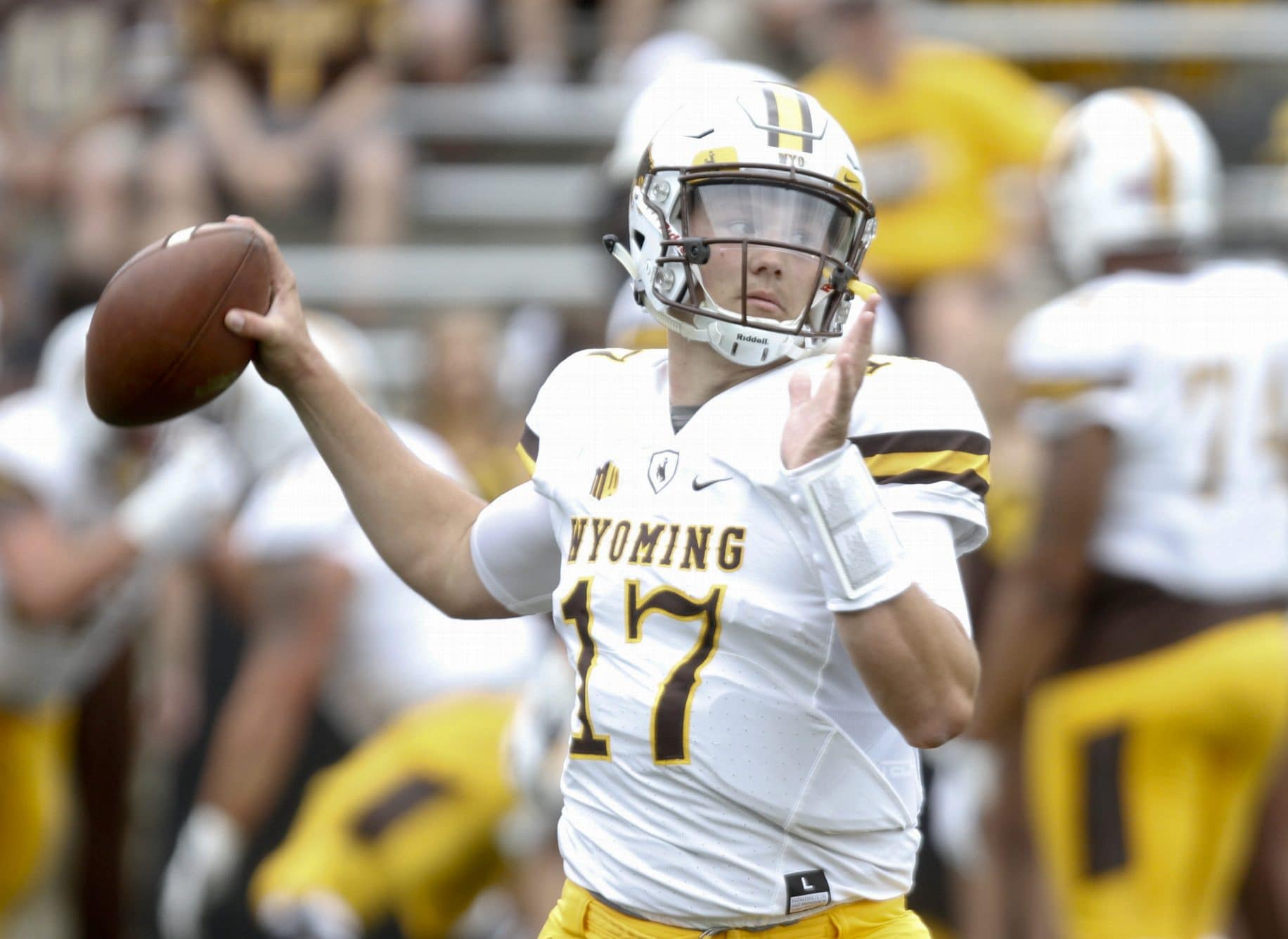 Round 1, Pick No. 6: Josh Allen, QB, Wyoming
The Jets follow the lead of ESNY's Gregg Cambareri, who suggested the team could trade up and swap picks with the New York Giants in early January to get their quarterback. It's a costly move—two future first-round picks, as NJ Advanced Media's Joe Giglio recently proposed—but with Denver sitting at No. 5 ready to take a QB and other quarterback-needy teams potentially looking to trade up into the top four, it's a move the Jets have to make.
After Cleveland takes USC's Sam Darnold first overall, the Jets are left to pick between UCLA's Josh Rosen and Wyoming's Josh Allen. While Rosen may ultimately have the higher ceiling, Allen has all the intangibles a team looks for in a franchise quarterback.
Strong arm? Check. Athletic enough to escape trouble with the pocket awareness to know when to take off? Check. Ability to throw on the run? Check. Ideal size (six-foot-five, 222 pounds)? You got it—that's another check.
Allen isn't without his flaws, to be sure. He needs to improve his decision-making and accuracy. But consider this: He's already acclimated to playing in cold weather and windy, unwelcoming conditions, having spent his college career in Wyoming and dealing with the Chinook winds.
MetLife Stadium in November and December should be no problem for him to handle.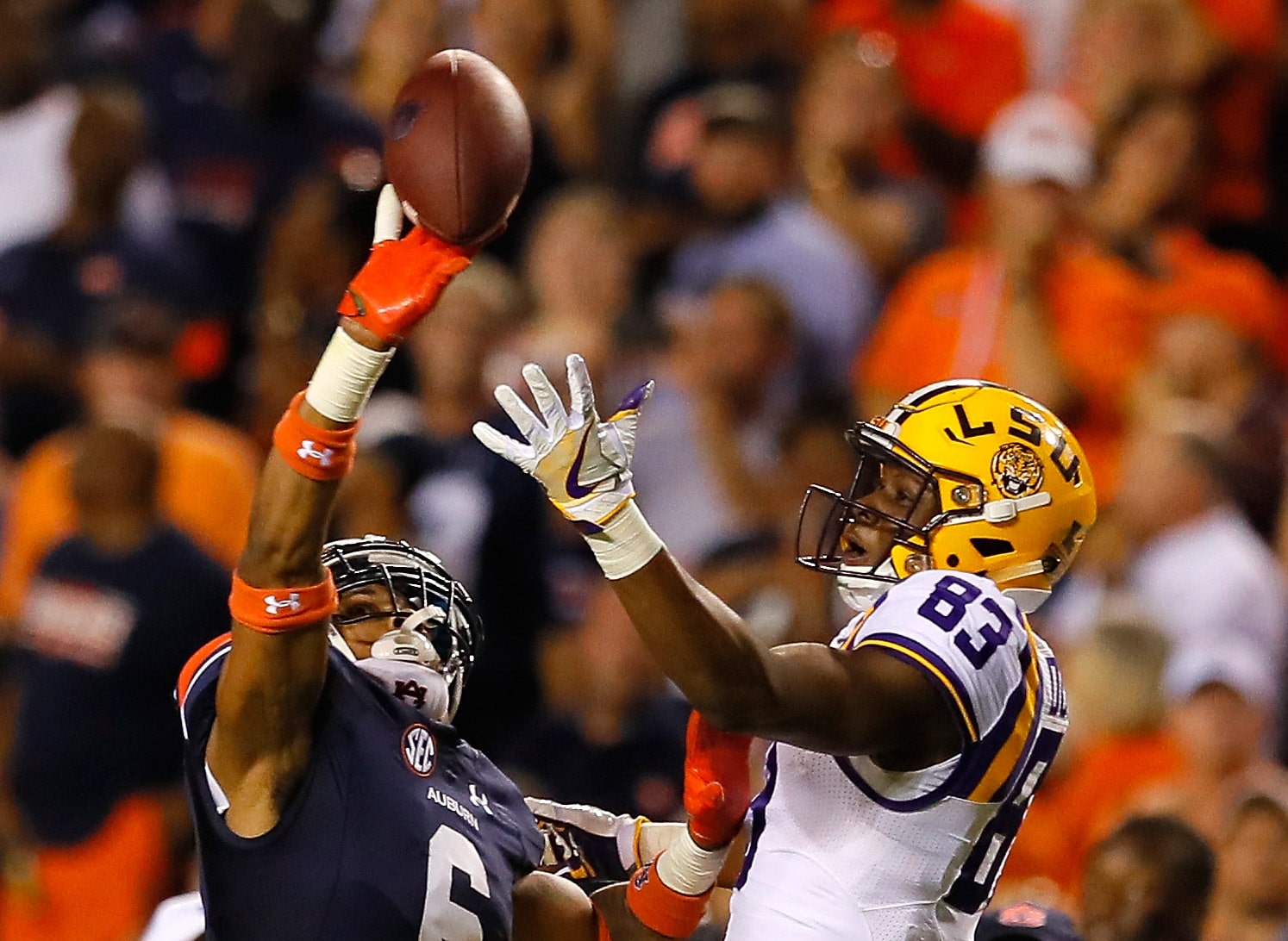 Round 2, Pick No. 5: Carlton Davis, CB, Auburn
With their future at quarterback secured, the Jets turn to the other side of the ball and begin adding to their defensive backfield, which already features 2017 draft picks Jamal Adams and Marcus Maye.
Carlton Davis doesn't have the top-end speed to keep up with the fastest wideouts in the NFL, but the six-foot-one, 195-pound cornerback has the size and physicality to cause problems for the league's taller receivers.
Congrats to Desmond Harrison on being named First Team All-GSC!
Story: https://t.co/8Wz0qqNNUL pic.twitter.com/fqmJbnABnD

— West Georgia Wolves (@UWGAthletics) November 15, 2017
Round 2, Pick No. 17 (From Seattle): Desmond Harrison, OT, West Georgia
With the pick the Jets got from Seattle in the Sheldon Richardson trade, they pick up a somewhat forgotten but high-end talent in Desmond Harrison. After being forced out of Texas due to a failed drug test, Harrison seems to have gotten his act together at West Georgia.
An imposing physical specimen at six-foot-seven, 300 pounds, Harrison's athleticism, length, quickness and size make him an intriguing offensive lineman at the next level. He'll likely need some work before he's ready to start at left tackle, but could be one of the sleepers in the 2018 Draft.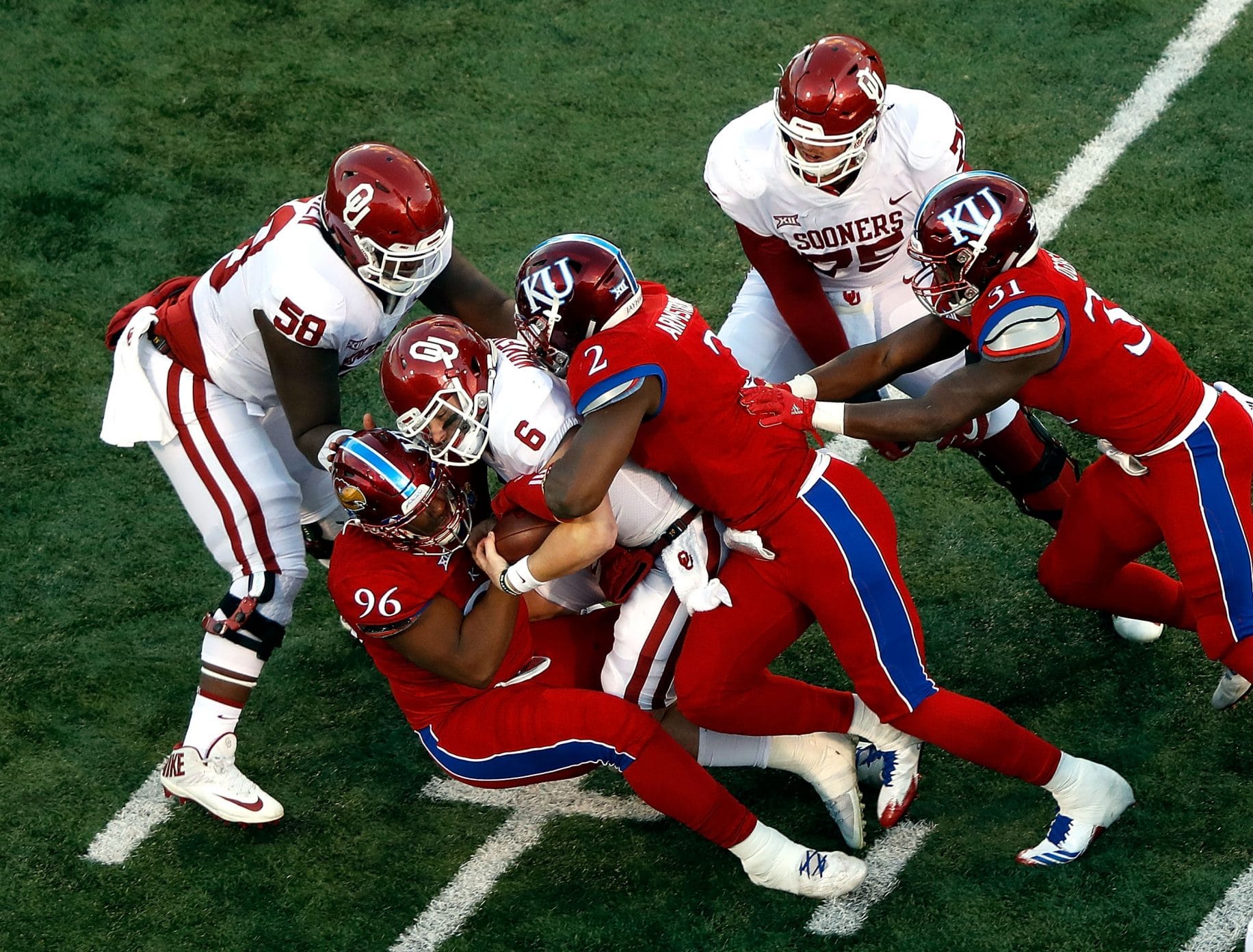 Heading into the 2017 season, Pro Football Focus' Elliott Rooney pegged Dorance Armstrong Jr. as potentially being the biggest sleeper of the 2018 NFL Draft.
The six-foot-four, 241-pound edge rusher has a knack for getting into the opposing backfield, forcing quarterbacks to move their feet and often run from the pocket.
His numbers in 2017 weren't all that impressive, but the opposition often double-and-triple-teamed Armstrong, as they didn't fear any of the Jayhawks' other defenders. With Leonard Williams and others anchoring the Jets' defensive front, Armstrong Jr. could be left in one-on-one situations, which he's got the talent to dominate.
Gang Green could also decide to utilize him as an outside linebacker, as he's got the athleticism and speed to handle the position.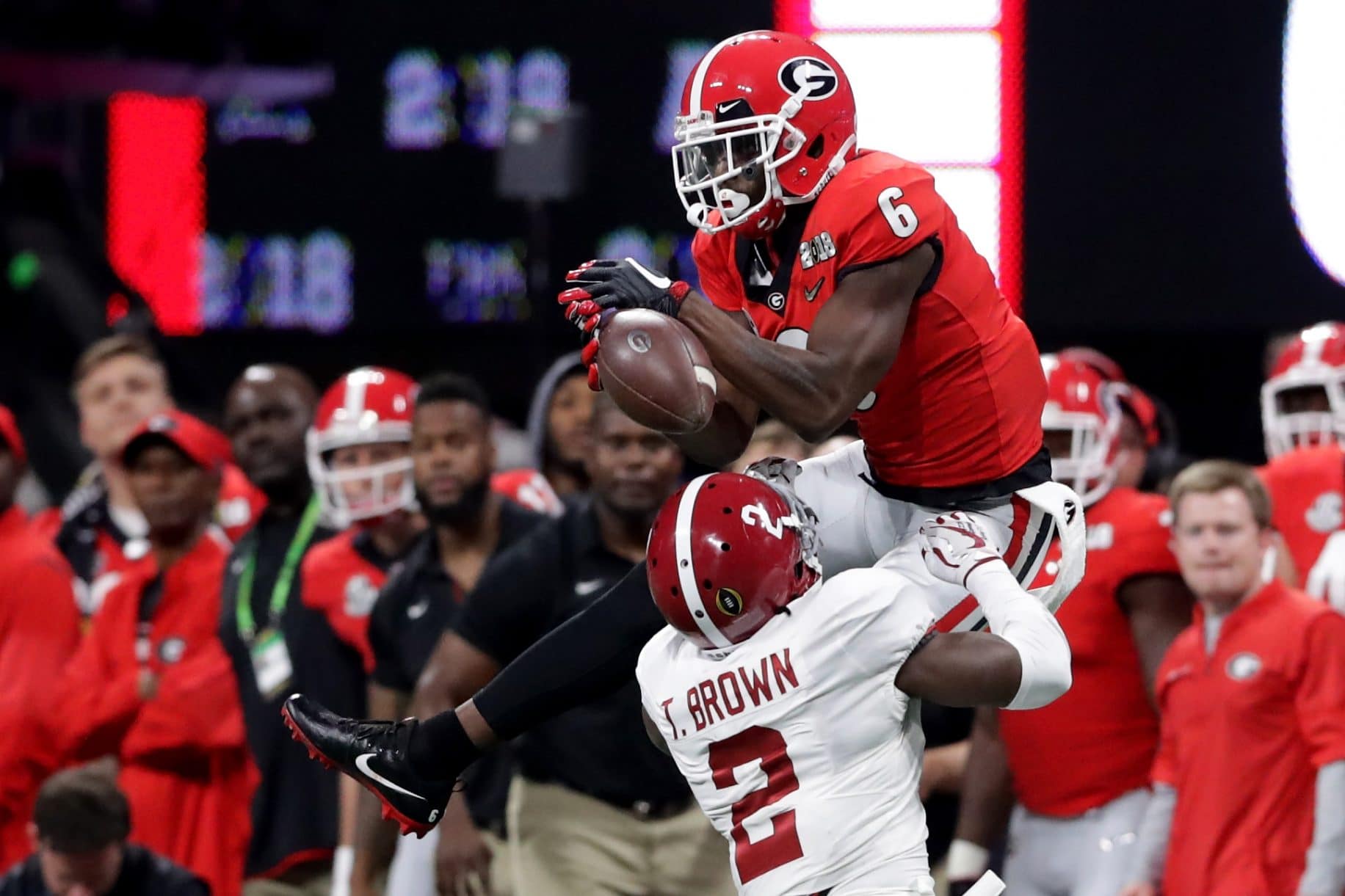 Round 4, Pick No. 6: Tony Brown, CB, Alabama
Jets fans are assuredly still a bit gunshy about taking a cornerback from Alabama after the Dee Milliner debacle, and picking Tony Brown here does nothing to ease those concerns.
Brown, after all, is perhaps more well-known for his shirtless pregame ritual (and subsequent "silverback gorilla" remarks) than his on-field play, but he's a fierce competitor, and you can never have too many of those on your team.
He's also a solid all-around defensive back, one who isn't afraid to bring his six-foot, 195-pound frame up from the secondary to stuff the run. Instinctive and physical, he'll need to be less of a gambler in the NFL, but has the skillset to develop into a quality cornerback.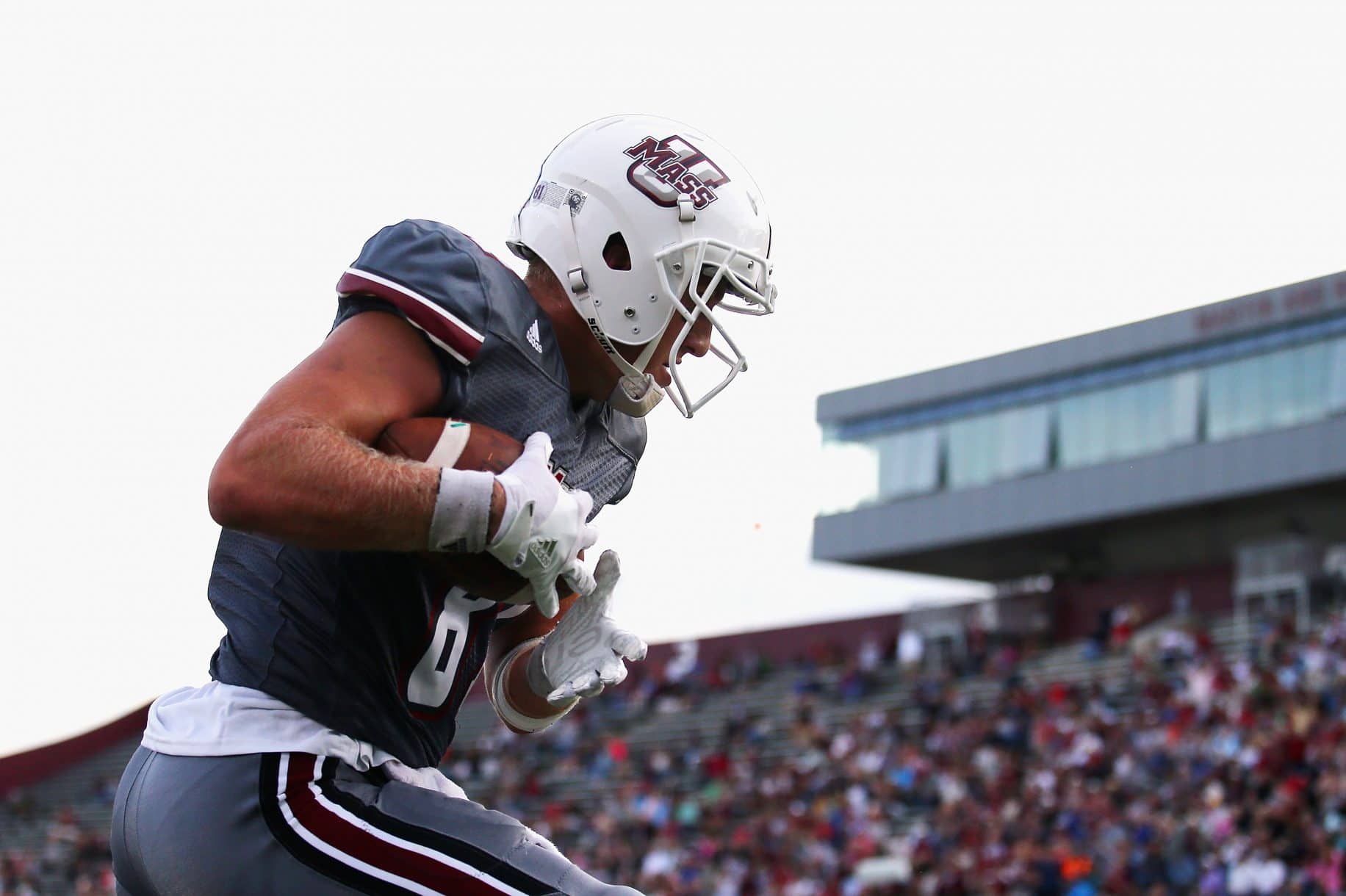 Round 5, Pick No. 19 (From Dallas): Adam Breneman, TE, UMass
With it looking more likely that Austin Seferian-Jenkins will depart as a free agent, the Jets need a big, athletic body to replace him. Six-foot-five, 255-pound Adam Breneman fits that role.
The former Penn State product's career was derailed by knee injuries, but he resurfaced at UMass in 2016 and has re-established himself as a legitimate NFL prospect. He doesn't have great top-end speed but his size, soft hands and quality route-running make him a matchup problem for opposing defenses. He can hold his own as a blocker as well.
Congrats to Timon Parris on being named second team @AP_Top25 FCS All-American!!! No doubt the first of many national honors for the Seawolves' senior left tackle#HOWL #CAAFB https://t.co/thmyR956bG pic.twitter.com/XtodMluMh5

— Stony Brook Football (@StonyBrookFB) December 12, 2017
Round 6, Pick No. 6: Timon Parris, OT, Stony Brook
It's highly unlikely that Timon Parris steps in as a starter when the 2018 season begins, but there's lots to like about the second-team All-American, starting with his size.
At six-foot-five and 310 pounds, Parris has an ideal frame for an offensive lineman. He's most definitely a project, though, as he needs to improve his awareness and overall technique. But the upside is there.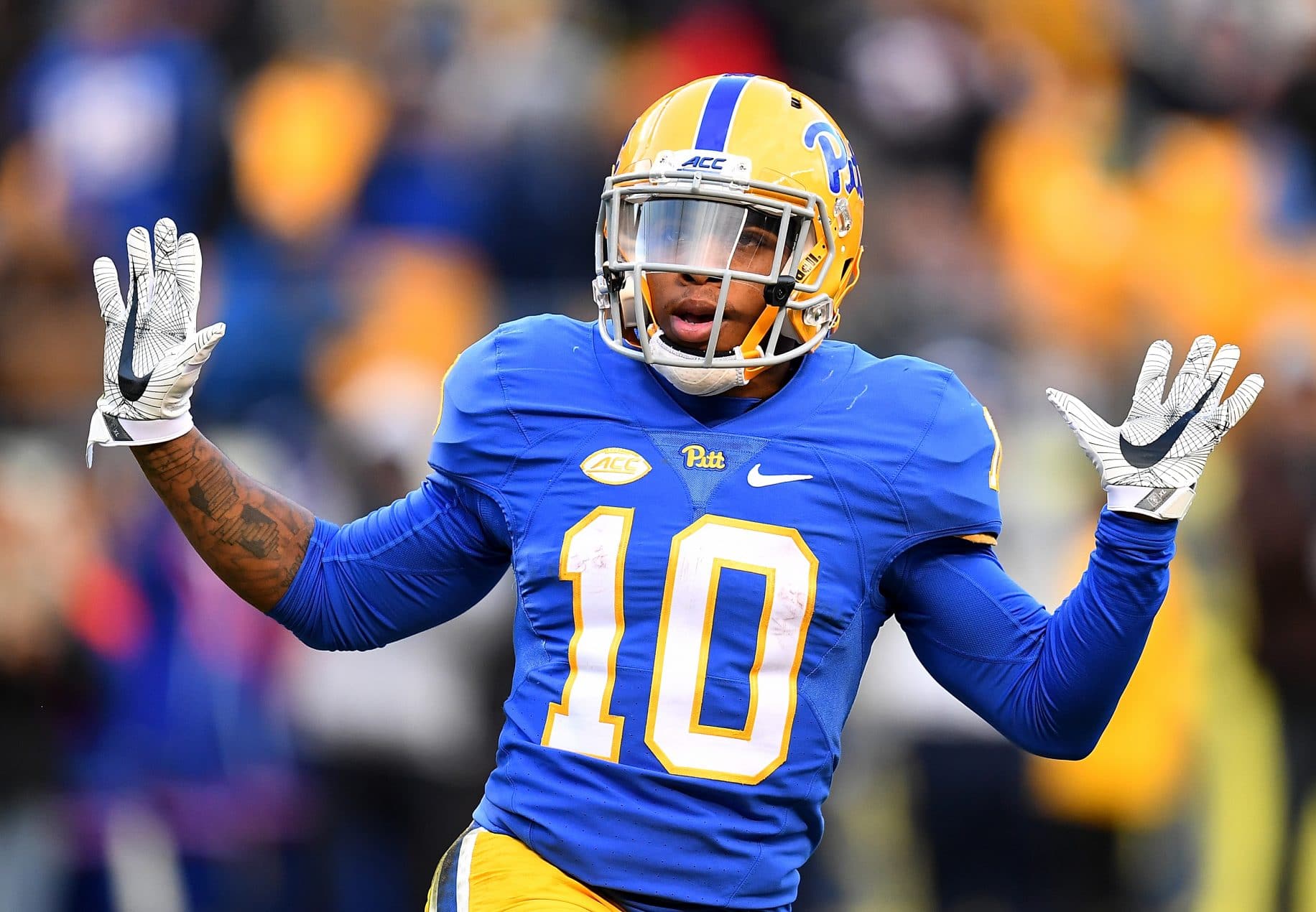 Round 7, Pick No. 18 (From Seattle): Quadree Henderson, WR, Pittsburgh
At five-foot-eight and 190 pounds, Quadree Henderson isn't going to do much as a receiver in the NFL. But the undersized athlete has the skills to be a dynamic playmaker in the return game.
He averaged 21 yards per kickoff return and 11.6 yards per punt return last season, taking two of those the distance.