Pat Shurmur, reportedly the new head coach of the New York Giants, cannot only earn a modicum of revenge against his past in the NFC title game, he can also earn a perfect start to his future.
P
at Shurmur, if recent news is to be believed, has turned in his de facto two weeks notice with the Minnesota Vikings.
He's hoping, however, it'll be a three weeks notice.
Shurmur is currently employed as the offensive coordinator of the Vikings, but one day after he helped pull off a miracle in Minneapolis, reports surfaced that yet another miracle went down at the Meadowlands, namely the conclusion of the New York Giants' coaching search.
Source: The #Giants are targeting #Vikings OC Pat Shurmur as the top choice for their new head coach and he's expected to accept, if offered.

— Ian Rapoport (@RapSheet) January 15, 2018
Two years to the day Ben McAdoo was introduced as head coach of the Giants, it was reported that Shurmur is likely to be his successor, though nothing can officially be revealed until the Vikings' season ends, per NFL rules. Minnesota's season, kept alive by Stefon Diggs's improbable walk-off score, continues on Sunday night when they partake in their first NFC Championship Game since 2009 (6:40 p.m. ET, FOX).
Standing in the way of an elusive Super Bowl appearance, one that the Vikings would technically "host" at their Minneapolis home of U.S. Bank Stadium, is a foe that is a part of Shurmur's past, present, and future: the Philadelphia Eagles.
Shurmur's connections to the Super Bowl begin before he himself entered the league. While Shurmur served as an assistant at Michigan State, his alma mater, his uncle Fritz earned a ring in Super Bowl 31 as Green Bay's defensive coordinator, helping oversee a 35-21 Packers victory over the New England Patriots.
Tragically, Fritz Shurmur never saw his nephew coach in the NFL. In August 1999, Fritz succumbed to liver cancer, just under two weeks before he was set to partake in his first game as defensive coordinator of the Seahawks, having followed ex-Packers head coach Mike Holmgren to Seattle.
When the league kicked off on Sept. 12, however, the Shurmur family was still represented by Pat, who kicked off his NFL career in Philadelphia, on hand for the first year of the Andy Reid era. Joining him on that Eagles staff were future Super Bowl-partaking coaches Ron Rivera (linebackers) and John Harbaugh (special teams). Also on the staff was Steve Spagnuolo (defensive assistant/quality control), who most recently held the job Shurmur is said to take over.
After three years as the Eagles' tight end and offensive line coach, overseeing the rise of Pro Bowlers Chad Lewis, Tra Thomas, Jon Runyan, and Jermane Mayberry, Shurmur was named the Eagles' quarterbacks coach in 2002. Arriving at the same time as Shurmur was Donovan McNabb, 1999's second overall pick out of Syracuse. Under the new coach's guidance, McNabb cemented his place in Philadelphia football history, becoming the most prolific passer in the history of the franchise. The pair's magnum opus was the 2004-05 season, where McNabb set personal bests in touchdown passes (31), completion percentage (64) and passer rating (104.7). That year culminated in the Eagles' first NFC title since 1981, though victory was not to be, as they fell 24-21 to the Patriots.
With a taste of the Super Bowl under his belt, Shurmur joined Spagnuolo in the latter's first head coaching experience with the artists then known as the St. Louis Rams as the offensive coordinator in 2009. The pair's debut was an unmitigated disaster, going 1-15, but that led them to earning the top pick in 2010's draft, where they selected Shurmur's latest canvas: Oklahoma quarterback Sam Bradford.
En route to Rookie of the Year honors, it took Bradford a record 169 passes to record his first interception, and he also set a rookie record for completions with 354. The success with Bradford drew the attention of head coaching vacancies across the league, and 3,512 yards and 18 touchdowns later, he was named the head coach of the Cleveland Browns. While Shurmur did Shurmur things, leading Colt McCoy, the Browns' latest sacrificial lamb posing as a quarterback, to the best numbers of his career, the Browns did Browns things. After nine wins in two seasons, the impatient Browns did a clean sweep of leadership, dismissing Shurmur and general manager Tom Heckert Jr.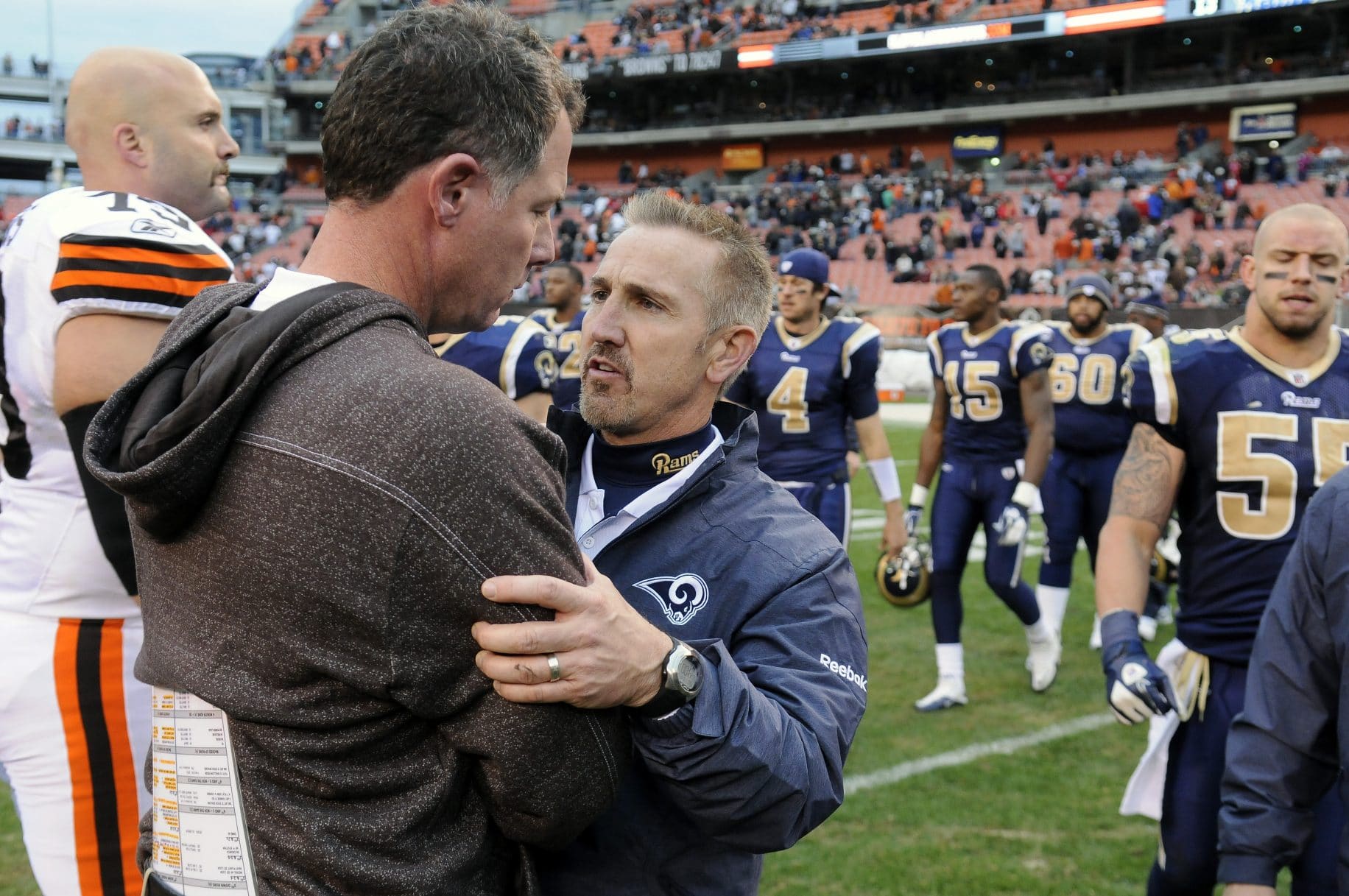 Salvation for Shurmur came in 2013 from a familiar source: Philadelphia.
Given oversight of Chip Kelly's famous speedy offense, Shurmur again put a young quarterback's name on the map, that of the man he'll try to stop on Sunday, Nick Foles. When another injury befell Michael Vick, the third-round selection from Arizona stepped in, and commandeered the Eagles' run to an improbable NFC East title. Much like McNabb before him, Foles's best numbers in green came under Shurmur. Despite missing three games entirely, Foles put up 2,891 yards and 27 touchdowns, topping the league with a 119.2 passer rating.
Earlier this week, Foles told the New York Daily News' Evan Grossman that he was "really excited" to hear about his former mentor's potential new gig.
"He's a tremendous coach," Foles endorsed. "I really enjoyed playing for him."
The Kelly years, however, soon met a dubious end. With one game left in the 2015 season, the 6-9 Eagles moved on immediately, dismissing Kelly faster than one of his offenses could snap the ball. Chosen to lead the team into a meaningless season finale was Shurmur, the lone man on the staff who had prior NFL head coaching experience.
Shurmur's opponent in the game? The New York Football Giants.
Shurmur ended the Tom Coughlin era in style, supervising a 35-30 Philadelphia win at MetLife Stadium. With Kelly criticized all season for failing to use defending rushing champion DeMarco Murray properly, Shurmur showcased the runner's talents via a 54-yard scoring run on the fifth play from scrimmage.
Bradford, his St. Louis protege, quarterbacked that game, threw for 320 yards and completed a season-high 79 percent of his passes.
"I think what he did, the way he led this football team, (was) remarkable, really. I don't think anyone wants to be put in that position, but he did a great job," Bradford, now Shurmur's backup quarterback in Minnesota, said after that game. "I think you want to play for a guy that's going to be there for you, that's going to inspire you, someone the guys the locker room can rally around." Asked if Shurmur fulfilled those qualities, Bradford replied "I think so" and said he "would love" to play under Shurmur as a head coach full-time.
Despite the promising display at the Meadowlands, not to mention the de facto best win percentage in Eagles history, not to mention his long ties to the organization, couldn't help Shurmur earn what could've been the biggest promotion of his career.
Perhaps vindicating their long modern-day selection process, the Giants sprang into action to hire McAdoo, who oversaw the Giants' offensive performance as a coordinator in the Shurmur game (to date, it's the last the last time Giants reached the 30-point plateau), as Coughlin's heir. Forced into a second option, as they were planning to offer McAdoo their own vacancy before the Giants jumped, the Eagles whittled their search down to Shurmur and Pederson.
You know by this point that the Eagles went with Pederson …who won Super Bowl 31 alongside Shurmur's uncle as one of Brett Favre's backups in Green Bay.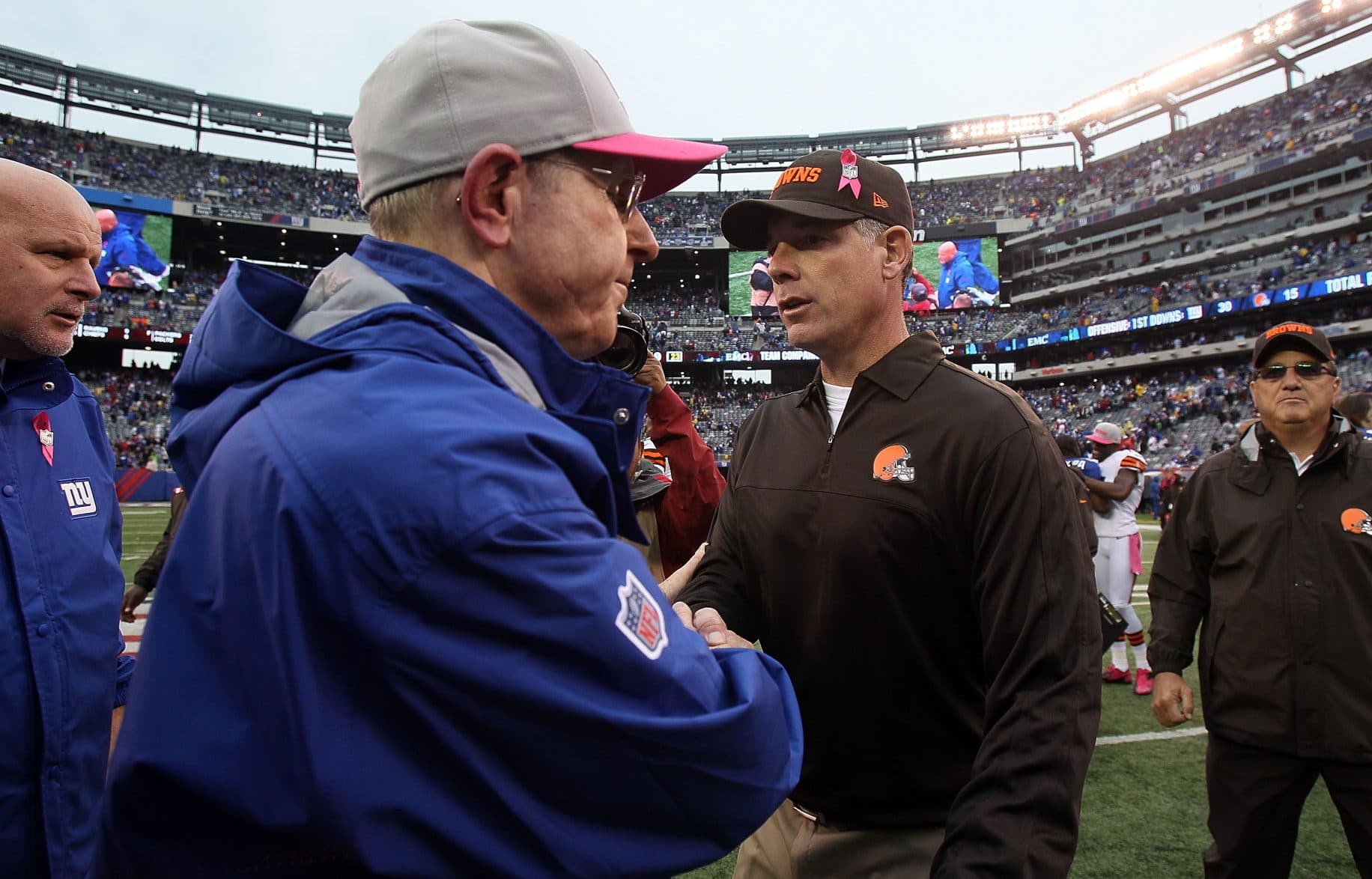 Not retained on Pederson's staff, Shurmur went back to where he began his NFL journey: coaching tight ends, but this time with the Vikings. He returned to the now-familiar coordinator spot in November 2016, when Norv Turner departed.
"He's done an outstanding job with Minnesota the last couple of weeks, and the last couple years. He understands defense, meaning he's putting his guys in positions to be successful, particularly that quarterback," Pederson said in Grossman's report. "It's been kind of fun to kind of watch him and watch kind of what they've done offensively this season, as well."
He reunited with his old Padawan Bradford to the tune of a stellar performance in Week 1 (27-for-32, 346 yards, three touchdowns in a 29-19 win over future playoff foe New Orleans), but, like so many flashes of Bradford brilliance before it, the former top pick was lost to an injury thereafter. With supposed franchise quarterback Teddy Bridgewater still rehabbing from a 2016 training camp injury, Shurmur's new protege was Case Keenum, a college superstar turned NFL journeyman.
Joining Keenum on this island of misfit toys was a running game of Jerick McKinnon and Latavius Murray, who were picking up the pieces in the wake of Adrian Peterson's departure and rookie Dalvin Cook's Week 4 injury. Keenum's top receiving targets were perhaps the fifth-rounder Diggs and undrafted receiver Adam Thielen.
Considering the chants of "Skol" from last Sunday are still rocking the Land of 10,000 Lakes, you can guess how that turned out.
Shurmur's impact goes well beyond the Diggs miracle that's been played on an endless loop on every sports and news channel across the nation. Keenum, perhaps thankful to be free from the purgatory of a Jeff Fisher regime in Los Angeles, set career-highs in all major statistical categories, more than doubling his personal best in touchdown throws (9 to 22). Thielen, the local Minnesota hero from Detroit Lakes, went from special teams stud to an elite receiver, his tally of 1,276 yards ranking fifth in the league. As a team, Minnesota's offense leapfrogged from 28th to 11th under a full year of Shurmur.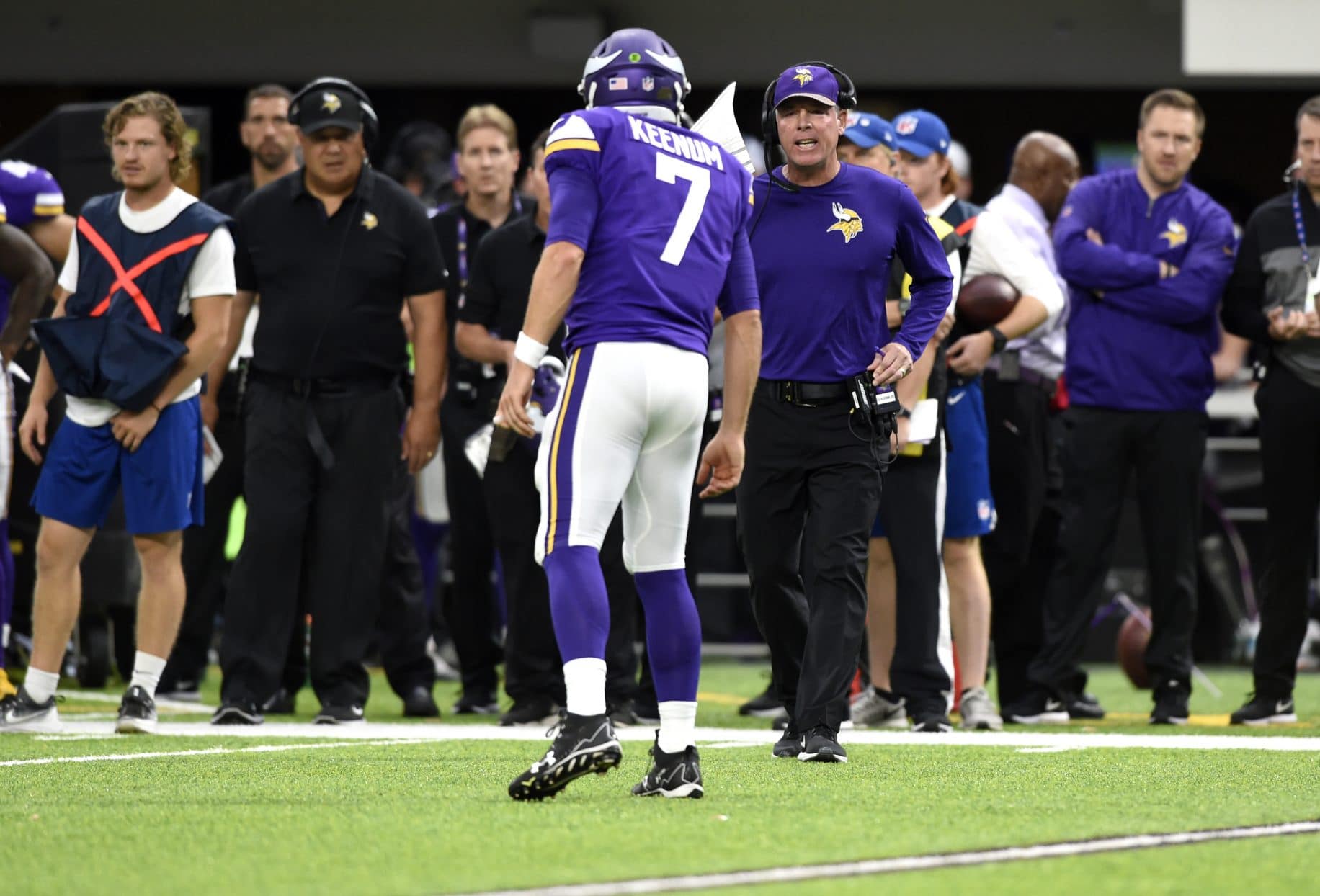 The Vikings now have a chance to advance to their first Super Bowl since the Fran Tarkenton days. In that attempt, Shurmur will stand on an unfamiliar side of an establishment he knows all too well, The Linc. Many have passed on from the organization since Shurmur's time there, but the offensive player that everyone in Pennsylvania will have their eyes on …the starting quarterback Foles… is, of course, his former apprentice. Now Shurmur is the master, bringing a new ward in the form of Keenum.
It'll be hard to say that Shurmur truly deserved the Philadelphia job …the enthusiastic Pederson clearly has the franchise going in the right direction…but this is a chance to get a personal sense of revenge, a chance to show the green-clad management and faithful what they'll be missing.
He can also show them what to expect for the foreseeable future.
In a rare opportunity for a new coach, Shurmur has the chance to instantly endear himself to his new fanbase. If you're not from around these parts, you know that locals have taken a small disliking to the Philadelphia NFL franchise. New Jersey, in particular, becomes a ground for civil war in fall, with the north and south portions turning shades of blue and green respectively. Shurmur, who was certainly not the first option of many Giants fans perhaps drunk on Bill Belichick rumors, can spare Giants fans an offseason of their Shore-dwelling rivals from coming in legions and ending taunts of "NFC Champs!" and "Just wait until Carson Wentz comes back!"
Should the Vikings prevail, Shurmur will hoist only one title, that of the George Hallas Trophy, routinely earned by the NFC's Super Bowl representative. On a personal level, however, the trophies Shurmur can likewise earn, victory and mastery over his past, present, and future, would likewise look tremendous on his mantel.
Geoff Magliocchetti is on Twitter @GeoffMags5490