Though splashy, it never matters who laughs first. What's important is who laughs last and loudest and in the case of Tom Coughlin and the New York Giants, it's the old general forcing an entire organization to feel a sense of silliness.
J
ust two short years ago the man was everybody's favorite senile senior citizen. Just another out-of-touch football guy barking up and down the wrong half-century old tree.
Tom Coughlin couldn't deal with the superstar of today's NFL no less the extra package of tricks Odell Beckham Jr. brings to the party. So naturally, he morphed into the latest NFL scapegoat after a few rough seasons capped with back-to-back 6-10 seasons with the New York Giants.
One laughably lazy season coupled with a young head coach (Ben McAdoo) firing later has the grumpy old man is laughing not only last, but loudest.
Only four teams remain alive in the tournament. Coughlin's Jacksonville Jaguars represent one of the four after their shocking victory in Pittsburgh this past weekend.
That's right. Coughlin, 71, the executive vice president of football operations for a team that fields Blake Bortles, is on to face Tom Brady, Bill Belichick and the New England Patriots, the very same team the "senile one" has stopped (twice) from becoming more than immortal while the Giants continue to look for a new head coach after turning 2017 into their own personal and unusual brand of laughingstock.
At the time of his firing forced resignation, many in Jints land were fully onboard.
Two 6-10 seasons manufactured after a 7-9 mark the year prior firmly placed Coughlin on the hot seat after already feeling the warmth for the better part of five or six seasons outside of the two Super Bowl runs. Nearing age 70, the move could easily be explained away as logical. McAdoo was an exciting fresh brand tutored by a good coach in Super Bowl-winner Mike McCarthy. The young head coach worked with Aaron Rodgers, of all quarterbacks, and garnered rave reviews.
He was the next big thing—according to more eyes than just those who roamed the East Rutherford building hallways.
The way they went about it is what makes Coughlin's laugh so ferocious today.
After the 2015 season, New York possessed every right to make a move, but Jerry Reese needed to man that sinking ship as well.
Reese was semi-excused due to the home run of an offseason he executed shortly after. Damon Harrison, Janoris Jenkins, Olivier Vernon and the progress of beastly safety Landon Collins raised the stock of the Jints GM. The rub comes when understanding just how Reese was able to obtain all of those guys over the course of one offseason.
His past failures created the wealth of cap money for Reese and simultaneously McAdoo, the rookie.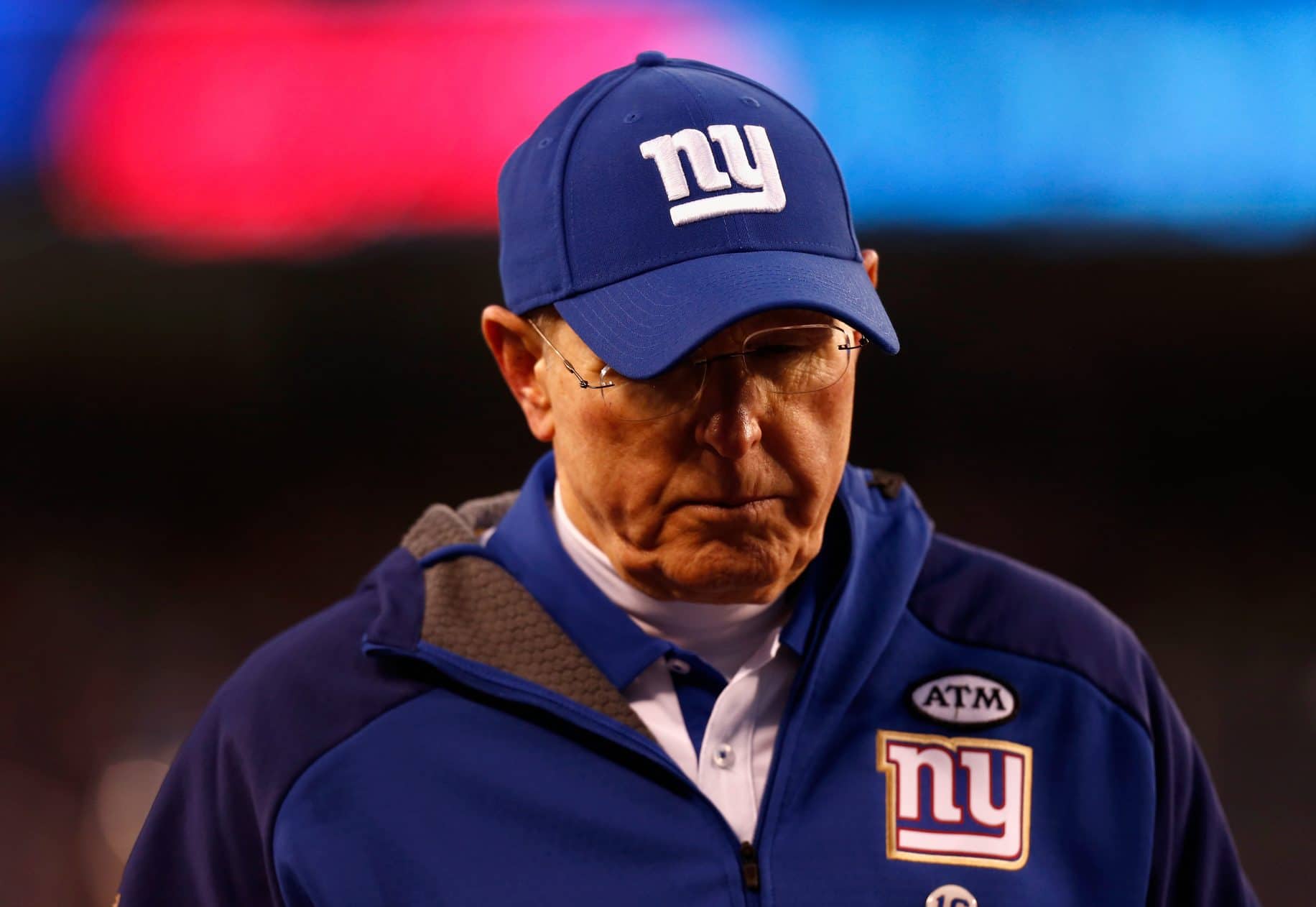 What Coughlin and Eli Manning were forced to deal with from 2012 through 2014 was pathetic. The level of talent rivaled the worst in the league and when looking back, it's amazing Coughlin was able to navigate the Giants to 21 wins in three seasons.
Other than Odell Beckham Jr., Manning had nobody at his disposal. After 2013, Hakeem Nicks was a ghost of a wide receiver. Victor Cruz laid injured during the sixth game of 2014 and missed the entire 2015 season. The weaponry depth was just not there.
| CATEGORY | 2014 PLAYER | 2015 PLAYER |
| --- | --- | --- |
| RECEIVING LEADER | Odell Beckham Jr. (1,305 YDS) | Odell Beckham Jr. (1,450) |
| RECEIVING RUNNER-UP | Rueben Randle (938 YDS) | Rueben Randle (797) |
| RUSHING LEADER | Andre Williams (721 YDS) | Rashad Jennings (863) |
| RUSHING RUNNER-UP | Rashad Jennings (639 YDS) | Shane Vereen (26) |
| TACKLES LEADER | Jameel McLain (75) | Landon Collins (80) |
| TACKLES RUNNER-UP | Antrel Rolle (71) | Jonathan Casillas (62) |
| SACKS LEADER | Jason Pierre-Paul (12.5) | Robert Ayers (9) |
| SACKS RUNNER-UP | Johnathan Hankins (7) | Cullen Jenkins (3) |
| INTERCEPTIONS LEADER | Quintin Demps (4) | Dominique Rodgers-Cromartie (3) |
| INTERCEPTIONS RUNNER-UP | Antrel Rolle (3) | Trumaine McBride (3) |
Rushing the ball, New York finished 29th in 2013, 23rd in 2014, and then a mighty 19th in 2015, Coughlin's final season. The likes of Shane Vereen, Andre Williams, Rashad Jennings, and Orleans Darkwa were unable to knock anybody's socks off while the offense line, aside from a few Justin Pugh–Weston Richburg moments, well, forget about it.
Defensively, as good as they were in 2016 was talentless as they represented themselves during Coughlin's final seasons. Jason Pierre-Paul, Antrel Rolle, Jon Beason's readily injured body, and Landon Collin's playing over his head as a rookie? I'm sorry, the talent simply wasn't there for the future hall of fame head coach.
Reese needed to go along with Coughlin. It's why John Mara felt the snub of the old West Point man during his shamelessly staged "resignation" press conference.
Tom Coughlin walking RIGHT by Giants President and CEO John Mara after his exit presser pic.twitter.com/cSGVXByf3e

— Faizal Khamisa (@SNFaizalKhamisa) January 5, 2016
Instead of thinking about late-game collapses with Coughlin at the helm, we should have all opened our eyes to witnessing Coughlin placing a three-win talent-filled team in a chance to win (when they had no business competing).
Couple that with the idea Kevin Gilbride was fired for McAdoo—a young offensive mind Coughlin had no interest in taking on—and one seriously testy situation erupts.
Think about it.
After winning two Super Bowls, Mara and the Giants took the legs out from under their guy when McAdoo was brought on. Instead of the Gilbride-led run-and-shoot down-the-field principles that led to so much Manning success, Coughlin was forced to abide by the short-timing three-step drop ways of McAdoo that contrasts every style of what No. 10 represents as a quarterback.
Are feelings still salty to this very day? Of course. Coughlin's even publicly stated he wished he could have engineered the 2015 Giants—the team who collected all of that defensive talent once Reese's past mistakes cleared from the board.
But while Tom Coughlin laughs last and loudest, the New York Giants will be the furthest thing from his mind this Sunday. Instead, ruining another Brad-Belichick tournament will act as the singular goal.
Laugh loud now, execute when it matters. It's always been what Tom Coughlin represents and even laughing six days prior to a game is a stretch considering his hardened football coaching ways.