After the world of run-and-shoot Kevin Gilbride, the New York Giants decided that Ben McAdoo was right for Eli Manning. Why, though?
I
t was a nondescript weekend October afternoon in 1992. Inside the walls of a four-bedroom home, a nine-year-old boy sat on the floor in the living room, in front of the fireplace, blowing ever so carefully into his personally-owned copy of Tecmo Super Bowl for NES.
The game was literally first of its kind. Tecmo Super Bowl was the big brother to 1987's Tecmo Bowl ('89 for NES and '91 for Game Boy) that featured some of the real stuff. Super Bowl showcased all of the real NFL info. It had all of the teams, real schedules, all of the players, even multiple plays and the option to sub offensive players in and out at will while the teams actually played 11-on-11 football.
It literally had everything.
On this particular day, the boy pondered which team he'd chose as he entered a brand new regular season.
He couldn't possibly take the New York Jets again, his favorite of the bunch. Johnny Hector and Al Toon have already broken all of the existing rushing and receiving records and change was needed. The New York Giants with a dominant Lawrence Taylor and the Los Angeles Raiders with virtual freak Bo Jackson was too easy a choice. He couldn't choose the hated Buffalo Bills with the K-Gun or Dan Marino and the Phins or the laughable New England Patriots. They were the Jets most bitter rivals.
He had already used up half the league it seemed. Then, suddenly, something strange was witnessed.
Four wide receivers? Wait, what?!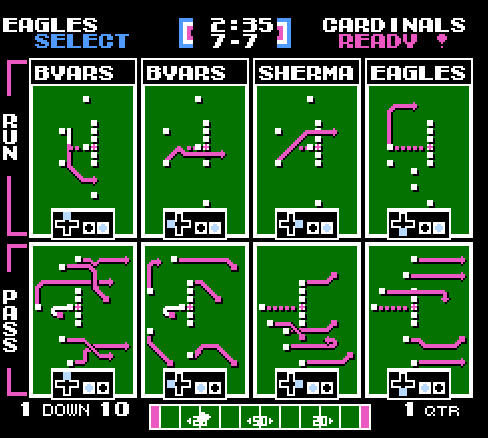 The Detroit Lions offense in Tecmo Super Bowl wasn't showing a starting lineup of one quarterback, two running backs, two wide receivers and one tight end. It was showing a starting lineup of one quarterback, one running back and four wide receivers.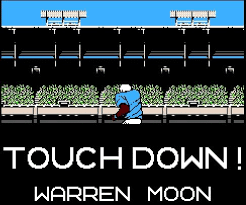 What?!
It must be a mistake. I mean, even at that age, I knew some teams threw the ball more than others, but this had to be an error. The standard pro formation was suddenly gone in favor of this wild and crazy offset.
But it wasn't a mistake.
The Atlanta Falcons and Houston Oilers also deployed this wacky four wideout look. Therefore, naturally, all three teams were lined up as the next three to dominate a Tecmo Super Bowl regular season with. From that heart-pounding moment on, the boy used the run-and-shoot offense, the attack that used four receivers and one awesome running back who could do it all (hello Barry Sanders).
Interestingly enough, another boy, growing up in New Orleans, may have also been introduced to the famed run-and-shoot through Tecmo. Eli Manning, 36, is just about the same age as the boy who found himself fascinated with the four-receiver set.
Though Manning didn't enter the league until 2004, far removed from the days of the run-and-shoot, some of its principles were all he knew during his first 10 professional years.
Kevin Gilbride is the man responsible for that.
All Giants fans remember the game that saved Tom Coughlin's job. Ownership has even admitted that it did, indeed, save Coughlin's job.
After starting 6-2, New York dropped its next seven of eight games. Entering D.C., Week 17, rumors about Coughlin's hot seat were brutal. Then, suddenly, Tiki Barber saved the man's job:
Barber went wild. He rushed for 234 yards and three touchdowns in a game that sent the 8-8 Giants to the tournament. Prior to that game, Coughlin made the decision to turn all playcalling duties over the Gilbride. For Eli's first three seasons, Gilbride was the quarterback's coach. John Hufnagel, who's since bolted for the CFL, was the offensive coordinator
Shortly after that fateful night, Barber retired, Jeremy Shockey was jettisoned and Eli's Giants captured not one, but two Vince Lombardi Trophies.
Gilbride is the man most responsible for molding Manning from that bright-eyed rookie into the Super Bowl champ we saw take down Tom Brady twice on the biggest stage. He did it the old-fashioned way with a pro personnel consisting of an excellent offensive line and fantastic rushing attack. Play-action was often used and at times a methodical offense would take shape during the Gilbride years.
Still, many principles of the NFL-dead run-and-shoot offense were drilled in the Giants offense and in Eli's QB mind.
In the run-and-shoot, receivers are blessed with a ton of freedom. It's an offense that forces the personnel to be on their toes at all times and all read the defense in the same fashion. Route trees are more complex and depending on what the defense does is what a receiver will do.
It's also a "downfield" passing attack.
During the Gilbride years, you'd often see Manning take deep shots to Plaxico Burress, Mario Manningham, Hakeem Nicks or even slot-man Steve Smith. It was a system that leaned on the run while using it as a ploy to aggressively take several big chunk chances over the course of 60 minutes.
This is what Eli Manning knew. This is what Eli Manning was so comfortable with. This is what led to Eli Manning's two Super Bowl rings. Manning loved the offense that Kevin Gilbride brought to the table. He was comfortable with the man who used the run-and-shoot offense in Houston with the Oilers. It was Gilbride who built the offense that Warren Moon trotted out there with weapons galore such as Haywood Jeffires, Ernest Givins, Drew Hill and Curtis Duncan.
And while, of course, Gilbride couldn't use the run-and-shoot any longer (as NFL defenses had caught up), he was certainly using principles that worked with Eli Manning's mind.
Why did the New York Giants ever mess with that formula? What possibly made John Mara believe that Ben McAdoo was a terrific fit for the downfield Eli?
The Football Giants forced Kevin Gilbride out after the 2013 campaign. The club was seeking change. It was searching for a new energizing buzz.
Enter Ben McAdoo, a protege of Green Bay Packers head coach Mike McCarthy.
McAdoo coached the tight ends for six seasons and the quarterbacks, namely Aaron Rodgers, for two in Green Bay. He was sought out by the Giants as that "next guy." Coughlin did his best tow the company line impression by insisting McAdoo was his own hire, but we all knew the deal. McAdoo was a Mara hire, brought in as the next coach for the big seat.
Eventually, after two years as Eli's offensive coordinator, it happened. Coughlin "retired" and McAdoo assumed big boy duties.
But again, why did anybody believe McAdoo and Manning were a match made in heaven?
Manning has been used to a traditional, downfield offense with run-and-shoot principles sprinkled in. McAdoo's offensive mindset brings the exact opposite flavor. In fact, Mara couldn't have chosen a more contrasting offensive coach to Gilbride than McAdoo.
The Giants new head coach and offensive play-caller is a west coast guy. He's a timing, 3-step drop maniac who loves those QBs who can drive a quick engine. The quicker the release, the better the QB in the west coast system.
This isn't Eli. For all of his solid attributes, Manning's release isn't the greatest. McAdoo was used to a god-like release in Rodgers. Manning just isn't Rodgers.
It hasn't been all terrible with McAdoo in New York. In 2015, with McAdoo at the helm, Manning put up his best statistical season in his career. With 4,432 yards and a TD/INT ratio of 35/14, Eli was named to his fourth Pro Bowl. He also put up 30 touchdowns the year prior — McAdoo's offensive coordinating debut season.
During Gilbride's final season in the NFL, Manning put up his worst season. Throwing just 18 touchdowns to 27 interceptions, fans and media members alike actually wondered if the man was through playing football. It was that bad.
I'm going to let you in on a little secret today. It had nothing to do with Gilbride.
Look at the roster in 2013. Jerry Reese should still be embarrassed. Manning's top weapons were a banged-up Victor Cruz who missed a couple games and a broken-down Hakeem Nicks. He literally had nothing around him. Even the rushing attack struggled that season (ranking 29th in the league).
Odell Beckham Jr. is drafted in 2014 and, suddenly, Eli is off and running again. It was McAdoo. It was talent.
Perhaps if this current batch of terrible O-linemen were better, Manning and McAdoo's marriage would look rosier. Maybe that's all it'd take this time around.
Maybe not.
The one thing I do know is Eli Manning — much like Tom Coughlin — is that terrific soldier who'd never stir trouble. Even if he hated McAdoo's guts and threw darts at a west coast dartboard in the basement, he'd never make it public. We honestly don't know if the drastic change in offensive philosophy is that big a deal for No. 10.
What we do know is the man just doesn't look completely comfortable in this offense. Despite the overwhelming stats (coinciding with the acquisition of OBJ), it just seemed those downfield run-and-shoot principles fit Manning perfectly.
I guess the only question left is this: What made the New York Giants think Eli Manning and Ben McAdoo were a match made in heaven?
We'll probably never know.