The New York Islanders have to figure out the root of their defensive struggles, and address it—quickly.
On Tuesday, the New York Islanders entered a new era while simultaneously proving that they hadn't left the current one.
Earlier in the day, Scott Soshnick of Bloomberg and Jim Baumbach of Newsday reported that New York had won their bid to develop a parcel of land at Belmont Park in Nassau County. The Islanders will build a brand-new, state-of-the-art arena on Long Island, and should have an easier time attracting top free agents, writes ESNY's John Fiorino.
Later in the day, the Islanders got thrashed on home ice by the lowly Detroit Red Wings. Thomas Greiss surrendered five goals on 21 shots, lowering his save percentage to .883 on the season. Over his last four starts, Greiß is 1-3-0 with a .839 save percentage.
The Islanders have been historically substandard in net, going back to the Mike Milbury years. They've gotten a couple of superior seasons from Jaroslav Hálak, but he's at the end of his contract — and likely his career.
This has presented the Islanders with quite the paradox: On the one hand, they're second in the league in scoring, while on the other hand, they've allowed the most goals in the league.
Garth Snow has some interesting decisions to make. The Islanders' offensive explosion cannot be wasted, but they also have to figure out what they need to prioritize. Snow will have to juxtapose patience with haste, faith with distrust. How he acts — and the manner in which he acts — will determine if the Islanders go on a postseason run.
This is strikingly similar to the New Orleans Saints, who have been football's version of the Islanders for the past few seasons (this year excluded). The Saints routinely have the best offense in the league, but a historically lackluster defense has prevented them from making the playoffs in four of the last five seasons.
For New York, it's difficult to tell if the struggles on defense are a result of poor goaltending, poor defense, or both. It's the last scenario that should make Garth Snow sleepless at night, because it will be awfully hard to find multiple reinforcements via trade with just $3.5 million in cap space and a reluctance to part with prospects.
John Tavares, captain and impending free agent, believes that it is, in fact, a combination of factors at play.
"We got a lot of faith in our goalies," Tavares told the NY Post's Greg Joyce. "They've proven themselves in this league. We just gotta make things a little more predictable for them."
Doug Weight, the rookie head coach, agrees.
"Yes I have confidence in my goalies. Of course I do. I'm [ticked] off," the coach said. "They're having a rough time right now. They're struggling and you know what? Every shot seems like it's perfectly placed. The last two, I'm looking at them, I don't think anyone in the world saves them. But it gets in your head and you feel like you can't give anything up. They're working."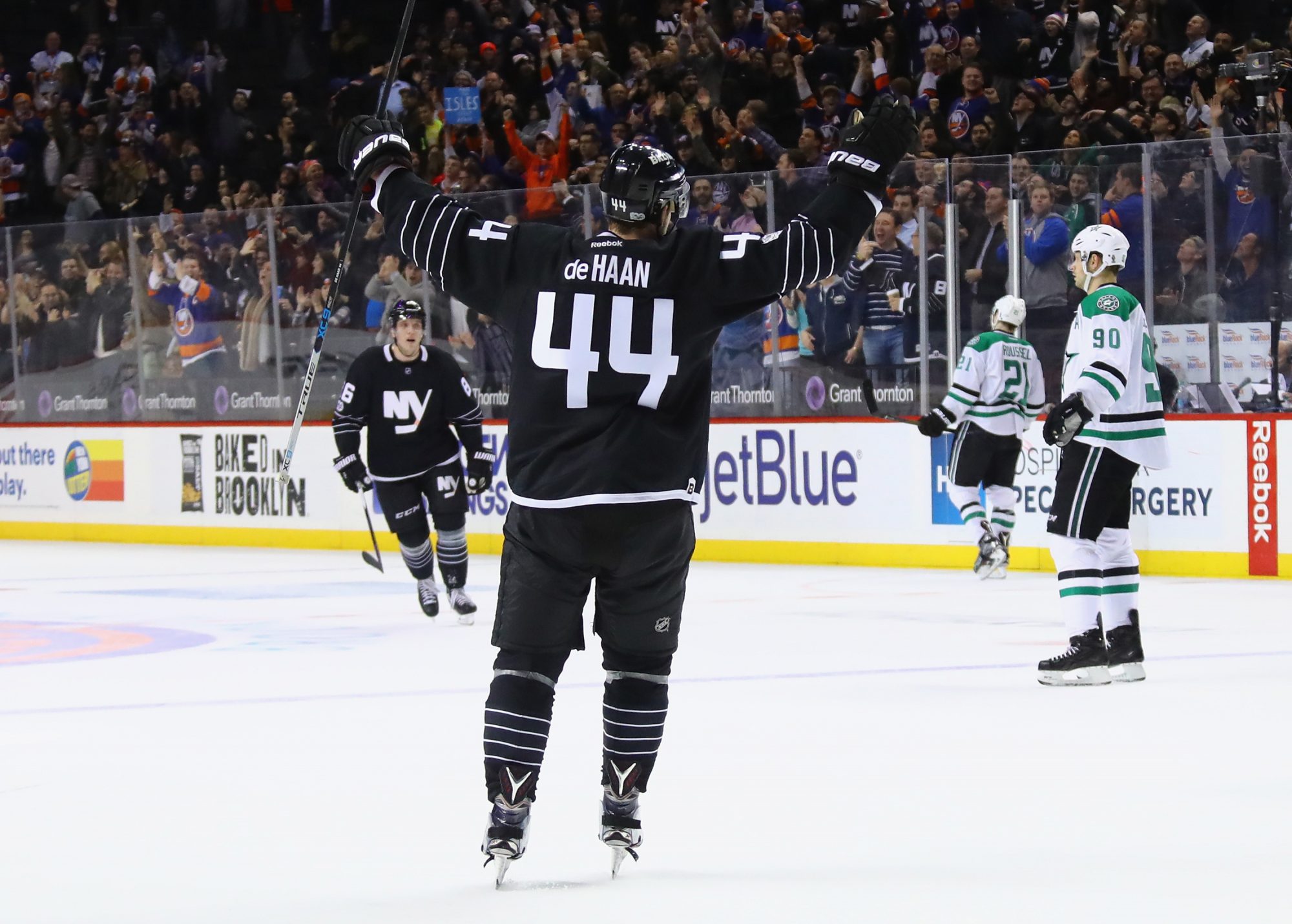 Josh Bailey, the resurgent right winger, says much of the same. "Everyone wants to point fingers at the goalies," Bailey told the Post's Kyle Schnitzer. "We have to be better in front of them, as well. It's always a joint effort."
Which leaves Snow with limited options. Replacing one defenseman isn't likely to change anything, as it is a group effort and as of right now, a group failure. The Isles will need Calvin de Haan back, ASAP, and a group of younger defensemen (i.e. Scott Mayfield, Ryan Pulock, Adam Pelech) to step up.
Or, he could target a goalie via trade. The Sharks' Aaron Dell comes to mind as a possible solution, as does the Red Wings' Petr Mrazek and Sabres' Chad Johnson. At this point, any help will do.
Or, the Islanders could wait it out, hoping that a simple regression to the mean is inevitable for the goalies.
Take Greiss, for example. According to BD Gallof on Twitter, Greiss has a 67.86 save percentage on high-danger shots this season, down from 82.64 the two seasons prior. His 2017-18 mark ranks fifth-lowest in the league, which just isn't good enough from a guy who's on pace to play in 42 games this season.
Greiss has a 67.86 overall high danger save%. His last two seasons before this was an overall avg of 82.64% – his high danger save% is 5th worst in the entire NHL this season. #isles

— B.D. Gallof (@BDGallof) December 20, 2017
It's the law of statistics, and of common sense, that Greiss and Hálak will find their footing sometime soon. With limited options, Snow and the Islanders better hope that happens.
Otherwise, the Isles will squander a tremendous offensive opportunity and miss the playoffs for the second consecutive season.