Joakim Noah's contract is one of the worst in Knicks' history. But he can still be valuable to the team and he should be playing.
When the New York Knicks signed Joakim Noah to a four-year, $72 million deal before the 2016-17 season began, everyone knew it was a mistake. It's just year two of his deal and it has already backfired. Noah is not nearly as close to the player that was in his prime with the Chicago Bulls when he was a perennial contender (and one-time winner) of the NBA's Defensive Player of the Year Award.
His play has declined tremendously. To top it all off, Noah has already missed 60 games as a member of the Knicks with 20 of those coming due to a PED-related suspension. But none of that means that Noah can't begin to redeem himself and become a contributor.
Injury Concerns
Enes Kanter on starting the game tonight after coming to MSG on crutches due to back and hip pain: "If you want to make the playoffs, you need to make some sacrifices." — pic.twitter.com/UfUAnQPYdJ

— Ian Begley (@IanBegley) December 11, 2017
You have to love the dedication and sacrifice that Enes Kanter possesses. At the same time, the team has to be smart. The season is young and the Knicks seem to have a real chance at making the playoffs this year. However, that won't happen if Kanter misses an extended period of time due to an extreme injury. He's been the team's most valuable player not named Kristaps Porzingis this season, with the Knicks going 0-3 in games he was simply too banged up to play in.
Kanter, Kyle O'Quinn, and Willy Hernangomez are currently ahead of Noah on the big-man depth chart. O'Quinn has been the primary backup center, while Hernangomez has seen some playing time as well. However, Noah has only gotten on the floor for 11 minutes all year. The Knicks should cut down Kanter's minutes a bit as he recovers from his ailments. Noah can help to pick up the slack.
He Can Be Productive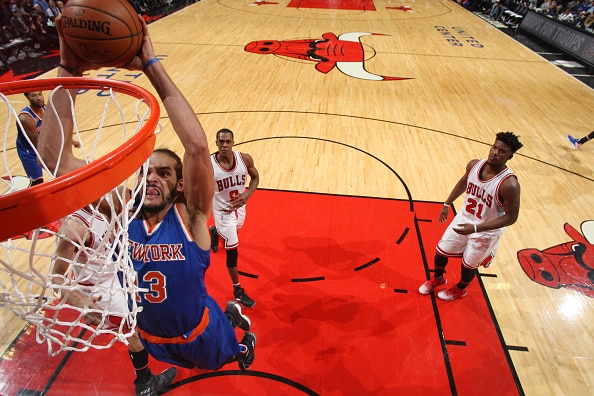 Despite his lack of playing time this season, Noah still has the ability to be productive and help the Knicks win some games. Noah will not come close to being as productive as Kanter, but no center on the Knicks can match Kanter's production.
Take a look at Noah's numbers compared to his fellow backup bigs from last season. Stats are presented per-36 minutes, via Basketball-Reference.
| Player | ORB | DRB | TRB | AST | BLK |
| --- | --- | --- | --- | --- | --- |
| Hernangomez | 4.6 | 9.0 | 13.6 | 2.6 | 1.0 |
| Noah | 5.7 | 8.5 | 14.3 | 3.7 | 1.3 |
| O'Quinn | 4.6 | 8.3 | 12.9 | 3.4 | 3.0 |
Noah can equal, if not exceed, the production that O'Quinn and Hernangomez provide, though. The Knicks don't need much scoring from any of their backup centers. Rebounding and defense are the keys—and Noah's strengths.
He Isn't Going Anywhere
Noah's contract makes him all but immovable, at least until his deal is about to expire. There's not a team in the league that would take Noah before then unless he was packaged along with a young player and/or draft picks.
The Knicks might as well make the most out of the situation and play Noah instead of just letting him rot on the bench. Trading O'Quinn or Hernangomez, who both have far more value than Noah, to create some space for him to play might actually help the team down the road.