How does Giancarlo Stanton's trade to the New York Yankees impact the upcoming fantasy baseball season? Let's break it down.
The biggest news of the MLB offseason so far has been the blockbuster trade between the New York Yankees and Miami Marlins. This is a horrible trade on paper for the Marlins, but they acquire second basemen Starlin Castro and a pair of minor league prospects, infielder Jose Devers and RHP Jorge Guzman. The Yankees, meanwhile, add Giancarlo Stanton, the reigning NL MVP.
The Marlins wanted to shed his huge contract that has close to 300 million left on it and the Yankees now have two of the biggest power bats in the game. Let's look and see how this move affects the players and teams involved from a fantasy perspective.
Giancarlo Stanton
Stanton goes from Marlins Park, one of the least home run-friendly parks in baseball, to Yankee Stadium, the second-friendliest to dingers. He can hit homers out of any park but what is going to affect him the most is the lineup around him. Stanton is likely to hit behind Aaron Judge and in front of Gary Sanchez. All three batters benefit from this trade because pitchers can't pitch around any of them. All three will benefit from the protection they give each other and with their ability to get on-base, it's going to be a nightmare for the opposition.
Stanton finished as the number three outfielder in fantasy baseball last year behind Judge and Charlie Blackmon. I don't see him being a first-round pick next year (he shouldn't be), but he should be a second rounder in most drafts and shouldn't fall much past round three. It's hard for me to predict better stats than last year—123 runs, 59 homers and 132 RBI—but he could in this lineup and playing half his games in the Bronx.
He's struggled to stay healthy throughout his career but 60 home runs and 140-to-145 RBI aren't out of the question. Don't make him a top-five pick, but he's worthy of an early round selection.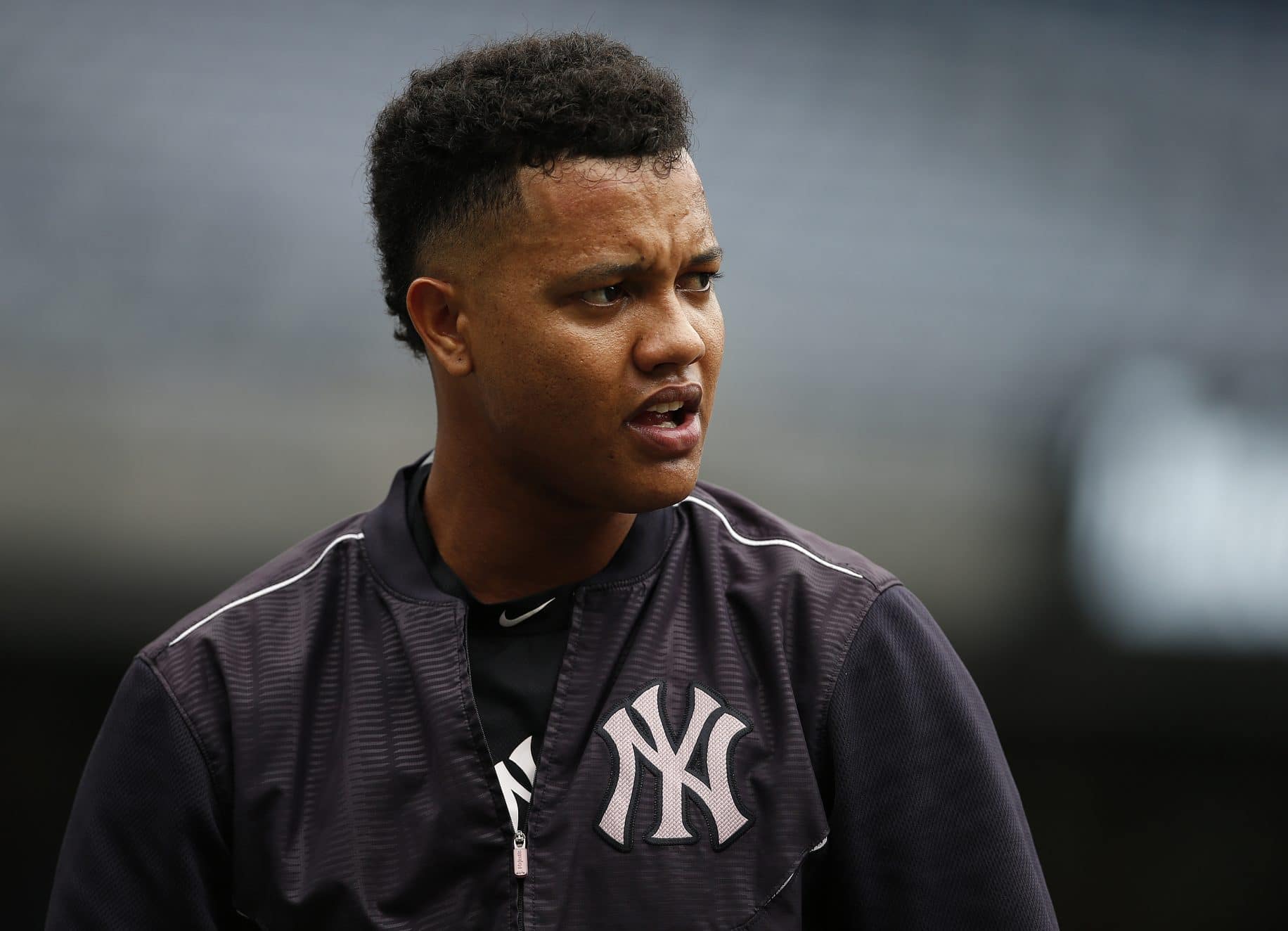 Starlin Castro
Castro gets the short end of the stick in this trade. He goes from a good hitting ballpark to one of the worst. He should bat within the top five of the lineup so he will get plenty of opportunities to drive in and score runs. He has only played 13 games in Marlins Park but he did hit .364 and you can take that with a grain of salt. If he hits in front of Marcell Ozuna, he should score plenty of runs but I am guessing he will hit fifth in the lineup and he should have a legitimate chance to drive in 80-90 runs next year.
Castro finished as the number 23 second basemen last year but that was mostly because he got hurt. He should be in the middle of the pack among second basemen to start the season because he will start every game and the Marlins lineup isn't awful. He won't hit as many home runs as he did in the Bronx but should see his doubles increase thanks to the big outfield in Marlins Park. He could be .280 hitter who scores 75 runs, hits 12 homers, drives in 75 and hits 40 doubles. That is a serviceable option for a middle infielder that you can get late in your drafts.
New York Yankees
The Yankees now have the only two players last season to hit more than 46 home runs. Stanton and Judge are the new-era Bash Brothers and this lineup will be give opposing pitchers nightmares. However, they need a leadoff hitter to get on base in front of them. Brett Gardner was good last season but he will be 34 and Father Time never loses. There isn't a free agent who is a prototypical leadoff leader but the Yankees should go after Lorenzo Cain or Michael Brantley. Both are good contact hitters who get on base, can steal a base and they play good defense. Judge, Stanton and Sanchez make for one of the scariest two through four hitters in the league. Judge and Stanton are both second-round picks and Sanchez should be the first catcher taken in drafts, somewhere in the fourth or fifth round. Whoever is hitting in the Yankee lineup needs to be rostered in fantasy now because of the depth and the ballpark. Greg Bird and Didi Gregorius will be good middle-round picks and should have plenty of opportunities to score and drive in runs.
Miami Marlins
Derek Jeter hasn't been the CEO and part owner of the Marlins for long but he is already making his impact felt. He has traded Dee Gordon (to Seattle, where he will play center field) and replaced him with Castro. Without Gordon and Stanton, this lineup will look completely different. Right now, the only fantasy relevant hitters on the Marlins are Marcell Ozuna, Christian Yelich, Justin Bour, J.T. Realmuto and now, Castro. Ozuna and Yelich are top 25 outfielders, Bour has 35 home run power and Realmuto is a top-five catcher heading into next year.
This lineup takes a big hit in the power department without Stanton but the top five or six in the lineup will still be worth rostering especially in daily formats. The ballpark isn't ideal but they have a bunch of professional hitters and the biggest winner from this trade is Ozuna. He could be traded but for now, he is the man in the lineup and he is coming off a breakout year where he hit 37 homers and drove in 124 runs. Ozuna is the real deal and he should go by round five of drafts next year, even without Stanton in that lineup he will hit 30 bombs and drive in over 100 runs.