Fantasy Football is fun but daily Fantasy Football is where the real money is at. Follow these tips to win big this week.
How many of us saw that Alex Smith and Kansas City Chiefs explosion coming? Probably very few of us except for those (myself included) who saw something about 90 minutes before kick-off. The Chiefs decided to take away the playcalling duties from Andy Reid and that changed everything.
It is important to check out the news before the games start because something like that can happen last minute and it can change the whole slate.
Keep an ear out for last-minute news; teams who are out of the playoffs can make changes like this and that is what wins us money playing daily Fantasy Football.
Here are my plays for the NFL this week. Good luck everybody.
Quarterback
Nobody will play Carson Wentz this week because he is the highest-owned quarterback and everyone saw the Eagles lose by 14 points to the Seattle Seahawks on primetime television. I love players coming off average or bad weeks and the Los Angeles Rams are a good team but the secondary isn't their strong point.
The Eagles are out to make a statement this week and Wentz will show up for this big game. If you play him this week I have no problem playing him naked or without stacking him with any of his receivers.
He's back, baby. The Chiefs are back to chucking the ball around the field as he threw for four touchdowns last week. Last game against the Raiders, he threw for 342 yards and had three passing touchdowns. Last week was no fluke and the Raiders defense is awful. Lock and load Smith this week with Travis Kelce.
Other plays I like: Philip Rivers ($6,800) or Blaine Gabbert ($4,800)
Running Back
Recommending this play makes me sick to my stomach. This has everything to do with the matchup and that he will see around 20 touches this week. He has scored double-digit DK points in eight out of his last nine games and that is the safety that I like when rostering players. This game will be ugly but Miller will have a chance to have a monster game.
He led all Eagles running backs by being on the field for 41 percent of the plays last week. I believe this is the week they feature him as the main back. The Rams are awful against the run and last week the Eagles had to abandon the run because they were down for the majority of the game. He will go low-owned and he saw four targets in the passing game last week. This will be his coming out party in an Eagles uniform.
Other plays I like: Samaje Perine ($5,600) or Mike Davis ($3,700).
Wide Receiver
No wideout in NFL history has done what Allen has done in the last three weeks. He has had three straight games of 10-plus receptions, over 100 yards and he has scored a touchdown. The Redskins secondary isn't very good and he will play in the slot and avoid Josh Norman. I wouldn't be surprised if he extends his NFL record and makes it four straight games with those impressive numbers.
Josh Gordon looked like he hasn't lost a step. He went up against one of the best cornerbacks in the league last week and scored 12 DK points. His price is going to skyrocket after this game and it would be smart to buy into him this week. Few receivers have his upside and he could easily go off for two touchdowns this week.
Other plays I like: Larry Fitz ($6,500), Marquise Goodwin ($5,100), Seth Roberts ($4,000).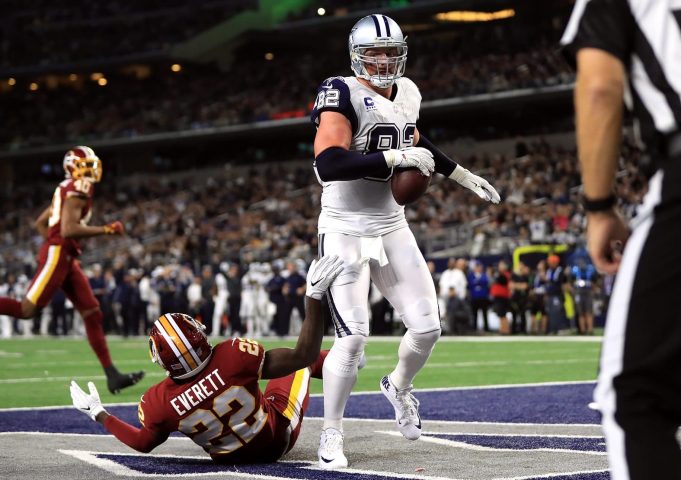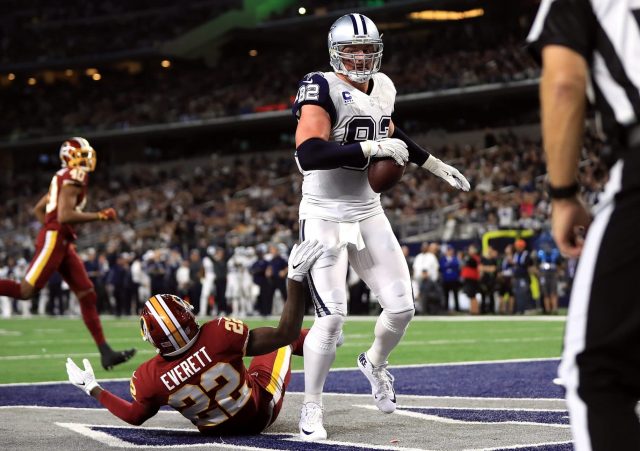 Tight End
Jason Witten has dominated the New York Giants his whole career. In Week 1 against the Giants, he scored 18 DK points on seven receptions for 59 yards and a touchdown. He is a safe play and every week I say this, we target tight ends against the Giants and the Cleveland Browns. If you don't want to pay up for a tight end, Witten is a great middle-tier option this week.
Jameis Winston loves to target Cameron Brate. In the eight weeks that Winston has started, Brate has seven games of double-digit points. Teams will try to take away Mike Evans in the passing game which leads the middle of the field open for Brate to attack. I like this play in single entry tournaments and if you play just the early slates on DK.
Other plays I like: Jack Doyle ($4,900) or Ricky Seals-Jones ($3,400)
Defense
There aren't any slam dunk plays this week for defenses. The Los Angeles Chargers should be able to get some sacks and if Jacksonville can keep Russell Wilson in the pocket (good luck with that), they should transform in Sacksonville this week. The New England Patriots are a good start this week but they are playing on Monday night. If Matthew Stafford doesn't play this week, that makes the Tampa Bay Bucs a low owner sneaky play for the week.
You want your points? These guys will make it happen for you. Best of luck!