Forget Geno Smith, the New York Giants should begin to start Davis Webb at quarterback in Week 15. 
Game one of the post-Eli Manning era did not end well for the New York Giants. With backup quarterback Geno Smith under center, the Giants fell to the Oakland Raiders Sunday afternoon, 24-17. But Smith held himself together in his first start as a Giant, making him worthy of operating under center next week versus the Dallas Cowboys.
But in the ensuing week, Week 15, the Giants should start rookie Davis Webb at quarterback.
Smith's first start in over a year came as a result of head coach Ben McAdoo and the Giants opting to bench Manning — a move that wasn't taken well by fans or former teammates, and rightfully so. Manning has won two Super Bowls MVP's, carried the Giants on his back and operated with an inconsistent offensive line in front of him — not an ideal set of circumstances. But nevertheless, McAdoo and the Giants made the move to Smith, and he wasn't as bad as many thought he may be.
Classified as a turnover machine and unreliable product, Smith went into Sunday afternoon with essentially no expectations on him. While the former second-round pick did commit two turnovers, he held his own.
Finishing the game 21-for-34 with 212 yards and a fourth-quarter touchdown pass to rookie tight end Evan Engram, Smith put forth a respectable effort Sunday afternoon. Based on his ability to operate well versus Oakland, McAdoo (or whoever is coaching this team next week) and the Giants should allow him to start next week versus the Cowboys.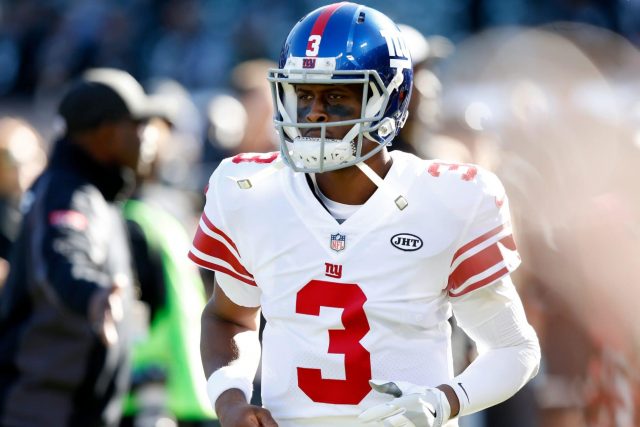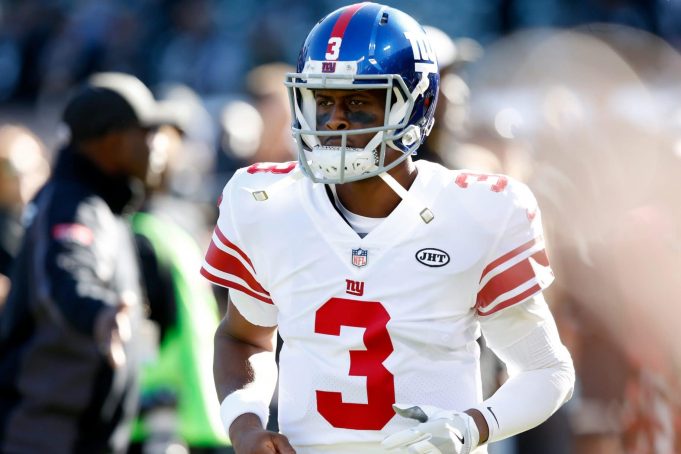 But dropping to 2-10 with Sunday afternoon's loss, the Giants find themselves bound to finish amongst the league's worst, in terms of record. With a depleted receiving core (Odell Beckham Jr., Brandon Marshall, and Dwayne Harris are lost for the season), an unreliable offensive line and the numerous amount of injuries they've encountered, Big Blue will have a difficult time stringing together some more wins in their remaining four games, no matter who is under center. So why not give Webb a chance to showcase his skill set?
Selected by the Giants in the third round of the 2017 NFL Draft, some envisioned, or, at the very least, looked at Webb as a potential successor to Manning. However, he's yet to be activated for a single regular season game, and with the team 2-10, and not starting its franchise player (Manning), management appears to be banking on having the chance to select Sam Darnold, Josh Rosen, or any other highly-talented college quarterback prospect in the 2018 Draft.
But for the meantime, the Giants would be doing a disservice to themselves if they don't at least see what they have in Webb.
While the rookie hasn't garnered many practice reps, the thought of him not making an appearance in a game this season to showcase his skill set is insane.
After transferring to California in his senior year, Webb played well. Finishing the 2016 season with 4,295 yards and 37 touchdowns, he showcased an ability to lead an offense before declaring for the draft. While the California product played in just 23 games in his three years at Texas Tech before going to California for his senior year, the Giants saw enough from him in 2016 to use their third-round pick on him, instead of drafting out of need.
Could Webb be the Giants' long-term answer at quarterback going forward, being that it appears Manning may never start for them ever again? It's possible, but more likely than not the team looks to the draft to resolve the crisis. However, if they never even give Webb a chance to play, they'll look even worse.
Smith played well enough versus the Raiders to be granted another start. As silly as it may sound, Smith is still just 27 years old and the Giants have to see what they have in him — if they're fully committed to not playing Manning –, regardless of whether there's a realistic chance he sticks past this season.
But after their matchup with Dallas, Webb should get the chance to start.
He could fail miserably in the team's final three games versus the Philadelphia Eagles, Arizona Cardinals and Washington Redskins, cementing in the notion that their answer at quarterback is in the draft. But what's worse for the Giants? Webb receiving the chance to play and failing, or him not suiting up for a single game?
The 2017 season is a lost cause and it appears the Giants may begone with Manning at year's end, so they might as well see the talent they have at their disposal at quarterback — which means playing Webb.