New York Giants rookie quarterback Davis Webb will make his debut in December. But has the team stunted his development?
Adios, Aaron Judge. Pull over, Kristaps Porzingis. The New York metropolitan area's most popular athlete resides in East Rutherford, despite not even having dressed for a single regular season game yet.
Such is the state of the New York Giants that Davis Webb, the team's third-round selection in last spring's draft, is the team's most talked about player. Webb Fever reached a new high this week in the wake of the team's notorious Tuesday afternoon announcement, one that signaled the end of Eli Manning's stranglehold on the Giants' starting quarterback job. Rather than Webb, however, it will be Geno Smith who forever goes as the trivia question answer, the one who will lead the Giants into battle on Sunday afternoon against the Oakland Raiders (4:25 p.m. ET, FOX).
As Giants principal owner John Mara stated in an impromptu press conference on Wednesday, there was "no completely clean way to handle" the sitting of Manning, the Giants' lone starter over their previous 210 games. But the general consensus among the Big Blue faithful is that the Manning sit-down would've been easier to handle if the Giants had opted to turn the reigns over to Webb full-time rather than Smith, a career 12-18 starter whom even the Jets lost patience with.
In the infamous statement signaling the end of the Manning monopoly, head coach Ben McAdoo stated that while Smith will start at least Sunday's visit to Oakland, Webb will get "an opportunity" over these final five games. But if and when Webb gets that opportunity … is he even properly prepared?
Recall, for example, the comments made by quarterbacks coach Frank Cignetti Jr. on Nov. 17, two days before the Giants earned a rare win against Kansas City. Cignetti revealed that Webb was still splitting time on the scout team unit with Smith and that there was "no rush" to get him in a game."
"Davis Webb is still trying to figure out a lot of things," Cingetti reported. "He's young. He's in a great situation here."
Even with Webb's chance supposedly coming, McAdoo stated on Friday morning that no changes have been made to Webb's practice routine, though there is "a plan in place" and that the team would address his practice snaps "soon".
McAdoo would also not even commit to Webb coming off the Sunday inactive list, where he's been stuck all season. Asked if three quarterbacks will dress in Oakland, McAdoo replied: "That's a question I'm not willing to answer at this point."
Enough has been written about how little sense the Smith promotion makes, but allow me to again share what, I believe, to be the biggest argument against it. Smith was brought in at a time dreams of a Super Bowl still danced in the heads of Giants fans. Having shown promise as a substitute in his final games with the Jets, Smith was brought so, if the unthinkable happened to Manning, a veteran arm could step in and stem the bleeding as long as possible. In recent seasons, potential championship seasons have been derailed in places like Dallas, Green Bay, and Indianapolis after contingency plans failed to pan out after an elite starter went down.
With the Giants eliminated, Smith's purpose is over.
Webb isn't another Andre Woodson, Rhett Bomar, or even Ryan Nassib. Unlike those previous draft selection quarterbacks in the Manning era, Webb is likely—truly—the first Giants rookie quarterback that the team envisions as the potential heir to the Manning throne. His selection in the third round was the highest since that fateful day in 2004, when the Giants used their first-round selection Philip Rivers, who, of course, was later swapped with the San Diego Chargers for Manning.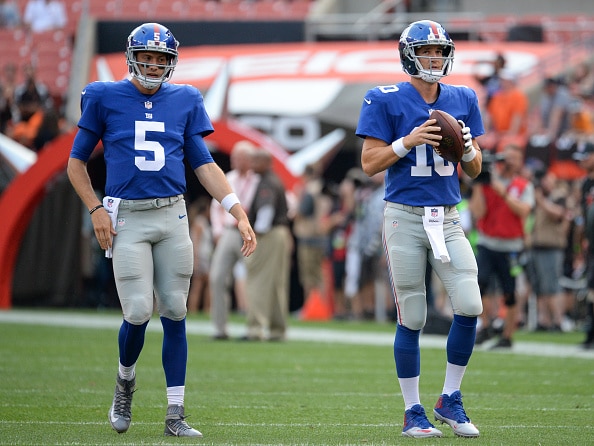 In this lost season, the Giants have been granted two silver linings in this pathetic 2-9 season. First, they can play the role of spoiler to their hated rivals from Dallas next week in East Rutherford if they can find a way to beat the playoff-hunting Cowboys. Second, these final five games can be used as research and development for 2018, determining who will stay, who will go, who gets a new contract, who will start.
Webb, to his credit, has already resembled Manning perfectly in his weekly dealing with the hungry New York media, replying to persistent questions about when he'll take the field with class and professionalism.
"I get up here pretty early and I stay here pretty dang late and I always prepare like if my opportunity came tomorrow, I'd be ready and I approached it that way since the day I got here," Webb said after the statement's release. "(The decision to start Smith) doesn't really affect much, but right now, I'm going to be the best teammate I can be for (Eli) and Geno and we're going to try to help us win our game on Sunday."
But what if the nod to Smith doesn't indicate a trust in Smith…or rather a distrust in Webb? Will the lack of prep come back to haunt the first true candidate for the job of Manning's successor?
Somehow in the Aaron Boone news, the Giants became the biggest winners. If they have indeed botched Webb's development, at least the consternation over Boone will draw some torches and pitchforks to The Bronx, rather than East Rutherford.
Geoff Magliocchetti is on Twitter @GeoffMags5490