Nothing makes sense for the New York Giants this season, but the choice to hand the reigns over to Geno Smith is a new kind of absurdity.
Nothing else has really made sense for the 2017 New York Giants, so why should this?
On Tuesday afternoon, the Giants announced, via a team statement, that Geno Smith would officially be the one to end the monopoly Eli Manning has had on the starting quarterback position since 2004. Yes, folks, that Geno Smith … one of the 13 quarterbacks the New York Jets have started since Manning's 210-game streak began. The Geno Smith who provided a spiritual sequel to the Butt Fumble. The Geno Smith whose own teammate punched him in the face.
Now, to be fair to Smith, he was starting to work things out for himself upon his departure from the green side of New York. While it was clear he wasn't going to be the quarterback savior the Jets have been seeking since the Gerald Ford presidency, the West Virginia alum was starting to establish himself as a reliable backup. After losing the starting gig to Ryan Fitzpatrick in 2015, Smith made three relief appearances with the Jets, showing promise in each. He threw for 265 yards and two touchdowns in a November 2015 game against Oakland (ironically the Giants' opponent when Smith will make his start on Sunday) before adding 126 yards and a score in two fill-in appearances last year, one of which was a shortened start.
Though a job as a franchise quarterback was likely out of the question, Smith was still looked upon as a solid commodity as an understudy. Plenty of relatively high selections at quarterback didn't pan out as starters but have still built solid careers as backups. Fellow second-round selections Chad Henne and Kellen Clemens, for example, didn't turn out to be the saviors the Dolphins and Jets envision them to be, but each has built long careers as number twos for the Jaguars and Chargers, respectively. He wound up with a one-year, $1.2 million deal from the Giants, who were looked upon as Super Bowl contenders with the additions of flashy offensive weapons receiver Brandon Marshall (via free agency) and tight end Evan Engram (via the first round of the draft).
Smith's purpose with the Giants was simple. He was there to fulfill two tasks. One of those tasks was not to be a starter, as Manning's stranglehold on the job extended back to the days National Treasure was the top movie in America. Smith knew this coming in, and said all the right things in training camp, expressing only a desire to mentor the newcomer and be ready if his number was called upon.
Rather, Smith's missions were simple. First, he was there to serve as a second teacher to Davis Webb, likely the closest thing the Giants have had to an heir apparent to the Manning throne. Selected in the third round of April's draft, just under a month after Smith signed, Webb was the highest quarterback the Giants had taken since the famous Manning-Philip Rivers swap in 2004. Most rookie quarterbacks get one veteran to learn from … now Webb had two.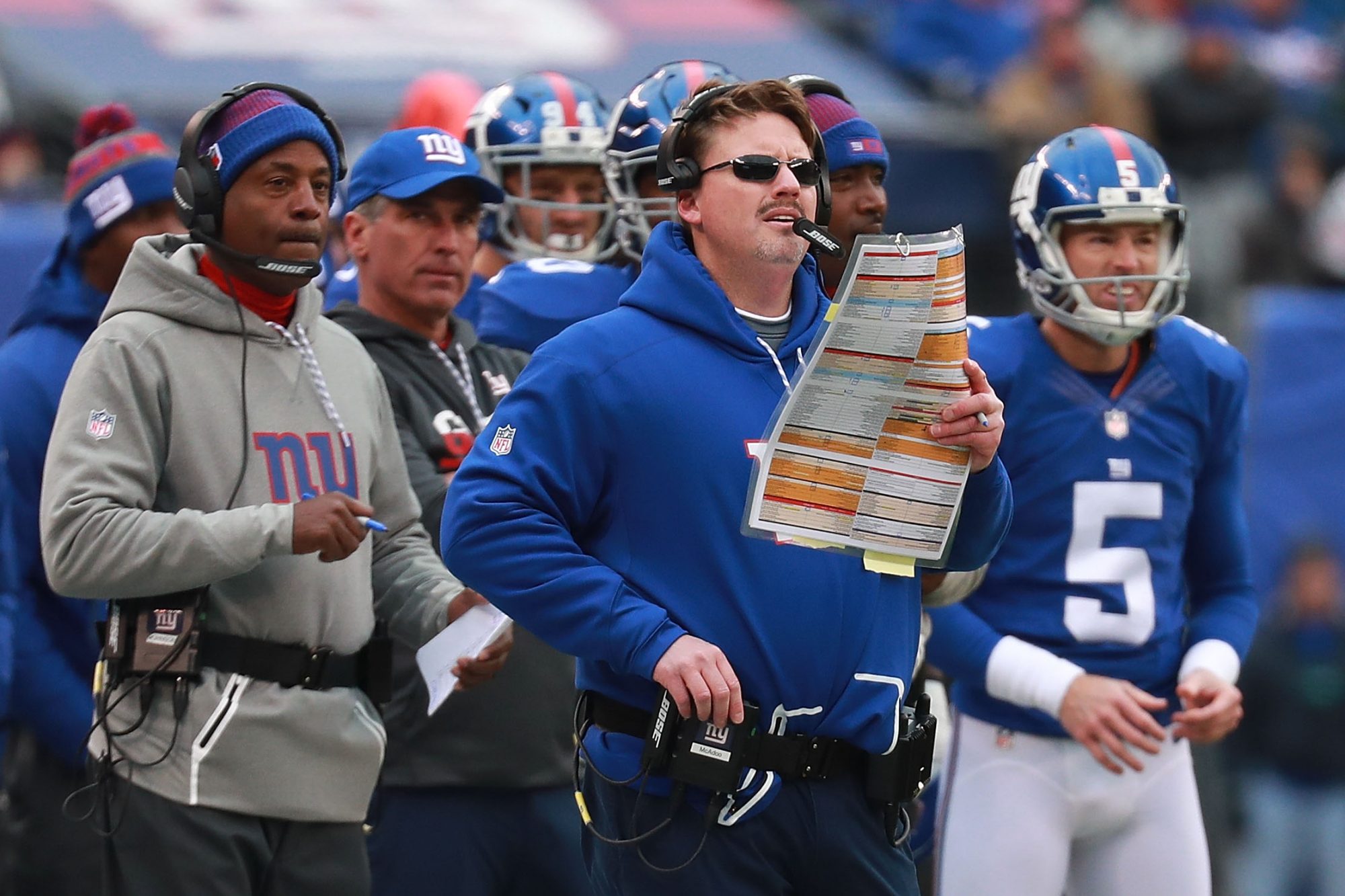 Secondly, Smith was there just in case the unthinkable happened to Manning … and by unthinkable, I mean long-term injury. Manning, of course, remained uncannily durable for an NFL quarterback, but backups have taken on increased importance in recent years. In this past decade alone, we've seen entire seasons go belly-up in places like Dallas, Indianapolis, and Green Bay thanks to poor quarterback play after elite starters went down. If an injury were to befall Manning, Smith would be a veteran arm to keep the Giants afloat long enough to stem the bleeding until the youngest Manning returned.
With the Giants literally eliminated from any sort of playoff contention before most of the Tri-State area has their Christmas lights up, Smith's purpose has vanished, making his imminent start on Sunday useless.
Contrary to the firestorm across social media when McAdoo replied "I don't see why not" when asked if Smith could take over for Manning back in March, the ex-Jet is not the long-term option at quarterback for the Giants. Virtual torches and pitchforks again rose up this afternoon upon the Smith announcement, and rightfully so. Many Giants fans would agree, whether based on his quality of play alone or just to spare him from the embarrassment of this brutal year, that Manning would probably be better off not playing the entirety of these last five meaningless games. But if you are going to bench Manning … the face of your franchise for the past decade-plus, bringer of half the Vince Lombardi Trophies that reside in the Quest Diagnostics Training Center lobby, star of countless hysterical DirecTV commercials … are you really going to sit him down for Geno Smith?
Replacing Manning with Smith is probably equivalent to subbing Henrik Lundqvist with Rick DiPietro, or choosing Armando Benitez to close out a game instead of Mariano Rivera. Manning's days are limited with the Giants, yes. But with an undoubtedly high draft position heading their way next season, and several hot quarterback prospects on the board, the Giants need to know what they have in Webb now. They're not a team that's in a position to draft early often, so they need to use this rare high selection wisely. How can they do that without accurately assessing their highest quarterback selection since 2004?
Smith said he wasn't concerned about this during his first media session as a starter today, but he's indeed playing for a chance to impress other teams next season. But, unfortunately, he is apparently going to a pawn in a desperate ploy by this current coaching and staff and management to save their jobs.
Let's say Smith does manage to perform well on Sunday against the Raiders and beyond. It's a perfect opportunity for staff to throw Manning under the bus once more, something they've done all season. "See?" they can bellow. "Eli was holding us back!" It's unfortunate to see a true NYC icon play out his potential final days like this, but such is the reality.
The level of disrespect is shocking. Eli Manning. #Giants pic.twitter.com/qhG9Y13G7T

— Elite Sports NY (@EliteSportsNY) November 29, 2017
And through it all, Eli Manning is going to be selfless throughout this process. Just today, the day his rule over the Giants quarterback spot ended, he talked about helping both Smith and Webb as they prepare for this opportunity, putting his epic streak aside, helping both Smith and Webb prepare for the Raiders, rather than stew over this unfortunate turn of events.
Eli Manning's final days in New York/New Jersey should be spent on top of a bus, rolled through the city and state, potentially with another Lombardi Trophy in his hand. He should be helping out his potential heir, helping him learn the ropes of starting for an iconic NFL franchise.
Instead, in the cruelest of sports injustices, his days could end under that said bus, a desperate ploy by a management unit in way over its head.
Geoff Magliocchetti is on Twitter @GeoffMags5490