With the disheartening 35-27 loss to the Carolina Panthers on Sunday, the New York Jets fascinating quarterback fun officially begins.
Done. Over. The fat lady has belted out her final tune while Fireman Ed simmers down and perhaps switches his fanhood allegiance back to the Miami Dolphins. (Yeah, that's right. Ed used to be a good-old Phins fan.)
After suffering their latest disheartening loss of the 2017 NFL campaign — a 35-27 loss to the Carolina Panthers — it's all over. The only thing left is the future for the New York Jets.
The future of the quarterback position at the green version of MetLife Stadium, to be more specific.
Why? Well, let's not dig into that obvious question. It's been done to death. Thanks to these new aged rules, this position dominates more than it ever has. And with Jets fans still clamoring for a guy named Joe Willie Namath (a few Ken O'Brien stragglers aside), a true franchise quarterback in Florham Park, New Jersey has been all the rage for the last couple decades.
Some say the 10th loss is really the official ending point. Those individuals claim that no future plans should be prognosticated until that 10th defeat. While on one hand, it's agreeable in terms of continuing a winning culture for as long as possible, each case needs to be taken as its own case study.
These 4-7 Jets have no shot of contention. Even with the AFC wildcard picture diving into more of a deep depression each week, the remaining schedule for Gang Green offers up its own prescription of Prozac.
Week 13: vs. Chiefs
Week 14: @ New Orleans
Week 15: @ New England
Week 16: @ Denver
Week 17: vs. Chargers
I'm one who never attempts to throw away any possibility in this Not For Long league, but come on. It's quarterback time.
Do they even look at Hack or Petty?
The first question along the Jets path is pretty obvious. Do they even attempt to see what Christian Hackenberg or Bryce Petty have?
Josh McCown has been a solid professional quarterback this season. The man's thrown for 2,549 yards on a 67.3 completion percentage with a TD-INT ratio of 17-to-8. I don't care what sort of hate you may have for a veteran journeyman at the most important position in sports. This guy has been everything the Jets could have hoped for this season.
It's simply the nature of the business. McCown is one of the last Jets who deserves to lose his job, yet it makes all the sense in the world for that very action to commence.
His weapons aren't great. In fact, this group of weapons was mocked and laughed at heading into the year. The offensive line has been terrible this season as well, yet McCown tremendous steadiness and professionalism has shined through every step of the way.
Although now is the time to see what Petty has (if Hackenberg is still a red-shirt), most of Jets fanhood already believe they'll stick with McCown for as long possible.
It's just the way they operate — safe and close to the vest.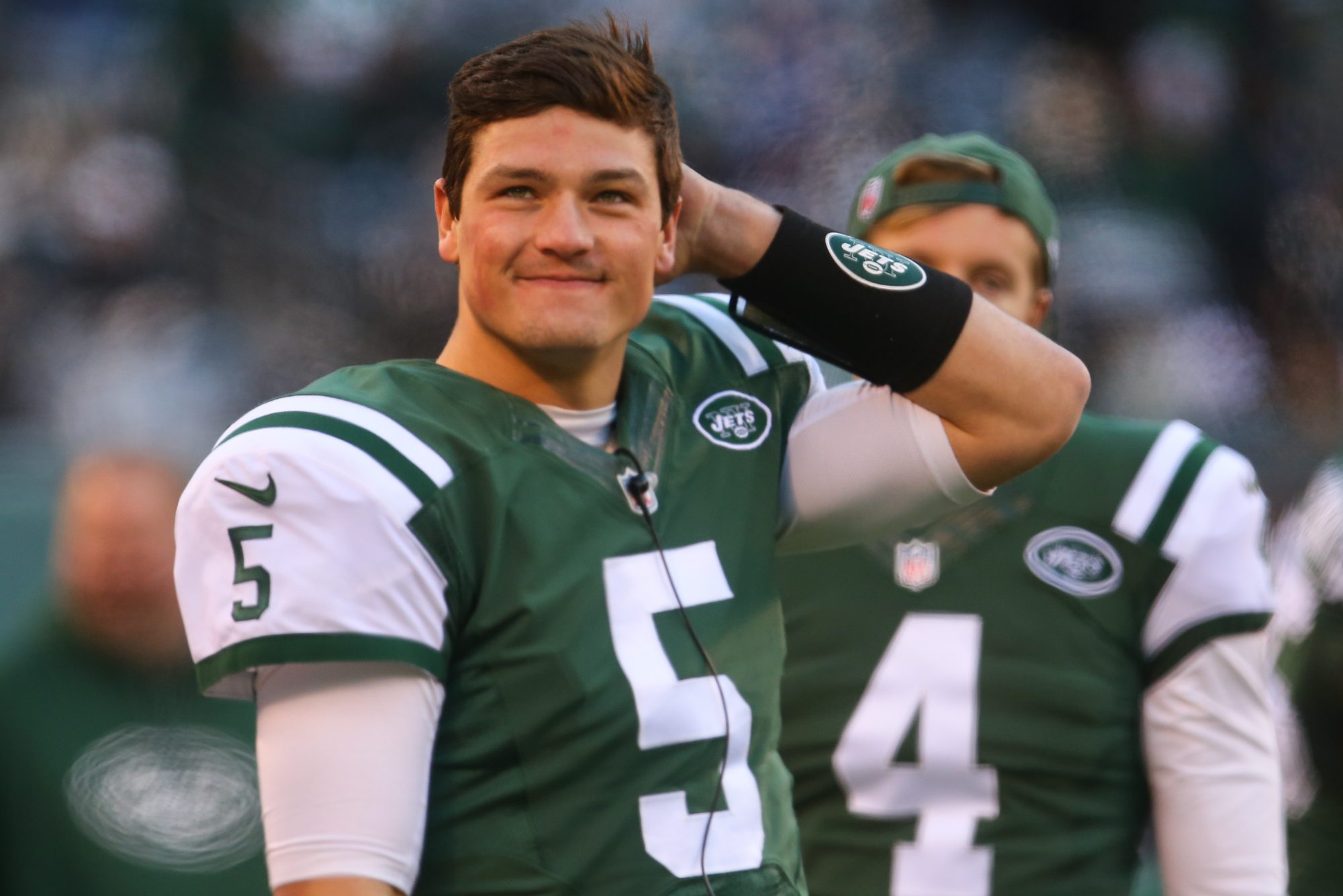 If not Petty or Hack, then who?
This is the real question.
In a season of a stacked quarterback class (possibly, maybe, depending on Sam Darnold's declaration), New York is still in the mix for a top 10 selection.
While many outlets have been discussing this option since last November, we've appropriately decided to limit the talk.
There's just so much that can happen within a year. There's so much that can happen from now until the 2018 NFL Draft. There's no point in even discussing it in depth.
But here we now are, at 4-7, finally signaling the first sign of proper future discussion.
With other teams far ahead of the Jets 2017 misery, forget Sam Darnold. That's out. The only shot of that is if they trade up to the No. 1 slot while yielding an arm and a leg (and then some).
Josh Allen was the hot name of the day a couple weeks ago, via NFL Network's Matt Miller.
Just heard from a league source that the New York #Jets love Josh Allen. Wyoming source told me they've done the most work on him.

— Matt Miller (@nfldraftscout) November 16, 2017
Mike Maccagnan was then spotted on the attendance sheet for the UCLA-Cal game while junior QB Josh Rosen ran on the field with the seniors.
New York Jets general manager Mike Maccagnan is listed on the attendance sheet at tonight's Cal-UCLA game at the… https://t.co/7nSajx2CGq

— Elite Sports NY (@EliteSportsNY) November 25, 2017
Other QB names such as Mason Rudolph, Baker Mayfield and Lamar Jackson remain pondered about.
Then there's the already-in-the-NFL route.
What if Andrew Luck decides to stick it to his ungrateful owner and vow to never play for the Colts ever again? What if Kirk Cousins and/or Alex Smith intrigue Maccagnan?
What if Petty actually overly-impresses with his few games in winding down the 2017 season clock?
With so many options on the table, no answers will come our way anytime soon. The only point now, at 4-7, is to officially begin the countdown in terms of the New York Jets quarterback future.
Let the fascinating QB fun begin.