The trade deadline is approaching in Fantasy Football. Have you made your moves yet? If not, we got you covered.
The Fantasy Football trade deadline in most leagues is sometime next week. Nobody has the perfect roster and if you think that you do, you definitely don't…it's the law of the fantasy world.
There are some underperforming players that we can snag now that might be the difference in winning a championship or not. Don't let your pride or team bias stand in the way from winning your league.
If your league allows draft pick trading, go for it. A fantasy championship lasts forever and if you are a player or two away from winning, pull the trigger on trading a top draft pick. Now is the time to start looking at playoff matchups. Get ready and get excited…we've got ways for you to trade and win.
Here is a list of players you need to target to earn the coveted honor of Fantasy Football Champion.
Alex Smith, Quarterback, Kansas City Chiefs
Alex Smith is as consistent as they come and he has a great fantasy schedule for the rest of the season. He faces the New York Giants, Buffalo Bills (only difficult matchup), New York Jets, Los Angeles Chargers, Miami Dolphins, Oakland Raiders and Denver Broncos. These teams have beatable secondaries and he can easily put up 20 or more points in each game.
Chances are the team that currently boasts Alex Smith likely has him as the second quarterback option on the team. He will be easy to acquire and he will finish the season as a top-10 option. If you own Travis Kelce or Tyreek Hill, I would go out and do whatever I could do get Smith on my team.
Stacking your quarterback in the playoffs is a great strategy to use. If you are struggling at quarterback this season or keep getting injuries, this is an easy way to acquire a reliable upgrade at the position.
LeSean McCoy, Running Back, Buffalo Bills
Shady McCoy has been up and down this season but he has a good schedule for the rest of the year. His owner is probably frustrated with his play as of late and you should be able to get him cheaper than you could have a couple of weeks ago. The Bills just made a change at quarterback and that should help Shady.
If you have a young player that can be a keeper and the team that has Shady is out of the playoffs, try to package two players together to acquire him. He won't be just given away but this will be the cheapest package a team will likely request in return.
And trust me: he will be worth it. He will finish the season strong and can carry your team to a fantasy championship.
Jay Ajayi, Running Back, Philadelphia Eagles
If the Philadelphia Eagles win this week against the Dallas Cowboys, they will lock up the division. They will be playing for the number one seed and that means the team will be wanting to get Ajayi more involved and ready for a playoff run. He already out-snapped LeGarrette Blount in the first week of being on the team and that number should only continue to grow.
He is a true three-down back and he will be on one of the best offenses in the league. He will get plenty of opportunities and he is a big play ready to happen at any time. The more comfortable he gets in the system, the better off he will be. He can be a 20-25 carry a week guy who can add a handful of receptions to his repertoire. Trade for him now and you have yourself a number one running back for the rest of the season and next year.
Sterling Shepard is the number one wide receiver on a team that will be playing from behind in almost every game. The New York Giants are going to be throwing the ball a ton and he should average double-digit targets each week.
No teams left on his schedule scare me and he has 16 receptions and 212 receiving yards in his first two games back from injury. The team is bad but Eli Manning will still get him the ball and opposing defenses will have to focus on Evan Engram also. He is a good player and the Giants should be force-feeding him the ball until this nightmare of a season is over.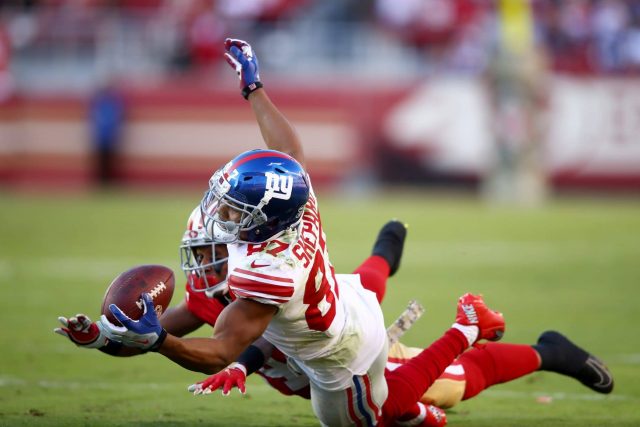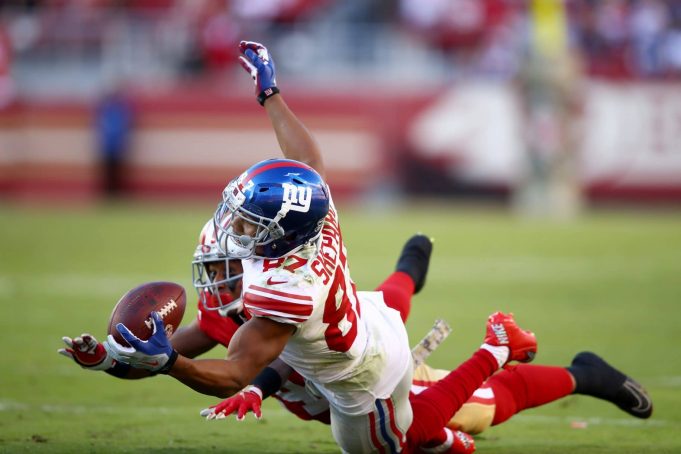 Jacksonville Jaguars Defense
Don't check your eyes. Yes, I am telling you to trade for a defense. If you have an extra position player that you can trade, I would propose this trade immediately.
This defense has scored 120 fantasy points this season. That would be the number six-ranked defense against running backs, the number two against receiver and would be the top-scoring against tight ends by more than 30 points.
Not only is this defense good, but the schedule for the rest of the season is juicy. They face the Cleveland Browns, Arizona Cardinals, Indianapolis Colts, Houston Texans and, in Week 16, they go against the San Francisco 49ers. Those are five of the best matchups for defenses and they have them all to finish the season. Having a dominant fantasy defense can be the difference between winning the playoffs and being dubbed a loser. Be that guy and trade for a defense.
That advice good enough for you? I certainly hope so. We've been giving you advice all season long in fantasy…why stop listening now?