Still looking to add some offensive firepower to your fantasy football squad? We've got five players you need to consider.
The fantasy football playoff push is on.Whether your team is on the verge of punching its postseason ticket, jockeying for seeding, or on the outside looking in, consider adding the following players for the road ahead.
Doesn't it feel like an eternity since we last saw Chris Carson terrorizing defenses out of the backfield? If you don't remember, Carson was carted off with a fractured leg in the closing minutes of a Week 4 thrashing of the Indianapolis Colts.
Seattle's early season depth at running back and Russell Wilson's Houdini-like escape tactics helped soothe Pete Carroll's worries.
In the six weeks since losing Carson, Wilson is the team's leading rusher with 155 combined rushing yards, and the surplus of tailbacks has become scarce. While Wilson remains a steady threat to take off from the pocket, the door is open for Rawls to claim the starting gig.
After Eddie Lacy left Week 9's contest with a groin injury, Rawls totaled 39 yards on nine carries and added 31 yards on two receptions. The 24-year-old encountered difficulties against a stout Cardinals run defense in last Thursday's winning effort, rushing for just 27 yards to go along with 12 yards receiving. C.J. Prosise finally made his return to the field after missing several weeks with a high right ankle sprain, only to sprain his left ankle in the third quarter.
Look for bounce-back performances from Rawls against a pair of subpar defenses in Atlanta and San Francisco. Also, be sure to monitor the health of Carson, who could make an unexpected return in December.
Seattle isn't the only team riddled with problems at tailback. Green Bay's Ty Montgomery and Aaron Jones both left with injuries during Sunday's win over the Bears, making Jamaal Williams a prized waiver-wire commodity. The Packers are no strangers to instability at running back. Last year they were forced to combat the avalanche of injuries by transitioning Montgomery from wide receiver to running back.
Williams was thrust into duty following Montgomery's initial rib injury that came in Week 4 against the Bears. Unfortunately, the rookie out of BYU departed with a knee injury later that night. Sunday's relief effort went much smoother for Williams, who finished with 67 yards on 20 carries and hauling in one seven-yard catch. Jones' MCL sprain is expected to sideline him for 3-to-6 weeks, while Montgomery's status is still unclear. Expect Williams to carve out a larger role, even if it's by default.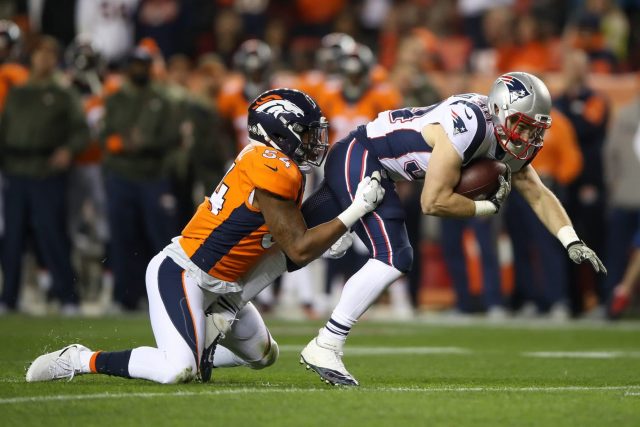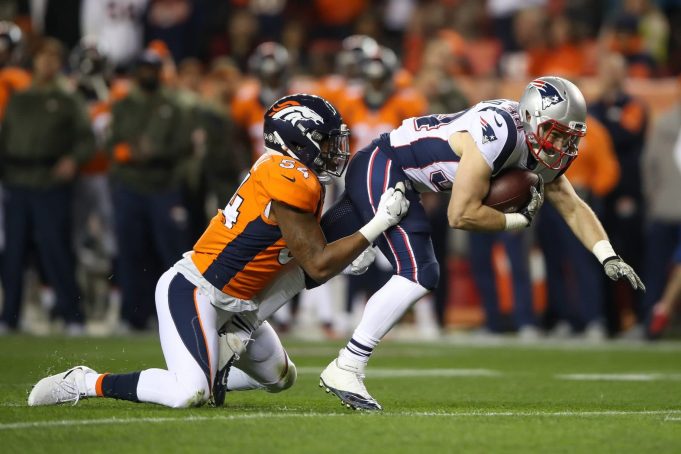 Rex Burkhead, RB, New England Patriots
Forrest Gump said, "Life is like a box of chocolates, you never know what you're gonna get." You can replace 'life is' with 'New England Patriots running back's are' to illustrate the unpredictability of the team's tailback shuffle.
Bill Belichick's game plan for Denver featured a heavy dose of Rex Burkhead and Dion Lewis, who combined for 57-of-70 total offensive snaps. The duo also paid dividends on special teams: Burkhead followed his touchdown reception with a blocked punt, while Lewis' score saw him streaking down the sideline on a 103-yard kickoff return.
So why take a chance on Burkhead, especially when Lewis is one of three other backs on the depth chart? The defending champs added the former Bengal to their offensive arsenal, with the intended luxury of lining him up as a receiver. Despite missing four games with a rib injury, his 155 receiving yards outweigh the 100 he's gained on the ground. What's more is that 95 of those receiving yards came over the last two games.
Given the developing trend, his ability to create mismatches and Tom Brady as the triggerman, why not take the gamble?
The four-year veteran dazzled in a two-touchdown performance against the last-place New York Giants. He continued to shine during his breakout season, amassing 171 yards and two more touchdowns in a 33-7 throttling of the Houston Texans.
Consistency is the name of the game for the former Buffalo Bill, who has now surpassed 50 yards receiving in six of the Ram's first nine games. Although Jared Goff has an abundance of weapons to lean on, Woods is at the top of the list. If you weren't a believer before, here's to hoping the rest of your league previously shared the same opinion.
Marqise Lee, WR, Jacksonville Jaguars
It's no secret that the Jaguar's premiere defense is a key component of their ascent to first place in the AFC South. Blake Bortles' propensity for turnovers makes it difficult to sustain a balanced offensive attack. Losing your number two receiver doesn't make things easier.
Allen Hurns' ankle injury will sideline him for Sunday's game in Cleveland at the very least. This leaves Marqise Lee as one of three healthy receivers on this active roster. Bortles' most trusted weapon has performed at a consistent level all season, including two touchdowns and 140 yards in the Jag's last two games.