At 1-8, many are clamoring for the New York Giants to draft their quarterback of the future. However, when considering how this team was designed to win now, Big Blue should do no such thing.
The 2017 season is as good as over for Blue Blue. Hitting rock bottom in a 31-21 loss to the winless San Francisco 49ers, the New York Giants have fallen to 1-8 and continue to reel. The bright spot in any dark year, especially of this magnitude, is the high draft pick that comes with it.
However, while many continue to call for the Giants to pull out the stops for a quarterback standout such as Sam Darnold (USC) or Josh Rosen (UCLA) with their draft selection, doing so would be a mistake and would go against the team's win-now mentality.
At 36-years-old, it's clear as day that Eli Manning is not the elite quarterback he once was. While he does have an unreliable offensive line in front of him and limited outside options at his disposal, Manning has been unable to fire in passes and/or hook up with the receivers he does have on a consistent basis.
Next season, Manning will be entering the third year of his four-year, $84 million deal. Chances are when that contract expires his days in the Big Apple will be over, if not before then. But it's important to remember that he was given that deal for a reason — to have a four-year window at winning another Super Bowl.
When the Giants inked Manning to his mega-deal, they envisioned him propelling and carrying them on, yet another, Super Bowl run. Last year, they finished 11-5 and looked like a team that was bound to make such a run in 2017. But now nine games into the season, that's obviously not the case. So after one year of disappointment, the Giants are going to blow it up and start over?
Darnold and Rosen are potentially the most intriguing prospects in this year's class — if they declare for the draft — and the most NFL ready. They've showcased an ability to lead their respective teams and both look pro ready. And their addition would be a more than welcomed one for a team that's looking to rebuild or is designed to start over with a franchise quarterback — a situation the Giants are not in.
Yes, the Giants are the worst team in the NFC, if not the NFL; losing to the winless 49ers cemented in that notion. But even with their eye-popping struggles, whether that be offensively or defensively, it's important to keep in mind the veteran talent the Giants have in place.
In addition to Manning, the Giants possess one of the game's most gifted wide receivers — Odell Beckham Jr. After suffering a gruesome season-ending ankle injury in Week 5, the Giants have been without their star wideout — who's this team's most lethal and arguably important player.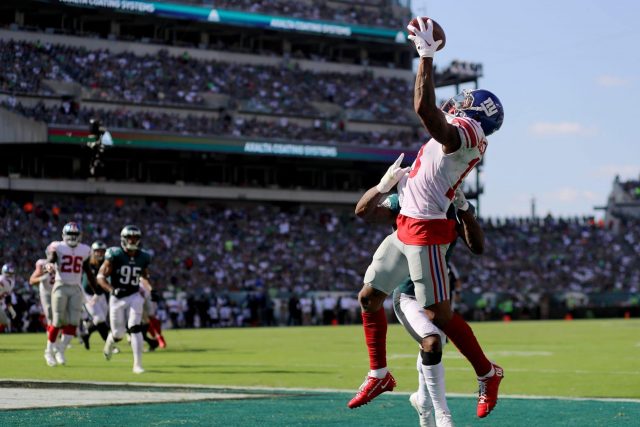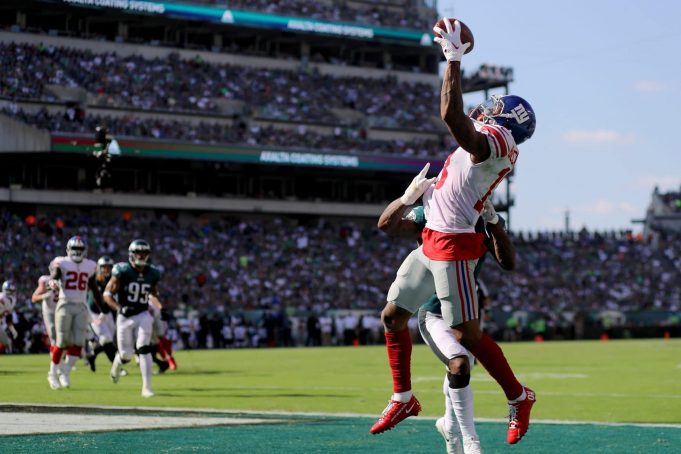 Ranging from an ability to reel in any pass within his general vicinity, get behind any corner and shed tackles with his raw quickness, Beckham is a special and irreplaceable piece to the puzzle in the Giants' offense. The duo of Manning and Beckham alone has been the one glimpse of hope and intrigue the Giants have always possessed through good times and bad. With Beckham potentially departing next offseason, trading away the ultimate facilitator to his game — Manning — would only hurt management's chances at keeping the prodigy in East Rutherford.
On the other end of the ball, the Giants have a number of talented and veteran players. For starters, the Giants' defensive line, while underwhelming this season, is paid to be great now and in the years to come. Jason Pierre-Paul (28) inked a four-year, $62.5 million deal this past offseason. Olivier Vernon (27) signed an $85 million deal and Damon Harrison (28) agreed upon a $46 million deal nearly two years ago. All three are proven commodities but make for a $194 million defensive line.
Their secondary is a similar story, in terms of both contracts and talent. With Janoris Jenkins, who's viewed as one of the best cover corners in the game — and inked a five-year, $62 million deal –, veteran Dominique Rodgers-Cromartie and budding safety Landon Collins — who was a Pro Bowler last season — the Giants have a top-flight secondary at hand. Last season that trio, as well as the team's defense, as a whole, surrendered the 2nd fewest points in the NFL and the 3rd fewest yards on the ground in the NFL. Just a year removed from that defensive dominance, the Giants are going to trash the win-now talent and mentality?
This year, the Giants' defense has been a shell of itself. They've gone from being one of the league's most feared to being taken advantage of at will. Surrendering the 4th most yards and the 6th most points in the NFL, this defense has been the utter opposite of what they were in 2016; life comes at you fast, especially in the NFL.
But the talent the Giants possess on defense is not up for debate. With Pierre-Paul, Vernon, Harrison, Jenkins, Rodgers-Cromartie and Collins in place, the Giants have the tools to bounce back next season and attempt to rekindle their past heroics.
At the end of the day, the deciding factor in management opting to select a quarterback — if they're in the top five — is whether they want to officially find and/or play Manning's successor. But doing so eliminates any possibility of likely making one last Super Bowl run.
Ever since his NFL entrance in 2004, the Giants have never undergone a "rebuild" or "tank" with Manning. They may have missed the playoffs a whole lot, but they won two Super Bowls and have always been competitive — before this year. John Mara and Steve Tisch have not rebuilt in the Manning era and being that he's arguably their most marketable player, parting ways with Manning could potentially get general manager Jerry Reese fired; he's still a massive draw for fans and the organization.
Manning is not a top-tier quarterback at this stage of his career; that's no secret. However, the win-now Giants, who just went on a free agent spending spree last offseason, are going to click the reset button after one year and begone with its franchise player?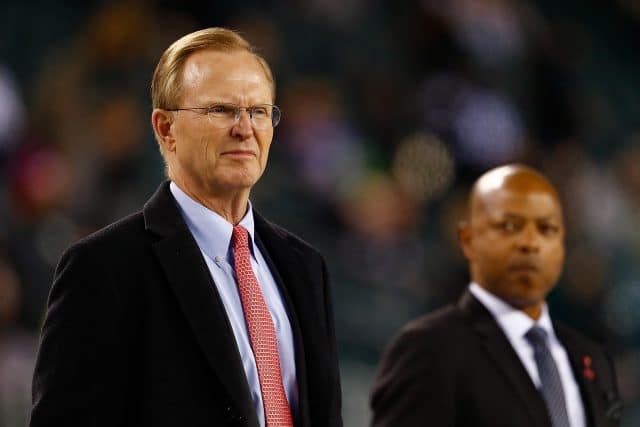 The Giants have and should, without a doubt, continue to do their due diligence on potential 2018 quarterbacks such as Darnold, Rosen, Baker Mayfield and Mason Rudolph. Reese and the Giants wouldn't be doing their job if they don't. However, just because drafting a quarterback in the top five is a unique opportunity for any franchise, it doesn't make sense for an organization that's not adept at drastic change and/or losing seasons to undergo a rebuild with a new player under center — no matter how enticing it may be.
There's, of course, the scenario where the Giants draft a quarterback and have him serve as Manning's backup for a couple of years. The obvious comparison would be when the Green Bay Packers drafted Aaron Rodgers in 2005 and put him behind the legendary Brett Favre. Three years later, Rodgers succeeded Favre as the team's franchise player and has been incredibly successful.
Could Darnold, Rosen or any other potential quarterback draftee be the next Rodgers? Sure. Is it likely? No. But if Manning cannot operate and thrive with the talent at his disposal, the O-Line especially, how will his successor do any better?
Ereck Flowers has been playing better lately, but this O-line, as a whole, including Bobby Hart and John Jerry, has been an inconsistent, unreliable bunch. And with Justin Pugh — arguably their best lineman — potentially departing via free agency this offseason, the Giants could be looking at a lackluster O-line becoming catastrophic. Could the team go out and wreak havoc on the free agency market, getting reinforcements up front? At the moment, they'll have roughly $20 million to spend and that could figure could increase, but if history continues its course, Reese will continue to ignore addressing his offensive line in free agency. With Reese's reluctance towards improving that facet of this football team in free agency in mind, doesn't drafting a lineman, not a quarterback, become the priority?
Some names who the Giants could look at to sure up their offensive line and make an impact from day one are Texas' left tackle Conor Williams and Oklahoma's Orlando Brown. Both lineman could come in and start at left or right tackle; inserting one of them at left tackle would allow the Giants to move Flowers to right tackle.
The Giants have endured one of the most disappointing seasons in franchise history. Some envisioned Manning and the Giants holding up their third Lombardi trophy of the century. But that dream is not a reality anymore.
At 1-8, the Giants are essentially playing for draft positioning, but selecting a quarterback, no matter what role he plays, doesn't help the win-now Giants' efforts at making one last miraculous run.
The talent is there for a playoff run in 2018. It's a matter of complementing and finding players to get the Giants back where many forecasted they'd be dating back to training camp; a rookie quarterback doesn't help them do that.