Ben McAdoo began 2014 as the New York Giants' offensive mastermind, but three years later has become the team's remarkably stubborn head coach.
Sunday afternoon, the New York Giants hit rock bottom. Losing to C.J. Beathard and the winless San Francisco 49ers, 31-21, the Giants fell to 1-8 on the season. With missing the playoffs a near-sure lock, one can't help but wonder whether head coach Ben McAdoo is out of a job at year's end, if not before then.
It's also astonishing to think of the way the McAdoo era began in East Rutherford and where it is now; the man went from being the mastermind offensive coordinator that brought the best out of Eli Manning, Odell Beckham Jr. and the Giants offense, to the stubborn, clueless coach at the helm.
After the 2013 regular season, the Giants and offense coordinator Kevin Gilbride parted ways after their 10-year marriage. To fill the play-calling duties, general manager Jerry Reese and company brought in the Green Bay Packers' quarterback coach, McAdoo, to turn around the team's' lackluster offense. Finishing the year 28th in total yards and points per game, the Giants were in dire need of change. And considering how he worked with one of the best the NFL has ever seen under center in Aaron Rodgers, the Giants held faint hope that McAdoo could attempt to utilize Manning as the Packer prodigy.
In McAdoo's first year as the team's OC, all went well. Jumping up to 10th in total yards, the Giants offense was astronomically better, as was Manning, who bounced back in a big way from his rather discouraging 2013 season — 57.5 percent completion rating, 27 interceptions, 69.4 quarterback rating. Totaling 4,410 yards in the air, while posting a career-best 30 touchdowns and career-low 14 interceptions, Manning played at a very high level in McAdoo's West Coast offense in 2014. The ensuing year, the Giants and Manning endured, yet another, successful season.
Finishing the year 8th in total yards and 6th in points, McAdoo's offense was the team's driving force for a second consecutive season. With Manning topping his career-best touchdown total with 35, as well as cracking his highest quarterback rating at 93.6, the veteran endured another highly successful season. He also did so with a mediocre, at best, offensive line in place — which makes his play that much more noteworthy.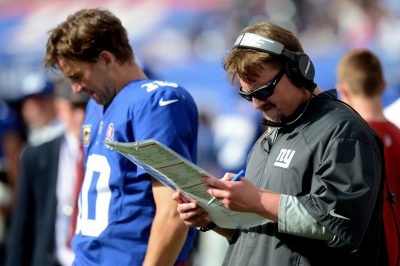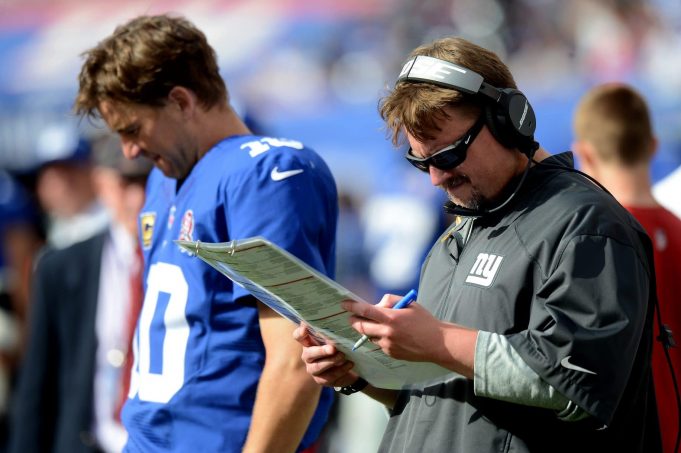 In 2014 and 2015, McAdoo's system worked to success, which is impressive based on it being heavily reliant on two players — Manning and Beckham. So as a result of their offense's production, management opted to make McAdoo Tom Coughlin's successor at head coach — after he "stepped down" from the position.
The Giants' decision to promote McAdoo from OC to head coach was portrayed in two different ways. On one hand, some criticized the organization for opting to stay internal and not going out and finding an intriguing, defensive-savvy mind, especially after surrendering the most yards in the NFL in 2015.
On the other hand, keeping McAdoo meant Manning wouldn't have to learn a whole new offense at 35 years of age; it wouldn't have been ideal for him to endure another drastic systematic change.
In year one of the McAdoo era, the Giants went 11-5. However, their ability to do so was greatly influenced by the team's stout defensive line and electric secondary. Surrendering the 3rd fewest yards on the ground and the 2nd fewest points per game in the NFL, their defense was a stellar bunch. Offensively, they couldn't play to that same standard, failing to work off their 2015 success.
Finishing in the bottom ten in total yards and points per game, McAdoo's offense didn't answer the call in 2016. Whether it be their below average running attack (Giants were 4th worst on the ground), mediocre passing game (Giants were 17th in yards in the air) or inconsistent offensive line, the Giants offense was unable to work off its 2015 success. However, after they went out and signed veteran wideout Brandon Marshall and drafted versatile tight end Evan Engram, the general consensus was that McAdoo's crew would bounce back from their disappointing play on that end of the ball in 2017. But now 1-8, they've done no such thing.
Currently fourth worst in total yards and third worst in points scored, the Giants offense has posed little to no threat. Yes, they've lost Beckham and Marshall to season-ending ankle injuries, but even when they were present, their offense saw limited success.
Posting point totals of 3, 10, 24, 23, 22, 16 (offensively), 7, 17, and 21, the Giants have seen inconsistent and unreliable play on the offensive end, no matter who has been on the field.
Throughout the team's reoccurring offensive woes, drama has presented itself both on and off the field. Ranging from the team suspending cornerbacks' Dominique Rodgers-Cromartie and Janoris Jenkins — their best and some of the league's most prominent all-around corners — for a game apiece after they violated team rules to anonymous players saying McAdoo has lost the locker room, the team's gone up in flames.
When the Giants hired McAdoo away from Green Bay, they envisioned their offense being a potent force, and when he was the team's coordinator, it posed that threat. But ever since he was promoted to head coach, they've been amongst the league worst — no matter the star talent in place.
McAdoo has been brief, blunt and unclear in his remarks and answers to the media, while being incredibly stubborn throughout the year. For example, it took the team going 0-5 for McAdoo to give up play calling to offense coordinator Mike Sullivan.
When things go wrong and the team's not winning, especially when expectations and aspirations were as high as reaching the Super Bowl, McAdoo and any other head coach should change the way things are operated; in this case, that would've been McAdoo giving up his play calling duties before it was too late.
In the midst of the team's struggles up front, McAdoo was very reluctant towards making changes to his offensive line. When Ereck Flowers, Bobby Hart, John Jerry and company were struggling to hold their own early on, McAdoo made little to no adjustments. His squad then began the year 0-4, digging themselves into a near-impossible hole to play out of.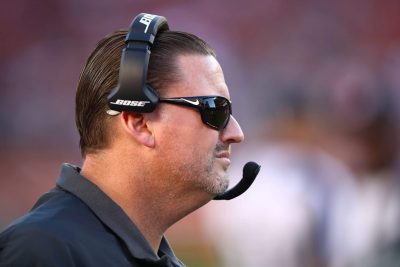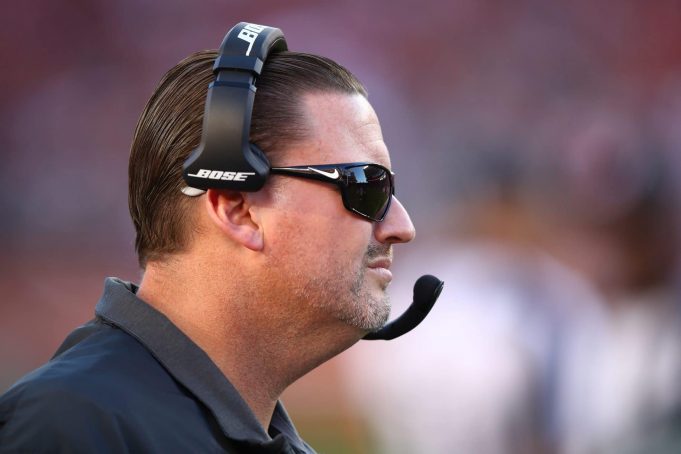 When players are acting up, your offense doesn't answer the call, anonymous players express their frustrations and players are accused of "quitting", the finger gets pointed at the coaching staff. Expectations were sky high this season and it's mind-boggling and truly amazing to consider how the Giants have fared offensively, compared to when McAdoo first took over as the team's OC.
From 2014 to 2015, the Giants possessed one of the league's most feared and lethal offensive attacks. But ever since McAdoo became the team's head coach, the Giants have been remarkably bad.
Losing to the 49ers is as low as it gets. Giving up 31 points and losing to Beathard and the defeated 49ers is beyond embarrassing for the Giants. Whether it be McAdoo, the players, Reese, or the tag team of John Mara and Steve Tisch up above, all aspects of this football team looked bad after falling to 1-8.
Even after the Giants saw limited success on offense in 2016, many were optimistic, internally especially, that they'd figure it out and pose a dominant offensive attack the ensuing year. No one could've predicted this team being 1-8 after Week 10. Injuries have decimated this team on both ends, offensively especially, but when you're the worst team in the conference, it goes beyond talent. The head coach the Giants thought they were getting in McAdoo ended up being a fire that they were never able to put out.
McAdoo kicked off his Big Blue tenure as the team's offensive genie. But after two years as head coach, he became unexplainably stubborn, was unable to improve and keep an 11-win team relevant, lost his locker room and may very well lose his job because of it.
The McAdoo era began with hope but ultimately will end in tragedy.