Two of the NFL's most renowned and accomplished franchises will meet on Sunday looking anything but prestigious.
The New York Giants and San Francisco 49ers have played in some classic matchups over the years. The meetings, particularly the evenly split eight postseason matchups, have been defined by excitement and unpredictability, classics still talked about to this
Despite the insanity of this New York-California rivalry, however, Sunday's matchup (4:25 p.m. ET, FOX) more than likely will be forgotten by the time that night's episode of The Walking Dead airs.
The title of the popular AMC zombie series could accurately describe both the Giants and 49ers, who enter the game with a combined 1-16 record. It's a stark contrast to the normal meetings between the two teams, as the results of the Super Bowl itself have depended on past Giants-Niners meetings.
Giants long snapper Zak DeOssie, one of three holdovers from the Giants' last Super Bowl team in 2012, played a part in one of the rivalry's most memorable moments, snapping the ball that Lawrence Tynes sailed through the uprights from 31 yards out to give the Giants a 20-17 overtime victory. They would win Super Bowl XLVI two weeks later.
"It started raining," DeOssie recalled with a smile. "The ref plugged the ball in the grass/mud. I picked it up and it was soaking wet. I threw a little bubbler back to (holder) Steve Weatherford. He trapped it on the ground, put it up and Tynesey kicked it right through."
One of the other holdovers from that squad is quarterback Eli Manning, who is 6-2 all-time against San Francisco, including that NFC title win, where he threw for 316 yards and two scores. The last meeting in October 2015 also had a flair for the dramatics, as Manning found tight end Larry Donnell for a game-winning score with 21 seconds to go, en route to a 30-27 Giants victory.
"I think both teams need a win," Manning said of this weekend's matchup. "I think you try to play your scheme. You try to do things correctly, do things right. So, we got to do things. We got to play our game. We got to be where we need to be. Make the plays that are there."
Now, the teams square off in a game where even the winner won't do itself any favors, as the winning team will likely bemoan a loss in position for the top pick in next spring's draft. At 0-9, San Francisco currently holds the top spot, while the 1-7 Giants would currently select third, as the combatants sandwich the 0-8 Browns in the current rundown.
Don't expect, however, either team to let up on Sunday.
"I see [the Giants] work every day. I think seeing them show up, seeing them interact with each other, you know, seeing them lead, whether it's between the white lines or whether it's in the locker room or in the hallways in a non-structured type area," Giants head coach Ben McAdoo said on Wednesday. "They're a team that likes each other. They're a team that plays for each other. If things haven't gone well and guys have responded and they seem to care about each other."
First-year 49ers head coach Kyle Shanahan concurred in a Wednesday afternoon conference call. Shanahan, formerly Atlanta's offensive coordinator, is still searching for his first ever win as a head coach, but it's not for lack of trying. Though the previous three losses against Dallas, Philadelphia, and Arizona have been one-sided, five of the Niners' first six losses came by three points or less.
"Our record is very disappointing and it's extremely tough to have a record like this, and as you guys know, going through this in New York, it wears on people," Shanahan said. "I'm not proud of our record by any means, but I am proud with how our guys are handling it. I think we are getting their best, but that's still not enough. We need to figure out how to play better, how to coach better, in order to beat a team like the Giants."
For San Francisco, one probably could've foreseen a quarterback controversy on the horizon when we kicked off in September. The Niners began with since-released veteran Brian Hoyer under center but was benched during the team's Week 6 game in Washington. In his place went third-round selection CJ Beathard, who has struggled in his first career starts, throwing four interceptions. Between Hoyer and Beathard, San Francisco has thrown more passes than anyone else in the NFL (366), but they're dead last in touchdown throws (6).
Shanahan said he expects Beathard to start on Sunday, despite the Niners bringing in highly touted New England backup Jimmy Garoppolo via a trade two weeks ago.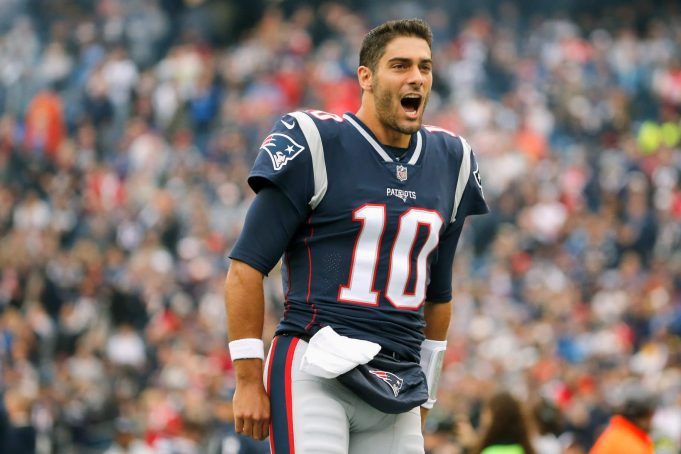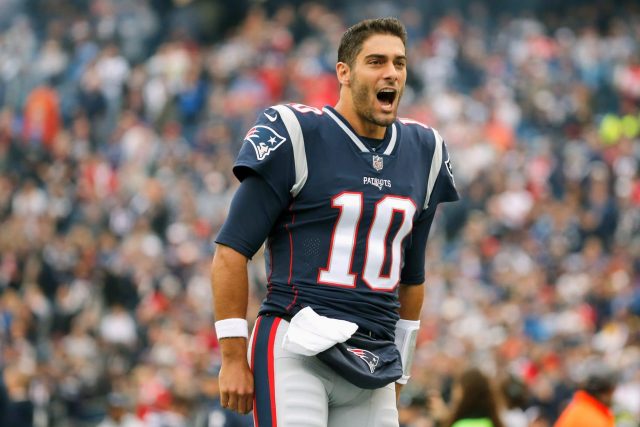 "I believe in C.J., I'm excited about him. I definitely believe in Jimmy and I'm excited about him, too. I'd like to give Jimmy a chance to eventually play," Shannahan said. "But one of the reasons I came here is because I thought I'd be in a position to truly make what I felt was the right decision for our team and that's what's kind of nice about this situation. I don't feel any pressure to play this guy because of our record, or pressure to play him because everyone wants him to come in and save our season. I want to make sure that we play him because Jimmy has a chance to be successful, it has a chance to help him and it has a chance to help our team."
While Beathard will likely take the San Francisco snaps, don't expect to see the Giants' third-round pick in action. Despite having somewhat of a homecoming this week, Davis Webb, formerly of Cal-Berkeley, won't be taking over for Manning just yet, despite the clamoring of Giants fans to see what they have in last spring's 87th overall pick. McAdoo has announced several times this week that Manning remains his quarterback, and Webb concurred when speaking with reporters earlier this week.
"My role on this football team is to be a great teammate, and be the best teammate I possibly can be, work extremely to be the best quarterback I can be whenever my number does get called," Webb said. "Whether that'll be ten years from now or never, I want to be ready. When the opportunity ever does come, I'll be ready. But at the same time, my job, my role, and that's not going to change, is to be the best teammate I obviously can be."
In terms of winning percentage, this is the worst matchup this late in the season for any New York Giants team, as the Giants and Niners have combined for a .059 win percentage, the lowest in any Giants game this late in the season in their 93-year history. The previous low was a 1966 showdown at Yankee Stadium, when the 1-7-1 Giants took on the 0-9 Atlanta Falcons. Atlanta won the game 27-16.
Geoff Magliocchetti is on Twitter @GeoffMags5490