Despite the requests of New York Giants fans to sub in for his mentor, Davis Webb is satisfied behind Eli Manning, only seeking to learn more.
Over the past few weeks, quarterback Davis Webb has probably become the most popular athlete in New York sports, despite not even having dressed in pads for a regular season game yet.
But such is the state of the New York Giants, who have been reduced to playing the second half of their season as spoilers at best, that fans have clamored to see the rookie Webb, the Giants' third-round selection in last spring's draft. Though Eli Manning has made 207 consecutive regular-season starts (219 counting postseason games), a good amount of Giants fans are willing to see that streak end if it spares the two-time Super Bowl champion to further chaos this season.
On Tuesday afternoon, Webb probably earned the first crowded locker of his Giants career, as reporters surrounded the rookie who has been the talk of the town. Webb, 22, conducted himself like a veteran, seeking a desire to control only what he can control, and praising his champion mentor.
"My job is to help our team win. My job through that is to watch extra film, help guys that come in on off days," Webb said. "(It's to) kind of be a sponge and learn from one of the best quarterbacks to ever play this game, the best quarterback to ever play for this franchise. There's only been six other guys to throw for 50,000 yards. So he's been a heck of a teammate, he's helped me a bunch, and I think I've learned so much from him."
Webb has been inactive for the first eight games of the season, as the Giants have elected to carry Geno Smith as Manning's backup. Smith, a former starter with the Jets, relieved Manning late in the Giants' most recent disaster, a 51-17 shellacking at the hands of the Los Angeles Rams last Sunday. Asked if he'd be ready if his name was called upon in a similar fashion, Webb refused to discuss hypotheticals.
"I think I'm a good player and I've played football since seventh grade," Webb explained. "But at the same time, my role on this football team is to be a great teammate, and be the best teammate I possibly can be, work extremely to be the best quarterback I can be whenever my number does get called. Whether that'll be ten years from now or never, I want to be ready. When the opportunity ever does come, I'll be ready. But at the same time, my job, my role, and that's not going to change, is to be the best teammate I obviously can be."
From the moment he was drafted, Webb, formerly of Cal-Berkeley and Texas Tech, has acknowledged the stranglehold Manning has held on the job since taking it from Kurt Warner in 2004. When pressed about it, he has made the best of a somewhat awkward situation, acknowledging very early on that his rookie year would likely be a de facto redshirt season.
"I have a long way to go," Webb said during rookie camp in May. "Right now I just have to be a great teammate and learn the playbook as fast as you can, as efficiently as you can and we will go from here."
The 87th overall pick of last spring's draft has been calling himself a "sponge" ever since that first practice.
"I want to be a sponge around him," Webb prophesied. "I don't want to nag him and be that little rookie, but at the same time, if I have a question that can be asked, I am going to ask it. Whenever he is just doing stuff, taking 7-on-7, taking mental notes and trying to put his game to mind and try to get better."
On Tuesday, Webb's position didn't change.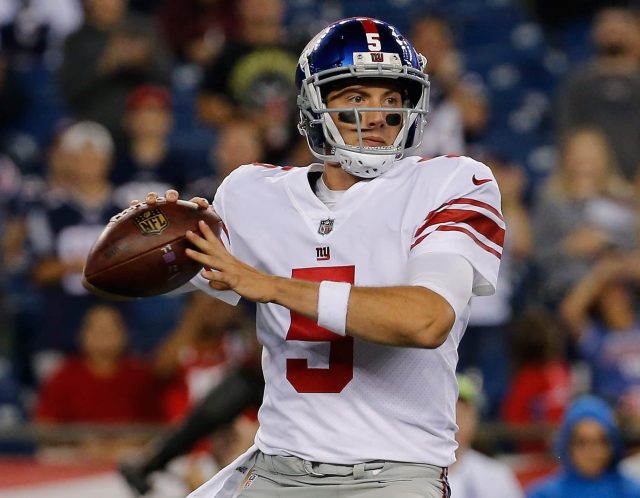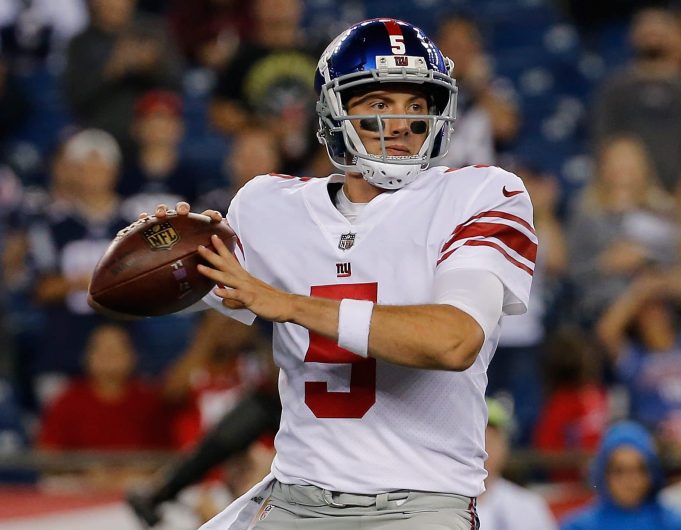 "Not many people get to say that you played with one of the best quarterbacks to ever play this game," Webb said. "I learn 100 things in one minute from Eli. He's very smart, I've been a sponge. I'm continuing to learn, I'm continuing to grow as a person. There's not one person that sets the standard to be a New York Football Giant than Eli Manning. I'm very thankful to be his teammate."
The Giants have indeed drafted quarterbacks before in the Manning era, but Webb's situation felt different. He was the Giants' highest selection of a quarterback since that fateful day in 2004, when the Giants selected Philip Rivers fourth overall. Rivers, of course, was dealt minutes later to the Chargers, who had taken Manning with the opening pick.
Manning has stated time and time again that he knew the Giants would be searching for an heir to his quarterback throne, but reiterated that he isn't ready to abdicate the spot just yet, no matter how bad the Giants record gets. New York currently sits at 1-7 and opens the second half of their season against the equally woebegone San Francisco 49ers (0-8) on Sunday afternoon (4:25 PM, FOX).
"I want to play. That's what I like to do. I like to play football and play quarterback," Manning said. "I understand that I got a job to do and I got to do it better and do it well and get wins and if you don't, everybody's job is up for grabs in this league."
Asked if he understands the clamoring for Webb, Manning only replied "Sure".
Giants head coach Ben McAdoo, perhaps unwittingly, fueled the budding controversy by stating in both Sunday's postgame conference and a Monday afternoon conference call he'd potentially explore a quarterback change after Sunday.
"Eli, he's our quarterback. But that doesn't mean at some point in time, we won't throw another guy in there to get a look at him," McAdoo said. "Every position needs to be held accountable and every position needs to play to a high standard. Same thing with the coaches. And obviously, when you lose in the fashion that we lost yesterday, it's not good enough."
Later in the call, McAdoo gave Manning another vote of confidence. "I have a lot of confidence in Eli," he said. "That hasn't changed."
Manning said he hadn't heard McAdoo's Monday comments, but assured the masses there is no conflict between him and the head coach.
"(McAdoo) said he's got faith in me and keep grinding. So, that's what we're doing," Manning said. "Coach and I, we communicate well. (We) have great confidence in each other and have a good relationship."
Though nowhere the most egregious of the Giants' many problems, there's no denying that Manning, 36, hasn't been his usual consistent self. He had had two turnovers on Sunday, including a fumble on the opening drive of the game, and two noticeable overthrows stifled early attempts at a comeback.
"There's always little things. There's always things you have to correct and missed plays," Manning said. "We're not in that position where we can have too many of those."
So despite the clamoring, it's business as usual for the Giants' quarterbacks, as Manning will likely start for the 208th consecutive regular season game. That mark would tie a landmark previously reached by his brother Peyton, who started 208 consecutive regular-season games for the Colts between 1998 and 2011.
But in another case of classic Manning, the veteran deflected attention away from his individual antics, choosing to focus only on the team goal of earning another win.
"I'm happy to be out there each and every week with my teammates. That's a goal of mine to stay healthy, to play through injuries, to be accountable and so," Manning said. "But, it's not about breaking a record."
It would appear Manning's selflessness is already rubbing off on Webb, who echoed a desire to revert the national and local focus back to team goals, not individual.
"My job is to be the best teammate that I can be. And for me, that's helping Eli, helping our receivers and our offense get touchdowns on the board and help our team win. So that hasn't changed my preparation," Webb said. "I want to be a great teammate first and work really hard, continue to put hours in and learn this offense, learn the NFL game. I'm here to help people win, and that's my role on the team right now."
Geoff Magliocchetti is on Twitter @GeoffMags5490