ESNY has given you all the installments in ranking the fantasy basketball picks. Let's take a look at the final ten.
In fantasy basketball, it is critical to not mess up the first two rounds of your draft. The NBA is a star-driven league and after the first couple of rounds, the skill and talent drops off quickly.
These are the players who will carry you every week and if there is any way to get two of them on your roster, I would suggest moving mountains to make it happen.
After much anticipation, here are the top 10 fantasy basketball players for the 2017-2018 season.
10. Kawhi Leonard, Forward, San Antonio Spurs
Kawhi Leonard is a better player in reality than in the fantasy realm. He is a top four player in the league, but he isn't as useful to our fantasy teams like he is to the San Antonio Spurs.
His scoring has gone up every year in the league and the Spurs' offense runs through him. He averaged 25 points to go with five rebounds per game which is what you want from a first-round pick…he just doesn't offer the upside the other players do in the top ten. Consistency is critical in winning fantasy and Kawhi is a consistent pick but he isn't a "sexy" pick on draft day.
9. Anthony Davis, Forward/Center,  New Orleans Pelicans
If you could promise me 75 games for Anthony Davis, he would be a top five player. He does everything expertly on the basketball court but he seems to be made of glass, a la Derrick Rose. When you are drafting in the first few rounds, you don't want to have to worry about if the player will play more than half the games. Davis is young and the addition of Demarcus Cousins will help space the floor and give him one-on-one matchups.
AD is the future of the league but he needs to stay healthy to have an impact on the court. He is a great building block for your team but make sure you have a good backup just in case he succumbs to injury at some point in the season. Don't let the "what if's" scare you from drafting him; he is worth the risk in fantasy basketball this year.
8. Steph Curry, Guard, Golden State Warriors
Steph Curry is a top five player in categories scoring leagues. He will lead the league in three-point shots made again and is always atop the leaderboard in points and steals per game. However, he does more than just score; he will give you five-plus assists and rebounds a game.
Steph will put up a dud here and there because on the nights that Kevin Durant and Klay Thompson go nuts, he will take a backseat. On most nights, he is an elite option to put in the starting lineup.
He always has the green light when he has the ball and while sometimes he puts up horrible shots,the makes far outweigh the misses. Steph has 50-point upside every night and I wish he was more aggressive instead of letting that bum Klay Thompson shoot the ball. Draft Curry with confidence; he isn't slowing down anytime soon.
7. DeMarcus Cousins, Center, New Orleans Pelicans
Boogie Cousins is perhaps the most underrated player in fantasy basketball. Not only is he a threat to have a 20-point, 20-rebound nightly but he is an underrated passer. There are times that Cousins will take the ball up the court and just bully his opponent or step back and drain a three.
Boogie is in the prime of his career and being teamed up with Anthony Davis will only make him a better player. The ball will be in the hands of both all-stars and he might lead the league in usage percentage because of the lack of depth on the Pelicans.
When Boogie wakes up in the morning, he already has 20/10. I could have easily but him in the top five but didn't want my fandom of his game to influence my rankings. I have him ranked a lot higher than most but don't let him slip past the twelfth pick in your draft. He is too talented to not be a first-round pick.
6. LeBron James, Forward, Cleveland Cavaliers
LeBron James is still the best player in the league and he seems to be getting better with age. He still plays big minutes and with Kyrie Irving out of town, he will have the ball in his hands almost every time the Cavaliers have possession. He is becoming a better three-point shooter and with the extra shots being open with Kyrie gone, he might come close to scoring 30 points a game.
One problem with LeBron is the East is so weak that if the Cavs get a big lead in the conference, he can sit out some games in the fantasy playoffs.
You can make the case to take King James as the first overall pick this year and he could be the top scorer by the end of the year. Don't let his age stop you from drafting him early. He still has another two or three years of being the best player in the world and he will carry you every week in fantasy.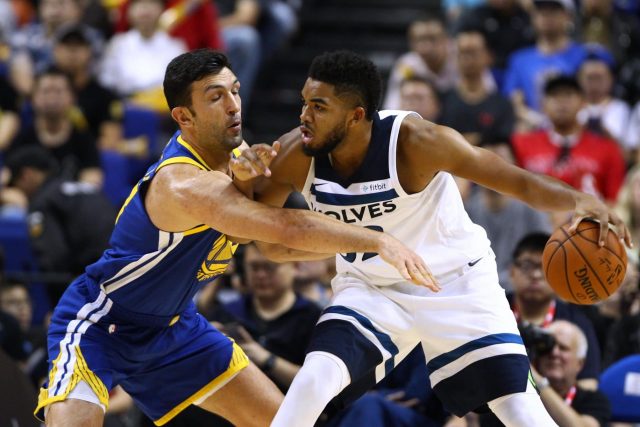 KAT is about to turn 22 years old and he may have the highest fantasy ceiling of any center in the league. His stats last season were 25 points a game to go with 12 boards and over a block a game. The addition of Jimmy Butler will help him because other teams can't just focus on him on offense.
He is only getting better and is developing a three-point shot. He shot 36 percent from threes and if he can get that up to 40 percent and shoot five or six a game, he will only put up better numbers. If I was drafting in a dynasty league, I would have no problem him taking him with the second pick overall behind, Giannis Antetokounmpo.
4. Kevin Durant, Forward, Golden State Warriors
You can say whatever you want about Kevin Durant and how loyal he is but on the court, there aren't many better than KD. His rebounds and assist numbers stayed the same with the move to Golden State but his points took a little bit of a hit and dropped from 28 points to 25 a game. He shot over three percent better because of the better team, which I personally would rather have. He is taking better and higher percentage shots and he can explode for 50 fantasy points on any given night.
KD is as consistent as they come in the league and he is the top option on most nights on the best offense in the league. He will give you 25/5/5 with a block and a steal every night and you never have to worry about matchups with him. He won his ring and, I believe this year, will be better statically better than last. He shouldn't fall outside the top five at seasons end.
3. James Harden, Guard, Houston Rockets
James Harden is on the perfect team and system for him to be a fantasy superstar. Harden can shoot whenever he wants and he is great at getting to the foul line. The Rockets play at one of the fastest paces in the league and Harden doesn't waste any energy on defense. Harden contributes across the board in fantasy terms in points, rebounds and assist. Whenever you can get a guard that gives you over seven rebounds a game, that gives you a big advantage nightly.
The addition of Chris Paul will only help Harden get better looks. He might not have the ball in his hands as much but not this allows him to cut to the basket more and find openings in the defense. He is worthy of a top three pick in every type of league and, unlike most other stars in the league, he rarely takes a night off. Harden is a lock to finish within the top five in fantasy basketball again this season.
2. Russell Westbrook, Point Guard, Oklahoma City Thunder
 Russell Westbrook showed the world how great of a player he could be last year. He is the most athletic player in the league and was a man on a mission last season. He averaged 31 points, 10 rebounds and 10 assists a night while averaging a triple-double, joining Oscar Robinson as the only players in NBA history to do so. He just got a lot of help with Carmelo Anthony and Paul George coming to the Oklahoma City Thunder and his stats will go down a little bit.
He won't average 30 points a game this year; that number should drop down to around 22-25 points a night. However, his other stats shouldn't be effected as much. Double-digit rebounds will be hard to repeat as a point guard but he will still give you around six or seven a night. His assist numbers could possibly improve this season as well. Having two All-Stars on his team should help give him more assist opportunities.
Also, he doesn't have to force up bad shots or make as many bad passes and his turnover numbers should go down. He won't average a triple-double any more but he still is an elite option in terms of fantasy basketball this year. He makes a case to be taken as the first pick but he shouldn't slip past the third overall.
Giannis is a freak of nature. Last season was his breakout year and the crazy thing is he only will get better. Last season, he averaged 22 points, eight rebounds, five assists and was just under two blocks and steals a game. He fills up the stat sheet on a nightly basis and the Bucks play through him every night. What separates Giannis from the others in the top ten is that he doesn't have another All-Star caliber player to take shots away from him.
He has a high field goal percentage because he knows exactly the player that he is. He doesn't shoot a lot of three's because that is the weakest part of his game. If you have the number one pick, you need to target the Greek Freak.
He only 22 years old and nobody in the league has his upside. His points, rebounds, assists, blocks and steals have gone up every year in the league. We still haven't seen the best out of him and he is the perfect player to target in dynasty leagues. Last year was no fluke; he is a future MVP.
Well, there you have it. All of the fantasy basketball rankings from 50 to number one have been listed out for you. Now it's time to rule your fantasy basketball draft.