Forget about what's "best" for the franchise moving forward. When looking at the personnel, these New York Jets have actually underachieved.
They're young. They've already exceeded everybody's expectations. They just haven't figured out how to finish games quite yet.
This is what's commonly said about the 2017 New York Jets.
What's rarely said is the following …
It's all a bunch of babbling garbage.
The competitor wants no part of excuses. Haven't figure out how to finish yet? What does that even mean? Mistakes and poor football down the stretch are what's lead to a 3-5 record in place of a possible 6-2 mark.
Yeah, that's right: these Jets, the very same Jets Daniel Jeremiah called the worst roster in the league while his unnamed source claimed worst personnel in a decade, could actually be 6-2.
Should they be sitting atop the AFC East with six wins? Of course, not. Nobody's guaranteed every close NFL decision. At the same time, New York's fallen flat on its face in every close contest aside from Week 4 vs. Jacksonville.
These guys have greatly underachieved this season.
Don't think about what's "best" for the franchise. We all know what's best — a No. 1 pick in the NFL Draft with Sam Darnold, Josh Rosen and Baker Mayfield staring them right in the face is what's best.
Forget best. Nobody knows what's going to transpire from now until Apr. 26, 2018. Darnold could opt to stay in school for all we know. Hey, did anybody believe Jimmy Garoppolo would be sent to the Bay Area on the NFL's first semi-real trade deadline?
No, of course you didn't. It's the same concept as believing the over-the-hill and far-too-young Eric Mangini Jets in 2006 would finish 10-6 and make the playoffs. These kids were 2-3 after five games and 5-5 after 10. Yet they finished having won five of their last six en route to 10.
Not a soul thought it was possible.
Unfortunately, the 2017 version is behind schedule as it pertains to their brethren of 11 seasons ago.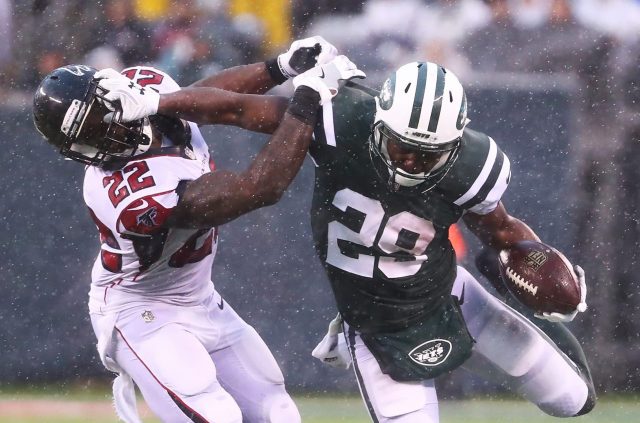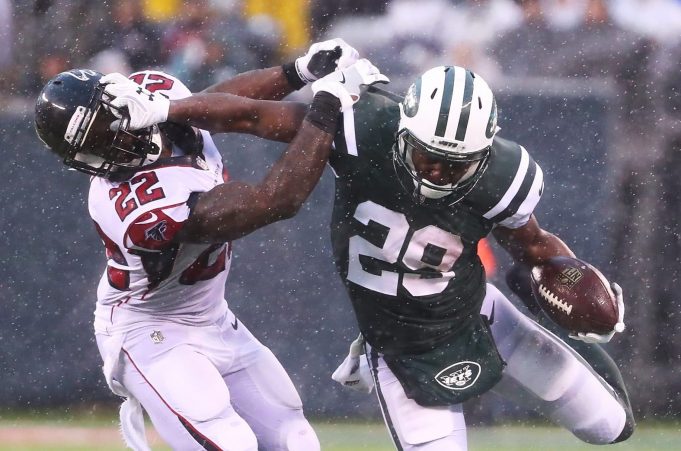 The Unwillingness to Let Go of the Rushing Game Just a Tad
Heading into Thursday Night Football with Buffalo coming to the swamps of Jersey, the Jets rank 22nd in the NFL with 95.8 rushing yards a game. The only team that ranks worse yet has more carries than the Jets total of 192 are the Cleveland Browns (187).
In terms of carries per contest and yards per carry, New York ranks 22nd (24.0) and 18th (4.0) in the land. All rushing stats coming from this squad are below average.
Then, when those two long runs against the Jaguars are taken away — Elijah McGuire's nice 69-yarder and Bilal Powell's "fortunate" 75-yarder after he fell down and nobody touched him — this rushing attack ranks among the poor. If those two runs never happened, the Jets would rank 30th with 78 rushing yards a game and then 31st with an average of 3.2 per attempt.
Look at the last three losses. Each game — the New England Patriots, Miami Dolphins and Atlanta Falcons — was a carbon-copy of one another. The Jets would air the ball out early against heavy boxes and take leads. Against both the Pats and Phins, 14-point leads were enjoyed.
Then the rushing game would continue to be forced. The opposition would stop it and capitalize on a horrid pass rush.
To do amazing things in this league, the unexpected needs to be expected.
Perhaps if John Morton and Todd Bowles took what the defense gave them 75 percent of the time instead of 50 percent of the time, the Jets may be sitting with four or five wins with Josh McCown torching those disrespecting eight-man boxes a few more times.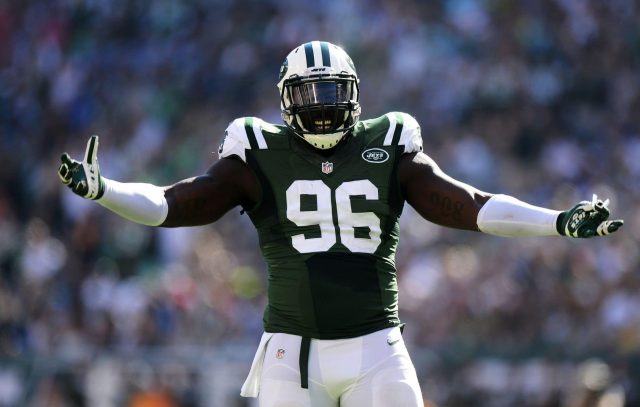 How 'Bout This Overrated D-Line?
All anybody wanted to discuss the last few seasons as it concerned the professional team that calls its home Florham Park, New Jersey is that studly defensive line. Leonard Williams, Muhammad Wilkerson and Sheldon Richardson were the top interior D-line trio in football.
With Sheldon gone and Big Mo a completely different person, they'd be lucky to crack the top 50 percentile.
With a paltry eight sacks on the season (in eight games), Bowles's defense ranks 30th in the league. Middle linebacker Demario Davis leads the team with 2.5 sacks. Rookie safety Jamal Adams has two. Big Mo has only collected one while the team's only Pro Bowl rep from a season ago, Big Cat, is coming in with a strong zero.
Think about how good this Jets pass defense has been considering how poorly their pass rush is. It's simply incredible when the tape is analyzed.
Imagine Big Mo, Big Cat and at least just one edge presence stepped up this season. If the two big guys in the middle just played like their career norms, this would be one dangerous defense.
Suffice to say, it's a big-time underachieving department right now.
Final Thoughts
It doesn't take a rocket scientist to understand what the game plan is every week. This is a defensive team who wants to play things close to the vest. They don't believe their quarterback and offense can do enough to bludgeon teams on a consistent basis which leads to an extremely rough offense when the team has a lead — which is why we've witnessed heartbreaking blown leads the last three weeks.
Everybody understands the importance of running the ball. But when two yards a pop are showing in the box score, McCown taking on a single-high look on every play needs to be the way to go. He's proven he can get it done in that situation (Jermaine Kearse and Robby Anderson on several nine-routes for TDs this season).
If the Jets opened it up a tad on offense (especially when holding a lead) and found some way to complement those big interior D-linemen with an edge presence, this underachieving feeling could quickly turn back into a winning formula.
Forget about the preseason nonsense. Too many over-their-head football writers and analysts took the loss of veteran "names" and equated it with the loss of actual "talent." They were dead wrong.
Now, even at 3-5, these guys are underachieving. The only reason most don't make that claim is thanks to the ridiculous projections heading into the campaign.