Wide receiver Sterling Shepard's return will bless the Giants with a threat on the outside for Eli Manning and friends.
A 1-6 record and four receivers down — not how the Giants forecasted themselves seven games into the season. Eli Manning and the Giants' offense has been decimated by injuries and, as a result, have posed little to no threat on that end of the ball. Currently third to last in the NFL in points per game (16.0), the Giants' offense has been an immense letdown. But the expected return of wide receiver Sterling Shepard this weekend will provide offensive coordinator Mike Sullivan's crew with a spark plug on the outside.
In their Week 5 contest with the Los Angeles Chargers, the Giants' depth at receiver was eliminated — which projected to be a strong suit going into the regular season. With Odell Beckham Jr., Brandon Marshall, Dwayne Harris and Shepard all going down via injury, Manning was stripped of his premier outside targets. Luckily for Manning and the Giants, Shepard appears on track to return for their upcoming matchup versus the Los Angeles Rams.
The second-year Shepard endured a nasty ankle injury versus the Chargers. Before suffering his gruesome injury three weeks ago, Shepard was, in fact, putting together an impressive season.
Reeling in 22 passes for 263 yards and a touchdown, Shepard showed some promise in the five games he played, though, versus the Chargers — in Week 5 — he caught just one pass, which is when his injury transpired.
Shepard's best performance came in the Giants' Week 3 affair at Lincoln Financial Field. Reeling in 10 passes for 133 yards, including a 77-yard fourth quarter touchdown — which is the biggest play, in terms of yards, for the Giants this season — Shepard shined versus the Philadelphia Eagles.
https://www.youtube.com/watch?v=XejPpnOiTGU
Now likely to return this weekend — per the wideout himself, via SNY's Ralph Vacchiano –, Shepard will instantly be Manning's number one wideout.
With the receiving quartette of Roger Lewis Jr., Tavarres King, Travis Rudolph and Ed Eagan posing little to no threat on the outside, Shepard's return will be much appreciated on Manning's part.
In their last two games versus the Denver Broncos and Seattle Seahawks, Lewis, King, Rudolph and Eagan have combined for just eight receptions. The only bright spot for their offense has been the play of rookie tight end Evan Engram.
Engram, who lines up as a slot receiver quite often, has been a positive for the Giants this year, especially in their last two games. Totaling 11 catches for 142 yards and two touchdowns, the Ole Miss product has been a productive source of offense for Manning and company. For the year, he has totaled 30 catches for 342 yards and three touchdowns.
Engram has played well in the wake of the catastrophe that struck the Giants at receiver versus the Chargers, but this team's offense needs more than just him to succeed.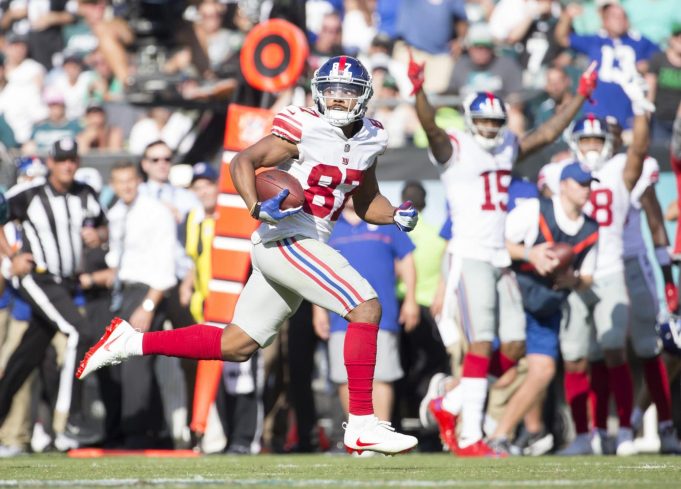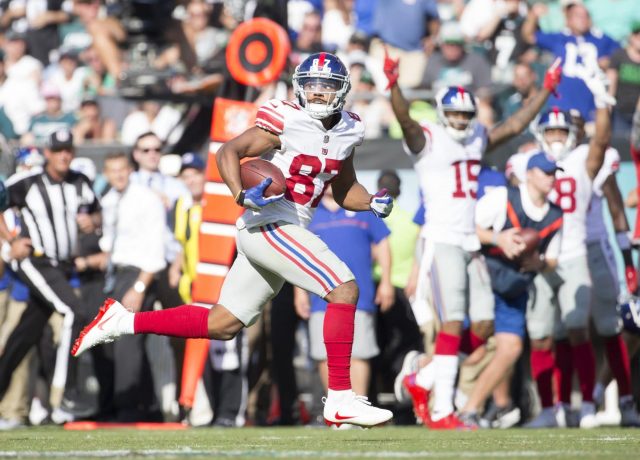 Shepard showed some promise in his rookie year, reeling in eight touchdowns and serving as an option for Manning in both the slot and on downfield plays. Before he got injured roughly three weeks ago, Shepard was playing well yet again.
Shepard is now the longest-tenured and most well-rounded receiver on the Giants' roster; he's in his second year with the West Coast offense and has proven that he can be relied on to get open. The duo of Engram and Shepard is not a stellar pairing, but the two will make things easier for one another, Engram especially.
As a result of Shepard's presence, Engram will not be the focal point of the Giants' passing attack. However, that will allow him to get more open, given that Shepard will attract the majority of opposing defense's attention. And Shepard gets to prove himself in the process. He's now the number one man at receiver and surely Manning's most trusted outside option. Will he be able to step up and assume the role of being the team's number one receiver? Can he overcome being defended by top-tier corners?
It will take a lot of will and grit for this Giants' offense to rise up and be a formidable unit, but Shepard's return, at the very least, grants them a legitimate and much needed receiving threat for their remaining nine games.