The notion that the New York Giants offense is better off without superstar Odell Beckham Jr. is completely and utterly absurd. 
Odell Beckham Jr. is a bag of tricks and antics. His raw talent and ability to make things happen while becoming emotional at times makes him an intriguing character. But while Beckham can be a distraction and a headache for his New York Giants, the thought of their offense being better without him is utterly absurd.
Last week, the New York Giants went into Denver and beat the Broncos in convincing fashion, 23-10. They did so without Beckham. Sunday afternoon, though, the Giants were unable to win without their star wideout as the Seattle Seahawks held them to just seven points in their 24-7 defeat.
This year, the Giants' offense has been abysmal, with Beckham both present and sidelined. In seven games, they've failed to total more than 24 points in a single contest. But in their week five affair with the Los Angeles Chargers, the Giants lost three key weapons, one being Beckham.
Enduring a nasty season-ending ankle injury, Beckham's third full season in the NFL was forced to end on a sour note. And in his absence, the Giants' offense has been careful yes, but also unable to put points up on the board.
In Denver, they ran the ball at ease with Orleans Darkwa (21 carries for 117 yards), but they threw for just 128 yards. Sunday afternoon versus Seattle, their struggles continued; finishing with 131 yards in the air, Eli Manning and the Giants' passing attack continued to struggle at posing a legitimate and/or respectable threat.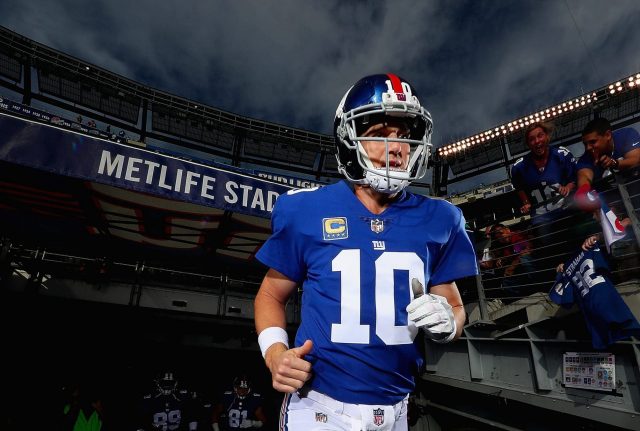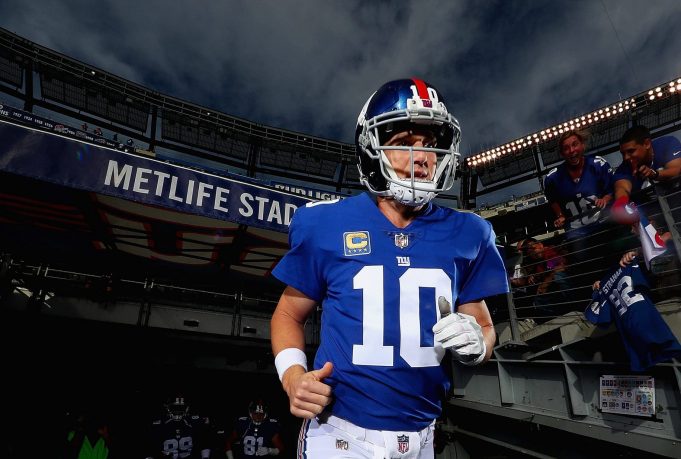 Outside of rookie tight end, Evan Engram — who has 282 receiving yards and two touchdowns –, Manning's outside options have made little to no impact. Roger Lewis Jr. and Tavares King have totaled just two receptions a piece in the team's last two games. Travis Rudolph reeled in three passes Sunday afternoon. Ed Eagen is yet to record a catch.
Despite the noticeable struggles of this team's new receiving core, both in the eye test and box score, many clamor that this Giants' offense and team is better off without its most lethal weapon — Beckham. How can a passing game that's totaled a remarkably-low 259 yards in the past two weeks possibly be better off without Beckham?
In the four games he has appeared in this season, Beckham has reeled in 25 receptions for 302 yards and a touchdown. While those totals didn't project for his near 1,400-yard annual average, Beckham was still Manning's most prized stallion.
Brandon Marshall — who also underwent a season-ending ankle injury in Week five — totaled just 154 yards in the five games he played and Sterling Shepard has 263 of his own. But neither one nor anyone else on this Giants' roster has thrived or produced at Beckham's level.
Beckham, when healthy, is a special player. When you take into account his stellar quickness, ability to reel in any catch and wreak havoc, he may very well be the most talented receiver in the league and undoubtedly on this Giants' team.
Over the course of his career, has Beckham been a bit of a headache for head coaches Tom Coughlin and Ben McAdoo? Of course. Partaking in an MMA fight with opposing corners and peeing like a dog in the end zone can certainly shine its fair share of negative spotlight on an organization, but it doesn't take away from what Beckham provides this offense with.
Ever since his rise in 2014, Beckham has been Manning's partner in crime; he's targeted him at will and been the facilitator for his electric play. Now in his fourth season, Beckham has reeled in 313 catches for 4,424 yards and 38 touchdowns.
Since his debut in Week five of the 2014 regular season, the Giants have gone 1-3 in games Beckham has not played. In those games, they scored a combined 50 points; that's an average of 12.5 points per contest. Scoring under 13 points a game without Beckham indicates his absence benefits the Giants?
Beckham has already established himself as one of the greatest receivers in Giants' history; he's simply a unique player, that's capable of pulling off a plethora of heroics. The Giants have made the playoffs once with him and lost in the first round that year. But in Beckham's four years with them, some gaping holes have held them back.
In 2014 and 2015, they owned one of the league's worst defenses; in fact, in 2015, they surrendered the most yards in the NFL (6,725). Last year, they saw unreliable production from their offseason line, which has leaked into their 2017 play, plaguing this team's ability to run and/or throw with consistency.
With Beckham, Marshall and Dwayne Harris all down for the year, the Giants are severely wounded at receiver. Shepard may return after the BYE week, but his presence alone won't be enough to assist Manning and the Giants' offense.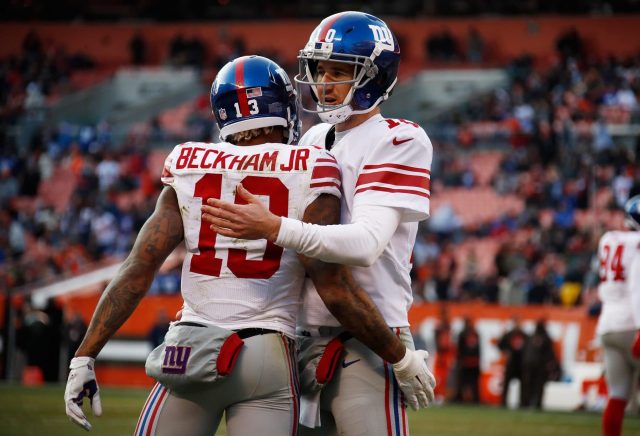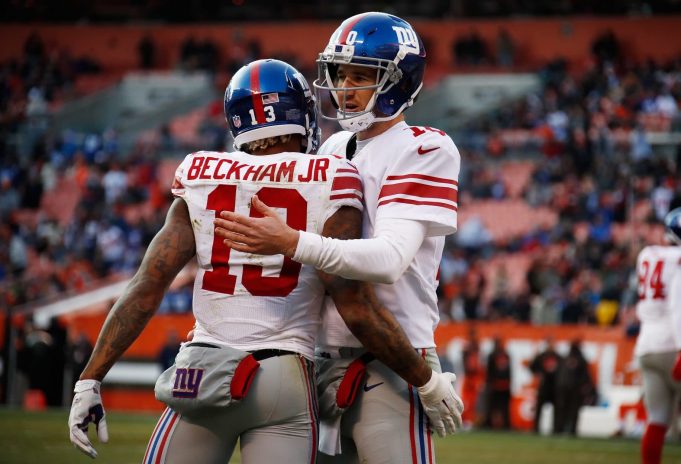 Manning is currently dealing with the biggest challenge of his career — have success without his primary targets. And, while they've had their moments here and there, the trio of Lewis, King and Rudolph are simply not going to be able to provide Manning with the firepower deemed necessary to win. If Beckham was in the mix with that trio and a healthy Shepard, the Giants could at the very least, have some hope; he's that good.
In Beckham's time with Blue Blue, the Giants' offense has been an inconsistent product. But the electric duo of Manning and Beckham always gave them hope. They have clicked on all cylinders and make for a formidable quarterback-receiver combo. With Beckham out of the picture, this team simply has no chance.
The Giants found a way to win at Mile High last weekend, but the biggest reasoning for them doing so was their defensive play. With two interceptions — including a pick-six by Janoris Jenkins —  and four sacks versus the Broncos, the Giants' defense carried them on Sunday Night Football. Putting up just one touchdown of their own, the Giants' offense didn't commit any turnovers, but were unable to go out of their comfort zone, by attempting to force passes based on Manning's inexperienced targets.
Beckham has engaged in a brawl with Josh Norman, argued with officials, made obscene gestures in touchdown celebrations and been a social media meme. But at the end of the day, he's this team's best and most talented player.
They may be deprived of some drama, but the thought of the Giants being a better team without Beckham is preposterous.