Halloween is creeping up. To get in the spirit, let's take a look at this year's fantasy football tricks, treats, scares, and more!
Scariest: Jacksonville Jaguars Defense
The common criteria for a quarterback's security blanket is usually an offensive weapon, primarily a tight end, that he has found an established comfort level with. In the case of Blake Bortles, it can be argued that it's the ferocious Jacksonville defense that helps him breathe easier. The Jags struck gold with recent draft selections, replenishing their entire defense with playmakers. Through seven weeks, they are atop the NFL leaderboard in total takeaways (16), interceptions (10), and most notably, sacks (23). A pair of 10-sack performances, unleashed on the Texans and Colts, sparked the creative rebranding of "Sacksonville," Their remaining schedule includes a train wreck of offensive lines to feast on, including encore rematches with the aforementioned victims.
Back From the Dead: Nelson Agholor, WR, Philadelphia Eagles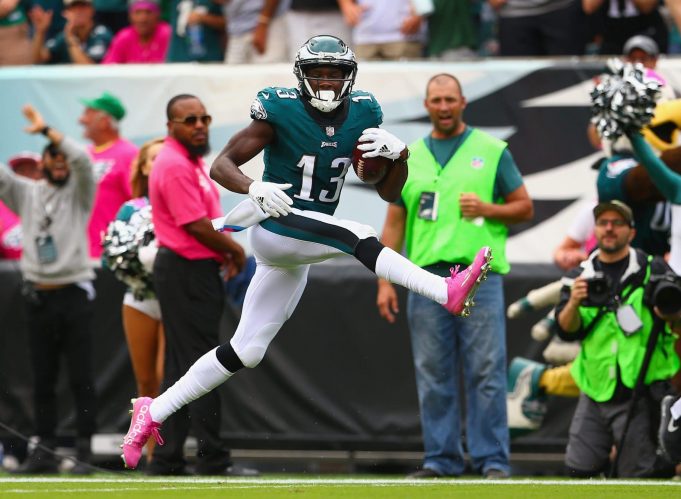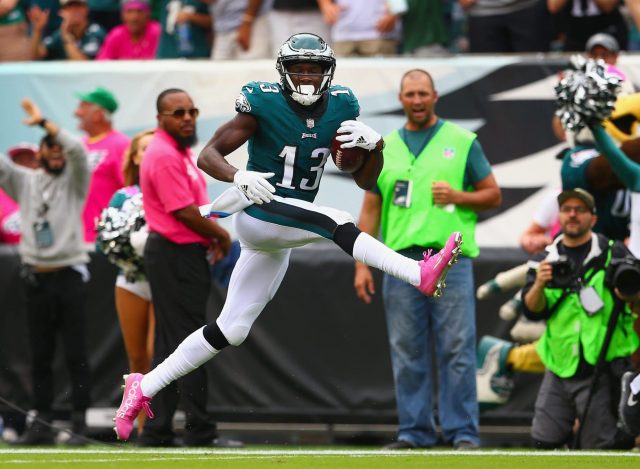 When Chip Kelly arrived in Philadelphia, his record-breaking offense took the NFL by storm. Kelly's stubbornness to adjust, a self-destructive ego, and a diabolical decision to dismantle the Eagle's offensive nucleus contributed to him being booted a week prior to the 2015 season's ended One of Kelly's parting gifts was first-round draft selection Nelson Agholor, who was taken 20th overall in the 2015 NFL Draft with the expectations of filling the void left by Jeremy Maclin. Over the last two years, the highly touted USC receiver became a sports talk punching bag—notorious for drops and a lack of big play ability. Agholor's new home in the slot, and a much improved supporting cast of wide receivers transformed him both mentally and physically. In his first year of fantasy relevancy, Agholor's four touchdowns have already eclipsed his combined TD total from 2015 and 2016 with more new career highs to come.
Biggest Trick: Matt Ryan, QB, Atlanta Falcons
Without Amari Cooper's offensive eruption on Thursday night against Kansas City, he would be the most deserving recipient of this award. For 210 yards receiving and two- touchdown performances are rare, almost as uncommon as blowing a 25-point lead in the Super Bowl. Matt Ryan had a hand in that historic meltdown and hasn't looked the same since. A woeful 2015 season sent Ryan plummeting down to the later rounds of last years' draft boards. Owners who took the late-round flyer found a treat, as the 11-year vet turned in a prolific MVP season. Since coming out of the NRG Stadium tunnel to put the finishing touches on the Patriots, Ryan has come crashing back down to earth. The after effects of being on the receiving end of an unprecedented comeback certainly comes into play. Offensive coordinator Mike Shannahan's decision to become the 49ers head coach plays a role as well. On the bright side, Julio Jones hauled in his first touchdown of 2017.
Biggest Treat: Los Angeles Rams' Offense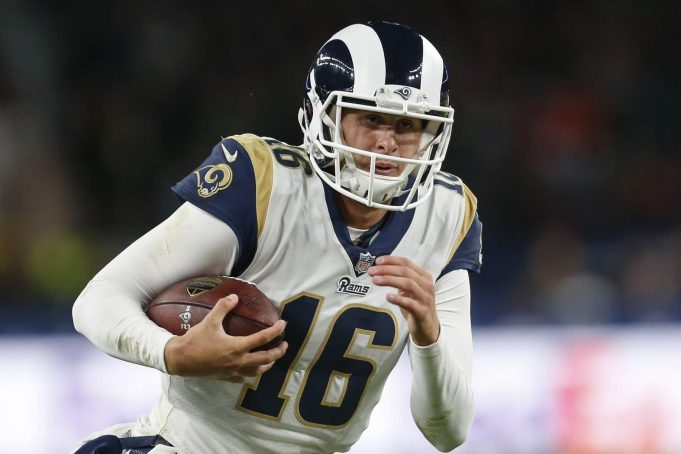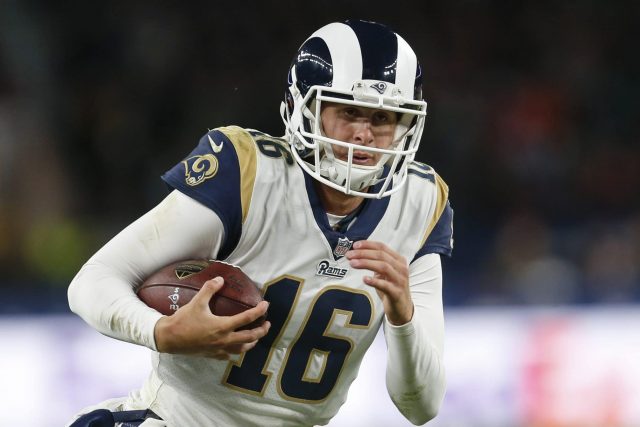 The Los Angeles Rams finished their first year in LA 4-12 with a dark uncertainty looming overhead. Early Coach of the Year candidate Sean McVay is the shining beacon of light, injecting hope and life into a team that hadn't finished over .500 since 2003. The Ram's offense catapulted from a league-worst 14.6 ppg in 2016 to an NFL best 30.3 ppg through the first seven weeks of the season. The Rams 212 points scored this season are 12 shy of their total output from last year. Jared Goff and Todd Gurley are reshaping opinions of their respective doubters, while rookie Cooper Kupp and veteran Robert Woods have established themselves as reliable weapons in fantasy and reality.
Most Mischievous: Marshawn Lynch, RB, Oakland Raiders
'Beast Mode's' disruption is coming from the sideline rather than the backfield. Much to the Jets' chagrin, Lynch showed off his dance moves to cap off a 45-20 romping. The outspoken back's latest antics weren't as humorous. Following a late hit on Derek Carr, Lynch sprinted from the bench directly towards of a skirmish of white and red jerseys. During the fiasco, Lynch made contact with an official, which resulted in an ejection coupled with a one-game suspension.
Funniest Costume: Any Cleveland Browns Quarterback
DeShone Kizer, Kevin Hogan and Cody Kessler—take a bow, fellas. Just make sure you're each wearing a different jersey (home, road, and color-rush).
Best House On The Block: New England Patriots
They're in a class of their own, always stacked with the right spread of treats. Sometimes it's tough to pick the right one.
Opened 100 Grand Candy Bar: Joe Flacco, QB, Baltimore Ravens
Expensive in its own mind. but it's broken, out of the wrapper, and possibly coated with anthrax