The NBA season has officially kicked off and with that comes the Fantasy Basketball season. Joel Embiid cracks the No. 40-26 portion.
F
antasy Football has been a challenge this season. Maybe it's time to look forward to the Fantasy Basketball season that is right here, right now.
When it comes to drafting, it becomes a challenge. After the second round, it can become difficult to find consistent players that you can count on for production every night.
When it comes to this range of players, it's important to find ones that will help you in multiple categories because it takes a well-balanced team to win in the lengthy fantasy season.
I am higher on these players than most would be but I'll explain why. I mean, have I steered you wrong yet in Fantasy Football?
Here are my rankings the No. 40 through 26 for the 2017-18 fantasy basketball season.
40. Klay Thompson, Shooting Guard, Golden State Warriors
I'm not really sure what other people think about Klay but I never have him on any of my teams. He just shoots three-pointers, but he is one of the best in the league at doing so. He won't give you much production anywhere else (3.7 rebounds and 2.1 assists last season) but he will give you around 20 points each night. He's on the best team in basketball so he will have plenty of opportunities to put up shots. Shooting guard is thin and he gives you solid scoring every night. If you roster Klay, just realize he is a one-trick pony for when it comes to fantasy.
39. Jusuf Nurkic, Center, Portland Trail Blazers
In his 20 games with the Trail Blazers last season, Nurkic averaged 15 points, 10 boards and three assists. He is a good choice in the middle rounds especially if you do a points league where there's a bonus for double-doubles. Portland has a good offense and he doesn't have much competition behind him to take minutes away from him. He's one of those players who you plug in your lineup and you don't have to worry about. Target him in your season-long leagues.
38. Andre Drummond, Center, Detroit Pistons
Andre Drummond was second in the league in rebounds last season and that's why you draft him. He tends to take plays off and didn't seem to be very motivated last year but he's only 24 and his best basketball should in be front of him. He needs to work on his offensive game but he is always a player who can put up a stat line of 20 points and 20 rebounds on any given night. I believe he has a solid season and there's no reason why he shouldn't average 15 points and 12 rebounds a game with two blocks. He's got good upside but there are definite risks with drafting Drummond. He's a better play in points leagues than category leagues.
The trade to the Brooklyn Nets might have been the best thing for Russell's career. He now will be the man in Brooklyn and the offense will run through him. I am expecting around 20 points, five rebounds and five assists on the year. Don't get carried away and start to think he will put up 25-plus points regularly. He will have his big games in the right matchup but he is only 21 years old and the roster around him isn't great. He's a solid number two point guard and should be a consistent play for the season.
36. Al Horford, Center, Boston Celtics
With the injury to Gordon Hayward, the Celtics will lean on Horford for more offense. PER 36 minutes for his career he averages 16 points, eight rebounds and five assists. These aren't elite numbers but he is consistent and he led all centers in assist last year with five per game. There are games where he needs to be more aggressive on offense and on the boards and when he does that, he can get a triple-double on any night. He'll give you good assist numbers for a center but if you draft him, make sure to grab Andre Drummond or DeAndre Jordan to help you in the rebounding category.
35. Carmelo Anthony, Forward, Oklahoma City Thunder
This might be the most talented team Carmelo has played on in his NBA career. He will get more open looks than he has ever seen before and the move to the power forward position should help his rebounding numbers. I'm not sure why everyone is so down on him; this will be a good season for Melo. He won't have to force shots and he seems to play better when he has better talent around him. He isn't the elite scorer he once was but he should have no problem scoring 20 points a night to go along with six or seven rebounds.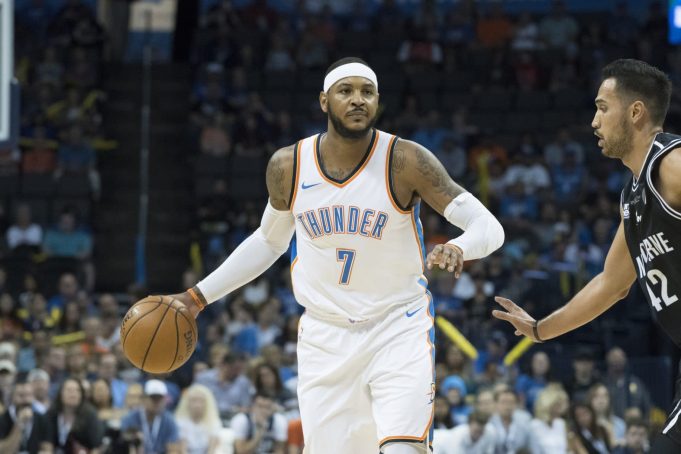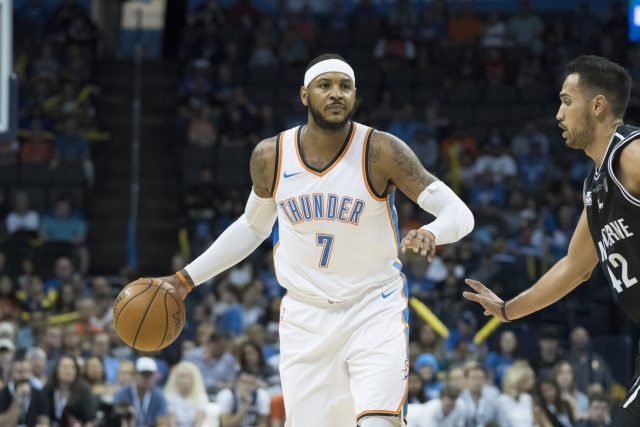 34. Andrew Wiggins, Guard/Forward, Minnesota Timberwolves
The addition of Jimmy Butler will only help Wiggins. The team's best wing defender will now have to guard Butler and that will leave Wiggins with much better defensive matchups this year. He's going to play 35-plus minutes a game this year and he should record around five or six rebounds a game. This should be a big season for Wiggins because like Carmelo Anthony, the more talent he has around him, the better he should be. He is a good choice to have at shooting guard because of a number of points he will score and the consistent amount of minutes he will see every night.
33. Bradley Beal, Shooting Guard, Washington Wizards
The reason why I like Bradley Beal more than Klay Thompson is because Beal is the second option on his team and Klay will be the third every night. He jumped from 17 points a game in 2016 to 23 in 2017.  I think Beal will have the ball in his hands more this year and he did a better job last year getting to the line (a career-high 4.4 times a game compared to 3.2 the year before). Getting to the line more just means easier buckets for Beal and Washington is an underrated offensive team in 2017.
Joel Embiid's PER 36 minutes stats are MVP caliber, he averages 27 points, 10 rebounds, three assists, a steal and three blocks a game. The biggest concern for Embiid is his health. He is starting on a minute's restriction to start the year but if that gets pulled at any time, he will be a fantasy superstar. He now has Ben Simmons getting him the ball, who is the best passer he has played with. Embiid will easily be a top 20 player if he can stay healthy and get around 30 minutes a night.
31. C.J. McCollum, Shooting Guard, Portland Trail Blazers
There isn't a big difference between Bradley Beal and C.J. McCollum, it's just personal preference. McCollum gets unnoticed most of the time because he plays on the West Coast and many don't get to see him play. His field goal, three-point and free throw percentage have gone up every year in the NBA. He's improving every year and if he can get more involved in rebounding and getting a couple more assists a game, he can separate himself from Klay Thompson and Bradley Beal.
30. Eric Bledsoe, Point Guard, Phoenix Suns
Healthy has been Eric Bledsoe's biggest downside in his NBA career. His PER 36 is impressive when he's on the court: 21 points, five rebounds, six assists and almost two steals a game. He fills up the stat sheet every night but he's only played 76 or more games three times in his career. He is a risky player to draft but if he stays healthy, you will have a top-five point guard by the end of the season.
29. Mike Conley, Point Guard, Memphis Grizzles
Mike Conley doesn't do anything great in fantasy terms but he will give you production in most categories, except blocks. Last season he set career-highs with 20 points, 3.5 rebounds, three-point percentage (.408) and getting to the foul line over five times a game. He got the big contract and didn't disappoint. He is one of the most consistent players in the league but he doesn't have monster nights. In fantasy, you need consistency to win and Mike Conley is that point guard you want on your team.
28. Ben Simmons, Guard/Forward, Philadelphia 76ers
I am higher than most on Ben Simmons but I am a sucker for a player that can have a triple-double on any night. He doesn't shoot threes or foul shots well but he has time to develop his jump shot. He will give you seven-plus rebounds and assists a night to go with a couple of steals. He does a little bit of everything and he gets to the rim plus he can hit the mid-range shot so his scoring should be around 12 to 15 points a night. He has a chance to be a fantasy superstar and this will be the last year that you get him at a discount
27. DeMar DeRozan, Shooting Guard, Toronto Raptors
DeMar DeRozan quietly put up 27 points, five rebounds and four assists last year. He is the Raptors' first option on offense and he led all shooting guards last year with nine field goals made a game. DeRozan does enough in the other categories to help fantasy teams, unlike most of the shooting guards in the league. He doesn't shoot threes well so if you draft DeRozan, make sure to add a couple of three-point shooters later in the draft.
26. Kevin Love, Power Forward/Center, Cleveland Cavaliers
I don't understand the hate for Kevin Love. Last season was his best with the Cavs, as he averaged 19 points and 11 rebounds a game. With Kyrie Irving off the team, I am expecting his points per game to go up a little bit. He got moved to center and I am hoping that means he will be more in the paint and will get more looks in the post. He is a walking double-double and is the second option on one of the best teams in the league. Don't let him slip past the fourth round in your drafts.
We continue to make our way through the draft so look out for our next 25 coming up soon.