Fantasy basketball is finally back! ESNY has your draft needs covered with the first installment of our top 50 players list.
T
here were All-Star caliber players being traded this summer like it was a game of NBA2K and I can't wait to see how these moves work out. Don't worry about all the offseason moves, I've got you guys covered on how they will affect our fantasy teams this year. The players on this list (50-41) will decide if you win your league this year or not.
Depth is the key to winning in fantasy basketball. It's easy to draft in the first two rounds because all the players are All-Stars but it gets difficult after that. The middle rounds of your draft are where you will win your league. The players on this list will help you win and give you a balanced and competitive team.
Finally, don't let players on bad teams scare you away. Bad teams give up a lot of points, which means more possessions for them. More possessions means more potential offensive stats, which is what we are looking for in fantasy.
Rubio is one of the most underrated fantasy point guards around. He isn't an elite scorer, but in the last four seasons, he's been top 10 in both assists and steals. The later you get in drafts, the harder it is to find a consistent player in both of those categories. Rubio ends up on most of my teams year in and year out because he is a double-double threat every game and he will have to take on a bigger offensive role this year in Utah. Rubio offers great value this year.
49. Julius Randle, PF, Los Angeles Lakers
The addition of point guard Lonzo Ball will help Randle in 2017. He hasn't played with a point guard that will spread the ball around and find the open player. With Ball and the Lakers playing at the NBA's sixth-fastest pace, that will lead to fantasy gold for Randle. Center Brook Lopez will help open up the block for him and give Randle more space to operate. His field goal percentage jumped up almost six percent last season, evidence that he's taking better shots. A better team will make for a better season for Randle. Draft him with confidence.
Booker has proven himself to be more than just a scorer, but for him to make the jump into one the NBA's elite shooting guards he needs to improve his shooting percentage. He's shot just 42.3 percent from the field in each of his first two seasons; Last year he was fifth in the league in field goals missed (825) and seventh in the league in turnovers (241). But he averaged 24 points, four rebounds and four assists in his final 22 games last season, showing improvement on his all-around game and that's what I'm looking at for the 2017-18 season. He's only 20 years old and his upside is extremely high. The Phoenix Suns play at the second-fastest pace in the league which is great for Booker.
47. DeAndre Jordan, C, Los Angeles Clippers
I know losing Chris Paul will affect Jordan's numbers, but he led the league in defensive rebounds (816), field goal percentage (.714) and was sixth in blocks (134). He gets rebounds, blocks shots and dunks the basketball—that's his bread and butter. If you draft him you need to make sure your team has a good source of three-point shooters and strong free-throw shooters because he will hurt you in both. Draft him for rebounds and blocks, not points.
Defense was Covington's calling card coming into the league but he's developed into a legitimate threat at the other end of the court. He is a good three-point shooter but can hurt you in field goal percentage. What makes him stand out are his defensive stats. Last season he averaged 1.9 steals and a block per game—only a few players can give you those type of stats. The 76ers have their best team in years which will only make Sir Covington's all-around stats improve.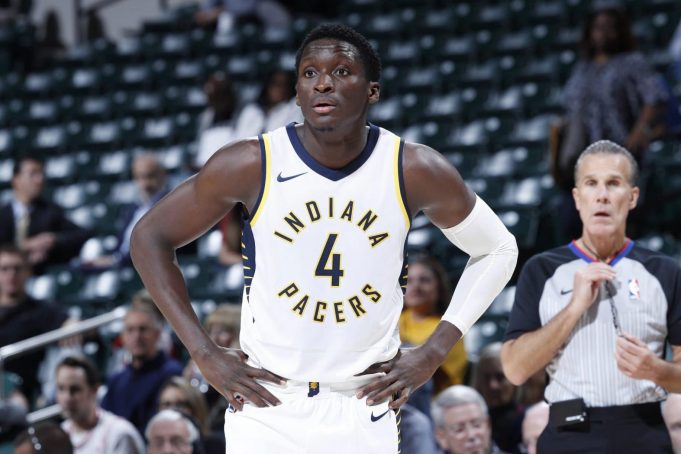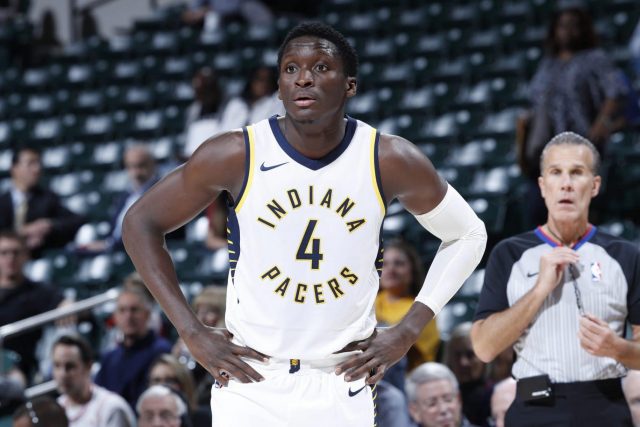 Shooting guard is weak this year and after Oladipo it gets ugly quick. Oladipo will be one of the focal points in the Pacers offense and his scoring should go back up to the nearly 18 points per game he averaged in 2014-15. He will give you between three-to-six rebounds and assists a night, which helps in category scoring leagues. Most of the shooting guards behind him are splitting time or don't have a starting job. He'll get regular playing time and is worth a middle-round pick.
The biggest concern with Vucevic heading into this season will be his minutes. He played only 28.8 minutes a game last year but still averaged a double-double with 14 points and 10 rebounds a game. The previous two seasons, when he averaged over 30 minutes a game, he averaged 18 and 19 points a game, respectively. If you wait on drafting a center, Vucevic is the perfect guy to target because he will give you a double-double on a nightly basis. Let's just hope he can see over 30 minutes a night this year.
Barnes had a quiet season last year but it was better than you would think. He averaged 19 points and five rebounds over 35 minutes a game. It was his first year in Dallas' system and he's going to be the team's top scoring option in 2017-18. He plays both forward positions, which is good for our fantasy teams. Barnes isn't a sexy name on draft day but he will help your team and gives you good depth at the forward position.
Payton averaged 13.5 points, on 50 percent shooting, 8.4 assists, seven rebounds and one steal over his final 24 games last season. If he can continue to shoot around 50 percent he'll return great value. He's not a great three-point shooter and the turnover rate will be high, but he has sneaky good upside.
As perhaps the only Atlanta Hawks fan in the world, I needed to get at least one Hawk in the top 50. Personally, I think Schroder is at best an average NBA point guard, but in fantasy terms, he will valuable this year. He's running the team and there is nobody else on the roster to take shots away from him. His field goal percentage might hurt you and he isn't a good three-point shooter, but he will put up points and get you around five-or-six assists a night. He is a better play in daily fantasy than in full-season leagues, but he will be a consistent scorer on the year and he is worth a sixth-or-seventh round pick. Bad teams can lead to fantasy gold, and this is the case for Schroder.