Meet the replacements Eli Manning will be throwing to in the New York Giants' prime time search for their first win on Sunday night.
Y
ou—and Eli Manning, for that matter—may need a program to tell who the
New York Giants
' receivers are during their Sunday night visit to Denver this weekend (8:30 p.m. ET, NBC).
A group that boasted the likes of Odell Beckham Jr., Brandon Marshall and Sterling Shepard when the season began has seen the former two go down with season-ending injuries while the latter deals with his own lingering ankle issue. The suddenly empty receiver's room has motivated Terrell Owens himself to offer his services.
Nonetheless, the Giants will press on with the replacement catchers listed below.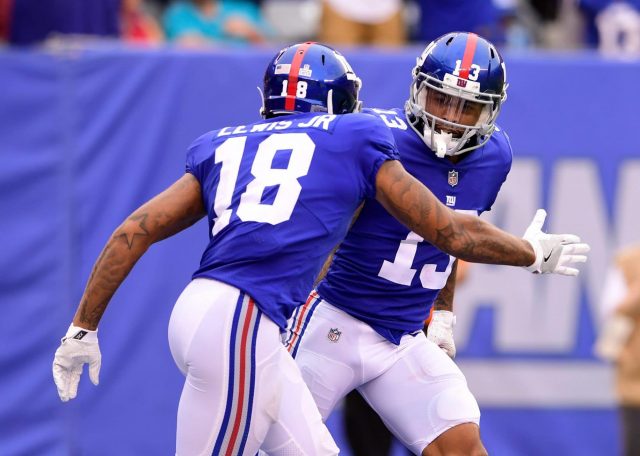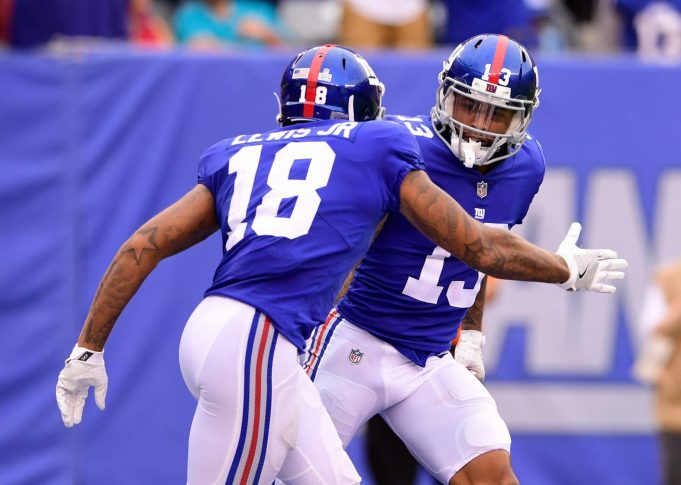 Career NFL Stats (2 seasons): 15 receptions, 199 yards, 2 touchdowns
Lewis will be the only Giants receiver to appear in the first six games this season, having picked up 102 yards on eight receptions thus far. The second-year man out of Bowling Green is ready for the increased reps and leadership opportunities.
"At the end of the day, I prepare every week as if I'm going to be a starter," Lewis said. "So, nothing's going to change."
Thought to be a summer afterthought after a June arrest for operating a vehicle under the influence, Lewis instead rose to the occasion after Beckham went down with a preseason injury, impressing the staff enough to fight his way onto the opening day roster. Lewis led the Giants with 54 receiving yards in their Week 1 loss to Dallas. On Sunday, Lewis scored his first touchdown of the season, a 29-yard pass from Manning that gave the Giants a third-quarter lead.
"Eli trusted me, he threw it up to me and I came down and made the play," Lewis said. "The chemistry has been great. Last year, I was a little hesitant when I had questions with Eli, but this season, I haven't been hesitant at all. I can come to him and talk with him whenever."
Career NFL Stats (3 Seasons): 4 receptions, 63 yards
Yes, King was on the infamous Trey Songz boat that sailed the receiving corps into infamy, but he didn't appear in the long-circulated photo, as Songz mentioned he was "getting food". Whether by destiny or sheer coincidence, King was one of the Giants' few bright spots in the subsequent playoff loss to the Packers, nabbing a team-high 73 yards. King also scored the Giants lone touchdown in the 38-13 wild card loss.
King was released on September 18 to make room for linebacker Curtis Grant but rejoins the team with the onslaught of injuries.
"I feel bad for my brothers, but it feels good to be back home," King said. "I feel like I can play the game at a high level. I feel like I'm just coming off of a really good start to camp and when I was practicing, I was practicing really well so I feel good about what I was doing. I'm very confident in myself."
Veteran guard Justin Pugh cited King as an example when asked about his confidence in the incoming receivers.
"We had a game against the Redskins in Week 17 (last season) and TK came up with a huge play," Pugh said, referring to a 38-yard King reception that set up the Giants' game-winning field goal. "So, I know those guys can play. We've seen it in the preseason. I'm excited for these guys to get an opportunity and showcase what they can do."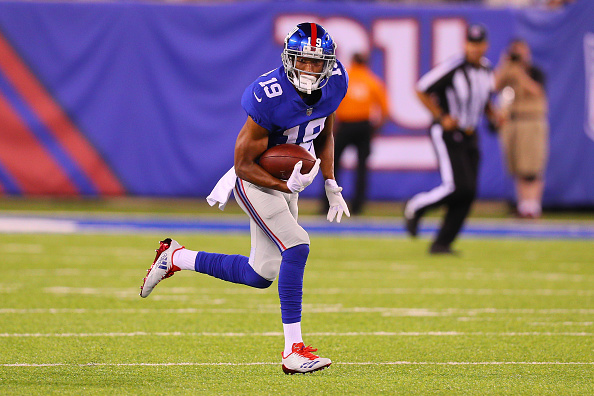 Career NFL Stats (Rookie): None
To be quite frank, the only thing that has angered Giants fans this season more than their 0-5 was perhaps Rudolph's exclusion from the 53-man roster out of training camp. He's with the big squad now, and ready to make an impact.
"I'm excited for the opportunity," Rudolph said. "It's all about being ready. All this time, I've been craft. So I'm ready."
The undrafted free agent out of Florida State, whose good deed at Florida State went viral, had an eventful preseason, tallying 157 yards on nine receptions.
Career NFL Stats (2 seasons): None
Another practice squad promotion, Eagan has also spent time with the Cowboys, Browns and Bills. The Northwestern State alum, a late addition over the summer, had a 19-yard reception during the preseason. In college, he also displayed a prowess on special teams, ending his career with 2,922 kickoff return yards and four special teams scores.
"(I felt) spectacular. It's really a blessing," Eagan said. "I feel like one man's misfortune is another man's opportunity. I hated to see all those guys get injured, but also I'm part of this team. I have to step up and do what has to be done."
The Giants also added receivers Darius Powe, Marquis Bundy and Kalif Raymond to their practice squad. Powe spent the entirety of last season on the Giants' practice squad and was having a strong training camp before going down with an injury. Bundy had 103 receiving yards last preseason with the Cardinals and Giants. Raymond has appeared in six NFL regular season games, including two with the Jets this season, serving as their returner before being released on September 26.
Unless otherwise noted, all quotes obtained firsthand.
Geoff Magliocchetti is on Twitter @GeoffMags5490