It may seem ridiculous and impossible but for the right deal, the New York Giants could bid farewell to their beloved quarterback in Eli Manning.
F
or whatever reason, the NFL trade deadline, set at Oct. 31, doesn't generate the same amount of hype as its fellow "Big 4" leagues.
While MLB, NHL and NBA analysts can dedicate entire talk shows to their own trade deadlines, there's a sense of callousness when it comes to the NFL's, a day that passes with little to no fanfare. Other than the famous Hershel Walker deal orchestrated by Jimmy Johnson, the casual fan would be hard-pressed to name a deadline deal that truly made a lasting impact on a team.
The New York Giants can change that idea by doing something that was once, and very well may still be, unthinkable…trading Eli Manning.
The Giants' longtime signal caller, who has been the Giants' starter since George W. Bush's first presidential term, is going to go down as a Tri-State area sports icon. With two Super Bowl titles/MVP awards and his name scattered all over the NFL record book, Manning has done more than enough to see his name etched in the chronicles of metropolitan sports history, a name spoken in the same breath as Jeter, Messier and Taylor.
There's no doubt that Manning will one day take the field at halftime of a future MetLife Stadium game to have his named inducted into the Giants' Ring of Honor, and there's a strong possibility he'll be the last person to wear the number 10 in Giants' history.
Simply put, the idea of Manning wearing the jersey of another organization seems downright unthinkable. It's uncomfortable enough to think of Patrick Ewing in an Orlando Magic jersey or Brian Leetch in a Boston Bruins jersey, but the mere thought of the youngest Manning brother in anything but Giant blue would probably sting even worse.
But for the sake of the future of the New York Giants…it might have to happen.
While he's not completely blameless, Manning is probably the least of the winless Giants' problems. In his 14th season at 36 years old, Manning is still posting respectable numbers, currently ranked seventh in the league in completion percentage (67.8%) and eighth in passing yards (1,338).
A believer in the team-first philosophy until the end, however, Manning has never attempted to exempt himself from the team's problems, even if some fans believed head coach Ben McAdoo threw Manning under the bus after calling out "sloppy" quarterback play in a Week 2 loss to Detroit.
"I enjoy being coached. If I screw something up, let me know. I want to be coached, so we talked about things and there's some things I've got to do that I've got to be better at," Manning said after that 24-10 loss to the Lions. "Anything (McAdoo) says, whether it's to the media, to me, to the team, it's all for the better of the team and I'm okay with it."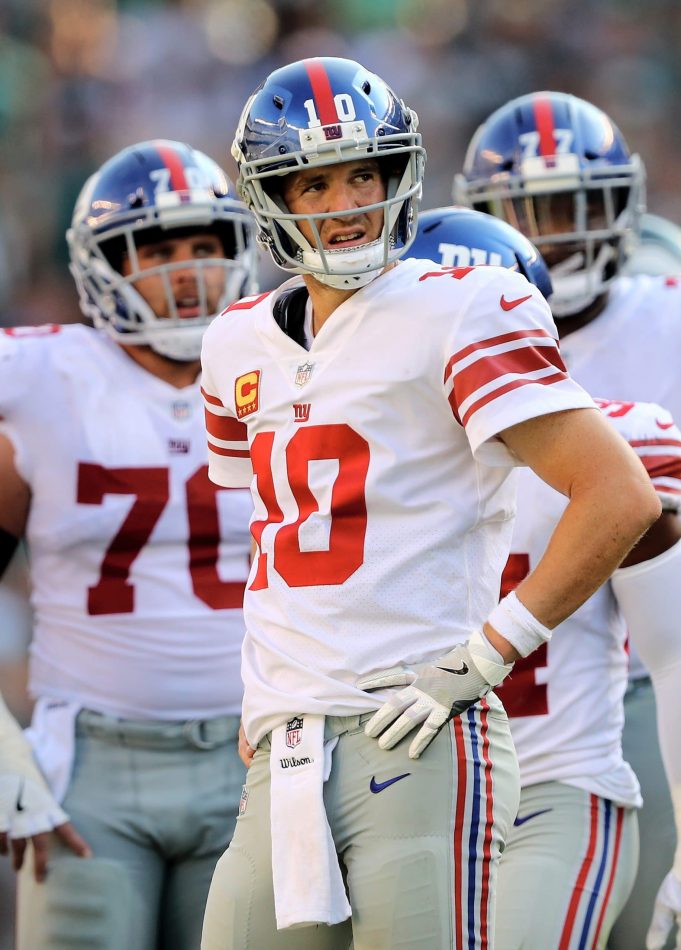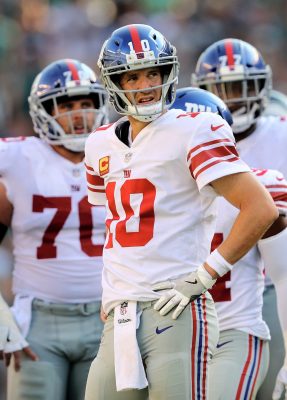 Alas, Manning's claims of responsibility have become an unfortunate catchphrase for Manning, who has also finally begun to field questions about exactly how much time he has left in this league. Giants owner John Mara said back in June that he believes that Manning has "2-3 years" left in him, though Manning did him better as training camp began, telling WFAN's Mike Francesa he "(didn't) see an end in sight" to his NFL career.
"I know it's out there somewhere. But I understand football. It's always year to year," Manning told Francesa in August. "It's a year-to-year job playing quarterback, and you get to this level. So I've got to make sure I'm playing at a high level."
Manning's best football is probably indeed behind him, but he's still at a point where a good number of teams would happily welcome him in (the Jets and Browns, for example, would love him for the longevity alone). There are still great moments and spirit left in him, and frankly, it's being wasted in East Rutherford.
This offseason, the Giants saw themselves as the New York Yankees, making several flashy moves to turn a resurgent 11-5 season from 2016 into one last Super Bowl run for Manning. The results, however, have been more in tune with another New York team's recent spending spree for a championship, that of the woebegone Brooklyn Nets. Much like the former fellow Meadowlands tenants brought in big names like Kevin Garnett and Paul Pierce, not to mention welcoming back an old hero in head coach Jason Kidd, the Giants saw themselves suave in acquisitions like Brandon Marshall and re-signing Super Bowl hero Jason Pierre-Paul.
In the process, the Giants ignored Manning's protectors on the offensive line, and as a result, the quarterback has had little time to throw the ball and has been forced into bad decisions. The normally dependable defense has also failed to come through, equally complicit in the disastrous opening to the season.
Somehow, there's a sense around East Rutherford that the worst is yet to come. The Giants take on the Broncos and Seahawks before their bye mercifully occurs in Week 8, but matchups against the Rams and Chiefs are quick to follow. In fact, save for a Week 10 trip to San Francisco, it's hard to find another game on the Giants' schedule where they'd be considered the favorite.
Plus, with Marshall and Odell Beckham Jr. done for the year with brutal ankle injuries suffered in the latest defeat against the Chargers on Sunday, victories will be even more difficult to come by.
Simply put, Eli Manning doesn't deserve this.
Manning's twilight years should be spent contending for a championship, not playing out the slate. The last thing you want to see, whether a Giants fan or just a football fan in general, is Manning, one of the game's nice guys and champions, to waste what prime he has left against the likewise hopeless Arizona Cardinals in December.
It should be one last run to glory, one last ring to stick it to the haters who still get a kick out of sharing the "Manning Face" memes.
There's no shortage of suitors for Manning, as well. Perhaps the most attractive spot would be Jacksonville, where a reunion with the only other head coach Manning has known, Tom Coughlin, had sped the Jaguars' rebuilding process. At 3-2, Jacksonville currently leads the AFC South, but still feels limited with Blake Bortles (26th in the league in passer rating) at quarterback.
A reunion in Florida would provide either a champion mentor for Bortles or a bridge to a potential Coughlin-chosen successor. A similar situation could be found in Miami, whose Jay Cutler experiment has blown up in their faces. Plus, wouldn't Manning's career be incomplete without beating the Patriots in a big game one more time?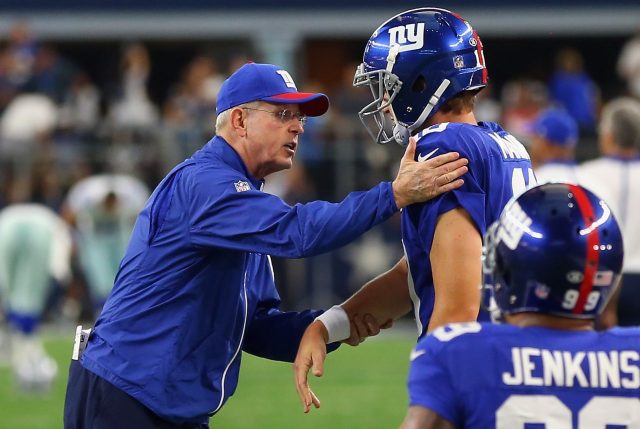 Trading Manning wouldn't just be good for him, it would be good for the Giants as well. Sure the Giants are destined for an unusually high draft pick, but if this season has shown us anything, it's that it's going to take way more than just a single high draft pick to get this team back on track. The offensive line alone will probably require two or three new prospects, and that's even if Jerry "Best Player Available" Reese chooses to select one (if, for example, Saquon Barkley is available, do you really think the Giants will pass on him?).
The Giants need to add draft picks, build with youth…trust the process, if you will. We saw the Yankees do it this season and find success. If Manning can net them valuable picks, it'd also be a no-brainer not to do it.
Sure, things might get really ugly in New York for a while, but at 0-5 with 11 more games of this debauchery to go, there really isn't much further to go before the Giants hit rock bottom, if they haven't gotten there already. The Giants need to ensure that a disaster like this doesn't happen again, and the way to do that is to plan for the future.
Let youngsters like Sterling Shepard, Wayne Gallman and Orleans Darwka showcase what they can do. Give Davis Webb, the third-round selection and the highest -selected quarterback since Manning arrived in 2004, a shot at running the offense and a chance to take over long-term.
True to form, Manning immediately shut down questions about his future, insisting his focus is only on getting the Giants a win. They get their next chance in prime time when they take on Denver on Sunday night (8:30 p.m. ET, NBC).
"My focus is the Denver Broncos. Going out there, getting a win. That's it," Manning clarified. "It's tough losing. It's not fun. There's a lot of great things in this game and losing…that's the worst part of it. That's kind of the situation we're in and now, you still have to go prepare and try to win the next game like always."
No doubt it's a tough topic to talk about. There's an entire generation in this area that only know a New York Giants team with Manning at quarterback. His departure should be a victory lap, a farewell tour on par with Derek Jeter's, one that not only captures the hearts of the city, but those of opposing fans in places like Dallas, Philadelphia and Washington as well.
Manning will never admit it, nor will the Giants. But at this point, nursing a season that has ended before Halloween, a deadline deal would probably be not the immediate best option, but one that could solidify legacies as well.
Geoff Magliocchetti is on Twitter @GeoffMags5490.