The speculated upon "beef" between head coach Ben McAdoo and quarterback Eli Manning makes no sense.
T
he New York Giants have without a doubt gotten off on the wrong foot in 2017. Currently 0-2 going into Week Three, Big Blue has endured a plethora of distractions and unreliable production from its offense. But one issue with this football team is not the speculated upon 'beef' between head coach, Ben McAdoo, and
Eli Manning
.
The supposed issues were generated by the head coach's comments after the Giants' Monday night loss to the Detroit Lions.
https://www.youtube.com/watch?v=Gaf22xprVSM
Criticizing Manning for "sloppy quarterback play" on a fourth down delay of game inside the five-yard line, McAdoo made his displeasure with his quarterback clear on that particular play. But because of that one response, rumors and speculation have developed as to how there is "beef" between the two — which makes zero sense.
While he's not the problem with the Giants, Manning has certainly not been stellar. Having an unreliable offensive line present does him no favors, but even when he is granted enough time to throw, he has forced passes and put the ball in harm's way — making McAdoo's remarks not entirely wrong.
If Manning was playing at the Pro-Bowl level the league is accustomed to and McAdoo singled him out for one bad game, then there'd be legit reasoning to get on him. Instead, people get under his skin for one comment he made about his quarterback that's not necessarily wrong? Really?
When listening to a press conference or asking someone about a situation, would you rather get real, truthful answers or just sugarcoated ones? McAdoo is telling it like it is and that's for the better of the players in the locker room — maybe it's something former head coach, Tom Coughlin, didn't do enough of towards the end of his Giants tenure.
Is McAdoo supposed to lie and say that Manning is playing at a Super Bowl level? Plus, if people paid more attention to McAdoo's comments, they'd read past the popups on their phones and notice that he got on the Giants as a whole, not just Manning.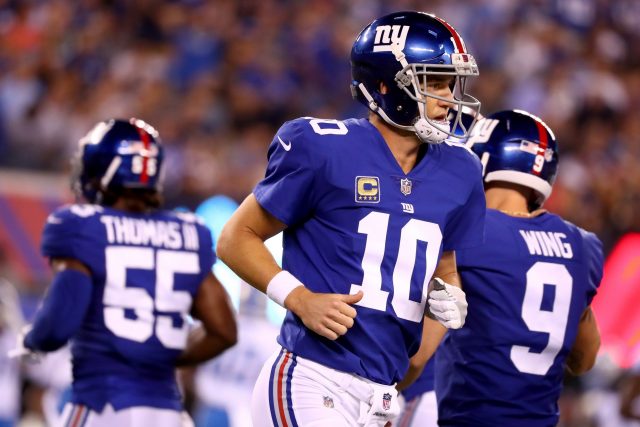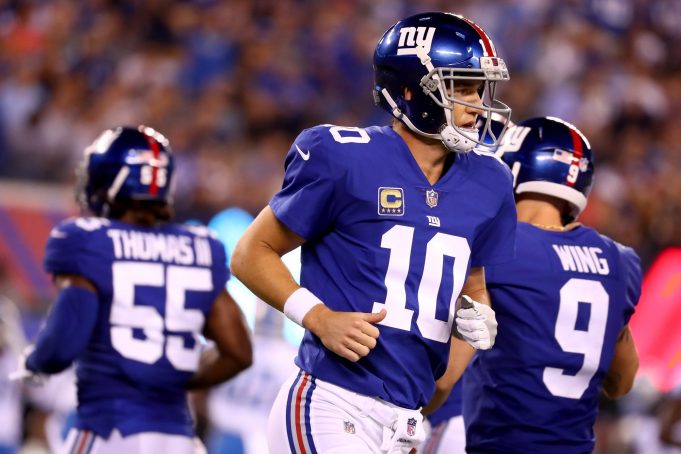 McAdoo is doing no favors for Manning or anyone else on the Giants by lying and saying they played well; he's telling it as it is, which is exactly what fans and media crave from their coaching staff. Except when the team's best player gets criticized their mindsets tend to take an utter 180.
Also, keep in mind the type of player and personality Manning is. When has he ever been bothered by what anyone thinks of him? He shrugged off Tiki Barber saying that he couldn't lead the Giants to a Super Bowl team. He's heard throughout the duration of his career that his play and impact on the Giants is "overrated" and even that he's a turnover machine. He's even been classified as the team's problem over the course of the last few seasons.
As Manning explained on WFAN Tuesday afternoon, he doesn't have a problem with anything McAdoo has said, per Paul Schwartz of the New York Post:
"Hey, you lose a game, you only score 10 points you deserve some criticism. I know Coach McAdoo knows I can handle it. That's part of playing quarterback. You can't be sensitive in this field. You're a quarterback in the NFL, there's gonna be tough days and there's gonna be tough times and you got to be able to handle the fire on game day and afterwards. That's just part of the deal.''
Whenever Manning is dealt criticism, he overcomes it and, quite frankly, has never been shaken by it. So why can't he benefit from McAdoo's remark on his play?
The only voices that ultimately matter for Manning are those of his coaching staff. And this brief "sloppy quarterback play" comment is really no big deal. In fact, it could potentially light a spark in his play and allow the Giants' coaching staff to witness the Manning they know and love yet again.
For someone's takeaway from Monday night's postgame press conference to be that Manning and McAdoo have a "beef" with one another or are enduring conflict amongst themselves makes no sense; McAdoo's doing his job, that just happens to detail not hiding a conflict at hand. In this case, that happens to be Manning's slow start.