The first quarter of the fantasy football season came and went quicker than Tom Savage's run as the Houston Texans quarterback.
I
t's hard to believe that the Fantasy Football season is already a quarter of the way through. And in that quarter season, there have already been some incredible players making waves both in real life and on your
Fantasy Football
squad.
Let's recognize the solid performances that have already played out this season.
Rookie MVP: Kareem Hunt, RB, Kansas City Chiefs
Spencer Ware's season-endingg injury vaulted Kareem Hunt into the RB1 conversation, joining a star-studded rookie running back class that included Christian McCaffery, Dalvin Cook, and Leonard Fournette. Unless you have the fortune of keeping the rookie phenom, he will be a contender to go first overall in drafts moving forward.
Since fumbling the ball on his first-ever NFL carry, the only thing Hunt has been dropping are double-digit fantasy scores.
The early frontrunner for the NFL's Offensive Rookie of the Year Award, Hunt surpassed 100 yards rushing in three of his first four games while adding four touchdowns and 157 yards receiving. Hunt also leads the league with seven carries of 20 or more yards.
Another 100-yard effort in Sunday's win over Houston propelled Hunt to the top of the league leaderboard with 609 total rushing yards, 140 more than fellow rookie Fournette.
Honorable Mentions: Dalvin Cook, RB, Minnesota Vikings; Deshaun Watson, QB, Houston Texans; Leonard Fournette, RB, Jacksonville Jaguars
Comeback Player Of The Year: Todd Gurley, RB, Los Angeles Rams
Despite the Rams' relocation to sunny Los Angeles in 2016, a dark cloud loomed over Todd Gurley all of last year. The former 10th overall pick followed up his Pro Bowl rookie season in disappointing fashion, ranking 17th in rushing while failing to eclipse 100 yards in any of his 16 starts.
The hiring of innovative head coach Sean McVay, a much improved Jared Goff under center and a revamped offensive line proved to be the Hollywood makeover the Rams needed.
Gurley's outbreak comes courtesy of McVay's restructured offense, which was averaging a league-leading 35 points per game through the first four weeks. During that stretch, Gurley had already tripled his touchdown total from 2016 while receiving an extensive workload in the passing game.
Honorable Mentions: C.J. Anderson, RB, Denver Broncos; Cam Newton, QB, Carolina Panthers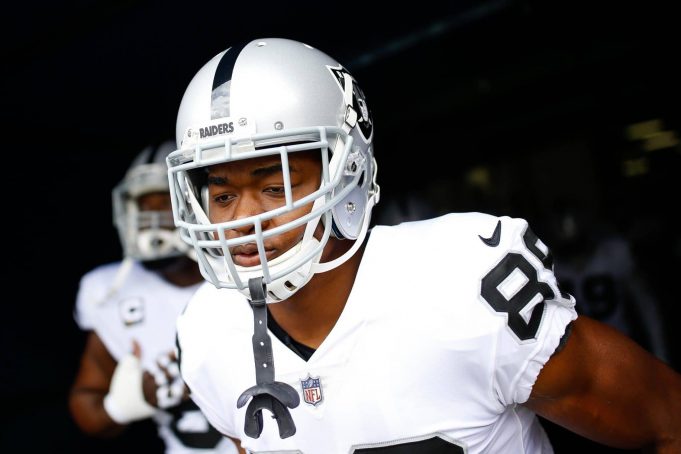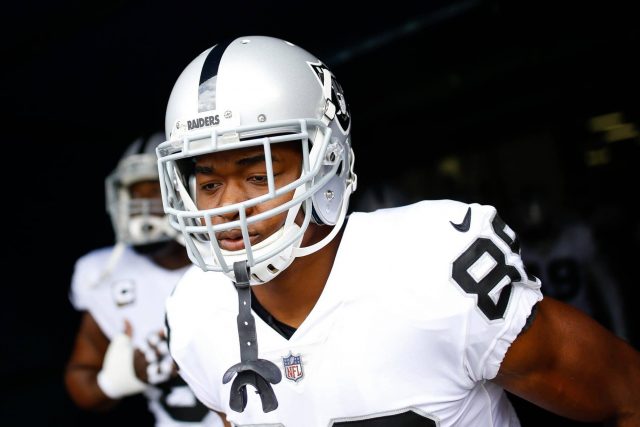 Biggest Disappointment: Amari Cooper, WR, Oakland Raiders
No one thought they would be saying, "Thank god someone took Cooper before he fell to me." Amari Cooper's monumental drop-off in production continues to plague and test the patience of fantasy owners.
Cooper posted respectable numbers to kick off the season. Over the next three weeks is when panic began to mount. During that span, he accounted for a meager eight receptions and 48 yards without any scores. Moreover, the third year wideout leads the league in drops, which directly eats into his decrease in targets.
While Cooper has been dealing with a minor knee injury, there are no reports of a setback. Unless you decide to sell low, he remains a hazard to starting lineups until further notice.
Honorable Mentions: Le'Veon Bell, RB, Pittsburgh Steelers; Jay Ajayi, RB, Miami Dolphins; Ben Roethlisberger, QB, Pittsburgh Steelers; Doug Baldwin, WR, Seattle Seahawks
Underperforming Veterans In New Places
Several teams who landed coveted stars off the free agent block aren't getting their money's worth.
Brandon Marshall, WR, New York Giants
Since trading in Jets' green for Giants' blue, Brandon Marshall's production has sunk with the Giants 2017 aspirations. The 11-year vet began with back-to-back single-catch games littered with meaningful drops. The Giants' improved offensive output in Weeks 3 and 4 resulted in a steady progression of targets, yardage and receptions for Marshall. But due to an ankle injury suffered in Week 5, his season—and maybe his career—is now over.
Marshawn Lynch, RB, Oakland Raiders
'Beast Mode' went into hibernation following Seattle head coach Pete Carroll's goal-line blunder in the closing minutes of Super Bowl 49. After an injury-plagued 2015 campaign, and a brief hiatus from the gridiron, Marshawn Lynch made his highly anticipated return to football sporting hometown black and silver, complete with ridiculous dance moves.
He displayed physical dominance against the Titans and rocked the Coliseum much to the Jets' dismay in Week 2. But since the Raiders hit the road, Lynch has registered a combined 30 yards on less than 10 carries in both Denver and Washington. Maybe he needs to replenish his Skittles stock?
The Raiders have dropped three straight, and even with QB Derek Carr expected to make his return ahead of schedule, Lynch looks like a shell of his former self.
Torrey Smith, WR, Philadelphia Eagles
Eagles general manager Howie Roseman partook in offseason speed dating, a term he used to illustrate signing impact free agents. Roseman inked Torrey Smith to be the primary downfield threat in the Eagles revamped weaponry. Smith's struggle to haul in the deep ball from Carson Wentz makes him a forgotten part of the offense.
His 10 catches for 134 yards on 19 targets and no touchdowns mark the worst four-game start to a season of his career. Smith also could have benefitted from Jeffery's unfavorable defensive matchups. Smith flashed his big play ability on Sunday, hauling in a 59-yard bomb for his first touchdown of the year. It's an encouraging sign as Smith builds chemistry with Wentz.
Honorable Mentions: Adrian Peterson, RB, Arizona; Eric Decker, WR, Tennessee Titans; Jeremy Maclin, WR, Baltimore Ravens; Desean Jackson, WR, Buccaneers
Top Waiver Wire Adds
The early onslaught of high-impact injuries rattled rosters straight out of the gate. If owners weren't fortunate enough to snag their handcuff, hopefully they claimed some of these under-the-radar contributors.
Chris Thompson, RB, Washington Redskins
Chris Thompson's explosiveness in the pass-catching game separates him from the crowded Redskins backfield. In fact, he could even be the best offensive asset surrounding Kirk Cousins in Jay Gruden's pass-happy offense. Through four games, Thompson is a PPR treat, leading all running backs in receiving yards, adding three touchdowns (two receiving, one rushing).  Look for Thompson to pick up where he left off after the bye.
Tarik Cohen, RB, Chicago Bears
Jordan Howard's stellar rookie year put him in the driver's seat to be the Chicago Bears' starting running back.
Rookie Tarik Cohen burst onto the scene in a similar fashion, infusing speed and quickness to compliment Howard's role as the traditional big bruiser. Much like Thompson, Cohen has the advantage of being a lethal dual-threat back. He enters the second quarter of the season having amassed 24 catches for 150 yards and one touchdown.
A depleted wide receiving corps coupled with Mitchell Trubisky's need for a check-down companion further elevate Cohen's value.
Alex Smith, QB, Kansas City Chiefs
Owners who snagged Alex Smith on draft night got more than they bargained for, likely tabbing him as a backup or a bye week fill-in. Those who were fortunate enough to add him off of the wire on the heels of a career night in Foxborough stepped into gold.
If you weren't a believer then, you'll have to trade for him now.
Smith's extraordinary efforts through four weeks have him ranked in the top 10 in several categories including passing yards (1,067); passing touchdowns (8); completion percentage (76%); completions (92); interceptions (0) and quarterback rating (124.2).
Did I mention the Chiefs are the lone unbeaten team in the NFL?
Honorable Mentions: Deshaun Watson, QB, Houston Texans; Chris Carson, RB, Seattle Seahawks; Alvin Kamara, RB, New Orelans Saints; Jaron Brown, WR, Arizona Cardinals
There you have it! An entirely different corps could emerge in this second quarter of the season but you've got to give credit where credit is due for these players. If you took advantage of these players on your fantasy team so far, you deserve a pat on the back.