There's much to discuss after the New York Jets improved to 2-2 after their stunning 23-20 overtime win over the Jacksonville Jaguars.
W
ait a second … how is this possible? Your
New York Jets
are now 2-2 and on to Cleveland. It's absolutely conceivable that everybody's
favorite "tank" team can check off that third win in five weeks
by the time Sunday comes and goes.
The club's 23-20 thrilling overtime victory over the Jacksonville Jaguars on Sunday didn't just allow most of us to realistically say goodbye to Sam Darnold, it brought a wide-array of interesting football ideas to the table.
Todd Bowles's Defense is Finally Legit
It took some time, but Todd Bowles finally has himself a legitimate defense in New York.
In 2015, the unit was old and slow. Through pure happenstance of a cupcake schedule and breaks galore did the defense get by and help the cause towards a 10-win season.
A season ago, we obviously know what transpired.
Right now, it's a completely dominant unit that can easily finish in the top five of the NFL by year's end.
Why? Well, Jamal Adams and Marcus Maye.
Safety is the new dominant defensive position in the league and these two kids cover so much ground and possess such a high football IQ that it's hard to fail. Adams, especially, can do everything. Not only does it help cover-up a weak cornerback spot, but it solidifies the front-seven.
Kony Ealy is an NFL Starting Defensive Lineman
The youngster Bill Belichick cut is suddenly carving a name out in Florham Park. He's playing all of the big downs and is especially generating a push in pass rushing scenarios.
Better yet, he possesses a keen sense of the ball when the QB is looking to find a lane to throw from.
Ealy tallied four pass deflections coming off the right arm of Blake Bortles. A couple of them came in huge spots.
After receiving the game ball, Ealy broke the team down stressing "family first."
Family first. #1T1G pic.twitter.com/apq7zrH0tg

— New York Jets (@nyjets) October 1, 2017
Whether or not you love Bowles and his clock management and/or strategy at times, the notion that this team has come together in an unforeseen way is undeniable. Removing certain personalities like Sheldon Richardson, Geno Smith and Brandon Marshall was step No. 1.
Credit to the O-Line
Even without those two long touchdown runs — Bilal Powell's 75-yarder and Elijah McGuire's 69-yard variety — the rushing attack for the Jets still put up 122 yards on the ground. All told, the number was 256 on 32 attempts. That's an average of eight yards per pop.
75 yards, Bilal Powell, the longest run in #Jets history. 7-7. pic.twitter.com/5i3yASVRML

— Elite Sports NY (@EliteSportsNY) October 1, 2017
Elijah McGuire, 69-yards for the score. #Jets lead 17-10 and the "tank" nerds who don't know football are running scared. pic.twitter.com/DYeUKU8bRB

— Elite Sports NY (@EliteSportsNY) October 1, 2017
Powell finished with 163 on 21 while McGuire snagged 93 on 10.
Most of the credit goes to that Jets O-line playing without Brandon Shell.
Despite struggling on the first couple drives, John Morton stuck with the run. For a period there in the third quarter, Morton took the appropriate course of action by allowing Josh McCown to throw the ball against a loaded box, but still stuck with the rushing attack that worked so well.
This O-line dominated the Jags front-seven even with that eighth man in the box. They bullied them. They pushed them around. This version of the line is a completely different one we witnessed in August and through the first two weeks of the season.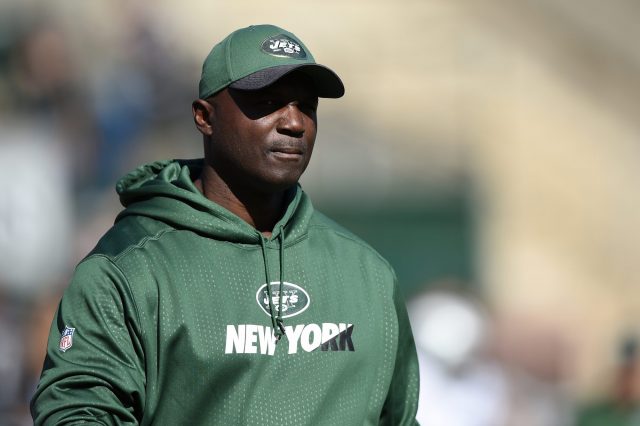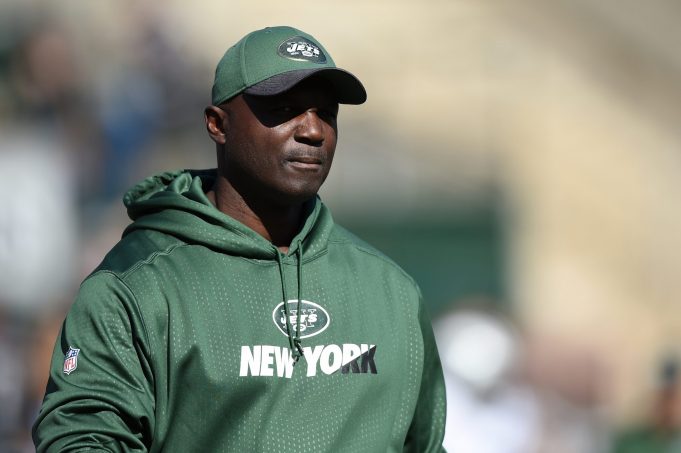 Todd Bowles Still Doesn't Grasp Time Management
After McCown was intercepted (intended for Powell who fell down on the angle route), the Jags were threatening to put the game away with a TD. After a short completion with around a minute and a half remaining, Bowles elected to not take his second timeout. Instead, the clock ran all the way down to 54 seconds.
A minute and change with one timeout is a much better situation than 54 seconds and two timeouts. It can be argued and Bowles receives a semi-pass due to the questionable catch (as it was reviewed and stood as called).
At the same time, his cool and calm demeanor has been a gift from the football gods for this young roster.
John Morton is Aggressive And I Love It
Yes, the swing screen to Powell in the red zone with the Jets up 20-10 was a rough call:
Don't ? count ? us ? out ?@MylesJack scoops it up and takes it 81 yards for the TD.#JAXvsNYJ pic.twitter.com/Tgq0Oza5wr

— #Sacksonville (@Jaguars) October 1, 2017
When Myles Jack returned it to the house, it was "same old Jets" all over again.
I don't hate the call. I hate the execution.
Offensive coordinators who play conservatively in this day and age just contribute to the team's slow death. Offenses must take what the defense gives them. It's always predicated first and foremost on the defensive look.
McCown should not have thrown the ball in that situation. He should have known the play did fell right from the start.
Don't get on Morton here. A play before, it was his call that led to a big-time Robby Anderson chunk on a 9-route.
It's been awhile since the Jets have possessed an aggressive, smart offensive mind calling the plays.
Report Card
Quarterback: C+
Backs: A
Offensive Line: A
TE/FB: B-
Weapons: C
Overall offensive grade equates to a nice B. McCown really didn't have to do much, but managed things well, yet again. The duo of Powell and McGuire was other-worldly behind an O-line that toyed with the Jags all day. Austin Seferian-Jenkins, save for a couple of penalties, played his best game as a Jet with four receptions for 46 yards.
Defensive Line: A-
Linebackers: B+
EDGE: B-
Corners: C+
Safeties: A
Adams and Maye don't appear in the box score as much as the week before, but, as per usual, had a major impact on the game. After Leonard Fournette ran wild on the first two drives, the Jets front seven completely bottled him up all game long.
Bowles's cool demeanor did wonders. The penalties were another issue as 10 called infractions for 70 yards hurt the club. This was especially the case in overtime when a big Jermaine Kearse first down was brought back on a ASJ holding call.