If the New York Jets find a way to defeat the Jacksonville Jaguars on Sunday, they'll suddenly be 2-2 and on to Cleveland. Uh, oh.
H
as a team in sports history ever been accused of tanking only to turn it around and finish nowhere near a top-five selection in the upcoming draft?
I honestly don't know. It's a great question.
First of all, the entire "tanking" narrative has only built steam over the last decade. Thanks to guys like Sam Hinkie and organizations that literally need a franchise-changing individual in the NBA, tanking has become a legitimate form of franchise building.
In the NFL, not so much. In fact, when was the last time an NFL franchise had so many fingers pointed at them like these Jets? The Indianapolis Colts, circa 2011? When Peyton Manning's season was called off due to that serious neck issue, it made all the sense in the world to "Suck for Luck. This Stanford product, Andrew Luck, was a generational talent by all accounts.
Other than those Colts, I cannot think of another single example. That's why the "Suck for Sam" narrative fit so perfectly.
These Jets, a franchise whose last tip-top quarterback was sent packing during the 1970s (Joe Namath) and a squad everybody loves to pile on, have been craving a face of the franchise for nearly half a century. It makes all the sense in the world that this tank headline would dominate your computer screens and the airwaves.
But what if everybody was unfair? What if momentum simply rolled out of control in this situation? What if the availability of Sam Darnold and the Jets shedding themselves of big names is only a real loss in the eyes of those who truly don't understand the game of football?
Provide kudos to Mike Maccagnan. Even if you've had issues with him in the past, look at the lack of production from his older, over-the-hill veterans who were shed.
Look at the age of this crop. It's a list of 30-somethings, a list of has-beens.
Why exactly was everybody so hot and bothered by the release of these players? It was shocking to me that it took so long for David Harris and Eric Decker to get cut to begin with.
But there they were, the Jets, who suddenly "had no plan" after Harris and his agent both voiced displeasure about the way the Jets cut his employer. Yet, he made no mention of the generosity of Mikey Mac during his rookie GM debut when he signed Harris to a hefty $21.5 million $15 guaranteed deal over three years when he was 31 years of age.
Nevertheless, Harris was cut and the media went wild, piling on one after another:
'Ex-Jet David Harris gets last laugh by signing with Super Bowl champs,' Rich Cimini of ESPN New York.
'David Harris lands with Patriots in perfect Jets Karma,' via Brian Costello of the New York Post.
'David Harris good enough for Patriots, but not Jets,' via Jason Keidel of CBS New York.
Here are my personal favorite words from Keidel regarding the Jets unfair treatment of Harris:
But no such logic applies to the Jets, or at least their treatment of their stalwart linebacker, David Harris, who was frigidly dumped by the only team he'd ever known, a team Harris represented with class, humility and all-world production. Harris had no posse, no rap sheet, no complaints and thus the team had no worries. In return for his decadelong service, the Jets swept him off the roster like a freshly cut toenail.

Belichick thinks Harris is good enough to play — heck, some say he will start — for the Super Bowl champion Patriots, who just signed the linebacker to a modest, two-year deal. But he's not good enough for a 5-11 team that hasn't played in a Super Bowl since Woodstock.
It's almost as if these guys haven't watched a single piece of game film over the last two years involving Harris — the same Harris was clearly playing old and slow. It's almost as if they forget Brady is the man who makes the Pats tick — not the defense that is often extremely overrated.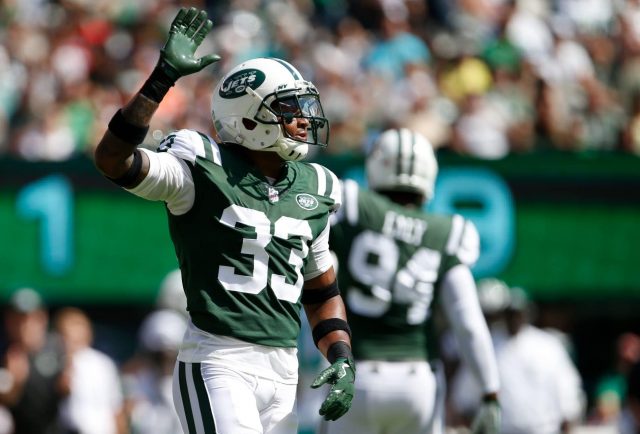 And of course, here's my personal favorite regarding the rash decisions of cutting Harris and Decker, Costello's summer ode to rip the hapless and clueless Jets:
'The NFL is viciously roasting the Jets who have 'no plan," via Costello.
People around the league from coaches to front-office executives to player agents are cackling about the state of the Jets franchise and the team's latest moves — releasing veteran linebacker David Harris and planning to dump wide receiver Eric Decker through either a trade or his release.

"They have the worst roster in the league and it's not close," one executive said.

"It's like they have no plan," one agent said.
Obviously, these quotes come from "unnamed" individuals.
Do we need to go over what Harris and Decker have done thus far through 2017? I mean, who exactly are these unnamed football whiz's Costello spoke to?
Little old rusty Elite Sports NY doesn't have Jets access. We have New York Football Giants sideline access, but no Florham Park access. And even still, we were able to figure out that hopping on that "tank" bandwagon was a fruitless venture better left for those with little imagination and virtually no football knowledge.
It's amazing. It really is.
Everybody would take no time in bashing Maccagnan and the Jets for spending "silly" money. What I mean by "silly" money is money spent against the cap that goes for naught. If Mac decided to sign a few extra guys this summer in hopes for a couple more wins, he'd be killed as, naturally, we all know contention isn't happening for this franchise under any circumstances.
Instead, he takes the correct approach. He holds his chips back while maintaining the roster just enough. Signings like Kelvin Beachum and Morris Claiborne have turned out solid. He held his money back for the good of the franchise in the long run while not looking to save his own job — while not acting in a selfish, impatient manner as so many young personnel decision-makers would.
Yet the mainstream media cannot recognize this. Instead, it's tank this and laughingstock that.
What's hilarious about it all is that this roster is actually better than last season's version. Think about it. Look up and down the depth chart. Other than receiver, which position has weakened? Quarterback? No chance. Offensive line? No way. Secondary? Well, safety is greatly improved while cornerback is improved (Claiborne over Revis).
This team is more talented than the 5-11 version a season ago that was slow and took on a rough first seven weeks of the season.
In a few hours, the Jets will welcome in the 2-1 Jacksonville Jaguars who bring one nasty defense to the party. Jalen Ramsey just may be the next No. 24.
What if the Jets actually win? Could you actually believe this team to be 2-2 and on to Cleveland with a fantastic opportunity to improve to 3-2?
I know Keidel, Costello, Cimini and 99 percent of the media "in the know" didn't expect it.
Make no mistake, this isn't a contending team even with every break in the book. But this is the NFL. This is the place in which tanking cannot be predicted and too many variables can mess up a week's plan … no less next draft's strategy.
Just allow it to sink in. This needs to be one serious lesson for all of us.
Just imagine it: the 2017 New York Jets, 2-2 and on to Cleveland. Start deleting files and tweets all of you so-called "football experts."