Week 4 of the daily fantasy football season brings many hot players to the table including New York Giants wide receiver Odell Beckham Jr. 
W
eek 3 was, overall, ugly and if you made money last week with
Fantasy Football
, congrats! And also, if you made money last week, care to share your secret?
We are now plowing into Week 4 and we are now getting a better idea of how teams are utilizing their players. We are also starting to see which defenses are the real deal and which ones are all talk and no game.
This week, we will target the weaknesses in defenses and showcase players who have massive role in their team's offense. Don't be afraid to take some chances this week and good luck everyone!
Quarterbacks
Philip Rivers versus Philadelphia Eagles ($6,300): 
There are a handful of teams that I will use quarterbacks against and the Philadelphia Eagles are one of them. They have a good front seven but their secondary is horrible. Rivers will have no problem putting up big numbers this week. The Eagles struggle against any receiver with a pulse and Keenan Allen ($7,200) will have a field day in Week 4. When the Los Angeles Chargers score, it will be in the air. Don't let last week's dud against the Kansas City Chiefs scare you away from playing Rivers.
Jared Goff @ Dallas Cowboys ($5,600):
This is one of those matchups where Goff will excel. The Dallas Cowboys' secondary is playing poorly and I don't see that changing anytime soon. A Goff to Sammy Watkins ($5,900) stack will be low-owned but they showed last week how explosive they can be together. There is a reason the Los Angeles Rams went after Watkins and if he passes the concussion protocol, expect another big afternoon from the Rams duo.
Trevor Siemian versus Oakland Raiders ($5,200):
Siemian is one of my favorite plays when he has a good matchup. In two games against the Oakland Raiders last season, he threw for a combined four touchdowns and had 489 passing yards. This year, he is more comfortable in the offense — and when you attack the Raiders defense, it's in the air. He will go low owned and he's already scored 23 or more points in two games this season. Siemian is cheap, and with the low ownership percentage, he makes a solid tournament play.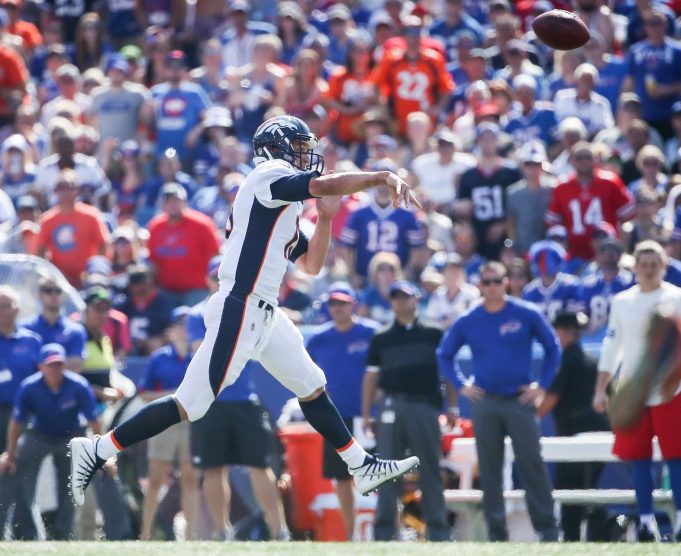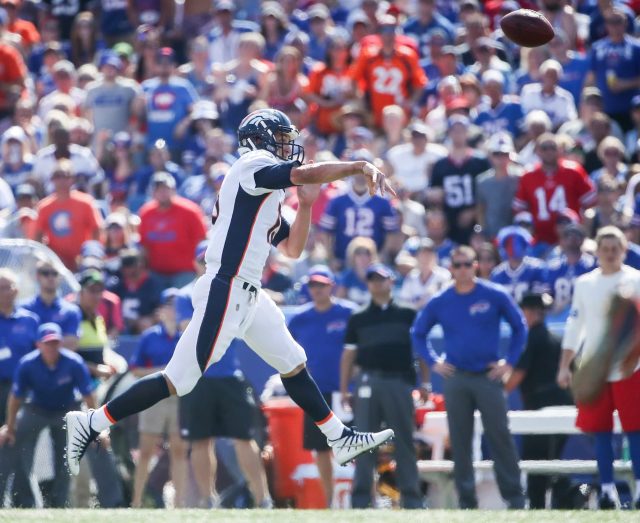 Running Back
Todd Gurley @ Dallas Cowboys ($7,800):
I am sorry for everyone that is trying to get on the Gurley bandwagon now: there's no more room left. Gurley is thriving in the new offense and he is being fed the ball like the workhorse he is. Last week, he had 33 touches and scored three touchdowns. In daily fantasy, you don't pay up for what the player did the week before but he will put up similar numbers again. He is the focal point of the offense and he has been targeted 17 times in the passing game this season. The team is getting him the ball in space and once they get close they will feed Gurley the ball.
I expect the Jacksonville Jaguars defense to shut down the New York Jets offense and that means a bunch of possessions for the offense. This game shouldn't be close and the Jaguars will feed Fournette the ball early and often to run down the clock. He has gotten 16-plus touches every week and over 20 twice. A big workload and a bad Jets defense means a big day for the former LSU Tiger.
Joe Mixon @ Cleveland Browns ($5,700):
The Cincinnati Bengals finally figured out to get the offense moving, they need to have Mixon in the backfield. This is a good matchup and Mixon is coming off a 21-touch game, which should be around what he sees every week from this point forward. Jeremey Hill got seven carries compared to Gio Bernard's three last week. This is Mixon's job now. He has big upside in this game and I wouldn't be surprised if he scores his first NFL touchdown or two against the Cleveland Browns.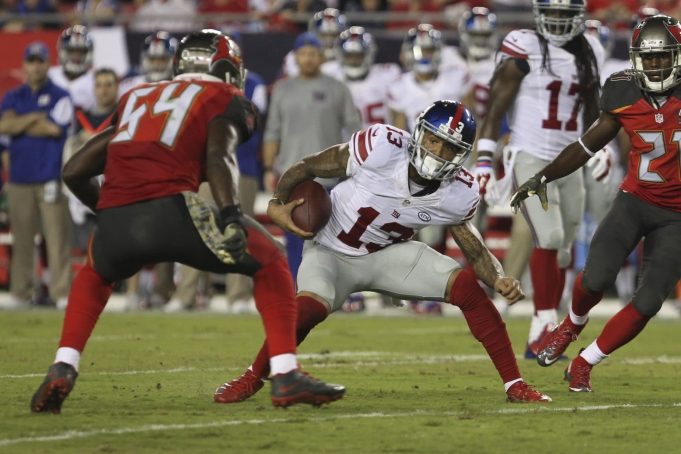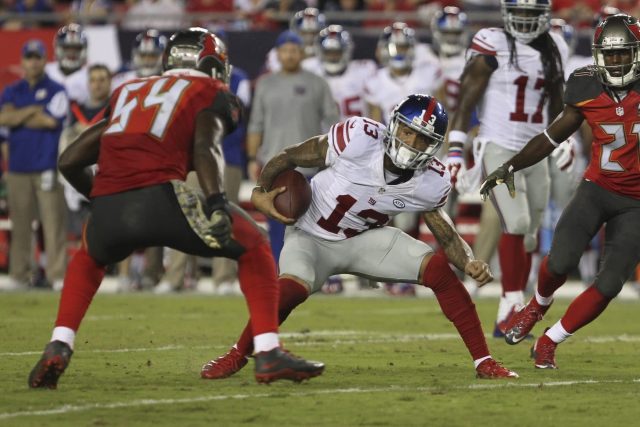 Wide Receiver
Beckham is healthy and he showed why he is a top-three wide receiver in the NFL in Week 3. The Tampa Bay Buccaneers just got lit up by Case Keenum and Stefon Diggs last week. The New York Football Giants can't run the ball, but that won't matter, as I can't see the Buccaneers stopping Beckham. He will be highly owned but few wideouts have his upside. If you decide to take my advice and go with Goff or Siemian and save money at the quarterback position, Beckham will be a great player to spend on.
Golden Tate @ Minnesota Vikings ($6,300):
Tate was six inches from scoring two touchdowns last week, and for whatever reason, his price dropped $600. The Minnesota Vikings' weakness on defense is defending the slot receiver and that is where I am expecting the Detroit Lions to line Tate up for most of the day. He should avoid Xavier Rhodes for the most part and that will allow him to have a big game. Matthew Stafford looks for him often and last year, he had great success against the Vikings, as he had 16 catches, 156 yards and scored a touchdown. The Lions won't be able to run the ball and if they have success, it will be in the air.
Marqise Lee @ New York Jets ($4,500):
Lee has 19 targets in the last two games, both of which were blowouts. If this game stays close, he could see an increase in the number of targets. Either way, he has turned into Blake Bortles' go-to receiver and there is no cornerback on the New York Jets who can slow him down. He's too cheap and he has scored double-digit points since the Allen Robinson injury. Low price and a safe floor make him a good tournament play.
Tight End
Cameron Brate versus New York Giants ($3,800):
The New York Giants cannot stop tight ends this year. Brate should see six or more targets and a couple of them will be in the red zone. He has the chance to put up a goose egg but he caught all four of his targets in a blowout last week and Mike Evans will be who the Giants focus on shutting down. He's a risky play but so is every tight end except Rob Gronkowski.
Jared Cook @ Denver Broncos ($3,400):
If there is a weakness on the Denver Broncos, it is that they have a hard time covering tight ends. I am expecting the defense to shut down Michael Crabtree and Amari Cooper, which will leave Cook open in the middle of the field. He has seen 12 targets in the last two weeks, and at his price, he is worth the play. I don't feel comfortable playing any tight end but Cook, who has a good chance to find the end zone.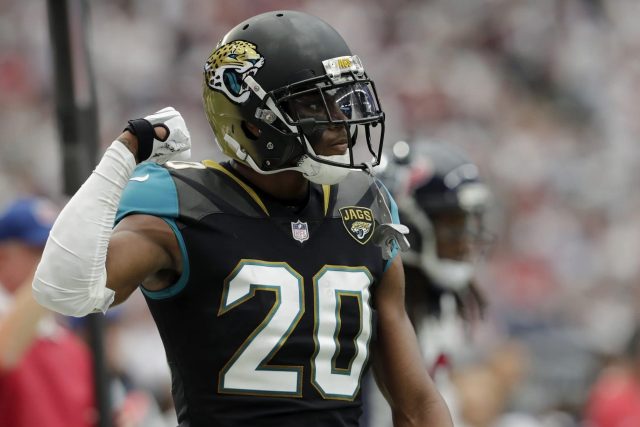 Defense
Jacksonville Jaguars @ New York Jets ($3,600):
The Jacksonville Jaguars are, once again, on my list. Simply put, this defense is a top-five unit in football. They have 13 sacks in the first three weeks to go along with four interceptions. This isn't difficult, you start defenses against the Jets every week — especially when it's an elite defense.
Baltimore Ravens versus Pittsburgh Steelers ($3,000):
The Pittsburgh Steelers have looked bad to start the season and this seems like a 13-10 type of game. Last week, I will give the Ravens a pass since the game was in London. This defense has eight interceptions in the first three weeks and Ben Roethlisberger is on the road. In Week 1, the defense scored 25 points, and in Week 2, 17 points. Double-digit points from your defense will win money every week. The Ravens have good upside this week in a low-scoring game.
Take my advice? You'll be guaranteed to be rolling in the dough. And who doesn't love winning their fantasy matchup each week?