When offenses are facing 3rd-and-long, no longer are the New York Jets ill-equipped. This new sub package led by Jamal Adams is legit.
One week literally makes all the difference in the world in the National Football League.
The New York Jets defense was terrible against the run after two weeks of play. Allowing nearly 200 yards on the ground per contest, they ranked dead last in the league. After their 20-6 victory against the Miami Dolphins that saw them completely shut down Jay Ajayi, things are looking a bit better. In fact, it's now their older brothers, the New York Football Giants, who own the worst rushing defense in the land.
Back to the Jets. Suddenly, there's an exciting new sub package that's sweeping football: the Jets new dime/quarter package that features Jamal Adams in the box.
I've been no stranger in blasting the head coach when necessary. Through his first two seasons in New York, Todd Bowles has mysteriously matched up on passing downs heavy. In other words, he'd leave his nickel out there against a three-wide receiver look in a pass-only situation, a 3rd-and-long.
This would leave David Harris and Darron Lee out there against a speedy tight end in a pass only situation. Why do that when you can throw an extra defensive back in the game and not fear a run? It was such a 1980s move.
This season, Bowles has been much quicker to respond to this new age of dink-and-dunk passing. Instead of leaving his two inside backers out there, he's upgrading to a dime or quarter even against three wideouts — when pass-heavy situations arise.
What helps this season is No. 33.
The emergence of Terrence Brooks, stability of Marcus Maye, and playmaking ability of Jamal Adams has allowed the Jets to put together one scary sub package.
This look was deployed many times against the Phins. Most notably, it was the look that saw Adams pick up his first big boy sack:
Here's how it looked pre-snap: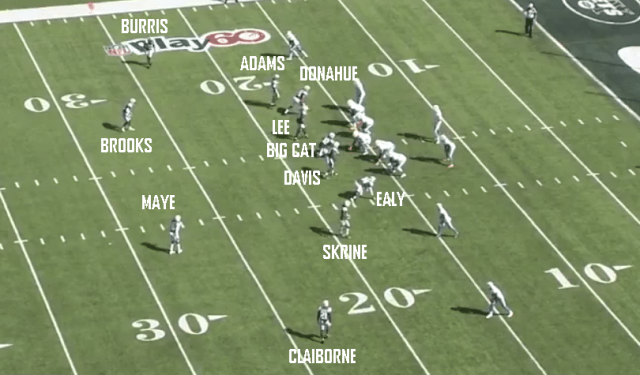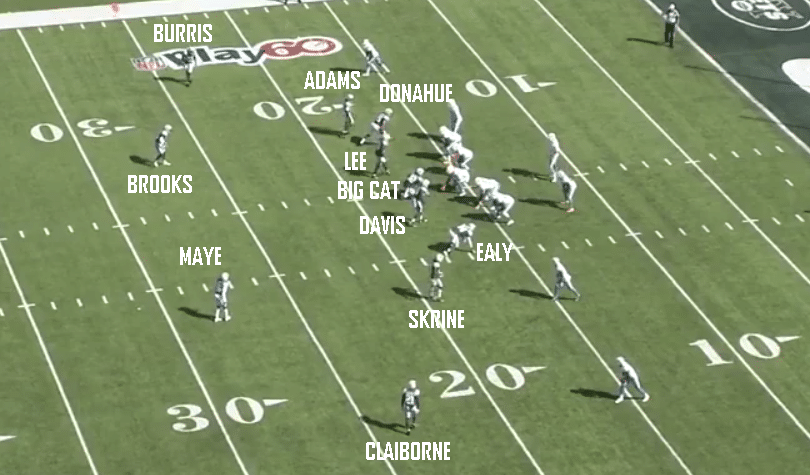 The Jets went with a blitz, a five-man rush that featured Adams in a stunt action through the C-gap. They played some version of a Cover 2 sink on the back end.
On this particular look, a dime was the formation (six defensive backs). This would also be the look if a quarter is deployed (seven defensive backs). In that instance, one of the two linebackers would come off the field.
Sub Package Depth Chart:
DE: Wilkerson, L.Thomas, J.Jenkins
DE: Ealy, Bass, Donahue, J.Martin
DT: L.Williams, Wilkerson, McLendon, Pennel
LB: D.Lee, Stanford
LB: D.Davis, B.Carter
CB: Burris, M.Williams, D.Jones
CB: Claiborne, Roberts, D.Jones
NB: Skrine, Roberts
S: Maye, Adams, Miles
S: Brooks, Adams, Miles
NS: Adams, Miles
In football, every one of the 11 men on a particular unit must do their jobs in order to make a play successful. It's not a coincidence a guy like Bill Belichick is always screaming, "Do your job" and "know the situation."
But what makes this package tick is Jamal Adams in that third safety spot down low.
His versatility in having the ability to literally do everything from that line of scrimmage spot makes this look scary. He can play the edge, rush the passer, drop to hook-to-curl, create chaos on the edge, and even drop back into a deep half, deep third or even center field. And oh yeah, he can also pick up anybody in man coverage.
Earlier in the game, Bowles deployed his sub package on a Phins 3rd-and-14.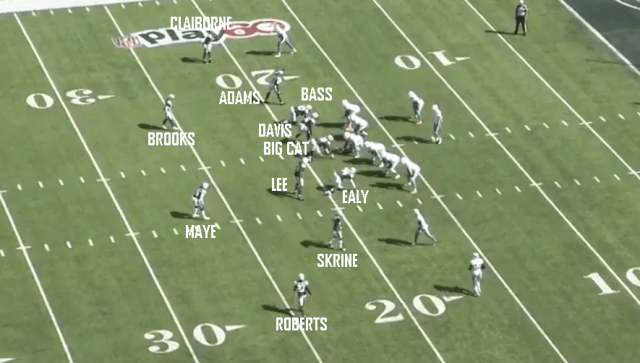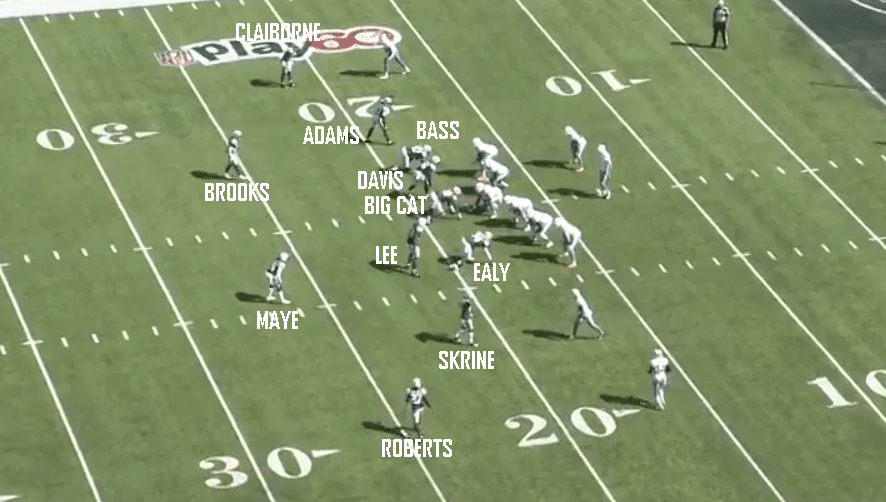 As you can see, Adams blitzed again on this one. He wasn't even detected by Miami and came in clean, forcing Jay Cutler to dump it off in the flat quickly.
This package works because of 33. As we detailed earlier in the week and back in June, the kid is just one of those generational talents that come along every so often.
Despite the lack of edge rushing in Florham Park, New Jersey, this sub package will surely be turning some heads across the NFL in no time.
It's already dangerous proposition to fall into 3rd-and-long against Gang Green. Let's see how Blake Bortles handles it this coming Sunday.