Some big-time players like Le'Veon Bell and A.J. Green have had slow starts to the fantasy football season. What should you do with these players?
We are on to Week 3 of the NFL season. There have been a lot of disappointments to this point but I am here to help you on how to handle each player.
Every player in fantasy will have their ups and downs, and for some players, they are just happening in the first weeks of the seasons. There is a reason why you drafted these players — don't let the first two weeks change your opinion on them. I will help you decide on whether to trade, cut or bench a player.
Trade For
Le'Veon Bell, Running Back, Pittsburgh Steelers:
The top two overall picks in most fantasy drafts have been a big letdown after the first two weeks — but there is a reason why you spent a top two pick on Le'Veon Bell. If you have Bell, don't trade him. He just looks like a player who missed all of training camp and is just starting to get his legs under him. If you have an owner in your league that is panicking because of the slow start, throw a trade offer to them.
Right now, Bell is the best running back in the NFL. This will be the last week that you will be able to get him from his owners and it's the perfect time to buy low on him. From week three forward, he will be top-five running back. Talk to the person that has them in your league and see if there's a two for one that you can pull off for Bell. This is how you win your fantasy league: buy low on a top tier player and remember that he was a top player heading into the season for a reason.
A.J. Green, Wide Receiver, Cincinnati Bengals:
The Cincinnati Bengals have gone against two of the league's best defenses. A.J. Green's slow start isn't because of him, it's because of the quarterback play and the playcalling. Green's schedule — except for Week 11 at Denver — looks good. If Andy Dalton and Marvin Lewis want to keep th
eir jobs, they will get Green the ball. If you have him, hold on to him.
There is no reason why he can't finish the season as the number one scoring wide receiver. Even with the offensive struggles, he still has 10 receptions for over 140 yards — but that isn't what he owners are looking for out of their first-round pick. From this point forward, he will be targeted and will be the focal point of the Bengals offense, like he should have been in the first two weeks.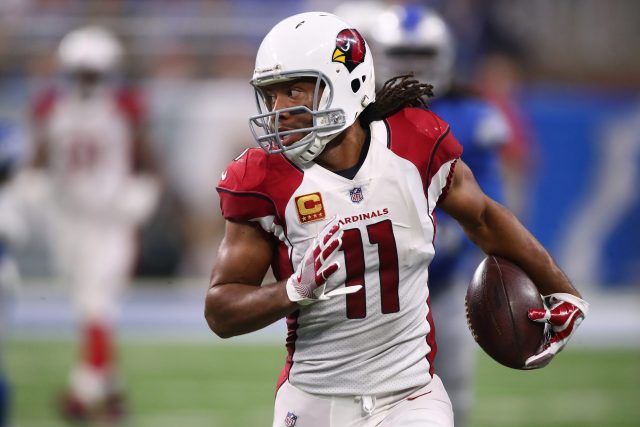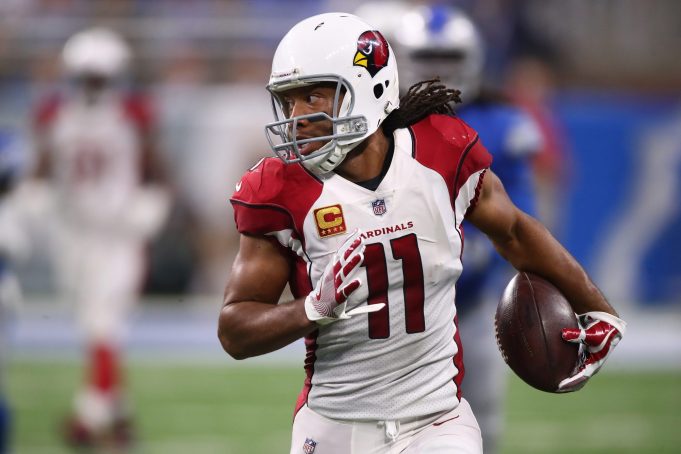 Trade Away
Larry Fitzgerald, Wide Receiver, Arizona Cardinals:
As a Larry Fitzgerald owner in a league, I can't understand why they aren't getting him the ball more. Fitzgerald led the league in receptions last season and he only has nine receptions against two of the league's worst secondaries. If Carson Palmer can't get him the ball against the Lions and Colts, I don't see how he will do it for the rest of the season.
The whole Carolina Panthers offense looks horrible. The offense line is bad and Cam Newton is one of the most inaccurate quarterbacks in the league. On top of that, Christian McCaffrey might not be the fantasy stud everyone was hoping for in year one.
He is having a hard time running the ball in his first two starts, averaging 2.7 yards per attempt. Until that offensive line can play better, it will hurt McCaffrey. The biggest problem is once he gets on the field, defenses know he's going to get the ball. The speed of the NFL might give him problems in year one and if I have McCaffrey on a team, I am seeing what I can get for him.
Cut
It's tough for me to tell you to cut a player when I have no idea what is on your free agent wire. Right now, there isn't much out there. If you drafted a player, I would hold on to them right now. However, there are a handful of players that I am keeping a close eye on next week. Eddie Lacy, Eric Decker, Bilal Powell, Adrian Peterson and LeGarrette Blount are getting close to being cut. Four of the five are on new teams and they aren't fitting the system, as well as the coaching staff, were hoping. Right now, be patient with these players.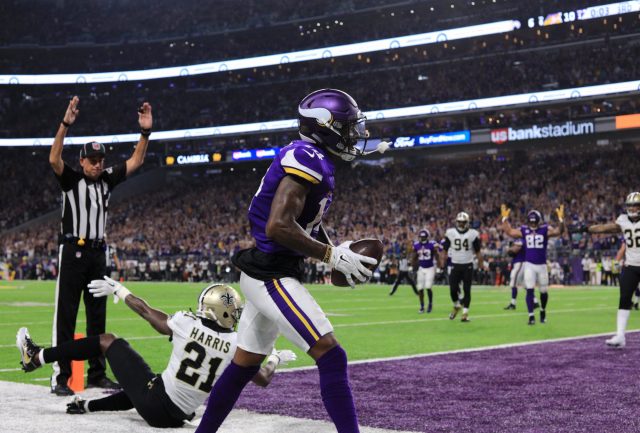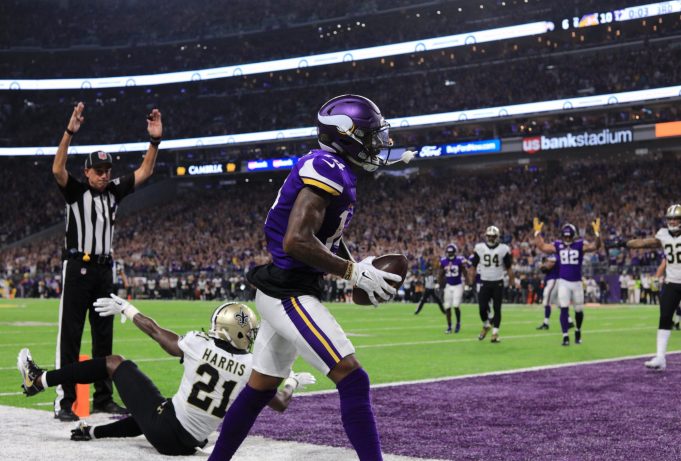 Bench
Stefon Diggs, Wide Receiver, Minnesota Vikings:
This has nothing to do with the talent of Stefon Diggs and it pains me to say this because I'm a big fan of him but it has to do with his quarterback. If Sam Bradford isn't starting for the Vikings, it will be difficult to start Diggs. Case Keenum is bad and will hurt the value of Diggs all season. Diggs can be the 2017 version of DeAndre Hopkins: a good receiver but bad quarterback play will hurt his upside. If you are in a deeper league you might be forced to start him but in an eight or ten team league, you will need to find a replacement for now.
Sammy Watkins, Wide Receiver, Los Angeles Rams:
Remember, Sammy Watkins has been a Ram for about a month and he is still learning the playbook. It's also difficult for a wide receiver to go to a new team and have a good rhythm with the quarterback right away. I love the talent of Watkins but right now is the time to sit Watkins and let him get used to his new team. I can see him having a big second half but starting him on your team can be difficult. Don't cut him because he has top 15 upside at the wide receiver position. Be patient.
Jordan Howard, Running Back, Chicago Bears:
I love the talent of Jordan Howard but he is clearly hurt. Howard only got nine carries in week two while Tarik Cohen got seven carries but also had nine targets in the passing game. Howard is the more talented player of the two and once he's healthy he will see close to twenty carries a week instead of ten. He is a great buy-low candidate if this injury won't keep him out for too long. He was a first or second round player in fantasy drafts for a reason. Don't let two weeks change your opinion on him.