Just when you thought you were out and free of worry, the misery known as New York Jets fandom pulls you back in on a Sunday in Oakland.
T
here are legitimate positives in rooting on a hapless loser, contrary to popular belief according to this new age "in your face" era of sports fandom.
For one, hopes aren't raised. As WFAN's Joe Benigno puts it, if you expect nothing, you'll never be disappointed. Such cold words could only come from a diehard New York Jets fan. Oh, the pain.
Today's National Football League and all of the wonderful distractions that come with it brings another positive to the table. No longer do Jets fans have to be absolutely "locked into" the Jets game every Sunday. With such a terrible team at the helm, the Jets game can be put on the small screen with no volume. The big screen with 5.1 Dolby sound and LED technology can feature the best game of the week. This creates a warm feeling. NFL Sunday Ticket isn't felt as "wasted" as usual (during normal seasons).
Fantasy teams can be focused on more appropriately. The actual appreciation for NFL football becomes heightened when your specific team is down in the dumps.
This is the mindset of the diehard fan who, through no fault of his or her own, was raised with that dreaded green color in his or her soul. The casual fan may stray a little. The diehard fan just looks to the positives while inventing new tricks and tips to get through the week.
Entering the 2017 campaign, we were "free."
No worrying about results. No worrying about the health of starting quarterback Josh McCown. No worrying about the status of head coach Todd Bowles. No worrying about the owner (for, thankfully, he was sent overseas by the President of the United States).
Then this past Sunday happened. Oakland happened. Marshawn Lynch and his antics happened.
Just when you thought you were out, the misery known as Jets fandom pulls you back in.
Two Michael Crabtree touchdowns put the Raiders up 14-0. Second-year linebacker Darron Lee was punished in the rushing game while everybody on the Jets overrated defensive line was finding themselves moved off the line of scrimmage by the talented Oakland Raiders offensive line.
Business, as usual, was commencing before our very eyes.
That was, until, Jets offensive coordinator John Morton actually allowed Josh McCown to take what the defense gave them — something we touched on earlier in the week.
Facing a loaded box on a 3rd-and-short, instead of throwing a power run at a defense that was primed to come up with a stop against a porous offensive line, McCown sent first-year Jet Jermaine Kearse on a nine-route. Kearse hauled in his first TD in green and white against single coverage (only one deep safety who was preoccupied at the time),
It's about DAMN TIME the Jets offense TOOK what the D gave them. Kearse. 14-7. #NYJ pic.twitter.com/9PJpXG9LFu

— Elite Sports NY (@EliteSportsNY) September 17, 2017
OK, so it's now 14-7. Big freaking deal.
It's still early in the second quarter. These Raiders led by MVP candidate Derek Carr will take the ball and shove it down our defense's throat.
Not exactly.
The Jets defense came up big with a three-and-out and forced a punt. McCown then took control an 11-play, 62-yard drive lasting 4:40 resulting in a Chandler Catanzaro 46-yard field goal that couldn't be more perfect if it had mechanical wings on The Duke.
Well, that was fun. Down four against one of the better teams in the NFL is a solid outing on the road. There's just no chance in the world this defense will be able to stop this high-powered offense from putting points up on the board prior to the half coming to an end.
Wrong again.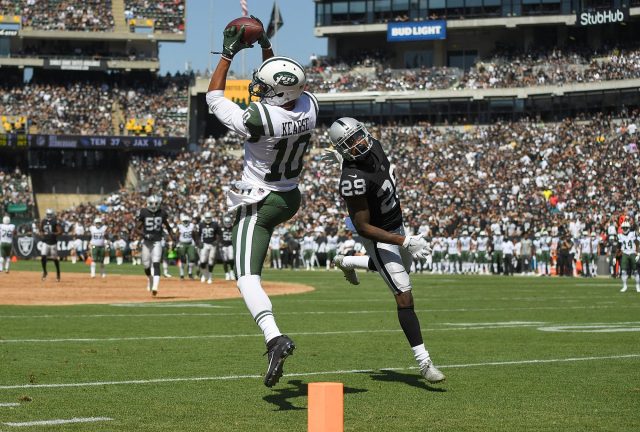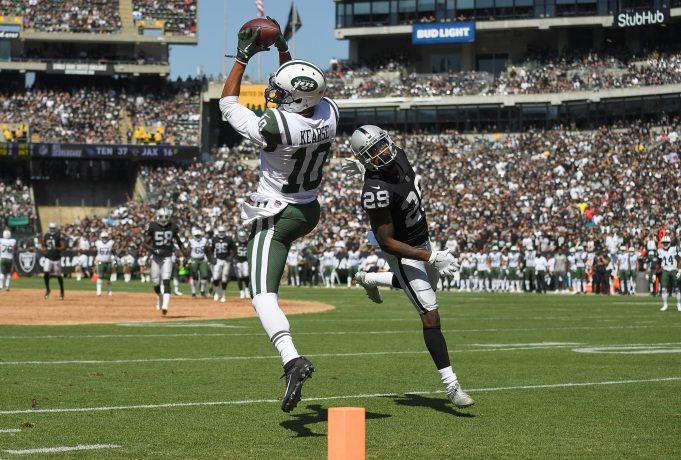 Carr and the Raiders suffered their second-straight three-and-out. The Coliseum was suddenly lifeless. Jack Del Rio was miffed. Marshawn Lynch was quickly looking for his Skittles on the sideline. Even The Bird (Ian Eagle) and The Beard (Dan Fouts) were endlessly harping on the momentum change during the course of that second quarter.
Fans from New Jersey, New York and Long Island were imagining unforeseen outcomes while facing an emotion they hadn't experienced in quite some time. Giddiness.
Your New York Jets were about to get the ball back down 14-10 with all the momentum on their side with a little under two minutes remaining in the first half. McCown was spreading the ball around, the offensive line was creating a little push in the run game, and the defense — a unit that couldn't stop a nosebleed on the first two drives — suddenly shut out Carr and company on six straight plays.
Just when Jets fans thought the most important football of 2017 played on Saturdays (hello Sam Darnold, Josh Rosen, Josh Allen and a couple other recent emerging candidates), a possible win was staring them right in the kisser.
Suddenly, just when we were all comfortable with expecting nothing and spreading out our attention across the league, our Jets were making us proud.
Silly us:
Let's check in with the #Jets pic.twitter.com/52bcvlCzC0

— Ƒunhouse (@BackAftaThis) September 17, 2017
Mewly-acquired Kalif Raymond muffed the punt In a situation the punt returner should have nothing to do with (inside the 10 on the sunny side of the field).
Obviously and naturally, Lynch pounded one home and the Raiders steamrolled the Jets from there to the tune of 45-20. Marshawn even created the most memorable highlight of the game by dancing to a local Oakland tune on the sidelines:
HYPHY pic.twitter.com/CQQ2q0X4uo

— Kenny Ducey (@KennyDucey) September 17, 2017
It's a classic Jet fever. Fans move from not caring to super engaged only to be disappointed in the end. What's worse is the diehards don't care (publicly) yet secretively really care only to be pulled in with extreme promise … only to have it crash down so hard all around them that they'll vow never to care ever again.
But they will care again. The cycle will always continue.
Most brutal about this one is the overwhelming theme that Jets fans aren't supposed to care. This is 2017. This is the season of the tank. This is the campaign in which we Suck for Sam and actually welcome in the losses.
Yet again, those New York Jets did it do them. They pulled us all in only to snatch it away in that painfully familiar cruel and yet usual fashion.
"Oh the pain, Benigno."