Week 1 of the NFL season has come and gone and now it's time to look at free agent targets for your fantasy team.
Adding these players will give your team depth and that is what you need to win your league this year. If you add one of these players don't be afraid to shop them around for a more proven player. Yes, the Week 1 production was nice, but there was a reason why most of these guys went undrafted in your league.
Playing the waiver wire is important to winning your league. Take a shot on these players—you never know what they can become later in the year. If one of your long shots late in the draft had a bad Week 1, don't be scared to dump them for one of the players on this list.
Fantasy football is about taking chances on players. Here are the top free agent pickups this week after Week 1.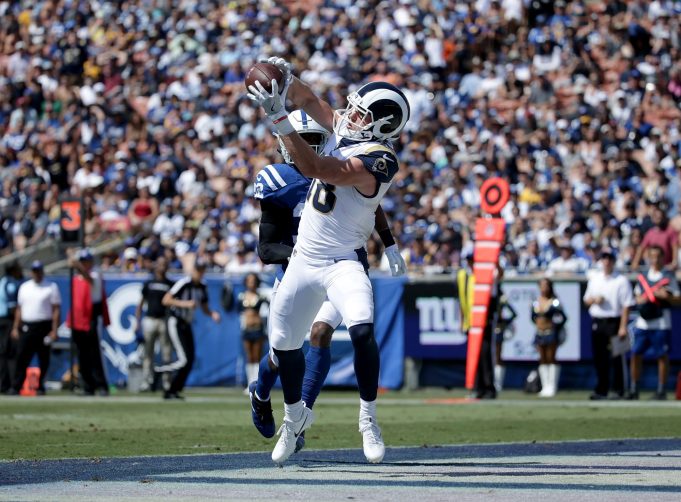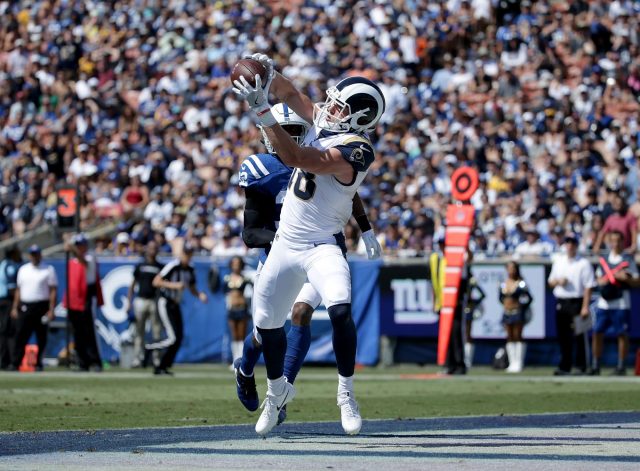 (Owned in 14.9 percent of ESPN leagues)
Cooper Kupp took advantage of a terrible Indianapolis Colts secondary. I don't see him being a weekly fantasy starter but when the matchup is right, he showed us what he is capable of. The Rams offense is built around Todd Gurley and now Sammy Watkins. It won't produce three weekly fantasy starters but he is still worth the add.
Watkins has a history of being injured and Kupp will fill in as a number one receiver on those weeks. That said, I wouldn't touch him against tough division opponents like Arizona and Seattle. But he'll give you some depth and if you get in a tough situation with bye weeks later in the year he can be a valuable player to have.
If I have Kupp, I am looking to trade him and capitalize on his first big week.
(Owned in 13.3 percent of ESPN leagues)
Stop me if you've heard this before: Kevin White is out for the year with an injury. Kendall Wright seems to be the only healthy body on the wide receiver depth chart for the Chicago Bears.
Somebody has to catch passes and right now that is Wright. He won't win you many weeks but he won't hurt you as a flex or wide receiver three in PPR leagues. A must add in PPR scoring.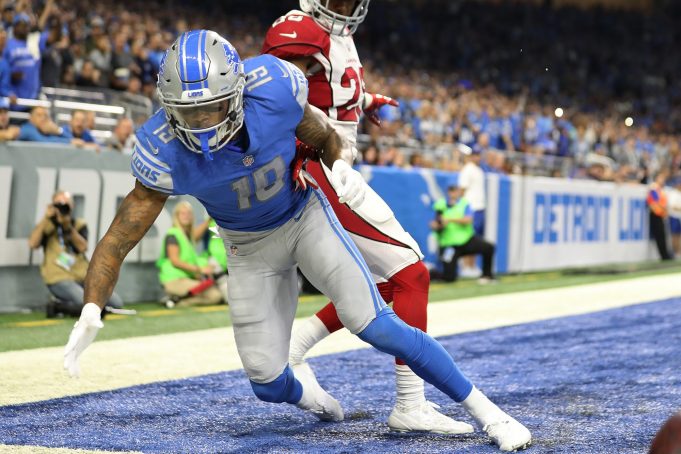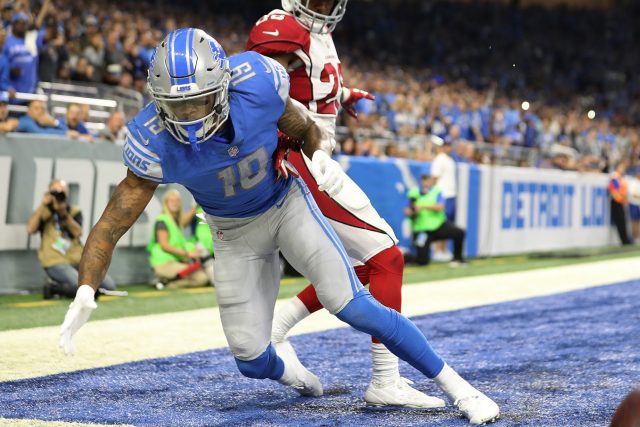 Kenny Golladay, Wide Receiver, Detroit Lions
(Owned in 7.8 percent of ESPN leagues)
There was a lot of hype surrounding Kenny Golladay in the preseason and his Week 1 performance showed why. What Golladay has going for him is that the Lions throw the ball more than almost any other team in the NFL. They use three-receiver sets often which will keep him on the field.
Out of all the free agent wire pickups this week, Golladay has the best chance to be relevant all season. It wouldn't surprise me if he took over the number two receiver job and continue to be a WR3 in fantasy terms. I would make Golladay my top waiver wire addition because I believe he is the most talented and he can finish the year in the top 25 at his position. The Lions offense can have two top 25 receivers this season.
(Owned in 7.5 percent of ESPN leagues)
There was some chatter about how much the Chicago Bears front office liked Tarik Cohen in the preseason but there was no way he would take touches away from Jordan Howard, right?
Before everyone gets out of control and assumes he is the new starting running back in Chicago look at the stat line. He only had five carries but he was targeted in the passing game 12 times and had eight catches. The Bears will use him in the slot and mainly use him as a pass catcher.
We've already talked about how the Bears have no healthy wide receivers. Mike Glennon will dink and donk to the running back and slot receivers all year and Cohen seems to be the one to benefit from it.
He is a must add this week, especially for Jordan Howard owners. But remember, he only rushed the ball five times. That's not a big enough number to be a reliable fantasy starter every week unless Howard goes down with an injury.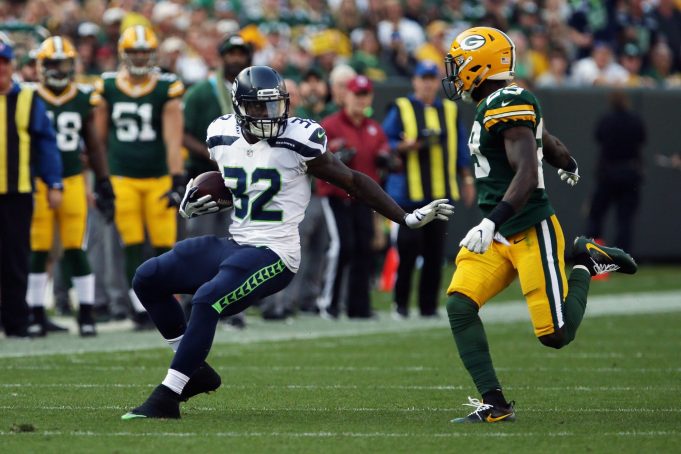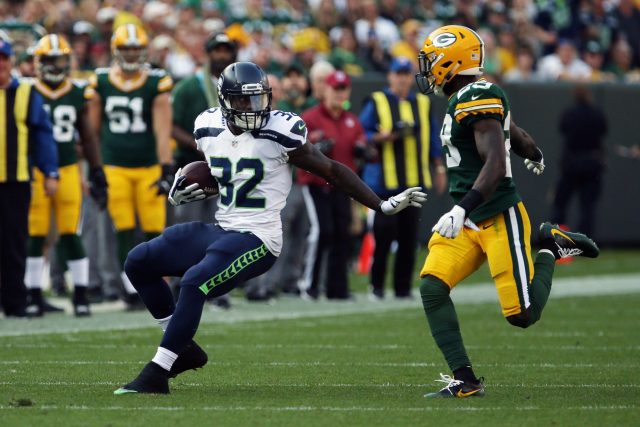 (Owned in 4.6 percent of ESPN leagues)
Chris Carson got the most snaps among Seattle running backs on Sunday (27), so it's not a surprise that he finished with the most yards. Eddie Lacy had just seven snaps and C.J. Prosise had 15.
This backfield is a mess but those numbers tell me that the coaching staff likes Carson the most. Once Thomas Rawls comes back from injury they will give him a shot, but if he doesn't perform then Carson can keep the starting gig. If you are looking for a dart throw who can help you later in the season, Carson would be a good add now.
Allen Hurns, Wide Receiver, Jacksonville Jaguars
(Owned in 1.3 percent of ESPN leagues)
With the season-ending ACL injury to Allen Robinson, Allen Hurns will step in as the Jaguars number one receiver. Blake Bortles is bad but he has produced good fantasy numbers in the last two seasons and Hurns will get a big bump in targets. I wouldn't feel comfortable starting him every week but in the right matchup he can have big games.
This is an offense that wants to run the ball and that will hurt the remaining pass catchers for the Jaguars. If you miss out on Kupp or Golladay then Hurns is a good consolation prize. Even a number one receiver on a bad team will give you decent fantasy numbers when you are hurting for bodies on bye weeks.