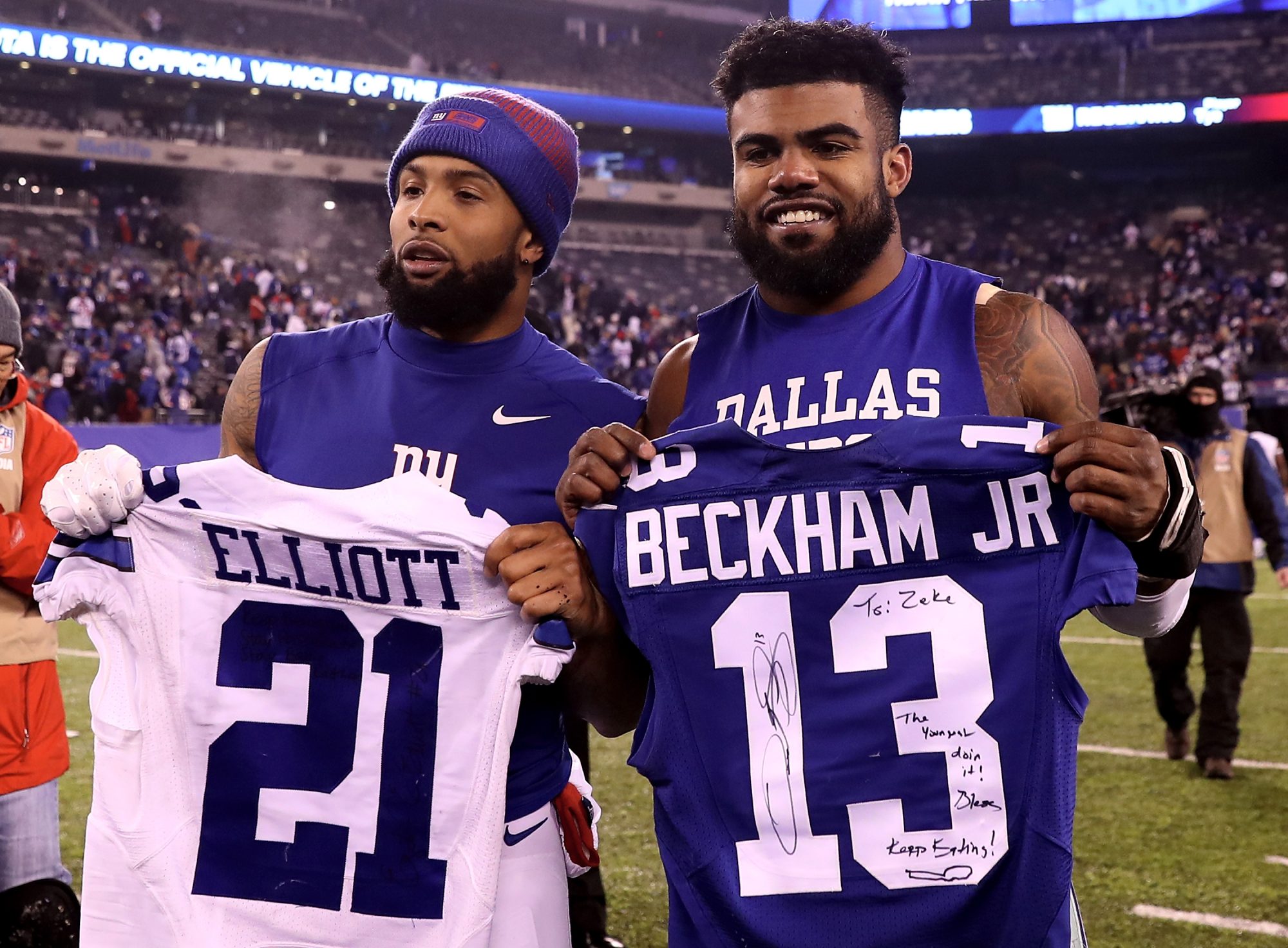 Football is here, which means it's time for some bold predictions about the 111th meeting between the New York Giants and Dallas Cowboys.
The New York Giants and Dallas Cowboys have played 110 times since 1960. Dallas leads the series, 62-46-2, but New York has won the last three meetings. Sunday night, Big Blue will make it four in a row.
But predicting a New York Giants win over the Dallas Cowboys isn't the bold prediction we're talking about. No, we've got bigger statements to make.
Maybe this isn't such a bold prediction considering how ineffective Bryant was against the Giants last year. In two games, he caught just two of 14 targets for 18 yards, losing a fumble in the process.
Cowboys fans and Bryant apologists will point to the fact that he had a rookie quarterback under center in Dak Prescott, or that he was never really healthy, as reasons why he was so ineffective.
Realists point to one man—Giants All-Pro cornerback Janoris Jenkins—as the reason.
Not only will Jenkins be shadowing Bryant once again Sunday night, but he's in the receiver's head. Back in April, Bryant responded to a two-month old story from NJ.com's Dan Duggan saying that he was going to "embarrass" Jenkins in their next matchup.
The only one embarrassed by the whole thing was Bryant, who ultimately deleted his original post before putting this out to the world.
I jumped the gun on my last tweet.. I thought it was recent & thought he kept going on about it ..I'm still looking forward to our battle

— Dez Bryant (@DezBryant) April 21, 2017
More recently, Bryant has tried downplaying the matchup.
"It really don't matter anymore," Bryant said following practice Friday, per Zach Braziller of the New York Post. "It's a brand new season." Problem is, he forgot to mention that to his quarterback. "I just know that makes Dez hungry," Prescott told reporters, including Braziller, on Wednesday after practice. "[Bryant] is ready to go, ready for this matchup."
Whether or not Bryant is wearing a chip on his shoulder is largely irrelevant. He's yet to prove he can beat Jenkins in a Giants uniform. There's no reason to believe that's going to change on Sunday night.
Eli Manning Will Throw For 300 Yards With Or Without OBJ
Only eight times in 25 regular season games against Dallas has Eli Manning cracked the 300-yard mark. He last accomplished the feat in 2014, throwing for 338 yards in a 31-28 loss at MetLife Stadium.
And there might not be a bigger question heading into the game than the status of Giants star wide receiver Odell Beckham Jr., who continues to be hampered by a preseason ankle injury.
So how can anyone possibly think, much less say, that Eli will throw for 300 yards Sunday night? Because Dallas' secondary isn't very good.
Gone are veterans Morris Claiborne and Barry Church, replaced by Anthony Brown and Byron Jones. Orlando Scandrick and Jeff Heath, the only holdovers from Dallas' starting secondary a year ago, are mediocre at best.
Sure, there's a lot of young talent in the defensive backfield—Jourdan Lewis and Chidobe Awuzie especially—but both are still incredibly raw.
Do you know what you get when you add mediocre veterans with inexperienced rookies and ask them to stop a future Hall of Fame quarterback? A recipe for disaster.
If OBJ doesn't play, Manning will still have Brandon Marshall, Evan Engram, Sterling Shepard and yes, even running back Shane Vereen, who can give that secondary fits, as targets. If OBJ does play—even if he's nothing more than a decoy? Fuhgeddaboudit.
The Defense Will Back Up Ben McAdoo's Words
Everyone knows what 10 words I'm talking about.
Giants were never phased by Elliot's status for week 1, Ben McAdoo earlier this week: "All backs run the same when there's nowhere to run"

— Justine Ward (@JustineBWard) September 6, 2017
"All backs run the same when there's nowhere to run."
Now anyone who has ever watched football, much less played running back, knows that technically, McAdoo's statement is incorrect. Running backs react differently when faced with defenders in their face, plugging the holes they're hoping to run through.
But in a broader sense, he's spot on. Running backs that have nowhere to run all run the same way—nowhere. And this Giants defense was adept at forcing backs to do just that last season, holding opponents to the third-lowest average rushing yards per game.
Nobody disputes that Ezekiel Elliott is one of the premier backs in the league, running behind—arguably—the best offensive line money can buy. Stopping him isn't going to be easy.
But this Giants defense might actually be better than it was a year ago.
B.J. Goodson looks like the team's best middle linebacker since Antonio Pierce. Dalvin Tomlinson, the replacement for Jonathan Hankins, was one of the premier run stoppers in the 2017 NFL draft. With the rest of the unit intact, Elliott isn't going to find many holes.