With opening night just hours away, here are five lingering questions the New York Giants will need to answer.
S
unday night is nearly here. The New York Giants and Dallas Cowboys will duel it out on the national spotlight. But before they do so, head coach, Ben McAdoo, and Big Blue have five nagging questions to answer.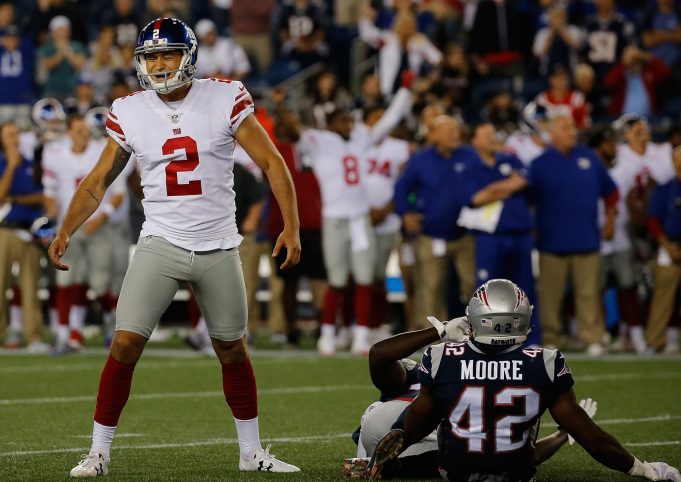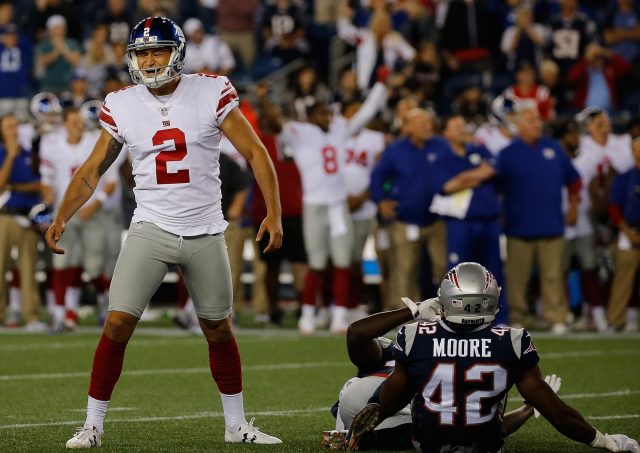 Can Aldrick Rosas Be the Giants Franchise Leg?
Ever since 2005, the Giants have seen seven different kickers (Jay Feeley, Lawrence Tynes, John Carney, Shayne Graham, Josh Brown, Randy Bullock, Robbie Gould). Can the second-year, Aldrick Rosas, become number eight?
Opting not to bring back Gould or pursue a kicker early on in free agency, the Giants have shown that they're putting their faith in Rosas. And in the preseason, he showed why.
Going 8-8 on field goals attempts and 6-6 on extra points in preseason play, Rosas gave the Giants reason to build up the notion that he can be their 2017 kicker. Last week, he also nailed a 48-yarder to win the game at the end of regulation.
Of course, Sunday night and the Giants ensuing 15 affairs will be an entirely different story than the preseason. So will Rosas be able to grow into the Giants kicker of the future or at least the foreseeable one? Sunday night will give them a first impression on whether or not he's capable of doing so.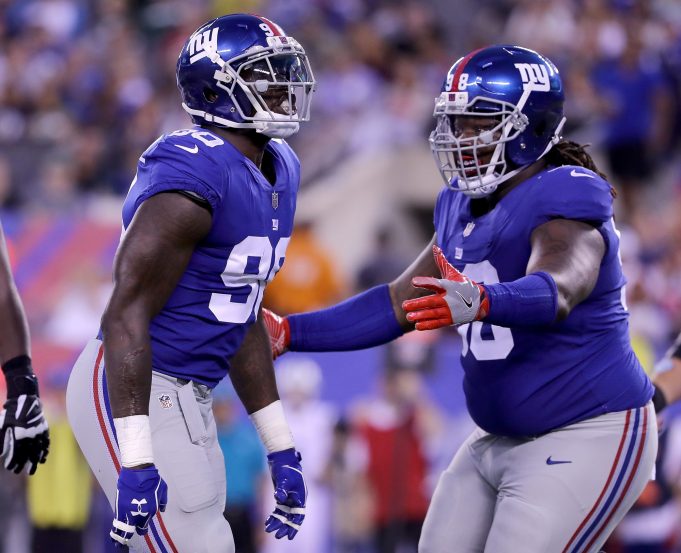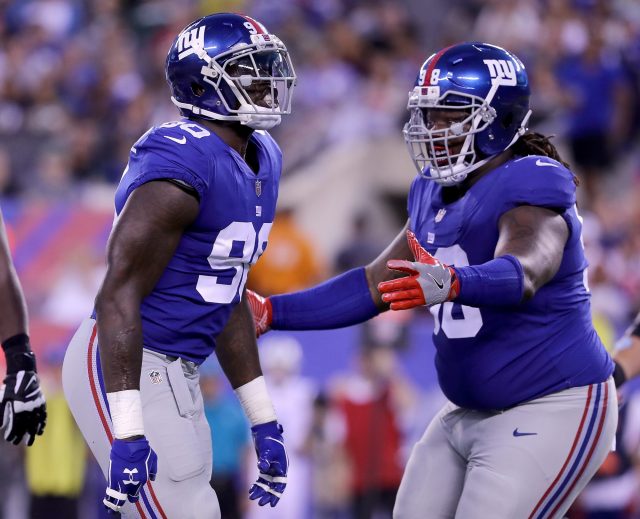 Can The D-Line Contain The Cowboys Run Game?
After a dramatic turn of events, Cowboys running back, Ezekiel Elliot will play Sunday night. And in doing so will present a massive challenge for Big Blue's defensive line.
As a result of the stellar and towering offensive line, the Cowboys have present — Tyron Smith, Zach Martin, La'el Collins, etc. — Elliot is the beneficiary. Rushing for 1,631 yards, to go along with 15 touchdowns, Elliot's line helped him put forth a remarkable and historic rookie season. Now going into his sophomore year, Elliot and company will be hungrier than ever to improve even more on the dominant run game they possessed last year.
But the Giants defensive line is built to withstand that run game. With Jason Pierre-Paul and Olivier Vernon on the outside and run stomper, Damon Harrison, clogging up the middle, the Giants possess a D-Line adept at stopping the run. In fact, they were tied for third in the NFL last season in rushing yards per game.
Going up against what's proclaimed as the NFL's best O-Line and run game, Steve Spagnuolo's defensive line will be put to the test. Will they answer the call?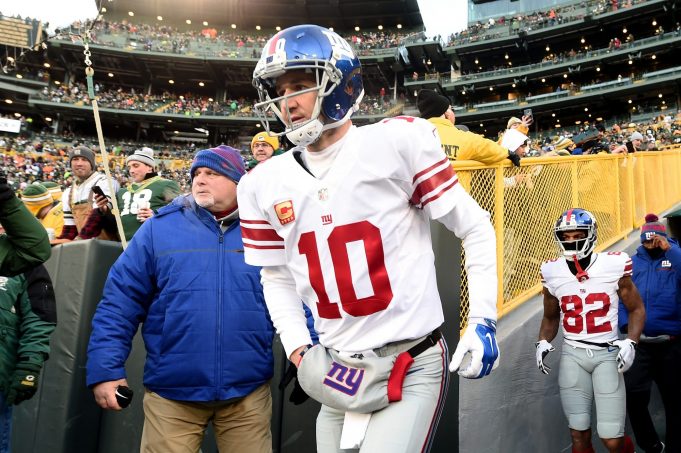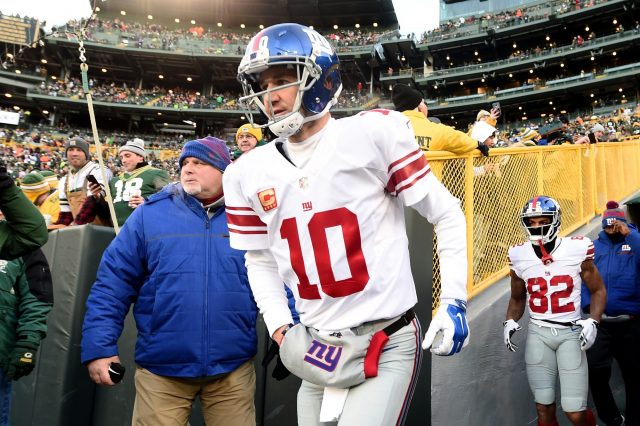 Will Eli Manning Bounce Back?
It's no secret that Eli Manning didn't play at the elite level the Giants are accustomed to last season.
Throwing for just 4,027 yards and 26 touchdowns, while posting an 86.0 quarterback rating, Manning produced at a mediocre level in 2016. While his offensive line can very well take a lot of the blame for his struggles, they can only take so much.
While he wasn't terrible, Manning put the ball in harm's way all too often and found himself forcing passes to his partner in crime — Odell Beckham Jr. While he wasn't granted an overwhelming amount of time to operate, Manning's decision making was questionable even when given that time.
The reality is that if the Giants are going to win their third Super Bowl since the turn of the century, they'll need Manning to play at a high-level — no matter the weapons he has around him (Beckham, Brandon Marshall, Sterling Shepard, Evan Engram).
But will the 36-year-old quarterback be able to execute and put forth a Pro Bowl year?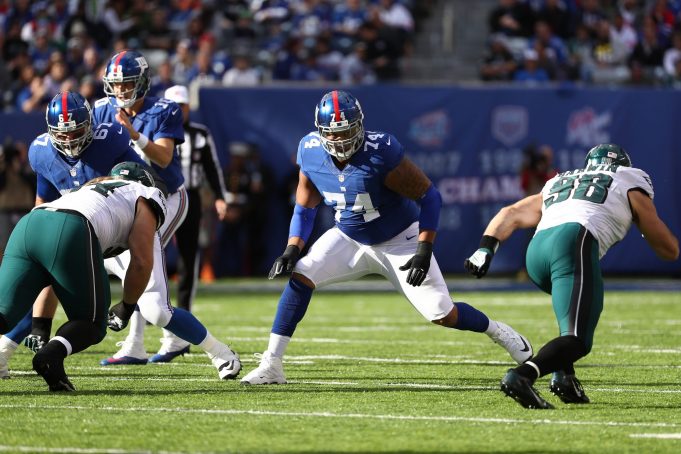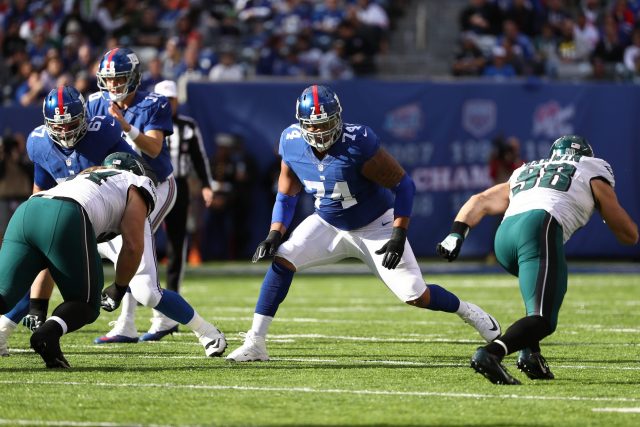 Will The O-Line Hold Its Own?
Last year, Manning was not himself and his O-Line was a big reason for it. But the line cannot take all the blame for Manning's up and down play, though, they can take the heat for their inconsistent run game.
Generated by the lackluster play of their line, the Giants running game was unable to operate with any consistency. Rushing for the fourth fewest yards in the league, their inability to push the pile was a clear weakness.
With Ereck Flowers and Bobby Hart struggling to hold their ground on the outside, John Jerry getting moved around on the inside and Justin Pugh enduring a midseason knee injury, the Giants O-Line was a collective liability; center, Weston Richburg, was their line's lone bright spot.
Overall, this line needs to come together and help spark a consistent or reliable run game. And while they cannot solely take the blame for his struggles, that core must protect Manning when he drops back. If they don't do either, the Giants offense could be in a heap of trouble.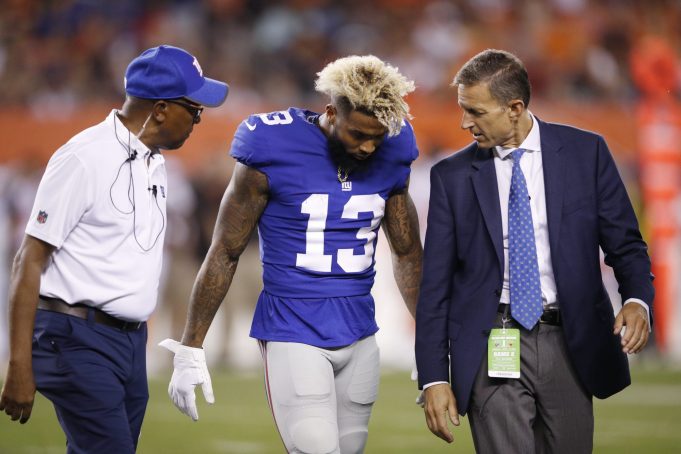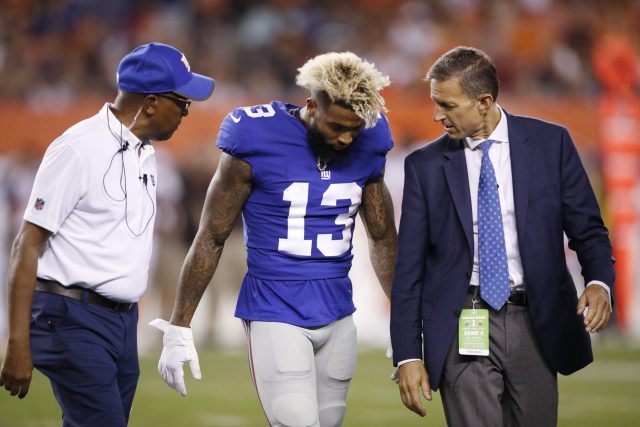 How is Odell Beckham's Ankle?
The most worrying and nagging question pertaining to the Giants as they head to "Big D" is Beckham's health.
After suffering a nasty ankle sprain in their second preseason game versus the Cleveland Browns, Beckham has not fully appeared in a practice. With the Cowboys waiting on Sunday night, he's listed as "questionable".
It's no secret that Beckham's health makes or breaks the Giants hopes. While it doesn't appear as if his injury is a long-term concern, Sunday night is an immense game for the Giants — to say the least.
If Beckham is not present when the Giants face off with Dallas, their offense will heavily rely on Marshall and Shepard, yes, but the run game will be critical. And with the unsteady line present, it's anyone's guess as to how that would fare. Nevertheless, Beckham's health could be the deciding factor in whether the Giants beat their division rivals a fourth consecutive time or drop their season opener.