Everyone can use a little advice before they enter any daily fantasy football lineups for Week 1 of the NFL season.
Daily fantasy football is finally back! Over the last couple of years, I have learned a lot about daily fantasy sports. I wish I knew these things before but I do now and I want to share with you what has helped me have success in DFS.
Before you make any lineups this weekend, read these guidelines first and prepare your team after. Good luck to everyone.
Don't Enter Unlimited Entry Tournaments
This is important because whenever you see a tournament and there's no limit on how many times you can enter it, you are dead in the water. Pros will put anywhere from 25-to-50 lineups in that contest and they will have every type of combination possible. I started to have more success last year when I only entered three max tournaments or single entry tournaments. This puts you on an equal playing field with the rest of the players. The prize pools are smaller but it gives us a better chance to win.
Stack Your Starting Quarterback With a Wide Receiver
When I first started out I never stacked my quarterback with a wide receiver. After every tournament, I would look at the top rosters and every single one had a QB/WR or QB/TE stack. This is important because it can give you a lot of points in a hurry. The hardest part is figuring out which receiver to stack with your QB, but when you get that stack correct, you have a great chance to win money that week.
Play the Matchups
This one sounds obvious but I see many times when people play the wrong player based on the matchup. For example, Dez Bryant ($7,500 on DraftKings) this week is playing against the New York Giants and Amari Cooper ($7,200 on DK) is going against the Tennessee Titans.
A lot of rookie players will play Dez because he is a bigger name. Last season Dez was held to two catches for 14 yards in two games against the Giants. The Giants secondary is no joke. Cooper is going against a weak Titans secondary. Playing Dez over Amari can be the difference between not cashing this week to making a run at winning your tournament.
Decide If You Are A Cash Game Or Tournament Player
Cash games consist of 50/50's and head-to-head contests. In these types of games, you aren't trying to score 250 points or more, which is what you need to win a big tournament. In 50/50's you just need to beat half the field. You go with players who will get you consistent points and won't have a bad game, the "safe" plays.
In tournaments, you need to get a little crazy. You need over 200 points to win and most weeks its around 225. You need low-owned players to have career days and the rest of your lineup needs to outperform their salary. If you go back and look at the winning lineups, there are plays that you look at and they make you wonder why they played that player. This is where the pro players make their money because they can enter multiple lineups and have every combination of player possible.
Knowing what kind of player you are is important to making money on daily sites. If you only want to play a handful of lineups with safe plays, play only cash games. You won't get rich overnight but you can build up a bankroll slowly. If you want to get rich now and enter multiple lineups, then you are a tournament player. One of the biggest mistakes I see are cash players putting cash lineups in a tournament. You aren't giving yourself a chance to win. Know who you are and play to your strengths.
Have Fun
If you are stressing out every week about your lineups because you don't have the money to play DFS, then don't play. This is supposed to be fun and make watching football more entertaining. Put some lineups together, watch football for eight hours on Sunday and enjoy what you are doing. If you are stressing out and not having fun, it's time to stop playing daily.
Position-By-Position Picks
(All listed salaries courtesy of DraftKings)
Quarterback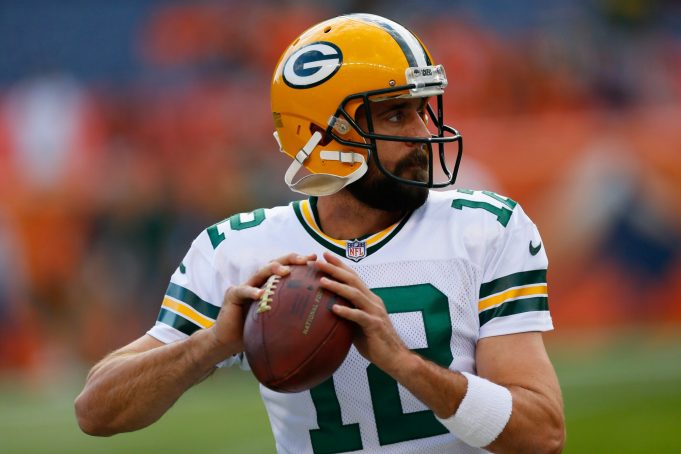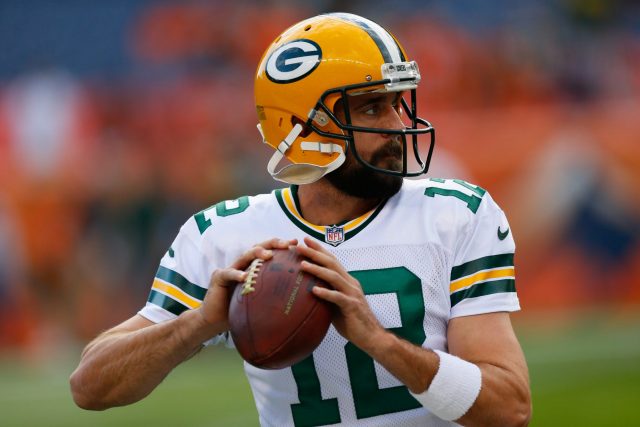 Aaron Rodgers, Green Bay Packers ($7,000) vs. Seattle Seahawks
If you are going to pay up at quarterback in Week 1, it needs to be for Aaron Rodgers. The matchup will scare players away but Rodgers had good success against the same defense last year. He threw for 246 yards and three touchdowns on a season-low 23 pass attempts. If this game was in Seattle I would stay away but at home, Rodgers is money in the bank.
To win in daily fantasy you need to go against the field and pick players most will be avoiding. On most weeks, I will be avoiding using quarterbacks vs. Seattle's defense but not this week. Not only will Rodgers score points with his arms but his legs are an underrated part of his game.
He has the highest floor for any quarterback every week. Personally, I am stacking him with Davante Adams ($5,200) which is another way to differentiate your lineup from others.
Jared Goff, Los Angeles Rams ($4,800) vs. Indianapolis Colts
Before you completely ignore Jared Goff, it is important to look at the defense he is playing against. The Colts gave up the sixth-most passing yards, allowed the 10th most touchdowns and had the third-fewest interceptions in 2016. What hurts the defense, even more, is they will be without their top cornerback, Vontae Davis.
Goff also has Sammy Watkins which is a big upgrade from what they had on the roster at wide receiver last season. His price tag is too low for a starting quarterback in this good of a matchup. He is cheaper than Eddie Lacy, Danny Woodhead and is the same price as Kenny Britt—two backup running backs and a receiver on one of the worst teams in the NFL.
I am predicting Goff goes for 250 yards and two touchdowns. At his price, that is returning great value and puts you in a great spot to win this week. His low salary opens a lot of money for your roster to add more studs in your lineup.
Running Back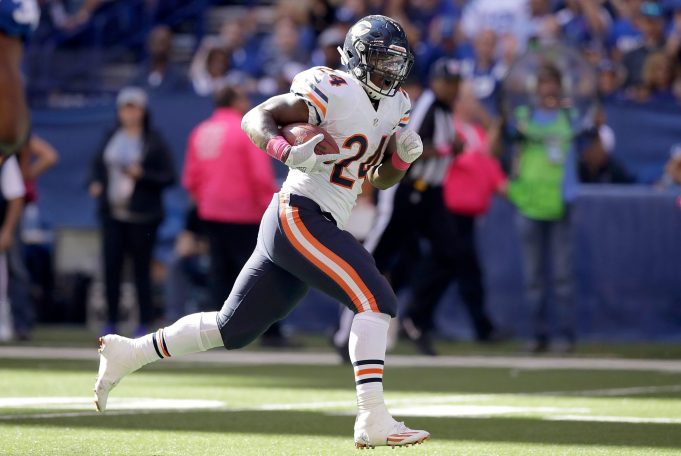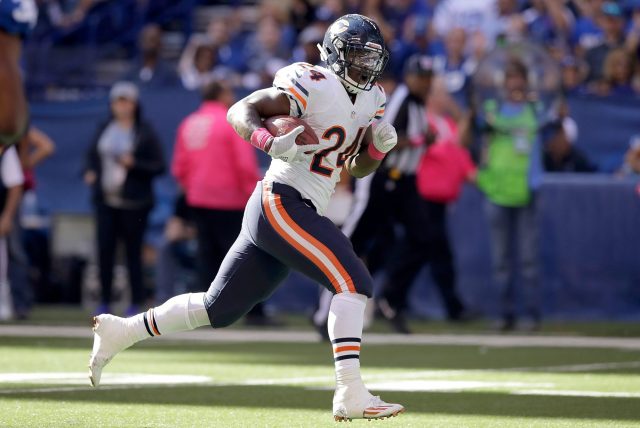 Jordan Howard, Chicago Bears ($6,300) vs. Atlanta Falcons
Jordan Howard has a great matchup against the Falcons this week. He has no competition behind him and will be more involved in the passing game this year. In daily you are looking for opportunity and a weak defense to attack, Howard has both this week. He averaged 16.8 DK points a game last year and at $6,300 he will return great value.
Todd Gurley, Los Angeles Rams ($6,000) vs. Indianapolis Colts
Todd Gurley is one of the few backs in the league who has the starting job all to himself. He will receive a heavy workload against a bad Indianapolis Colts defense. The Colts defense allowed 120 rushing yards per game last year and gave up the third-most yards per carry in 2016. Gurley hits the trifecta this week for fantasy running backs: elite talent, heavy workload and he is going against a bad defense. If you are making multiple lineups this weekend, Gurley needs to be in most of them.
Bilal Powell, New York Jets ($4,900) vs Buffalo Bills
Matt Forte is listed as the New York Jets No. 1 running back on the depth chart but Powell will be heavily involved in the game plan. He will be targeted in the passing attack and I am predicting over 100 total yards. He is too cheap to ignore and with Powell being second on the depth chart, that will lower his ownership.
Wide Receiver
A.J. Green, Cincinnati Bengals ($8,000) vs. Baltimore Ravens
Green has owned the Baltimore Ravens in his career. Over his last five games against Baltimore he has averaged six receptions on 10 targets, 120 receiving yards and scored six touchdowns (24 PPR scoring points per game). Andy Dalton will target Green early and often on Sunday. If I had to bet on who would score the most fantasy points this week at wide receiver, I would put my money on A.J. Green.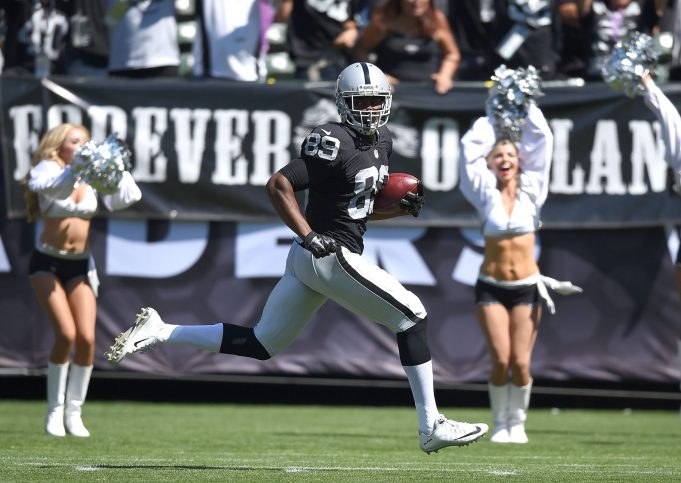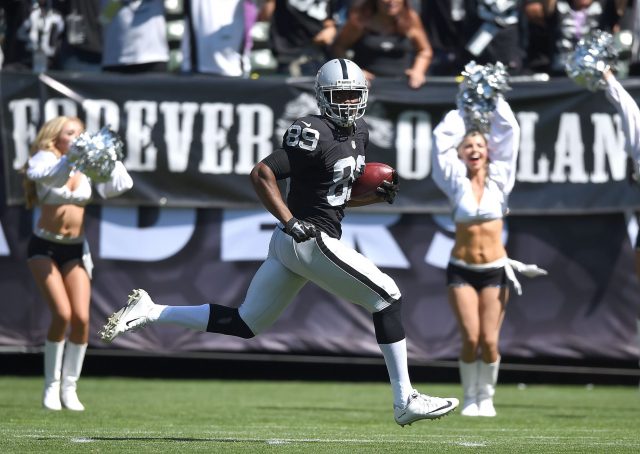 Amari Cooper, Oakland Raiders ($7,200) @ Tennessee Titans
A great stack this week will be Derek Carr ($6,700) and Amari Cooper. The Titans strength on defense is against the run and their secondary gave up the second-most fantasy points to wide receivers last year. The Raiders have said they want to get him the ball more this year. This is a dream matchup for Cooper.
Larry Fitzgerald, Arizona Cardinals ($5,900) @ Detroit Lions
Larry Fitzgerald is going to have a big day in PPR scoring. The Detroit Lions secondary and slot corners are not good. Fitz will do most of his damage in the slot and there is no corner back on the team that can stop him. The Lions will focus on stopping David Johnson and, with a healthy John Brown, the middle of the field will be wide open for him. A Carson Palmer ($6,000) and Larry Fitzgerald stack will be a great way to get exposure to this game where I believe the Cardinals will put up over 30 points easily.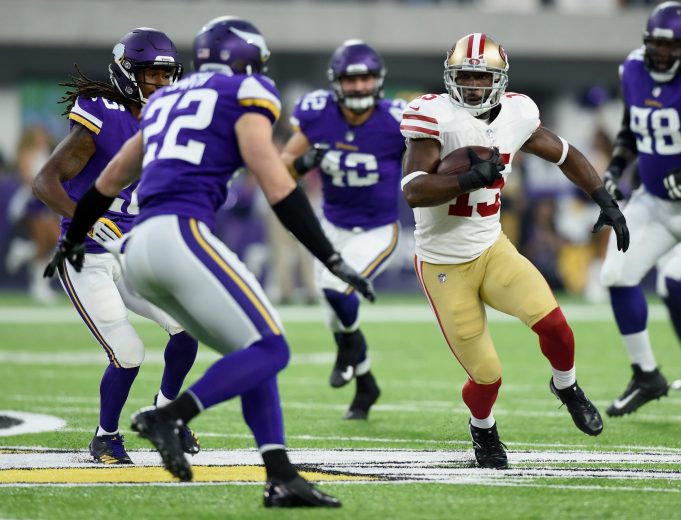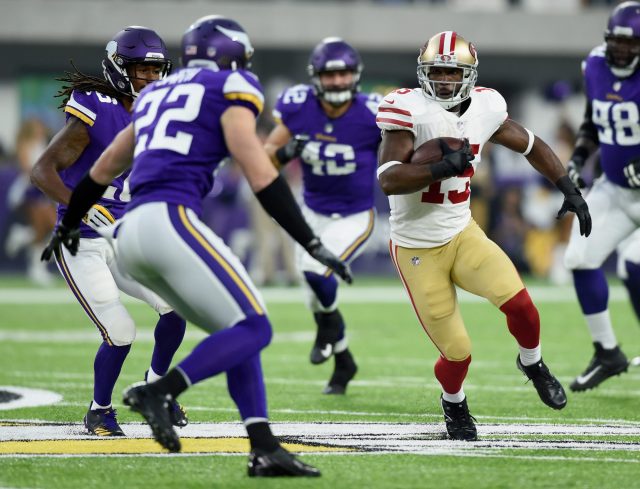 Pierre Garcon, San Francisco 49ers ($5,300) vs. Carolina Panthers
Pierre Garcon will have a big game and year in Kyle Shanahan's new offense. The No. 1 receiver in Shanahan's offense tend to have career years. The last time Garcon was in Shanahan's offense he lead the league in receptions. In PPR scoring you want targets and receptions and Garcon will get both this week. Brian Hoyer isn't great but he can get the ball to Garcon enough to have a good fantasy day.
Tight End
Zach Ertz, Philadelphia Eagles ($3,500) @ Washington Redskins
Zach Ertz is the only tight end that I am paying for on Sunday. The Redskins gave up the third-most fantasy points to tight ends last year. Josh Norman will be shadowing Alshon Jeffrey all game which is great for Ertz. He will be Carson Wentz's go-to target this year and the last game he played against Washington, Ertz had 10 receptions to go with 112 receiving yards.
Defenses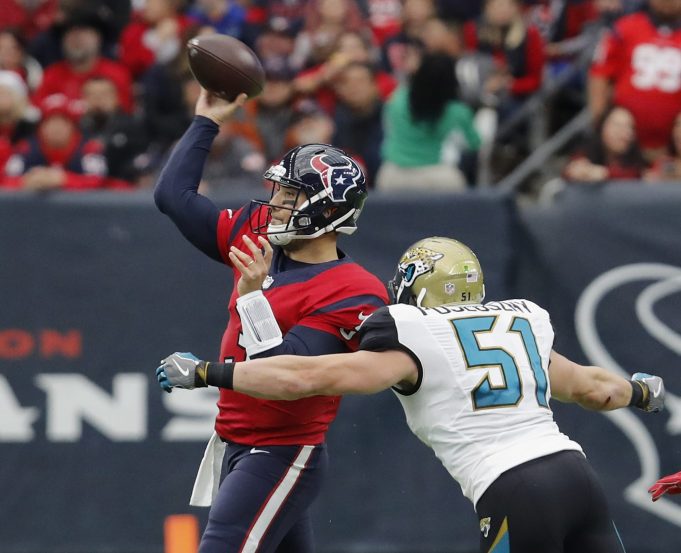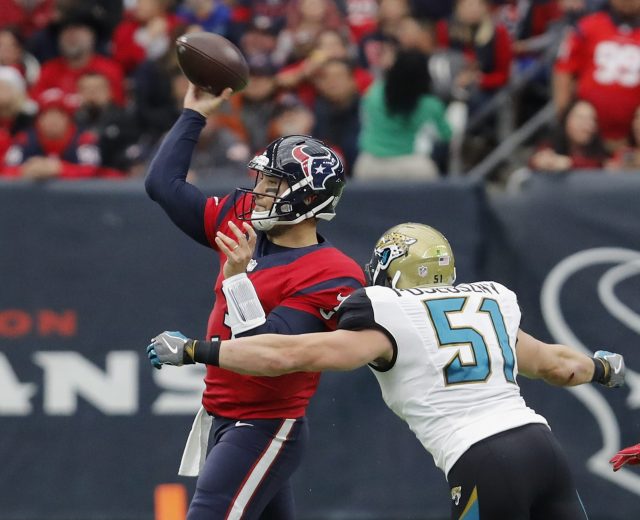 Jacksonville Jaguars ($3,700) @ Houston Texans
Jacksonville's defense is finally healthy. This will be an underrated unit all year and now they will face Tom Savage. Savage threw 73 passes last year, none of them went for a touchdown. They will stack the box and Houston will have a hard time moving the ball. This can be a big game for Jacksonville's defense.
Pittsburgh Steelers ($3,600) @ Cleveland Browns
Pittsburgh's defense isn't a top unit in football but the Browns are that bad. To make things worse, Joe Haden is now a member of the Steelers and he knows the Browns playbook well. I don't see Cleveland scoring more than 14 points and if they do there will be a couple of turnovers mixed in there. A rookie quarterback versus a veteran defense is a nightmare scenario for Cleveland.