With another preseason in the books for the New York Giants, there's only one thing left to do: Pick the All-Preseason Team.
The New York Giants may have finished the preseason with a mediocre 2-2 record, but there were some standout performances that deserve recognition.
That the Giants finished .500 while playing without star receivers Odell Beckham Jr. and Brandon Marshall most of the time is impressive in itself.
It's true that preseason success doesn't always translate into success in the regular season—just ask 2014 preseason standout Corey Washington. But sometimes it does. Remember Victor Cruz in 2010?
With that being said, let's take a look at the 2017 New York Giants all-preseason team.
Offense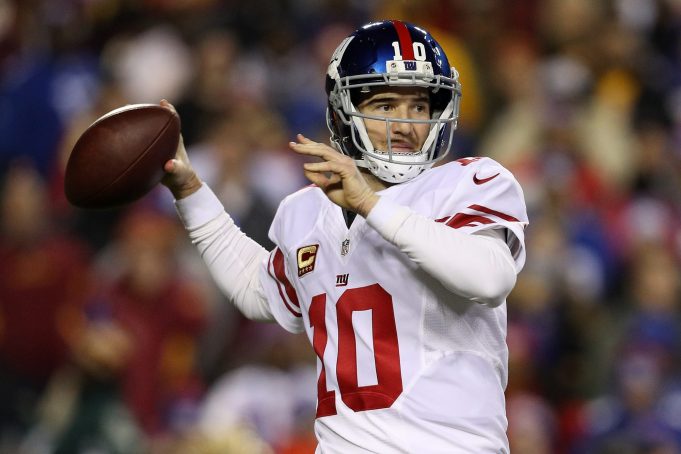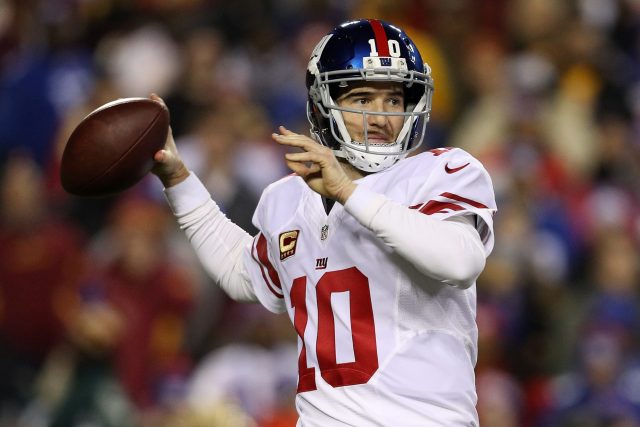 Yes, Eli only appeared in two preseason games and produced mixed results. He completed 17-of-24 passes for 201 yards and threw an interception. However, his backups did not fare much better until the final preseason game.
Other than that lone interception, he did a good job of taking care of the football. One could tell the difference in the offense when Eli was in the game compared to the other backups. The former Ole Miss Rebel is able to command the group and move down the field with much more ease than his backups.
If we learned anything, it's that Giants fans better hope Eli can continue his streak of consecutive games started.
It appears as though the former undrafted free agent out of Tulane is finally getting his due.
After a few seasons of receiving minimal carries behind Rashad Jennings and others, Darkwa has finally locked himself into the running back committee.
In the final preseason game, the running back was able to assert his dominance over New England's second-and-third-string defense, carrying the ball six times for 40 yards.
Darkwa flashes some of the best vision out of the Giants backfield. That said, don't be surprised if rookie Wayne Gallman starts stealing some of Darkwa's touches by the end of the season.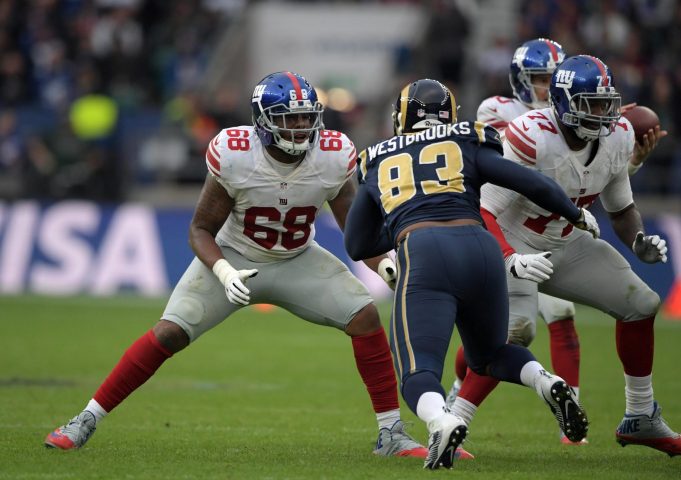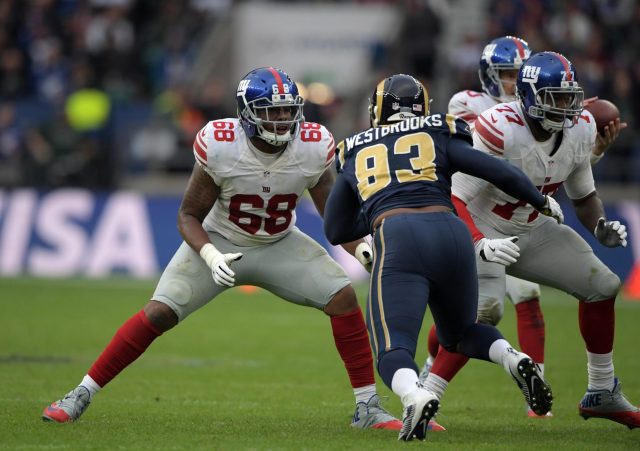 Heading into the offseason, there was little doubt that the New York Giants had one of the worst tackle tandems in the league with Bobby Hart and Ereck Flowers. Despite this, general manager Jerry Reese kept faith in his young tandem and didn't make any major acquisitions to challenge the pair. So far, it appears as though putting confidence in Bobby Hart is already paying dividends.
So far, it appears as though putting his faith in Hart is already paying dividends.
RT Bobby Hart has yet to allow a pressure on 49 pass blocks.

81.2 overall grade ranked 2nd among all tackles on the week. #Giants pic.twitter.com/QuBQSbmSsF

— Ryan Smith (@PFF_Smith) August 28, 2017
The difference is already night and day compared to Hart's nightmarish 2016 season. It's crucial to the Giants season that Hart continue to build on that strong showing. After all, it appears he'll be faced with the daunting task of blocking Denver's Von Miller in Week 6.
Interior Offensive Line: Brett Jones
A former standout player in the Canadian Football League, Jones has up to this point been a backup lineman for the Giants. A center by trade, the versatile 26-year-old showed during the preseason that he can play wherever he's needed on the line.
With right guard John Jerry struggling against the New York Jets, Jones replaced him and held his own against the opposition's No. 1 defensive unit. Don't be surprised if he winds up replacing Jerry early in the season.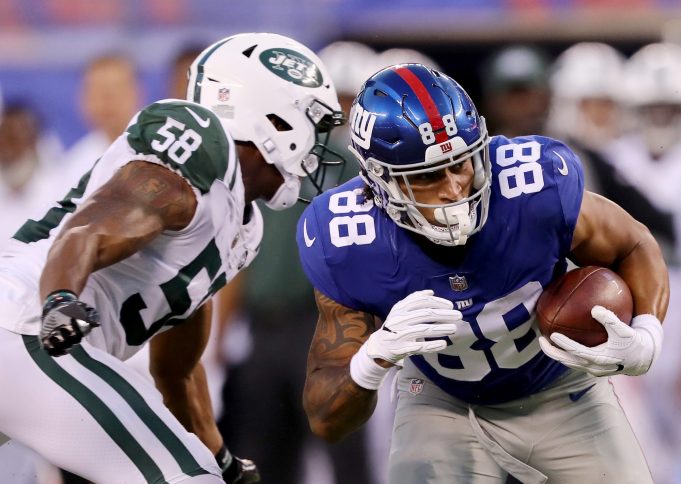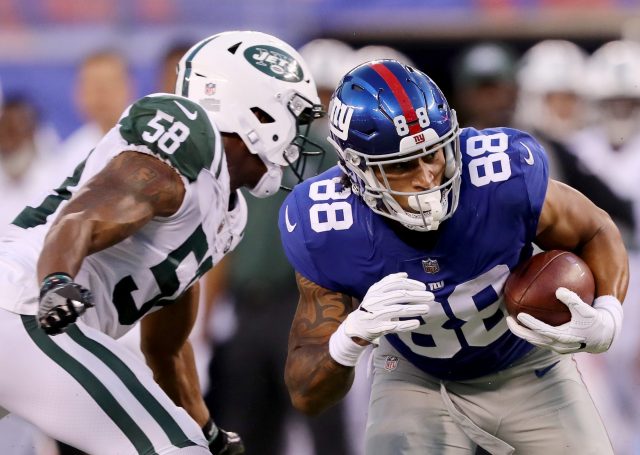 Tight End: Evan EngramNot since Jeremy Shockey have the Giants had a player as explosive as Engram at tight end. It may only be the preseason, but so far the rookie has yet to disappoint.
According to Pro Football Focus, Engram graded out as the best tight end selected in the first round of the 2017 NFL Draft through three preseason games. Not only was his 76.9 grade tops in the class, but so was his 1.67 yards run per route.
How the 1st round rookie tight ends have stacked up so far pic.twitter.com/Bvy6QuH6CI

— Pro Football Focus (@PFF) August 31, 2017
For comparison, Will Tye, who has been the go-to guy at tight end over the past two seasons, posted an average grade of 45.9, more than 30 points below Engram's mark.
Coming out of Ole MIss, the biggest knock on the Engram was his blocking ability—and whether he was willing to do the dirty work at all. So far, he's not only been a willing blocker but an upgrade over what the team has gotten at the position recently.
Matt LaCosse has also been very impressive in the preseason and his performance against the Patriots in the final preseason game probably landed him a roster spot.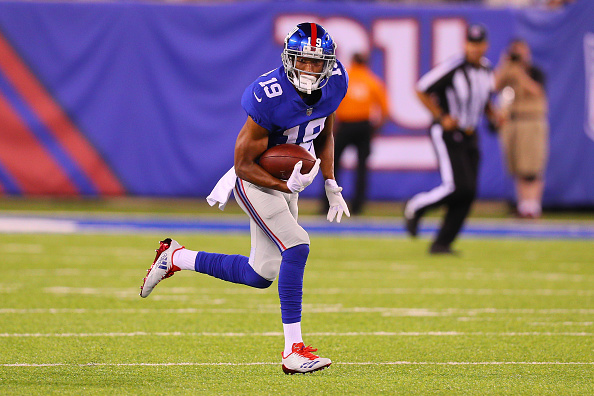 As an undrafted free agent, the former Florida State Seminole faces an uphill battle to make the 53 man roster. With that on his mind, Rudolph has balled out in the preseason.
He showcased his big play ability against the New York Jets with a 57-yard catch-and-run. Rudolph wound up leading the team in receiving that day, finishing with three catches for 81 yards against the crosstown rival.
https://www.youtube.com/watch?v=880WxeMkqWY
In his encore against the Patriots, he proved that his performance the prior week was not a fluke. Rudolph finished the preseason finale with three catches for 46 yards. He hasn't cracked the starting lineup, but he's made the team as a fifth or sixth wideout.
Defense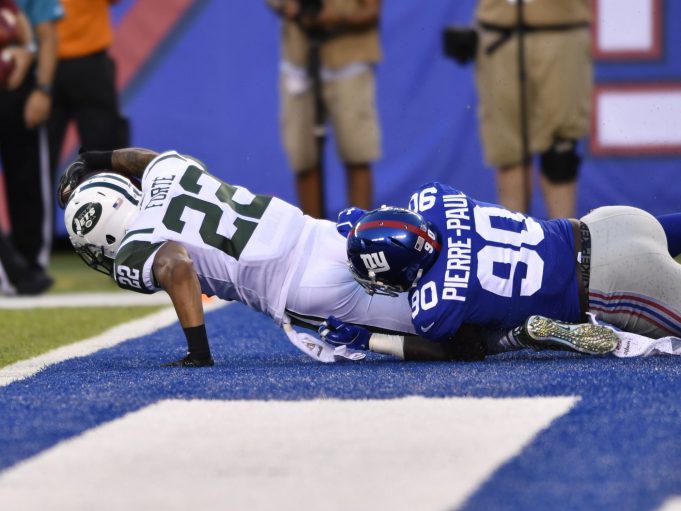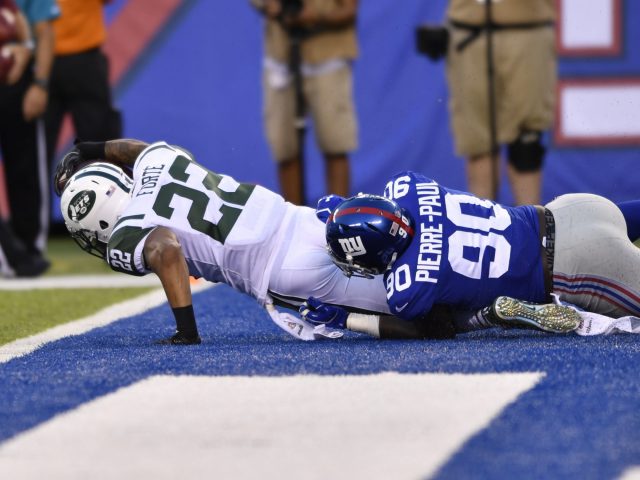 Fresh off signing a monster four-year, $62 million extension, JPP is already looking like he is worth every penny. In limited action, he finished the preseason with five tackles, one-and-a-half-sacks as well as an interception.
His performance is even more promising knowing that the defensive end is coming off of sports hernia surgery. Hopefully, his dominant preseason will lead to another Pro Bowl-caliber season with the Giants.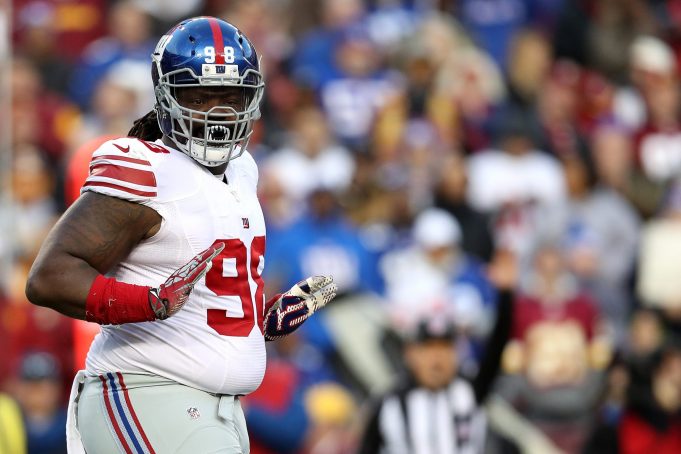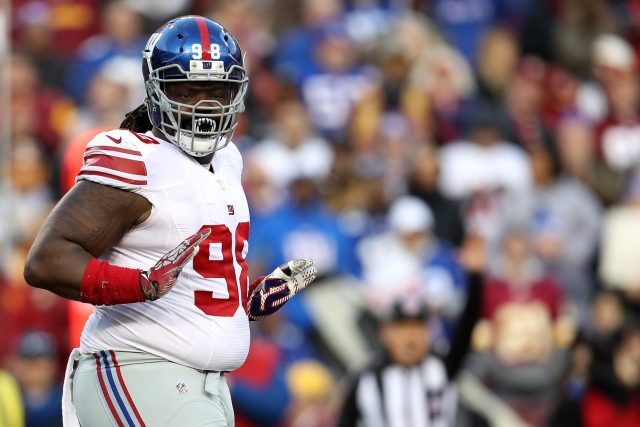 While Damon "Snacks" Harrison has been an absolute force in the running game, he has only recorded four career sacks in 69 career games.
But things seem to have changed, as "Snacks' has been feasting on quarterbacks this preseason. Check out these stats.
DT Damon Harrison (83.6 overall grade) had 3 pressures in just 10 pass rushes.

In 2016, he had just 20 pressures on 331 pass rushes.

— Ryan Smith (@PFF_Smith) August 29, 2017
Consider this: Without rushing the passer, Harrison was still selected as an AP First Team All-Pro in 2016. If he's expanded his game to apply more pressure on the QB, who knows how good he can be?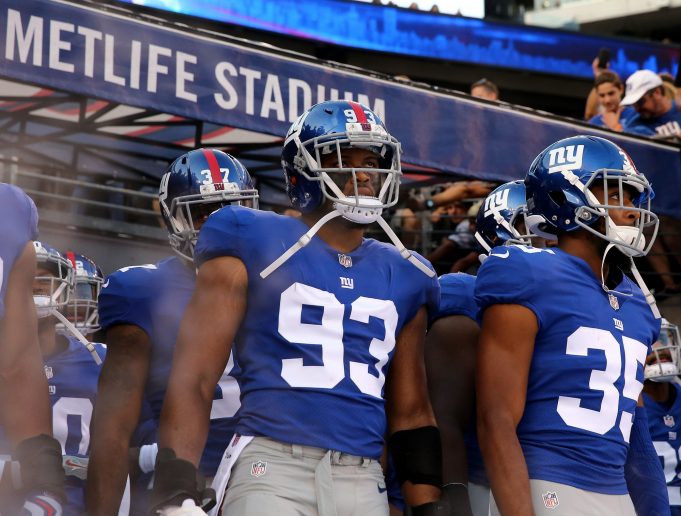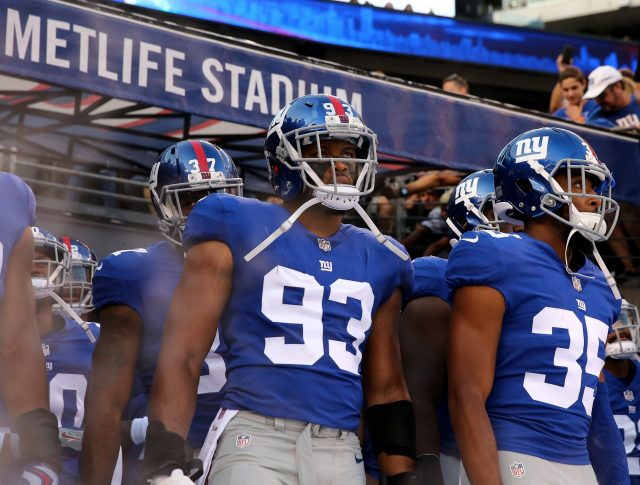 The Clemson product only played 13 defensive snaps in his rookie season. This year is a completely different story, as Goodson is the starting middle linebacker on a defense that allowed the second-fewest points in the NFL in 2016.
Whenever the linebacker has been on the field during the preseason, he has made his presence felt. Just check out Goodson blowing up Cleveland running back Duke Johnson on his way to picking up the sack.
Goodson finished the preseason with 12 tackles and two sacks. If the 24-year-old is able to build off of that strong showing, the Giants defense could receive an unexpected boost from the middle of a linebacker corps that is usually lackluster.
The fan favorite has been on a mission to prove that despite his small stature (5'9″, 158 pounds) he can succeed in the NFL. Though if he makes the final 53-man roster, he would likely be regulated to covering the slot due to his height.
After spending an injury shortened season on the practice squad in 2016, this appears to be his year to make the team. He combined with All-Pro corner Janoris Jenkins on this highlight-reel interception against the Jets.
https://www.youtube.com/watch?v=a2-3Xfg93vY
Deayon racked up six tackles and one interception in the preseason, and it would be surprising if the former Boise State product didn't run out of the tunnel with the Giants in Dallas next week.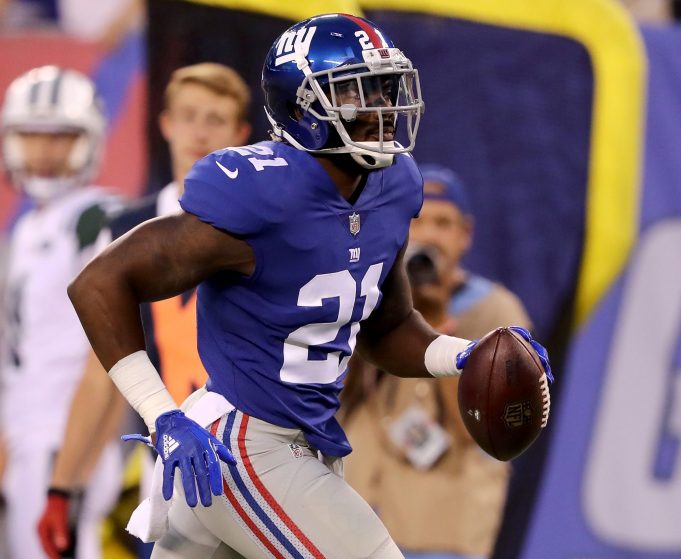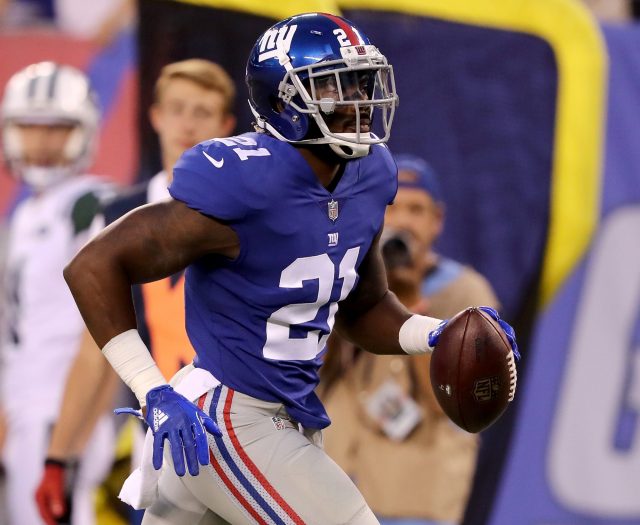 After getting snubbed for NFL Defensive Player of the Year in 2016, Collins was firing on all cylinders in the preseason. The former Alabama safety made 10 tackles and picked off a pass that he was able to return for a touchdown without breaking a sweat.
Entering his third season, Collins is primed to prove, once again, that he is the NFL's best defender, regardless of position.