In just over a year, linebacker B.J. Goodson has gone from unheralded draft pick to a key cog in the middle of the New York Giants defense.
It has been a meteoric rise for B.J. Goodson.
The linebacker from Clemson University entered the 2016 NFL Draft as a projected late-round pick. He didn't go that late, however, as New York Giants general manager Jerry Reese drafted him in the fourth round, 109th overall.
Reese drafting a linebacker within the first four rounds is rare, though. In the past eight drafts, he has only selected one—Phillip Dillard from the University of Nebraska—who was also taken in the fourth round, 115th overall, back in 2010.
Despite being a linebacker picked rather high by Reese's standards, Goodson's rookie year was relatively uneventful. In fact, it can probably be labeled as a redshirt season. He only played 13 snaps on defense, spending most of his time on special teams.
Although playing time was limited for the South Carolina native, the Giants front office never soured on him. Reese affirmed the team's confidence in Goodson with his offseason moves—those he did and didn't make.
First, they let Kelvin Sheppard, the incumbent starting middle linebacker, walk in free agency. But that was pretty much expected after Sheppard graded out as the 81st best linebacker out of 86 via Pro Football Focus.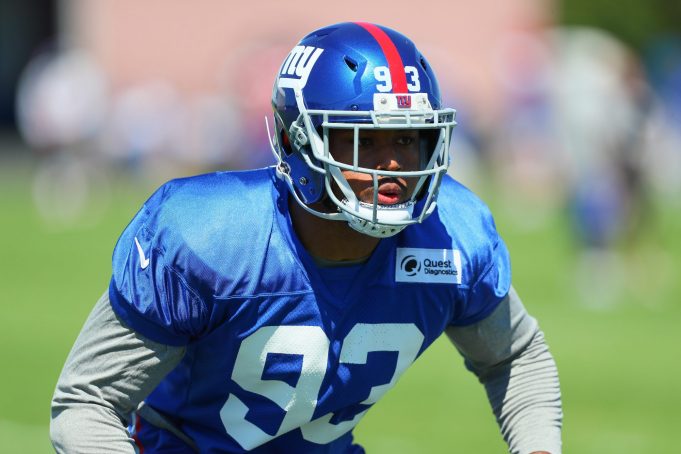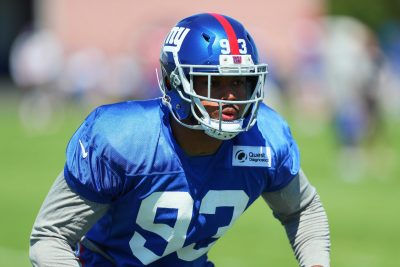 Despite having viable options available to them in free agency—a list that included Dont'a Hightower, Kevin Minter, and Zach Brown—the Giants chose not to sign any of them. 
Finally, the team didn't take another linebacker in the 2017 NFL Draft, passing on solid young talents like Zach Cunningham (second round, Houston) and Duke Riley (third round, Atlanta), both of whom were still on the board when the Giants were on the clock. 
Once OTAs began, the 24-year-old Goodson was given every opportunity to become the team's starting middle linebacker. It's not an opportunity that he's shied away from, either.
"I'm very excited about that but…you know just preparing day in and day out so that we can get good results," he told ESNY's Jason Leach in an exclusive interview earlier this month.
Since then, he has not let up.
Through two preseason games, he's recorded eight tackles and two sacks. These games may not count to the fans, but they count for Goodson, who looks like he belongs and is poised for a breakout season. 
For instance, check out this play.
Goodson blows up Duke Johnson, the Cleveland Browns running back that was attempting to block him. Once he gets past Johnson, he displays an impressive burst of speed to get to, and then sack the quarterback, DeShone Kizer.
Plays like this are what could make the young man the best middle linebacker that the Giants have had since Antonio Pierce.
In fact, Pierce was the team's last starting middle linebacker in consecutive seasons, doing so from 2005-09. Since then, it's been a revolving door at the position, with players like Jon Beason, Chase Blackburn, Jonathan Goff and Jameel McClain all spending time in the middle.
Goodson could be the next great Giants linebacker, better than everyone who has come between Pierce's time and his. With the mediocre MLBs the team has had, Giants fans would be happy with an average middle linebacker at this point.
Opposing offenses should think about this. A defense that finished 2016 allowing the second-fewest points has upgraded one of its biggest positions of need. Have fun trying to sleep, Kirk Cousins, Dak Prescott and Carson Wentz.