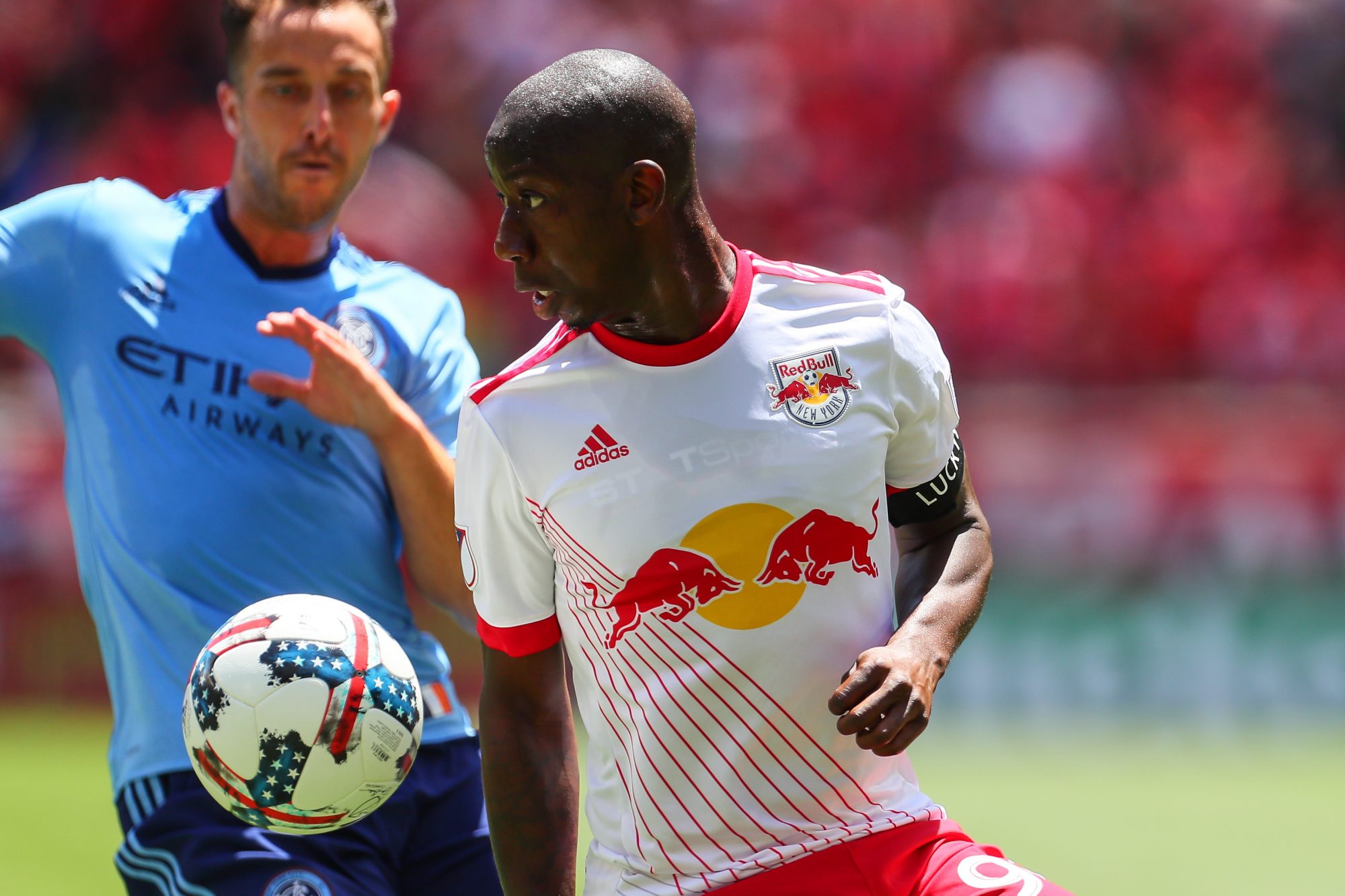 The New York Red Bulls are honed in on the ultimate MLS Cup Prize. Within their sight is also a US Open Cup championship.
W
hile the
New York Red Bulls'
record has been inconsistent,
the team is surely focused on the ultimate prizes
of MLS Cup and US Open Cup.
Instead of dwelling on a tie at home to their Hudson River rivals, RBNY focused on the positives in the postgame interviews.
Jesse Marsch stated, "On average tonight I thought a lot of guys played really well, we did a lot of things really well. We controlled the game the way we wanted to, but we just weren't able to capitalize on it."
Marsch also lauded the back line as they kept David Villa to no shots in the first half. Villa also only had three shots throughout the entire game.
Robles also commented on the defensive effort of Tyler Adams. He claimed Jack Harrison was a non-factor due to the young midfielder's play on Friday.
While the New York Red Bulls focus on the positives of their games, their record has been incredibly inconsistent as of late. In their last five games, the team has posted a 2-2-1 record.
Currently, RBNY sit in fourth place in the East with 39 points. This is only eight points above eighth place Orlando and four points above seventh place Atlanta. Both of these teams are below the red line. If the season ended today, this would mean that Orlando and Atlanta would not make the playoffs.
Statistically speaking, what are the chances of RBNY making the playoffs? What are their chances at winning a US Open Cup title? Finally, what are their chances of winning an MLS Cup title this season?
Gonzalo Veron converts the PK and earns a point for New York! ⚽️ #NYvNYC | #RBNY pic.twitter.com/8ekSd4Spju

— New York Red Bulls (@NewYorkRedBulls) August 26, 2017
All considerations for the MLS Cup playoffs are taken since 2015. This is because in 2015, six playoff spots were afforded due to additional MLS teams that were introduced into the league.
On average, to make the MLS Playoffs from the Eastern Conference in 2015 and 2016, approximately 46 points were needed.
The points per game average between the two years to make the playoffs was 1.34 points per game.
Currently, RBNY have a total of 39 points and a points per game average of 1.56. These numbers explain that RBNY are on track to make the playoffs, as compared to previous seasons.
Unfortunately, the 2017 season is an anomaly for the Eastern Conference. In previous years, the points per game average has been significantly lower. In 2017, the seventh and eighth place teams had an average of 1.38 points per game. This average would indicate that these teams in previous years would make the playoff cut as it is over the 1.34 ppg average.
…and finally, Fudgy the Whale for desert! ? ? ? #NYvNYC | #RBNY | #NYisRED pic.twitter.com/Yn9sz5DMWr

— New York Red Bulls (@NewYorkRedBulls) August 26, 2017
The New York Red Bulls will certainly have their hands full at the end of the 2017 season. If RBNY want to make the playoffs, they need to post a record that is above average for the typical Eastern Conference.
US Open Cup Chances
The US Open Cup will be played on September 20th in Kansas City. Here's how RBNY's chances look compared to finals since 2010.
While RBNY have not been in a final in the previous seven years, their chances do not look that bad.
First, RBNY will be away. In seven finals since 2010, the away team has won three times. For MLS standards, this is certainly a good outlook for the away side.
On average, two goals have been needed to win the US Open Cup final. The outliers are FC Dallas in 2016 who scored four goals and Seattle who in 2014 scored three. Every other game has resulted in a win by two goals or a 1-1 tie which went to penalty kicks.
RBNY have averaged 1.5 goals in US Open Cup play. Granted, half of their games were away, this could be enough to pull out a US Open Cup Final win.
Kansas City, on the other hand, averaged 2.5 goals per game. Most of Kansas City's goals occurred at home.
If RBNY can handle the offensive prowess of Kansas City, and if they can notch in at least two goals, they could see themselves as US Open Cup Champions.
MLS Cup Chances 
The MLS Cup, unlike most of The United States' sports championships, is hard to predict. While difficult, statistics could provide some insight.
On average, since 2010, the MLS Cup champion accumulated 56 points in regular season play. This of course may not mean much as the high has been 67 points and the low 46 points. What is unique is that the MLS Cup champion does not need to be the most successful MLS regular season team to win the title.
However, this fact could be revealing. Since 2010, the average MLS regular season finish for the MLS Cup champion was lower than RBNY's finish.
Additionally, since 2010, RBNY finished higher in MLS regular season play compared to the MLS Cup champions five times.
This means that a lower finish in the league compared to previous years may be the trick to an MLS Cup title for RBNY.
Of course, predictions are just that, an uncertain attempt to anticipate an outcome. For now, the momentum of RBNY and their current form are certainly positive signs. Regardless of statistics, the New York Red Bulls may in fact win the 2017 US Open Cup and MLS Cup titles.