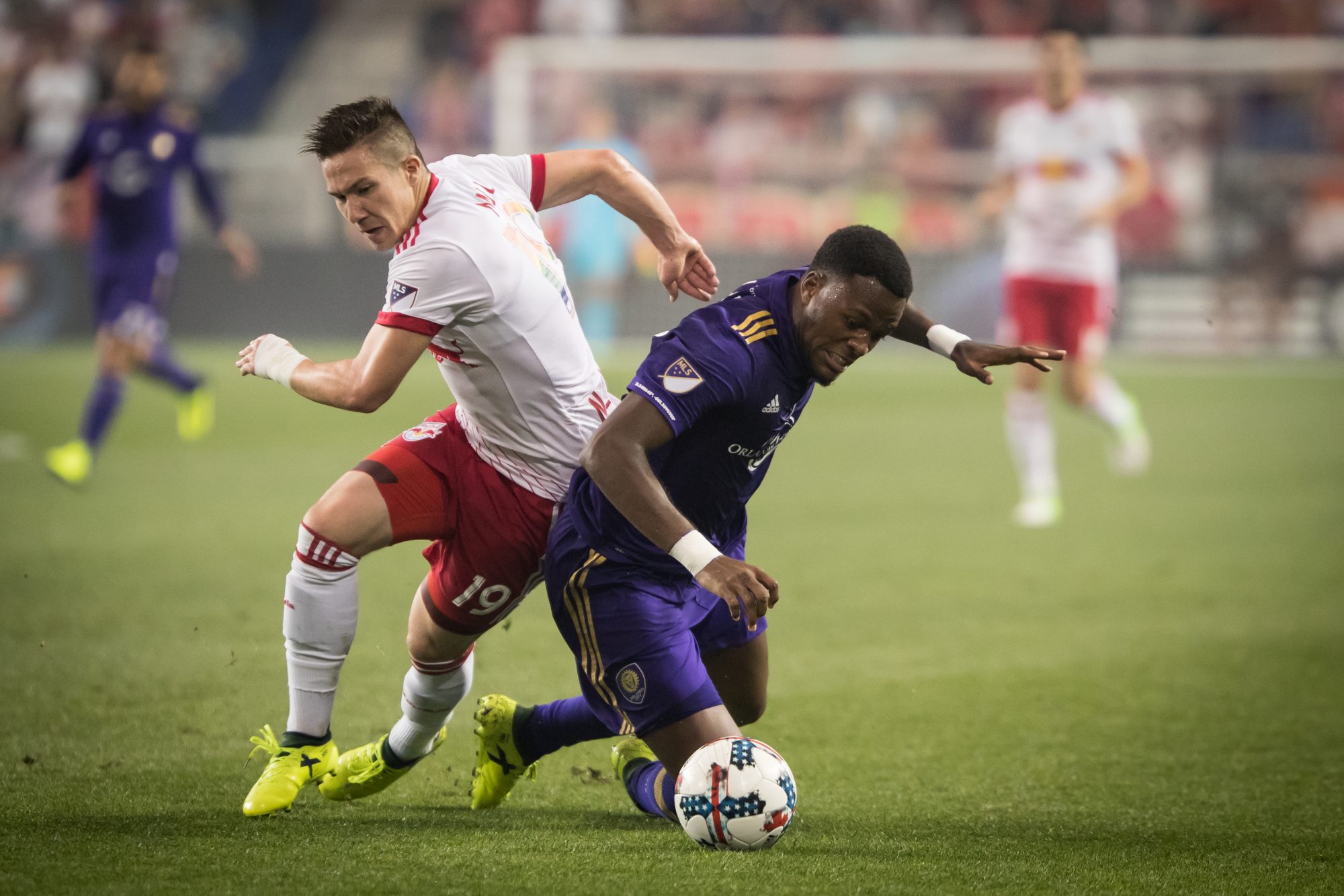 The New York Red Bulls are hoping to go out with a bang in 2017. The team has 10 games left, five home and five away.
Many MLS supporters think the New York Red Bulls are out of contention to win the 2017 Supporters' Shield. It's entirely possible that those folks are right. Then again, 10 games gives NYRB plenty of time to prove its doubters wrong.
What follows are six reasons—three why they will and three why they won't—take home the Supporters' Shield.
Why RBNY Will Be MLS Supporters' Shield Winners
1. History
Evaluations always come down to history. MLS fans cannot deny the success that RBNY has had in previous seasons—and the team is notorious for end-of-season pushes. Here are RBNY's previous last 10 game records:
2016: 7W-3D-0L
2015: 7W-0D-3L
2014: 6W-1D-3L
2013: 6W-3D-1L
In those four seasons, the Red Bulls averaged 21.25 points earned over their last 10 games. That works out to 2.12 points per game. That pace would put RBNY at 59 points for the season. The good news is, no team has reached this point total yet in 2017.
2. Bradley Wright-Phillips' Late-Season Goal-Scoring Runs
In the last three months of MLS play (August-to-October), BWP's goal-scoring ability is through the roof. In 2016, BWP scored 24 goals on the year. Half of them—12—came in the season's final three months.
He scored more than half of his 17 goals in 2015 over the same span, putting nine balls in the net.
Of course, in 2014 BWP scored a season-high 27 goals. He headed into August with 17, adding 10 more in that three-month stretch.
If you ask me, BWP is just getting started with his goal scoring. Of course, time-after-time BWP puts aside his own scoring accomplishments to laud the efforts of his teammates.
Don't have plans for Friday? Well, what are you waiting for!?

Score tickets from fans on SeatGeek ➡️ https://t.co/eqyiGlWI1y#NYvNYC #RBNY pic.twitter.com/9rCR49jSVw

— New York Red Bulls (@NewYorkRedBulls) August 21, 2017
3. Team Effort
In 2017, RBNY has been seen as a dynamic team which contributes its success to a comprehensive team effort. While BWP and Sacha Kljestan have been on hot streaks when it comes to goals and assists, respectively, they have seen some assistance from other members of the team.
BWP currently has 14 goals, but close behind is Daniel Royer with 10. That said, he's not been able to add to that total as he's been out with a knee injury. The good news is that he should be back soon to assist BWP in scoring goals.
Assists on the other hand have been contributed by not only Kljestan, but Kemar Lawrence, Felipe, Gonzalo Veron, and Sean Davis. This cocktail of players contributing to RBNY's attack is all about something many teams do not have—team depth.
? @DilaverDuka, @Vince_Bzcrt & Fidel Escobar impress in @NewYorkRedBulls debuts

? ➡️ https://t.co/Ea3HjQwfmi#RBNY pic.twitter.com/Jf2GDCgoYm

— New York Red Bulls (@NewYorkRedBulls) August 21, 2017
Why RBNY Won't Win MLS Supporters' Shield
1. Schedule
The New York Red Bulls certainly have been fortunate to end previous seasons on excellent runs. Unfortunately, RBNY's trouble winning away games this season could hurt them. With an away record of 4W-0D-8L, RBNY will need to improve quickly on the road.
RBNY only have five home games which means five will also be away. With only four total away wins this season, it is unlikely that RBNY will win most of them.
Worse yet, those away games will be against FC Dallas, Chicago, Columbus, Toronto, and DC United. They're all tough opponents to begin with but become even harder to beat when they're at home. If RBNY plans to win the MLS Supporters' Shield, they need to raise their away game.
2. The "Distraction" Of The US Open Cup
The US Open Cup is certainly a worthy prize for any MLS side. Unfortunately, it could serve as a distraction for RBNY. Rarely in contention for the domestic cup, RBNY are in the 2017 finals. This game will be played on Sept. 20 in Kansas City. This means that another road game is added to RBNY's schedule, one against a tough Western Conference opponent.
Depending on who Jesse Marsch decides to play, it could be a hazard for starting players such as BWP, Felipe and Kljestan.
Hopefully this end of the season matchup does not impede RBNY's main goals of winning top spot in the MLS regular season and an MLS Cup Championship.
Total #Eclipse of the Marsch#SolarEclipse2017 #RBNY pic.twitter.com/MMadLcG8Lc

— New York Red Bulls (@NewYorkRedBulls) August 21, 2017
3. Tough Eastern Conference Opponents
Eight of RBNY's last 10 games will be against Eastern Conference opponents. This certainly adds to the difficulty to winning the MLS Supporters' Shield. Three games will be against NYCFC, Chicago, and Toronto. All three of these teams currently sit above RBNY in the Eastern Conference and Supporters' Shield race. Columbus, Philadelphia, and Atlanta are all opponents who are still vying for an MLS Playoff spot.
If RBNY wants to win the 2017 Supporters' Shield, they will need to come through against their tougher opponents. Their schedule is both a blessing and a curse, however, as they play DC United twice and have five home games.