Both the New York Giants and Jets seem to be playing a cruel joke on their fans that revolve around pretending O-line play means very little.
I
t's almost as if these two MetLife general managers are part of a brand-spanking new secret society of personnel men who laugh and point at the old heads who believe that football is won, first and foremost, in the trenches.
Both Jerry Reese and Mike Maccagnan glance at the new ways of high-flying aerial football and look to secure shiny weapons for the quarterback to play with. Year after year, each team's offensive line has been ignored. With each NFL Draft, that feel-good chance to finally secure talent along the football field's most valuable unit is always there, yet always (recently) completely thrown aside for more exciting players.
That's what's been so infuriating. For several seasons now, both teams have virtually ignored the offensive line.
Already knowing the completely obvious, I'll state it anyway: both teams are in two completely different spots at the moment.
The New York Giants are right there. They are literally a few spots away from serious Super Bowl contender status. Many already believe they are at that envious level thanks to a vicious defense and offensive weapons to die for.
The New York Jets, on the other hand, are at square one. Thanks to the nature of Mikey Mac's failed "aggressive rebuild," the often used narrative from Week 17 of 2016 until now has been all about Sam Darnold and a word that rhymes with "bank."
But despite the obvious differences in personnel talent, both offensive lines remain uber important (as it does for every football team walking planet Earth). And both Reese and Maccagnan not addressing each's obvious needs will come back to bite them in the ass all campaign long.
How about the performance of young Christian Hackenberg in Week 2 of the preseason? Man, oh, man, what a thrilling offensive output. Despite playing an entire half, the young Penn State product finished 2-of-6 for 14 yards.
Even for the O-line apologists who believe the Jets did right by not selecting a single offensive lineman, the issue was blatantly obvious. Forget providing Hack a chance to succeed. The unit was simply looking to not get its young second-year signal-caller destroyed.
.@nyjets QB Christian Hackenberg's 1st pass attempt of his first NFL start. Not here to criticize..just amazed and relieved that he survived pic.twitter.com/XDHi4CQJin

— Brian Baldinger (@BaldyNFL) August 20, 2017
Are we serious, here?
The defense lined up in a very customary double-A-gap heat look. They brought only one of those A-gap rushers thus rushing five in total. Brandon Shell, the Jets second-year fifth-round right tackle, missed an extremely easy task (in allowing the left defensive end in untouched). The play could be blamed on Wesley Johnson — another unproven new starter — but we'll never know if the line call was missed or not.
From that moment on, instead of attacking, John Morton was forced to simply call plays that protected his QB. His hand was forced. That's how bad the O-line produced.
For a rebuilding team looking to see what a young QB has to offer, how in the world can he showcase himself in a situation that doesn't offer up much success (thanks to the porous nature of the line)?
Now comes the Giants turn.
A night ago, they played their second preseason game of August, this one coming in Cleveland on Monday Night Football. And yet again, just like Week 1, the offense didn't do a lick. Eli Manning and the first team offense played into the second quarter, finding trouble at all turns to move the football.
The culprit? Of course, the offensive line.
Ereck Flowers showcased his usually overmatched self and the unit couldn't generate anything from a rushing perspective. Manning — just as he faced all of last season — was forced to deal with a 2-deep look with a 4-man conventional pass rush on almost every play.
Here's game tape from the Giants first drive of the game.
1st-and-10: Base offense against a light 7-man box and 2-deep resulting in no gain on the weak dive play to Paul Perkins.
2nd-and-10: 11 personnel against a light 6-man box and 2-deep nickel resulting in a quick flat to Perkins. Note how Ereck Flowers and the offensive line couldn't even handle a simple 4-man rush as his man pushes him directly into Eli's face.
3rd-and-10: 11 personnel against a light 6-man box and 2-deep nickel resulting in a sack. The right side of the line was overmatched by a simple 4-man rush featuring a stunt.
We could show you the other four drives from the starting offense, but there's really no need to. The offense has picked up exactly where it left off last season. Manning is continuously facing 2-deep looks that feature safeties playing in another zip code. It also features no running attack — not even a nice 3 or 4-yard gain that sets up critical second and third downs against light boxes.
I don't care if you're Johnny Unitas. No QB can succeed behind an offensive line as poor as this. No QB can flourish behind an O-line that doesn't force the defense to at least put eight in the box on a few plays (in worrying about the run).
This is where false propaganda comes to fruition when so many write and attempt to analyze Manning's recent play.
When so many blame Manning for the Giants issues, those very same so-called pundits don't fully understand the reality of the situation. They don't see how Eli actually covers up the deficiencies in front of him as he releases the ball quicker than he should. This forces a much lower-percentage pass attempt all because he's not afforded the proper time in the pocket. This also forces Ben McAdoo to change his game plan on-the-fly in working in more 3-step drops while erasing 5 and 7-step vertical threat calls — those very same plays we saw him excel downfield with when Kevin Gilbride and a dominant offensive line was employed.
Horrid O-line play results in a much lower-percentage pass attempt all because he's not afforded the proper time in the pocket. This also forces Ben McAdoo to change his game plan on-the-fly in working in more 3-step drops while erasing 5 and 7-step vertical threat calls — those very same plays we saw him excel downfield with when Kevin Gilbride and a dominant offensive line was employed.
Look around the league, folks. For so many years, the Dallas Cowboys struggled. Jerry Jones and company couldn't figure out why each draft class was coming up short. It wasn't until son Stephen influenced his pop enough to persuade him to build the O-line first that saw the Cowboys suddenly start to see success on the field.
With a below-average defense, a rookie quarterback, and plenty of Dez Byrant injuries, Dallas continues to remain a force thanks to the most complete and dangerous unit in the league — that offensive line.
Take a look north at Tom Brady and the New England Patriots. Once, a fellow Jets fan attempted to persuade me with the idea that the O-line wasn't the Jets "top need" and ignoring it this past draft was the right call. He pointed to Brady's guys in front of him in claiming he's never been afforded studs along the line.
First of all, it's not true. Matt Light, Dan Koppen and Logan Mankins were absolute studs. Nowadays, guys like Nate Solder and David Andrews get it done better than anybody at the position. More importantly, offensive line coach Dante Scarnecchia is one of the great position coaches in football history. The metro area hasn't seen a combination of coach and unit since Bill Callahan and the Jets nasty O-line during the Rex Ryan ground-and-pound days.
The most underrated aspect about Brady and the Pats is that their O-line is always a positive. It's a lockdown, no-doubt-about-it shored up position that allows Brady to control his own destiny each and every season. Either Brady finishes the game with the clean jersey or he falls to the ground before a defender comes close to touching him. This is gospel in Foxborough.
Without a Brady, without a Scarnecchia, talent is needed.
It's not a coincidence that offenses throughout NFL history never lift off the ground unless the offensive line is talented, first and foremost. The old adage that "football is won in the trenches" is one that holds true no matter the era or decade.
Defensively, both general managers seem to have perfected this notion. Offensively, each is costing themselves dearly by continuing the definition of insanity.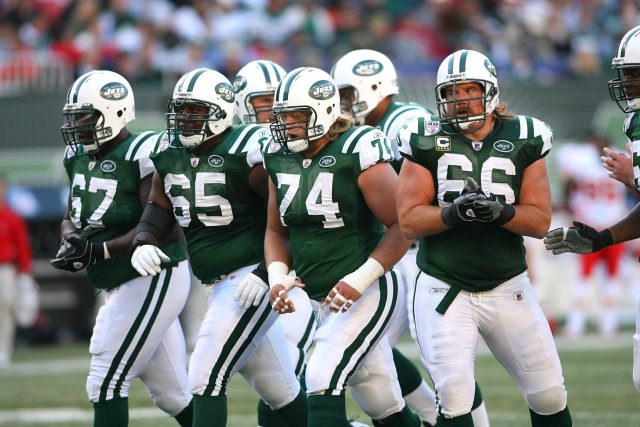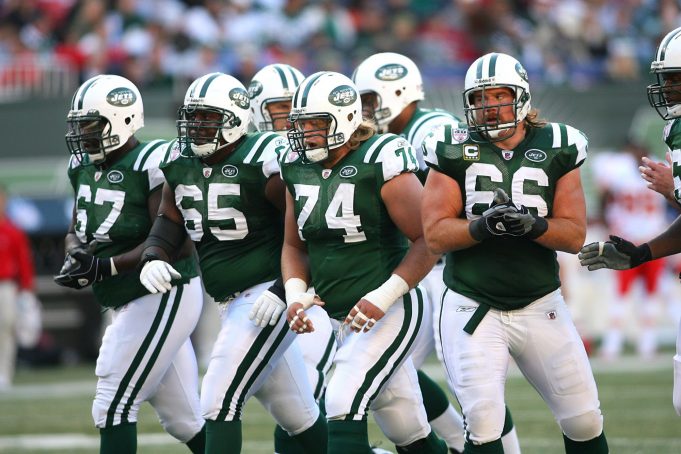 For Maccagnan, it may just cost Hackenberg his shot in the NFL and his own job when the time comes. For Reese, it may just cost Eli a terrific ending to a brilliant career and the Giants realistic shot of a fifth Lombardi Trophy.
If you're the Jets organization, forget the example of Dallas. All they need to do is rewind the clock a decade and think back to when Nick Mangold and D'Brickashaw Ferguson revitalized a franchise in 2006.
With the 20th selection of the 2017 NFL Draft, John Elway selected Utah's Garrett Bolles, a tackle who is already slated to start for the Denver Broncos. At No. 23, Reese selected Evan Engram, a glorified wide receiver who can't block in the trenches.
Cam Robinson, Ryan Ramczyk and Forrest Lamp were all available. Sure, this class was weak at the offensive line position. Nobody's disputing that. But when a team is so close to a Super Bowl and is just one spot (tackle) shy of security, that team must take a chance on one of these kids. The "best player available" only works when you're not stuck in the situation of showcasing just one weak link (Flowers, Bobby Hart).
So get ready Giants fans. Get ready to read all about how Eli Manning is holding you back, yet again, from Super Bowl contention.
While you read such silly things all season long, just understand where the real problem lies: the offensive line.