If you've got any shot at winning your fantasy football league this year, you need at least one of the running backs in our Top 15.
Running back is the most important position in fantasy football, which is why I tend to take backs early-and-often in drafts.
Don't be one of those people who go with the 'zero RB' draft strategy, waiting to take your first back later in drafts. It rarely works and you'll be looking for ways to improve your depth at the position after the draft. The position isn't as deep as quarterbacks and wide receivers are. I've done over 100 mock drafts this year and every time I don't have a true No. 1 running back, I hate my team.
No matter my position in the first round, my first pick will be an RB. I can't preach enough how important it is to have at least one top 10 running back on your team.
Drafting handcuffs is more important than ever. If your starter goes down and you don't have their backup, you will be in a bad situation. If you draft any back in the top 15, you need to have their handcuff.
Draft running backs late in your draft this year instead of loading up on lottery tickets at wide receiver. Once your draft is over, you will notice how thin the running back position will be on the waiver wire. It's much easier to find another WR than it is another RB.
Good luck this season and please, grab one of the top 10 running backs on our list. Oh, and don't have a rookie as your No. 1 back this year.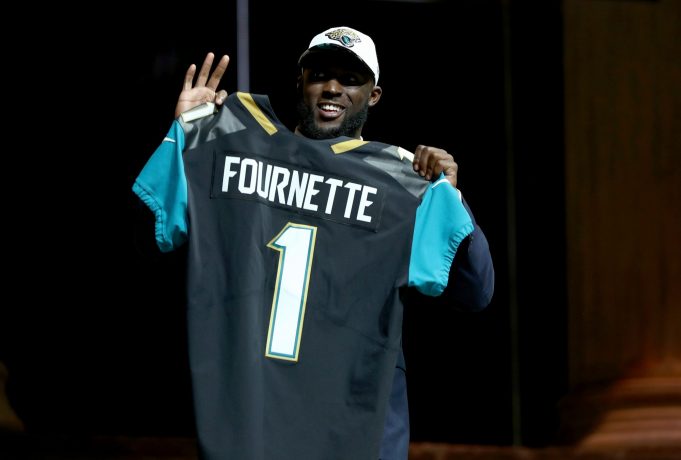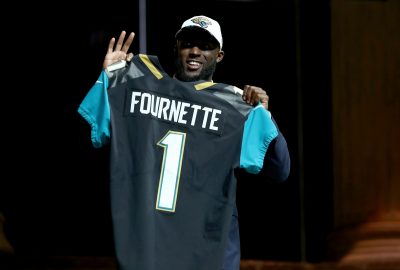 15 (tie). Joe Mixon, Cincinnati Bengals and Leonard Fournette, Jacksonville Jaguars
Rookie running backs are the toughest to rank in fantasy football. Leonard Fournette has a chance to be the next Adrian Peterson out of this rookie class. Joe Mixon would have been a first-round pick if it wasn't for his off-field problems. Both are extremely talented, but Fournette has the bigger upside and will see more touches at the start of the season.
Mixon is on a much better team and if he can win the starting role he should be a top 20 running back for the season. Fournette looked like a man amongst boys in college and the Jaguars used the fourth overall pick on him. I expect around 17-to-20 touches a week for Fournette, and he should be able to produce as a top 15 back for the year. Both have
Both carry risk but either one can be your second running back heading into the year.
14. Carlos Hyde, San Francisco 49ers
Injuries and a bad offense have hurt Carlos Hyde in his young career. But he has all the talent in the world and this could be the year that he puts it all together. His career rushing average of 3.1 yards per carry when the quarterback is under center is a problem, as that's where the QB usually is in Kyle Shanahan's offense. This scares me a little bit but Shanahan's offense has been explosive in every step of the NFL and I am hoping Hyde can make the adjustments. Good upside but he can fade out quick this season.
This scares me a little bit but Shanahan's offense has been explosive and I think Hyde can make the adjustments he needs to. He faces a tough schedule but should receive the bulk of the team's carries as long as he's healthy. If you draft Hyde, you need to handcuff him with Joe Williams.
Latavius Murray scored 12 touchdowns last year in this offense. Lynch should have no problem doing the same. He took a year off and that should have helped his body from the beatings he took in his career. He's 31 but is behind a great offensive line in an explosive offense. He will be the goal-line back and that is where he will make his living. Don't expect huge rushing yards, but he should score double-digit touchdowns this season. He would be a solid number two back. He's too risky to be your top guy.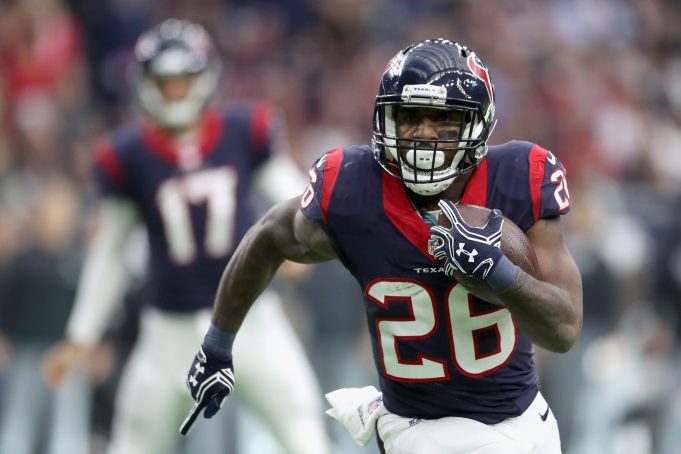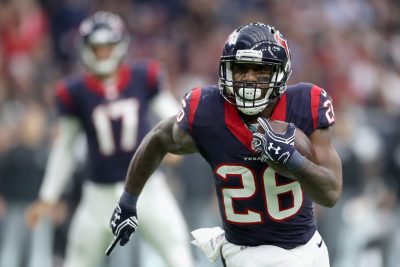 Miller didn't have a bad season last year, rushing for over 1,000 yards, but he only scored six touchdowns (five rushing and one receiving). Houston's offense should be better this year and I am expecting this to be his best season of his career, 1,200 yards rushing with eight-to-10 touchdowns. He's an excellent value at running back, especially if you decide to go wide receiver heavy early in the draft.
Crowell will be running behind one of the NFL's best offensive lines, but he's playing for the Browns, which isn't normally a good thing. He will be one of the focal points of the offense though after averaging 4.8 yards per carry and scoring seven touchdowns last season. He doesn't catch the ball much but is a solid pick in the fourth-or-fifth round.
10. Jay Ajayi, Miami Dolphins
Ajayi had over 400 rushing yards and two rushing touchdowns against the Buffalo Bills last season. He'll play them twice again in 2017. His knees might explode in three years but for now, he is a top 10 running back.
If he and Miami's offensive line can stay healthy, he will finish inside the top 10 at running back. He's capable of a 1,200-yard, 10-touchdown season, which is what we're drafting him for. Ajayi won't lead the league in rushing and isn't much of a receiver, but he's a solid back to have on your team.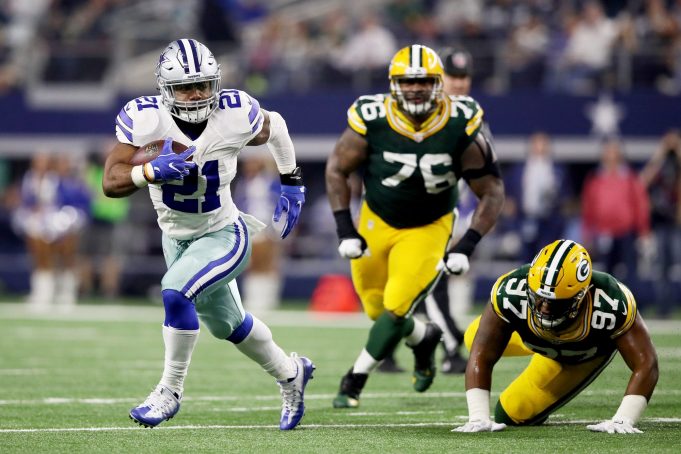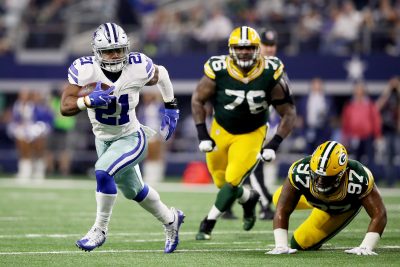 The biggest question this season is where to draft Elliot, who has been suspended for six games. I would still take him in the first round. He is one of the three best backs in the league and I am expecting the suspension to get cut down to four games. If that's the case, he is my number three running back. If the suspension stands, however, he won't be back until Week Eight. This ranking has to do with the total amount of points he will finish with at season's end and at that point, he'd miss half the season.
On a game-to-game basis, once his suspension ends, he will be a top three running back. If you are in a new keeper league, I have no problem with drafting him third overall. The problem with this is, if you miss on your second or third-round pick, you won't make the playoffs. If you draft Zeke, you need to draft Darren McFadden.
Murray is 30 years old and has Derrick Henry breathing down his neck, so he's a bit of a risk. Still, I am expecting another 1,100 rushing yards, 45 receptions and double-digit touchdowns. The Titans have a chance to be a top five offense in the league and Murray will be one of the focal points. If he slips to the middle of the second round or the early third round, he will give you great value. Henry is a must-have if you draft Murray.
Gurley has fantasy superstar written all over him. With Jeff Fisher no longer coaching the Rams, Gurley's production should increase. New coach Sean McVay will feed his young stud early and often and with the addition of Sammy Watkins, defenses won't be able to stack the box against the run. The Rams also added one of the best left tackles in the game this offseason in Andrew Whitworth. I am expecting numbers more like his rookie season when he piled up 1,100 yards and 10 touchdowns. If all goes right he will be a top five fantasy running back.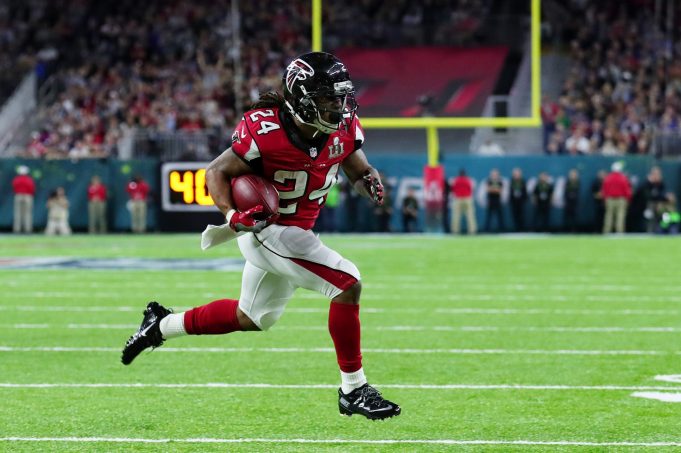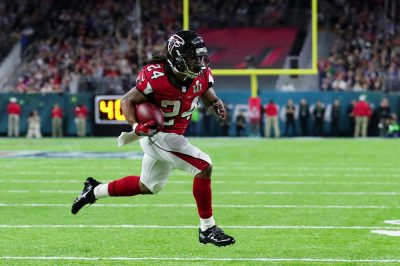 I like everything about Freeman except the fact that Tevin Coleman will touch the ball almost 150 times. Freeman ranked 13th in carries last year and he totaled the sixth-most fantasy points among running backs. With offensive coordinator Kyle Shanahan gone, the Falcons might go back to more of a one-back system, which would make Freeman a top five back this season. Great upside and a good player to build your fantasy team around.
After scoring no touchdowns in a disappointing rookie season, Gordon exploded for 12 in 2016. He doesn't break off long runs but will get more than 300 carries if he stays healthy. The return of Keenan Allen will only help because teams won't be able to stack the box. If he can average more than four yards per carry, he will return great value.
Howard isn't the sexiest name on the list but all he did was produce last year when he was given the starting job. He averaged 5.2 yards per carry and the Bears will use him as a workhorse this year. He's young, has the job all to himself and has a favorable schedule in terms of fantasy running backs. There's a lot to like about Howard this year and should be considered in the late first and early second round. If you grab him any later, you might have gotten the steal of the draft.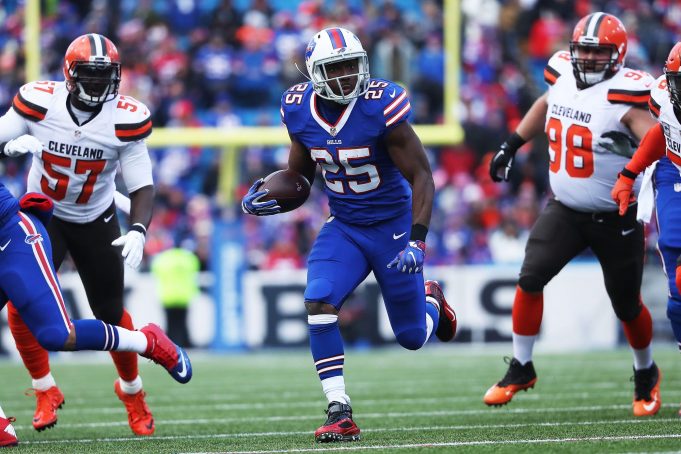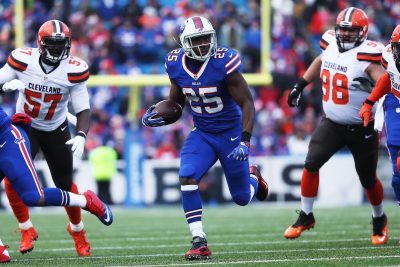 McCoy is going to be fed the ball a ton this year. It wouldn't surprise me if he led the league in carries and touches this year. With Watkins gone and no other competition at running back, he will see a ton of targets also. I would expect around 1,800 yards and 12 touchdowns this year from Shady. McCoy leads the second tier of running backs and it isn't even close. He has two or three elite years of football left. Drafting McCoy in the top five overall wouldn't be a bad idea.
Bell needs to return to the Steelers soon. He is missing too much of training camp for me and it will affect him at the start of the season. There is nothing that he can't do at the running back position. He has elite talent across the board in terms of catching the ball, running the ball and blocking for his quarterback. When he's on the field, the Steelers will feed him the ball early and often.
He can accumulate over 2,000 yards this season to go with 15 touchdowns. No matchup scares you with Bell and if the Steelers are healthy, he is a top two option every week. He's young (24) and has already shown that he can be a workhorse. Health and off-field problems aren't a factor now and this can be the huge season that we have expected from Bell since he was drafted. This could be the best season of his career if he returns to training camp and can stay healthy.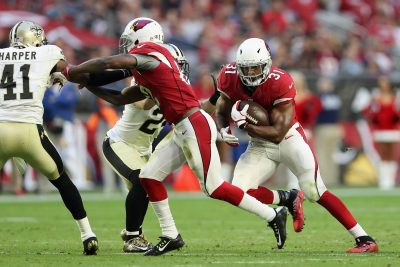 Johnson has won many people fantasy titles (including myself) over the last two seasons. In PPR scoring, he was the only player (including quarterbacks) to score over 400 fantasy points last season. He totaled over 2,100 yards, had 20 touchdowns and caught the ball 80 times last year. Those are elite numbers that only Bell can match.
His numbers will come down a little bit this year but that's only because those were video game-type numbers last year. He's in the prime of his career and he is the workhorse for one of the best offenses in the league. Draft DJ number one this year and he will carry you to another fantasy championship.