With 2017 fantasy football drafts here and right around the corner, we take a look at the most valuable position of all, the running back.
D
rafting a top 10 running back is critical for winning your league. Waiting on running back in your draft can back fire in a big way.
Don't wait until your third or fourth pick to draft your first running back. I highly recommend drafting at least one running back in the first three rounds.
I am a big fan of drafting your starting running back's handcuff just in case of an injury. It will be a lot harder finding a starting running back on the waiver wire than it will be for a wide receiver.
Here are my running back rankings number 30 through 15. Draft running backs in your later rounds this year — not wide receivers.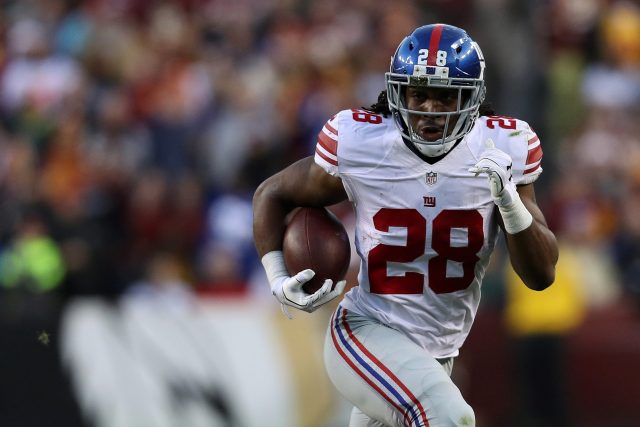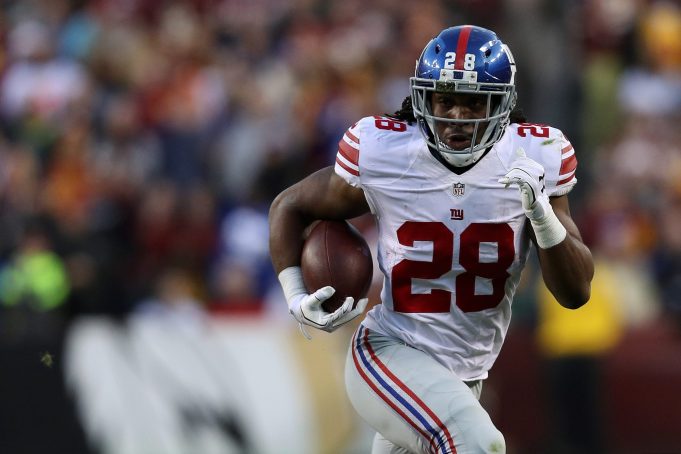 Paul Perkins isn't the greatest running back in the world, but he has no competition for carries to start off the year. Perkins forced only 10 missed all season and he faced a league-low average of 6.57 defenders in the box. He's young, so hopefully, he can improve but you are going in for the workload and not the talent at this point. Maybe he can be effective at the goal line this year and his value can sky rocket.
If Tevin Coleman was the number one running back on his team he would easily be a top-15 back. Coleman scored 11 touchdowns last year. Don't expect that again this year. He is a solid flex in PPR scoring and he should touch the ball between 10-15 times every week. It's hard to start a team's number two running back but he is the exception.
When Thomas Rawls has been healthy, he has produced in a limited role. This is more of a gut call and Rawls is outside the top 30 in most rankings but when he's healthy, I like the way he runs the ball. In 2015, he averaged 5.6 yards per carry, which was tops in the NFL. His offensive line is horrible and the Seattle Seahawks brought in Eddie Lacy but at this point I am hearing that the Seahawks coaches are in favor of Rawls at this point. He is going in round 12 and with his upside, he is one of the late lottery tickets that explode for you and win you your league.
When Doug Martin has been fully healthy, he has been a top 12 fantasy player in both of those seasons. He will miss the first three games but if you can get Jacquizz Rodgers for those first three games, you can have a top 15 running back for the season. Injuries slowed him down last year but in 2015 he ran for over 1,600 yards. That is great value for a player who is going in round ten or later. I am not scared of Jacquizz Rodgers taking his job, target Doug Martin later in your draft and he will be a potential top 15 running back for the from week four on.
Don't draft LeGarrette Blount this year expecting his touchdown numbers from 2016. The Eagles struggled a lot last season in the red zone and this is where Blount will make his money. He may be a lock for double-digit touchdowns this season but he will take a big hit in his ranking in PPR leagues. 800 yards and 10-12 touchdowns is a realistic stat line for Blount.
The New Orleans Saints last year had two relevant fantasy running backs. Mark Ingram finished as running back number 10 last year and if Adrian Peterson can stay healthy, there's no reason why he can't finish within the top 20. The biggest problem with a Saints running back is on most weeks we won't know who is going to be the lead back.
My advice would be if you draft one, draft both. Mark Ingram will be better in PPR but if AP gets the goal line carries, he will be the better fantasy running back this year. If one running back gets hurt, the other will be a top 12 play every week. I am a big fan of drafting handcuffs for running backs, especially in this case.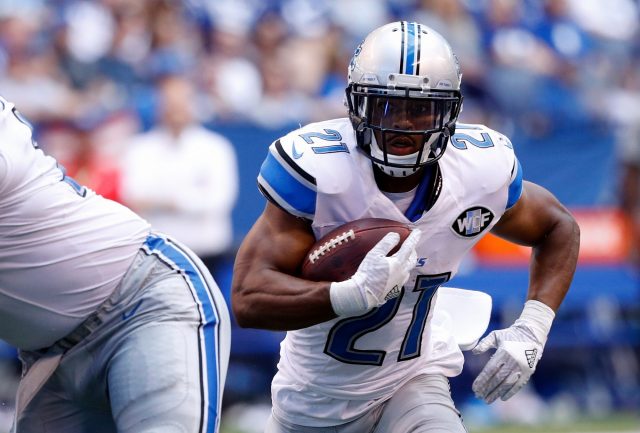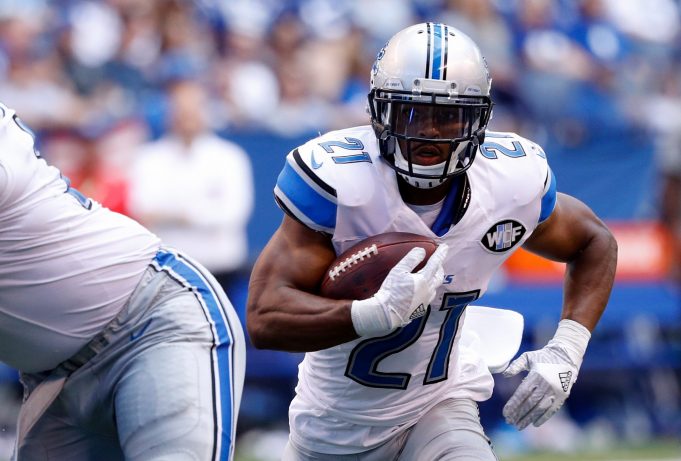 Ameer Abdullah has superstar upside. Injuries have been a big problem for Abdullah but he will be the featured back heading into the season. Detroit has a bottom-five schedule for fantasy running backs this year but he can catch the ball out of the backfield which helps him in tough matchups. Don't draft him as your starting running back this year but if he is your third and he breaks out you will have plenty of running back depth which is never a bad thing to have in fantasy.
22. Eddie Lacy, Seattle Seahawks
Seattle has a crowded backfield and a bad offensive line but Eddie Lacy does have one thing going for him, he's the best running back on the roster. This is another backfield I will stay away from but if I end up drafting one of them, I will draft both Eddie Lacy and Thomas Rawls. The schedule looks good for Seattle and if one of them get hurt, the other will have a huge boost in fantasy value. I like running backs that have showed in the past that they can be a productive fantasy running back and Lacy has done that before.
Frank Gore will give you around 1,000 yards rushing, five to seven touchdowns and will catch around 30 balls. He isn't sexy but he gets the job done. He finished as the 12th running back in fantasy and had 10 double-digit games last year. That's good production from a guy who most people refuse to draft. If Andrew Luck is healthy, Frank Gore will have another solid fantasy season, just don't expect another top 12 finish again.
There isn't much to like about the 2017 New York Jets but for fantasy this year, Bilal Powell may be the only positive. Powell had 58 catches last year and averaged 5.5 yards per rush. He's the lead back heading into the season but the Jets are easily the worst offense in football this year. If the Jets do score, it will be because of Powell. He takes a big bump in PPR leagues but a finish inside the top 20 is doable for Powell. Just make sure he is your third or fourth running back this year not your first or second.
19. Christian McCaffrey, Carolina Panthers
Christian McCaffrey won't be the fantasy stud that everyone is hoping for this year. Jonathan Stewart is still the lead back but McCaffrey will have value in PPR leagues. He will have plenty of opportunities to prove himself and the Carolina Panthers wouldn't have drafted him with their first pick if they weren't going to use him. Don't except a top 20 running back season from him but a solid flex should be your expectations.
Here are some reasons to love Mike Gillislee this year, no other team run the ball more inside the five than the Patriots and over the last two season's. Gillislee has averaged 5.7 yards per rush over the last two seasons and he will be the goal line back for New England. The Patriots will score a ton this season but some games he might only get ten carries a game. If he takes over the LeGarrette Blount role, he can easily finish the season as a top 12 running back. If you are going to take one Patriots running back this year, it should be Mike Gillislee.
17. Dalvin Cook, Minnesota Vikings
Dalvin Cook can catch the ball and has the tools to be a three down back in the NFL. Minnesota struggled last year running the ball and they went out in the second round and drafted Cook to take over as the featured back. Next season he should be in the top 15 at the position and this year he will give you solid production with the occasional big game. Don't draft Cook as your number one this year but more of a number three running back or flex play for the year. 800 rushing yards and around six touchdowns is a reasonable stat line for Cook in 2017.
In 2016, Montgomery only had one game with double-digit carries and the Packers went out and drafted three running backs this spring. He will be the lead back in a top five offense in the NFL this year, that means a bunch of scoring opportunities for Montgomery to start the season. If he can hold on to the role he has the chance to have a special season. He was a receiver coming into the NFL so his hands should keep him on the field. Montgomery is a better PPR play this year but he has a high ceiling. Don't be surprised if the Packers go with one of the rookies as the goal line back which would hurt his value.